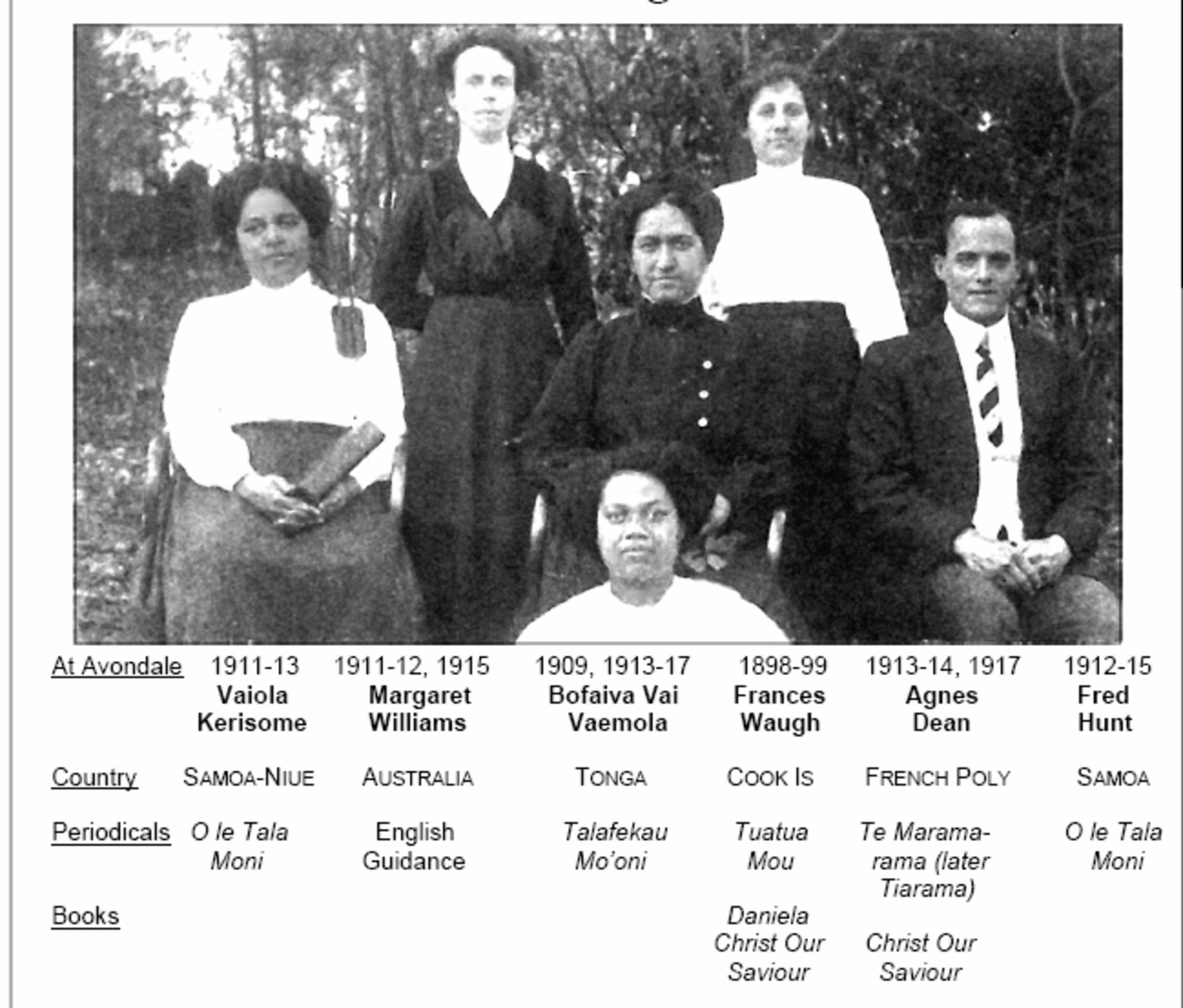 Tala'fekau Mo'oni ("Faithful Messenger" or "True Messenger") South Pacific Division
×
Milton Hook, Ed.D. (Andrews University, Berrien Springs, Michigan, the United States). Hook retired in 1997 as a minister in the Greater Sydney Conference, Australia. An Australian by birth Hook has served the Church as a teacher at the elementary, academy and college levels, a missionary in Papua New Guinea, and as a local church pastor. In retirement he is a conjoint senior lecturer at Avondale College of Higher Education. He has authored Flames Over Battle Creek, Avondale: Experiment on the Dora, Desmond Ford: Reformist Theologian, Gospel Revivalist, the Seventh-day Adventist Heritage Series, and many magazine articles. He is married to Noeleen and has two sons and three grandchildren.
Tala'fekau Mo'oni ("Faithful Messenger" or "True Messenger") was a periodical printed in the Tongan language between 1909 and 1956.
The decision to produce a Tongan language periodical was taken in September 1908 at the Australian Union Conference session, Cooranbong, NSW.1 William Palmer, a delegate at the session, was nominated as the editor.2 He was an Englishman, a resident in Tonga, and one of the earliest to be baptized in the island group. The little periodical titled Tala'fekau Mo'oni first appeared in 1909 with a print run of one thousand.3 It was a four-page (eight-sided) monthly, printed at Avondale Press, Cooranbong, NSW. Frances Waugh acted as subeditor until 1911 when she became both editor and translator.4
At the start of World War I, mission officials were obliged to utilize the printing press at Buresala Training School, Fiji, because the military restricted periodicals leaving Australia.5 Translation responsibilities soon shifted to Vai[ola] Kerisome on Niue Island, with missionary Annie Williams as editor.6 In 1922 a new convert in Tonga named Beaua, and his wife, Mafi, located at Buresala to proofread the magazine and learn some typesetting. He remained until 1924, when the monthly ceased to be published.7
Hubert Tolhurst, missionary in Tonga, appreciated the value of a national periodical and revived the paper in 1937 under the title True Messenger, with himself as editor. The print run remained the same, but it was issued only bimonthly.8 Tolhurst returned to Australia in 1941. Nevertheless, the periodical continued to be issued in the same format.9 It was last listed in the 1956 Seventh-day Adventist Yearbook.10
The periodical experienced the shortest life span of all the Pacific Island papers, 34 years in two runs, but it served its objective as an effective evangelistic instrument.
Sources
Aitken, J[ohn] D. K. "Avondale School Press." Union Conference Record, October 24, 1910.
"Delegates to the Union Conference, 1908." Union Conference Record, September 21, 1908.
Hadfield, [Laura V]. "Letter from Tonga." Australasian Record, July 7, 1924.
———. "Our Work in Haapai, Tonga." Australasian Record, October 17, 1921.
Hook, Milton. Talafekau Mo'oni. [c. 1986]. South Pacific Division Education Department. Retrieved from http://www.adventist.org.au/document_groups/378.
"Nominations," Union Conference Record, September 21, 1908.
"Plans and Recommendations." Union Conference Record, September 21, 1908.
Seventh-day Adventist Yearbooks. Washington, D.C.: Review and Herald Publishing Association, 1913–1956.
"The military authorities have just issued . . ." Australasian Record, November 16, 1914.
Tolhurst, H[ubert] L. "Tonga's True Messenger." Australasian Record, March 15, 1937.
Waugh, F[rances N.] "Our Island Papers." Union Conference Record, October 4, 1909.
Notes