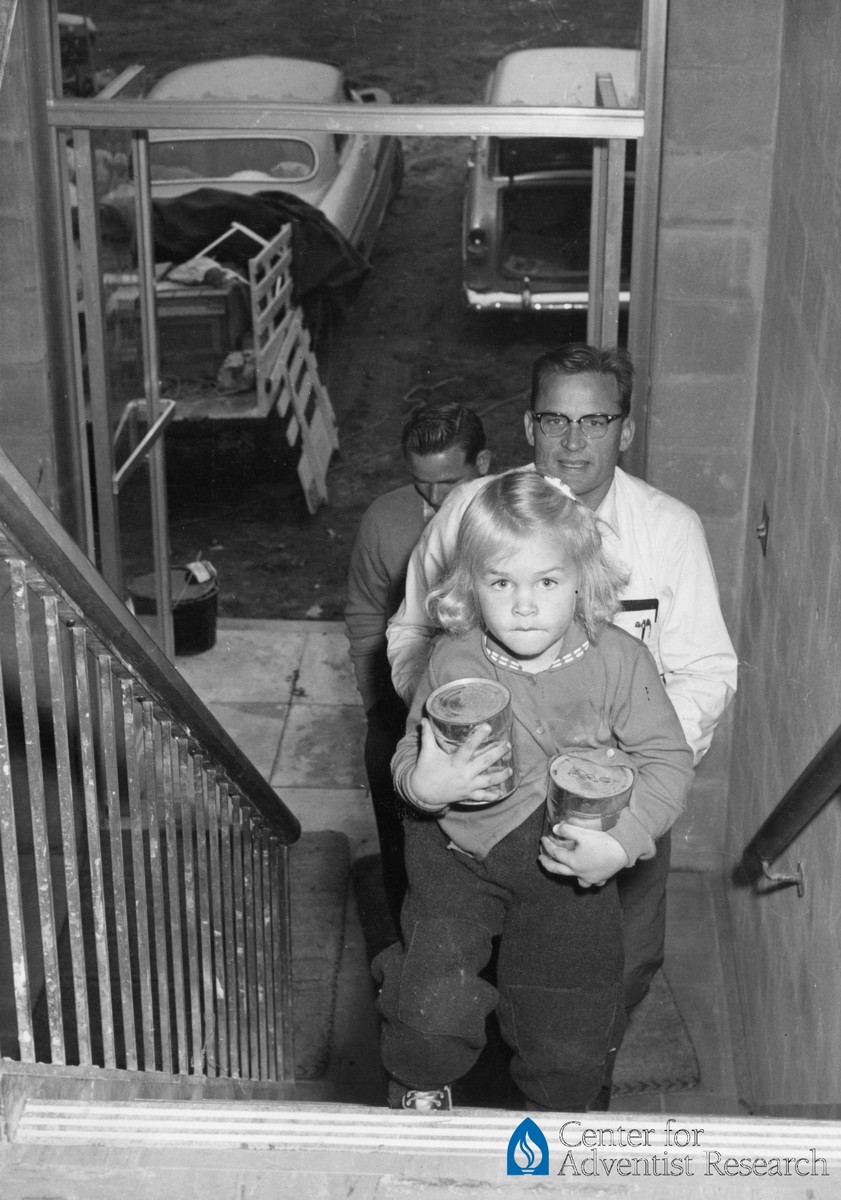 Newell, Bryce Franklin (1922–2016)
×
Sylvestar Shangpliang (B.A. in Theology, Spicer Memorial College, India; M.Min., Adventist International Institute of Advanced Studies [AIIAS], Philippines) is from Meghalya, India. He has served as a school chaplain and church pastor in the Khasi Jaintia Conference of the Southern Asia Division. Currently, he is a D.Min. student at AIIAS. He is married to Baiada Lyngdoh and has one daughter.
First Published: November 6, 2020
Bryce Franklin Newell was a learned man with rich teaching, administrative, and pastoral experiences. He was a dedicated missionary who had served in Indonesia.
Early Life
Bryce Franklin Newell was born on November 15, 1922, to Adventist parents, Ira Newell and Ruby Cross in Hope, North Dakota, United States of America.1 His sister's name was Elbert Fry.2 He spent his early childhood in Hope, North Dakota. When he turned thirteen, the family moved to Washington-- first to Wenatchee, later to Leavenworth, until he turned twenty years old and, finally to Walla Walla.3 Being raised in an Adventist home and having received Bible studies from a lay member, he was converted and baptized on May 1, 1941, in the Columbia River at Wenatchee, Washington, by Elder Fred Cole.4
Education and Marriage
Newell had his formal education from several schools. He studied in Wenatchee Junior High Schools between 1936 and 1937, Leavenworth High School between 1938-1941, Walla Walla College between 1941 and 1942; 1946-1950, and Potomac University (Andrews University), Berrien Springs, Michigan, between 1959 and 1960.5 At Walla Walla College he completed his degree with a major in chemistry and minor in mathematics.6 He also learned two foreign languages–Spanish, which took him three year (at Walla Walla) and Kalay an Indonesian dialect in four years and a half (while serving in Indonesia).7 It was while serving in Indonesia for ten years, Newell studied at Andrews University when he went for a furlough in 1959 and1960 and when he had returned to the United States in 1967 where he finally earned the Bachelor of Divinity degree.8
In December 1947 he was married to Nellie Jane Stewart at Granger, Washington.9 She was born to Samuel Stewart and Pearl Chloe Kimsey on December 28, 1918.10 Her siblings were William A. Stewart and Ruth Stewart. She was born and brought up in an Adventist home. In 1934 she was baptized by Elder Buff in Hope, Arkansas. 11 She became a nurse having studied at Southern Missionary College between 1937-1942 and Florida Sanitarium School of Nursing between 1944-1946.12 They had two daughters, ­­­­Anita and Judy.13 When Newell died in 2016, he had five grandchildren and two great grandchildren.14
Ministry
In his early years, Newell was logging for the Haris Pine Mills.15 Between 1943-1945 he served as a surgical technician in the Medical Department for the U.S. Army.16 He also served as a chemist in the industrial plant at Wenatchee. 17In 1951 he committed himself to the mission work. First, he served as a school teacher for grades 6, 7, and 8 at the Wenatchee Junior Academy. In 1953 he served as a teacher and principal for Oliver Junior Academy at Alene, Idaho. 18 In 1954 the Far Eastern Division sent a service call to Newell and his family to Indonesia in the field of education. When he received the call, he believed it to be a call for the family to a literal frontline as armies in a literal battle. After reaching Bandung, Java, their names appeared in the Review under the column, "From House Base to Front Line."19
In 1955 he served as a teacher for North Calebes Training in Calebes, Indonesia. In 1956 he became the principal of the school. 20 However, a war broke out on February 22, 1958, between the Jakarta Central Government and the rebel governments (provincial governments). The radio and transmitting station in Menado that was thirty miles away from the school was bombed by the planes of the Central Government of Indonesia. It was a difficult time as some Adventist s also died during the war; yet, Newell could testify of God's protection over the campus because when the mortar shells fell upon the school building, the campus residents were saved from any destruction. The school could not be reopened because of the guerrilla warfare. It was during this period that Newell and his family were called to the Indonesia Union Seminary.21 After he had served as a principal for three years in North Calebes Training (1956-1958), in 1959 he served as a teacher for Indonesia Union Seminary at Bandung, Indonesia.22 In 1963 to 1964, he was appointed as the acting president of the Indonesia Union College by the Far Eastern Division to replace Percy Paul until George H. Fisher was appointed as the president.23
Between 1959 and 1960, Bryce Newell took a furlough where he spent a year at Andrews University to continue his studies. In 1960 he returned to Indonesia.24 He continued serving in Indonesia until he earned his degree in the Bachelor of Divinity from Andrews University, Berrien Springs, Michigan, in 1967. 25 After he had served for ten years in Indonesia, in 1967 he was appointed as a Bible teacher in the Hawaiian Mission Academy of the Pacific Union Conference.26 In 1972 he served as the principal of Tacoma Junior Academy, Lewiston, Idaho.27 In 1974 he was appointed as an interim pastor of Brewster and Omak churches during the summer while he had just completed two years as a school principal and was still serving as the principal of the Junior Academy in Lewiston, Idaho.28 From 1978 to 1986, he was serving as an associate pastor of the Pendleton Church. 29 In 1986 he accepted the call to serve as a pastor for Wapato/Toppenish, Washington district.30 He served in this district for three years.31 The Bryce family was loved by the Wapato/Topennish church members. In 1988 the Wapato/Toppennish churches were saddened in their hearts when Pastor Bryce Newell and his wife retired. 32
Later Life
After his retirement in 1988 from the ministry, they moved to Canada.33 During his retirement Pastor Bryce Newell volunteered as a prison chaplain for the Eastern Oregon Correctional Institute (EOCI) in Pendeleton for several years where he was notified for his selfless dedication and faithful service between 1989-1995. In 1995 he received the Ruby Isom Award for his outstanding volunteer service in the field of criminal justice by the Oregan Criminal Justice Association.34 Newell died at the age of 94 on April 24, 2016, in Ridgecrest, California.35
Contributions
Newell had made a great impact during his ministry to Indonesia. The family served in a period that was difficult in the history of Indonesia due to warfare and political unrest in the country during the late 1950s and early 1960s.36His demonstrated persistence amidst trials by remaining in the country by ensuring the work of God progressed well.37 The president of the North Celebes Mission, A. Pasuhuk, commented on the Newell family on the missionary mindset and their continuing to work amidst the state of war.38 It was under Bryce Newell's direction during his appointment as an acting president of the Indonesia Union College in collaboration with the Ministerial Association that the section of summer school was held to train pastors in church administration and pastoral problems.39
During his ministry he had baptized and won many souls to Christ, both in Indonesia and America. His work in the educational and ministerial field has always been recognized because of his tireless commitment to serve. His commitment to serve was evident even in his retirement years. His contribution to the Eastern Oregon Correctional Institute (EOCI) in Pendleton and the service to community around in improving the world was remarkable and respectable.40 During the award ceremony for his excellence in volunteer work, Newell said, "My ministry inside the prison is similar in many ways to the mission service I was involved in right out of college."41
Sources
Coffey, Cecil. "Tahoma church hosts health, welfare federation." Gleaner, May 1, 1972.
Coffey, Cecil. "Upper Columbia." Gleaner, August 5, 1974.
Eldridge, Paul H. "Ministerial Association sponsors summer school in Indonesia." Ministry Magazine, February 1964.
Garnes, Phyllis. "Pastor Retires." Gleaner, November 21, 1988.
Gaselle, Todd. "Volunteer Chaplain honored for his work behind bars." Gleaner, November 6, 1995.
Gibb, A. G. "News from here and there." Far Eastern Division Outlook, July 1960.
Nainggolan, Rajoaman. "Indonesia Union College: a Historical Study of a Seventh- day Adventist Institution." Ph.D. dissertation, Andrews University, Berrien Springs, Michigan, U.S.A., 1984.
Newell, Bryce Franklin. "On the front line in the Celebes, Indonesia." Australasian Record and Advent World Survey, September 1959.
Pasuhuk, A. "News items from the North Celebes Mission." Far Eastern Division Outlook, May 1, 1958.
Personal Information Form and Biographical Material of Bryce Franklin Newell. General Conference Secretariat, record series APPT—XPIF, Record ID 114934, creation date December 31, 1950. General Conference of Seventh-day Adventists Archives Silver Spring, Maryland, U.S.A.
Plubell, G. L. "News Note of Interest from Hawaiian Mission Academy." Pacific Union Recorder, October 30, 1967.
Vistaunet, Steve. "Family at rest." Gleaner, September 2016.
Notes