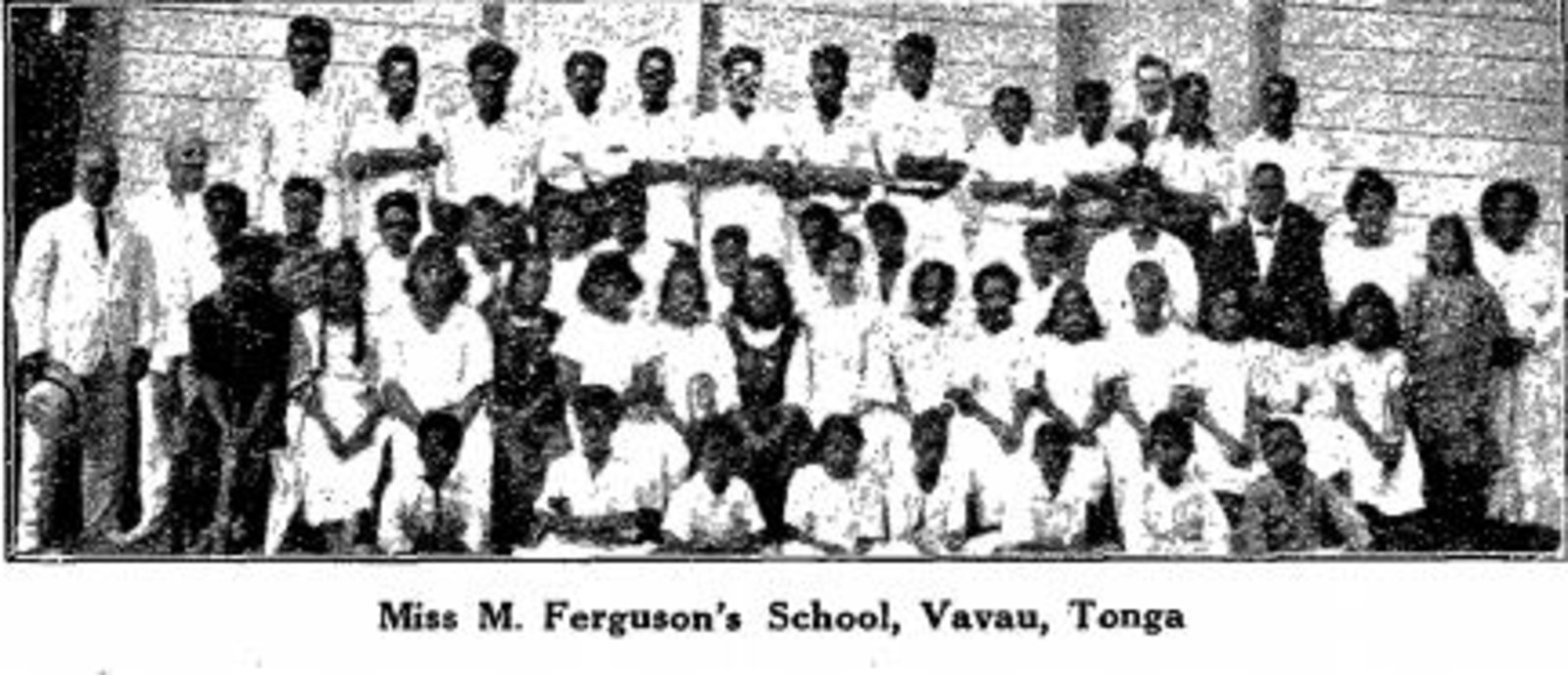 Ferguson, Margaret (1893–1967)
×
Milton Hook, Ed.D. (Andrews University, Berrien Springs, Michigan, the United States). Hook retired in 1997 as a minister in the Greater Sydney Conference, Australia. An Australian by birth Hook has served the Church as a teacher at the elementary, academy and college levels, a missionary in Papua New Guinea, and as a local church pastor. In retirement he is a conjoint senior lecturer at Avondale College of Higher Education. He has authored Flames Over Battle Creek, Avondale: Experiment on the Dora, Desmond Ford: Reformist Theologian, Gospel Revivalist, the Seventh-day Adventist Heritage Series, and many magazine articles. He is married to Noeleen and has two sons and three grandchildren.
First Published: January 16, 2022
Margaret Ferguson was a self-supporting missionary teacher in Tonga for two decades.
Early Life
Margaret or "Maggie" Ferguson was born in Berkshire, England, in 1893 to Donald Fletcher Ferguson and his wife Annie Elizabeth (Marshman). Donald was a merchant's clerk and passed away prematurely the same year as Maggie's birth. Annie was left with six children: Archibald Donald (b. 1881), Reginald (b. 1883), Janet Louise (b. 1884), William Norman (b. 1886), Grace Irene (b. 1889) and Maggie.1
The Ferguson family immigrated to Western Australia and settled in the orchard district of Karragullen near Perth. About 1920 they converted to the Seventh-day Adventist faith.2
Teaching in Tonga
Maggie arrived in Tonga in January 1921 as a mission school teacher.3 The small group of believers was still recovering from the loss of leadership in the persons of Hubert and Pearl Tolhurst. Pearl had died in March 1919 during the influenza pandemic and Hubert had returned to Australia. Maggie volunteered to do whatever she could to provide continuity to the mission work. She was not listed as an official appointee. She arrived as one who would be supported by her family in Western Australia and whatever means she could generate from school fees and the school garden. Her mother sailed in May 1921 to join her in her endeavors.4
On arrival Maggie found mission progress had been curtailed by the pandemic. School work was restricted to the capital, Nuku'alofa on the island of Tongatapu. She took charge of the school and was assisted by Jone Latu, a local young man who served as Bible instructor. During the 1922 school year Jone began as a colporteur and another young man, Buloka, became Maggie's aide.5 All lessons were conducted in the English language with the exception of the Bible and the baptismal class which was in the Tongan language. The average enrolment was twenty-five, most students being teenagers who, it was anticipated, would become national missionaries. The school served as the main source of baptisms. After two years in Nuku'alofa Maggie took a twelve month break and taught in a Brisbane, Queensland, church school.6
Early in 1924 Maggie returned to Tonga to be principal of a self-supporting mission school at Neiafu, Vava'u Island.7 She began the year with an enrolment of forty-two8 and finished with sixty-six students.9 Ages ranged from six to twenty-one years.10 In 1925 Maggie's mother once again joined her for company and support.11 Enrolment rose to over one hundred and a national, James Moala, was called on to assist12 and Lilo, wife of Timothy Mafi, told Bible stories to the little ones in their local language. Maggie began a Sabbath School and a Youth Society for over twenty of the senior students.13 Maggie's sister, Janet, and her children joined her but in 1926 mother Annie became ill and the family returned to Western Australia.14 Annie passed away on June 6, 1927.15
Maggie and Janet and the children returned to the Vavau school soon after their mother's death.16 Other members of the family continued their support from home base. Except for one native evangelist the Ferguson's were left to conduct the mission outpost with an occasional visit from the mission president.17 Throughout the 1930s Maggie continued her school at Neiafu. It was a low-profile enterprise, rarely mentioned in official reports because it was not dependant on denominational funds. In that sense it was unique. Some American missionaries were self-supporting in the 1890s but it became a rare circumstance. Nevertheless, Maggie's school proved to be a very successful enterprise and trained many young missionaries. Her last report was in 1942, encouraging church members to give their offerings to support the entire mission cause in Tonga.18 By that stage war had come to the Pacific field and Maggie, together with most expatriate missionaries, returned to their homelands.
Return to Western Australia
Maggie returned to Karragullen and lived with her brother Norman and his wife on their orchard. They attended the Gosnells church. Her last years were spent in care at the Mount Henry Home for the Aged near South Perth. She passed away peacefully on June 19, 1967, and was laid to rest in the Seventh-day Adventist portion of Karrakatta Cemetery.19
Sources
"Back in Tonga." Australasian Record, July 11, 1927.
"Donald Fletcher Ferguson." FamilySearch, Intellectual Reserve, 2021. Retrieved from https://www.familysearch.org/tree/person/sources/KZ1F-DCP.
Ferguson, M[aggie]. "The People of Tonga." Missionary Magazine, November 1942.
Ferguson, M[aggie]. "Vava'u, Tonga." Australasian Record, April 13, 1925.
Ferguson, Maggie. "Vava'u, Tonga." Australasian Record, June 29, 1925.
"Miss M. Ferguson, accompanied by…" Australasian Record, March 28, 1927.
"Miss M. Ferguson sailed…" Australasian Record, March 10, 1924.
"Sister Ferguson from West Australia…" Australasian Record, March 2, 1925.
"Sister Ferguson, the mother…" Australasian Record, May 30, 1921.
"Sister M. Ferguson writes…" Australasian Record, May 19, 1924.
"Sister M. Ferguson writes from Vavau…" Australasian Record, November 24, 1924.
Smith, R[obert] W. "Tongan Mission Report." Australasian Record, October 16, 1922.
Speck, D[avid] A. "Maggie Ferguson." Australasian Record and Advent World Survey, August 7, 1967.
Speck, D[avid] A. "William Norman Ferguson." Australasian Record, June 17, 1974.
Stewart, A[ndrew] G. "Visit to the Tongan Field." Australasian Record, January 5, 1925.
Stratford, S[ydney] V. "Our Tongan School." Australasian Record, February 5, 1923.
Tolhuurst, H[ubert] L. "Ha'apai and Vava'u, Tonga." Australasian Record, March 10, 1930.
White, H[arold] C. "Annie Elizabeth Ferguson." Australasian Record, July 25, 1927.
Notes