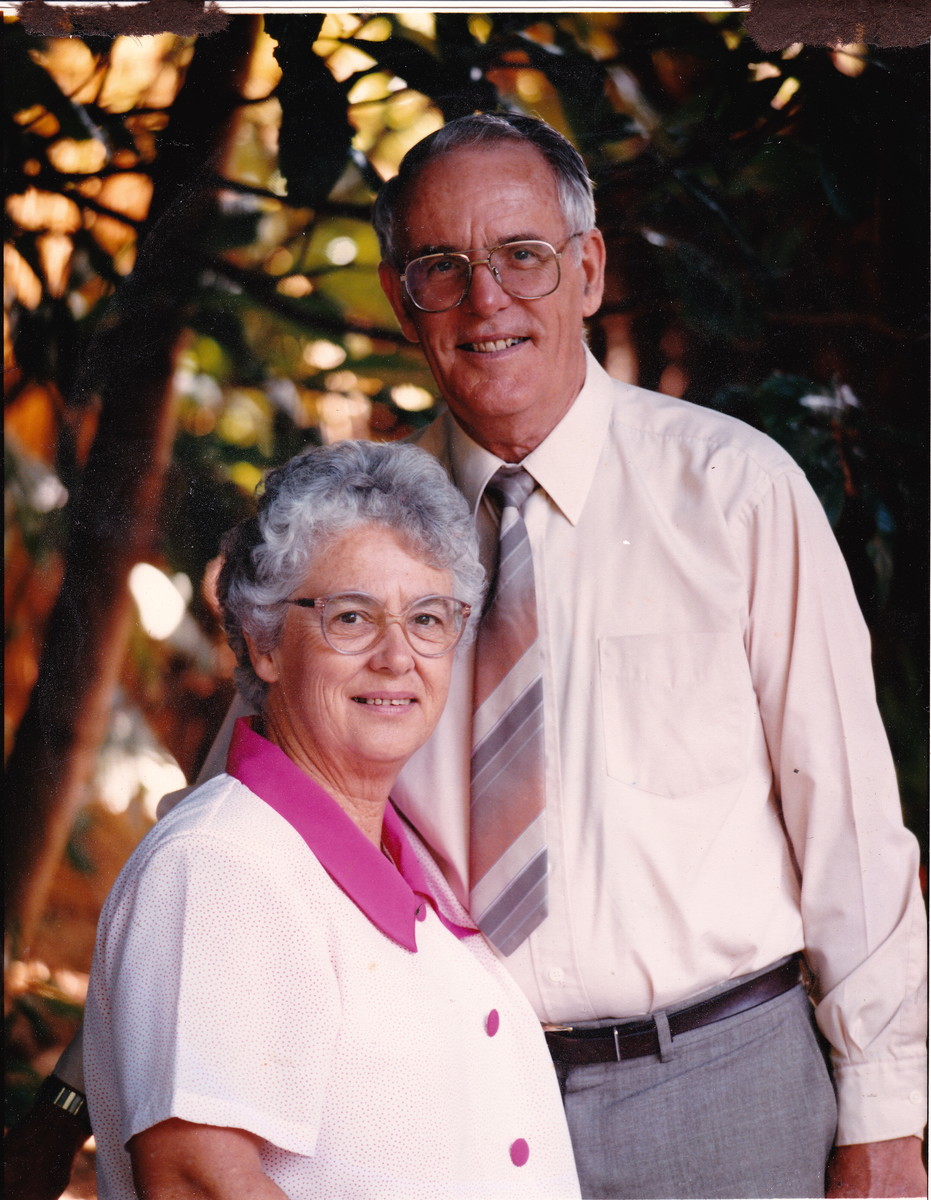 Rankin, Molly Kathleen (1930–1999)
×
Paul Rankin, Ph.D. (Avondale College of Higher Education, NSW Australia) currently serves as the Health Director Greater Sydney Conference of the Seventh-day Adventist Church. Rankin, New Zealand by birth, is a conjoint lecture in Lifestyle Medicine at Avondale College of Higher Education. He has worked as nurse, pastor, missionary pilot, health educator, administrator, and academic. He is passionate about his family, wife Sonia, and three adult children. He enjoys hang gliding, woodworking, and hiking.
First Published: July 18, 2020
Molly Rankin was an author and missionary spouse who, while holding no formal position herself, found many ways to provide valuable service in the places where her husband was assigned. Rankin was known for her enthusiasm, passion and ability to organize anyone or anything.1
Early Life and Education
Molly Kathleen Sullivan was born on the July 8, 1930, in Devonport, Auckland, New Zealand.2 She was the second child and younger daughter of Basil and Mildred Sullivan. Her older sister was Joy Mildred. When she was 10 years old the family moved to Mission Bay. She attended Stanley Bay School, then Kohimarama School, and did her secondary schooling at Auckland Girls Grammar School where she was a prefect and passed her University Entrance Examination.
On leaving school, Rankin attended Auckland University while at the same time working in an office work in Auckland. In 1951, she passed the exams which enabled her to become a member of the New Zealand Society of Accountants.
In 1952, Rankin went on a working holiday to England, traveling over England and Europe. On returning home in August 1953, she began seeing Ian Bruce Rankin whom she had met at Springside, Helensville, before she went overseas. On Labour Weekend 1954, Ian and Molly became engaged and they married on April 6, 1955.
The Rankins built a house at Titirangi, New Zealand, where their first son, Paul Meredith, was born.3 The couple was blessed with another son, David Bruce.4 In 1959, Ian Rankin, who by this time was also a qualified accountant, was offered a position in Whangarei at Westons Motors. Until their house in Titirangi was sold, they rented a house from Arthur Sheffield.
Molly Rankin decided that the decor in the rental house could be improved with the application of some paint and so offered to do the painting if Sheffield would provide the paint. Sheffield not only provided the paint, but also came and assisted with the painting. Rankin soon discovered that Sheffield was a Seventh-day Adventist and, while they were painting together, he shared the reasons why he was an Adventist. Ranking communicated what she learned with her husband and within six weeks they were attending the local Adventist church in Whangarei. Within a few months, on September 24, 1960, they were baptized.5
In 1961, they moved into their own house on a lifestyle block (a small rural acreage), in the Whangarei suburb of Maunu where their third son, Seth Dumas, was born.6 Begining in 1963, Molly and Ian Rankin attended Avondale College for four years. While at Avondale, Molly Rankin demonstrated her leadership ability by starting a Student Wives Association and leading the Memorial Church Pathfinder Club. Ian Rankin graduated with a B.A. in theology in 1966.7
The Rankins' first appointment upon graduation was to Napier, New Zealand, where Ian Rankin ran an evangelistic series and Molly Rankin conducted cooking demonstrations. She also learned to spin in Napier, a hobby that was to remain with her and which was to bring her much satisfaction and happiness as well as the occasional financial reward. Rankin's creativity was demonstrated in the numerous home-spun, hand-knitted jumpers supplied to family and friends over many years.
In 1968, in Napier, Esther Mildred was born on April 1.8 In 1969, the Rankins were appointed to Papua New Guinea (PNG). From 1970 to 1972, they worked at Kabiufa Adventist High School near Goroka, PNG, where Ian Rankin was principal.9 It was here that Molly Rankin began her writing career under the encouragement of Kenneth Wood, then editor of the Review and Herald, and Robert Parr, editor of the Australasian Record. She was responsible for the column "Leaves from a Missionary's Diary," many articles in the Signs of the Times, Record, Insight, and Guide, and later, "Pastor Peter's Progress" in the Australasian Record.
Between 1973 and 1975, the Rankins were at Omaura Bible Training Institute in the Eastern Highlands of Papua New Guinea where Ian Rankin was the director.10 "Leaves from a Missionary's Diary" was about their lives at Omaura. "Leaves from the Missionary's Diary" was published in the Australasian Record and Advent World Survey between volume 78 number 5 published on February 4, 1974, and volume 81 number 6 published on February 9, 1976. Rankin embraced the life of a missionary and, despite having no medical or nursing background, assisted in running the clinic at Omaura, delivering a number of babies. "Molly" became a common baby's name in the area.
The family returned to South New Zealand Conference to work in Timaru in 1976 and then Christchurch. Rankin found it difficult readjusting to life in New Zealand. For a period of time, she suffered from depression which was exacerbated by an acute case of pancreatitis. "Pastor Peter's Progress" was a fictionalized account of their time in pastoral work in the South New Zealand conference. "Pastor Peter's Progress" was published in the Australasian Record and Advent World Survey between June 26, 1978 (volume 83 number 26), and December 1, 1980 (volume 85 issue 48).
During this time, Rankin completed three books. The first, I Heard Singing was published in 1976 and was the story of a girl from the Highlands of Papua New Guinea who expresses the dramatic change that Christ brings to her life.11 The second, No Chance to Panic was published in 1980 and recounts the stories of the time that Ian and Molly Rankin spent in Omaura.12 The third, When the Fuses Lit, published in 1982, was a story of a young man who Rankin met when he was a student at Kabiufa. It chronicled his experiences fighting the Indonesian occupiers in Irian Jaya and then his escape to PNG.13 All three books were published by Pacific Press.
Following five years in South New Zealand, Ian and Molly Rankin were called to work as ministers in North New Zealand.14 This provided the opportunity for Rankin to be closer to her mother who was needing more care. In 1990, the Rankins' eldest son Paul and his wife Sonia were appointed to work in Highlands of Papua New Guinea.15 They visited Paul and Sonia for Paul's ordination as a Seventh-day Adventist minister in 1991 and rediscovered their love of Papua New Guinea. In 1993, instead of retiring as anticipated, the Rankins accepted the opportunity to return to Papua New Guinea where Ian Rankin was appointed business manager for Sopas Adventist Hospital in Wabag, Papua New Guinea.16
In 1996, Ian and Molly Rankin returned to Auckland, New Zealand, where they retired. In 1999, they moved from Auckland to Nelson. Following a short battle with bowel cancer, Molly Rankin died on June 2, 1999.17
Sources
"Graduates Appointments." Australasian Record, November 28, 1966.
Ian Bruce Rankin Biographical Records. South Pacific Division of the General Conference Archives.
Ian Bruce Rankin Service Records. South Pacific Division of the General Conference Archives.
Rankin, Molly K. I Heard Singing. Mountain View, CA: Pacific Press Publishing Association, 1976.
Rankin, Molly K. No Chance to Panic. Mountain View, CA: Pacific Press Publishing Association, 1980.
Rankin, Molly K. When the Fuse Is Left. Mountain View, CA: Pacific Press Publishing Association, 1982.
Venter, Douw. "Molly Kathleen Rankin obituary." Record, July 10, 1999.
Notes