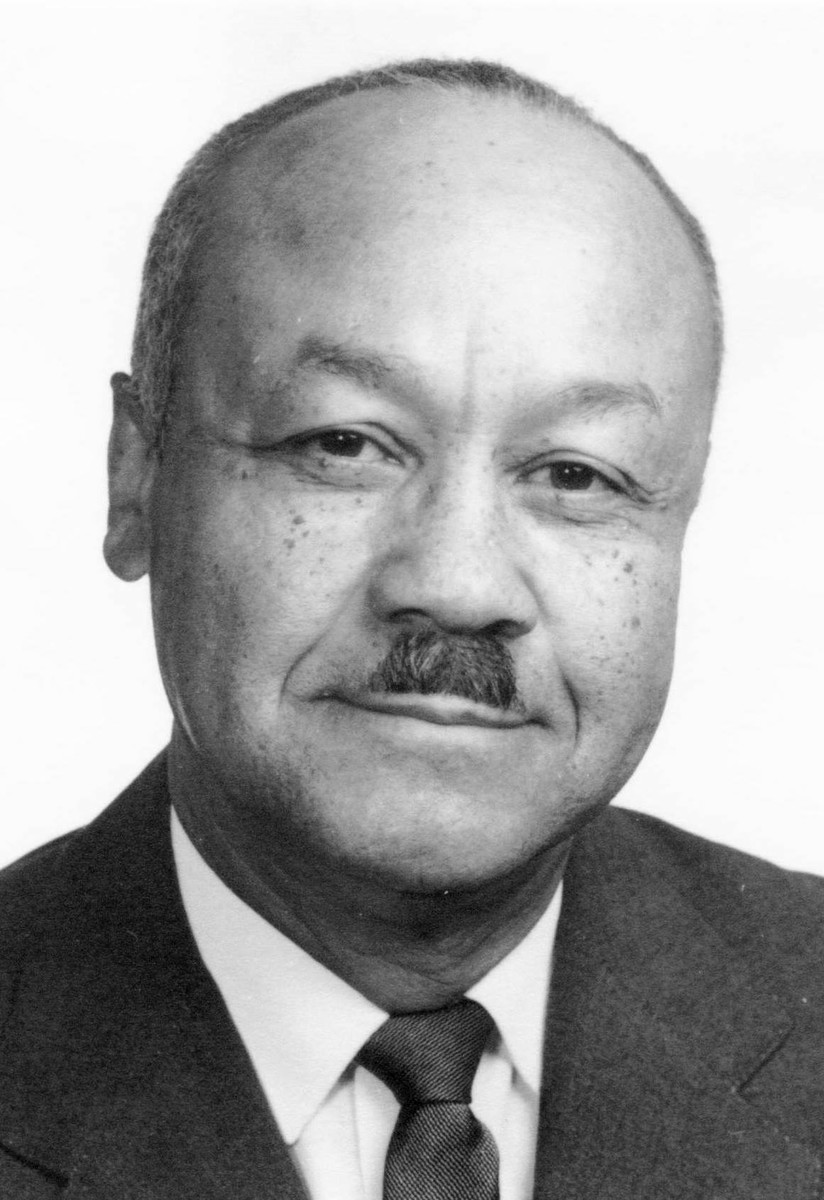 Moseley, Calvin Edwin, Jr. (1906–2001)
×
Samuel London, Ph.D., is a professor and chair of the Department of History and Political Science at Oakwood University, Huntsville, Alabama. He is the director of the Oakwood Office for the Encyclopedia of Seventh-day Adventists. London wrote the book Seventh-day Adventists and the Civil Rights Movement (University Press of Mississippi, 2010). Samuel and his wife Laura reside in Priceville, Alabama.
First Published: January 29, 2020
Calvin Edwin Moseley, Jr., served the Seventh-day Adventist Church for more than sixty years as a pastor, educator, administrator, and accomplished musician.
Calvin was born on January 7, 1906, to Calvin Edwin Moseley, Sr. (1882–1962), and Lillie Belle Dixon (1887–1962) in Demopolis, Alabama.1 He received his elementary education in Demopolis, Alabama, and Meridian, Mississippi.2 At the age of 15 Moseley enrolled at the Tuskegee Institute in Tuskegee, Alabama, majoring in electrical engineering. While working on campus as a messenger for the school's president, he met the famous agriculturalist George Washington Carver. Learning that Carver taught a Bible class, Moseley attended and developed a deep appreciation for the Scriptures.3 Around this time his musical abilities manifested as he learned to play the cornet and joined a singing quartet. Meanwhile, Moseley's family moved to Jackson, Mississippi. At the end of the school session he went there to visit them. To his surprise, they had all converted from the Baptist faith to Adventism. His younger brother, Ernest (1908–1971) encouraged him to attend an Adventist evangelistic effort conducted by Joseph Hermanus Warrington Laurence (1885–1987) and Frederick S. Keitts (1892–1977). After hearing a few sermons, Moseley decided to join the Seventh-day Adventist Church. He was baptized in 1923.4 Moseley did not return to Tuskegee, but transferred to Jackson College in Jackson, Mississippi. Thereafter, two recruiters from Oakwood Junior College convinced him to attend their school. 5 In 1925 he enrolled at Oakwood and joined the Jubilee Quartet, comprised of Frank Loris Peterson (1893–1969), John H. Wagner, Sr. (1902–1962), and Charles Salisbury.6
After graduating from Oakwood, Moseley enrolled at Emmanuel Missionary College (now known as Andrews University) in Berrien Springs, Michigan. There, in 1929, he earned bachelor's degrees in theology and history. In 1944 he received a master's degree from the Seventh-day Adventist Theological Seminary in Washington, D.C.7 Moseley married Harriet Frances Slater (1909–2004) on June 15, 1933, at the Shiloh Seventh-day Adventist Church in Chicago, Illinois.8 They had two daughters, Harriet Ann, and Barbara Jean.
On graduating from Emmanuel Missionary College, Moseley entered the ministry serving as a ministerial intern in Evanston and Springfield, Illinois. Afterward he secured employment with the Missouri Conference of Seventh-day Adventists, pastoring churches in both Kansas City and St. Louis, Missouri.9 On September 2, 1933, Moseley became an ordained minister.10 The following year he accepted an invitation from Oakwood's president, James Lewis Moran, to become the school's Bible teacher, pastor of the campus church, and the men's residential dean.11 Under his leadership a true Religion Department came into being with the development of a proper curriculum and the hiring of additional faculty such as Clarence Theodore Richards (1912–1995) and Ernest E. Rogers. It is said that during Moseley's tenure as head of Oakwood's Religion Department, he trained 98 percent of the denomination's black ministers. Consequently he received the honorific title "father of preachers."12 In 1951 Moseley left Oakwood to become the assistant director of the denomination's Regional Department. He continued in that position until 1954. That year Moseley became the general field secretary of the General Conference of Seventh-day Adventists, working in that capacity up to 1970. From 1951 to 1972 he served on the board of trustees for Oakwood College and the Riverside Hospital in Nashville, Tennessee.13
In 1971 Moseley officially retired and moved back to Huntsville, Alabama. There he continued to be active in the church and academia. From 1974 to 1994 he served as first elder of the Oakwood College church, and from 1980 to 1990 functioned as the associate pastor. Moseley also taught part-time in Oakwood's Religion Department from 1973 to 1990. He went on to establish the Moseley-Warren Scholarship Fund to assist students desiring careers in the gospel ministry.14 On account of his many years of dedicated Christian service, in 1970 Daniel Payne College in Birmingham, Alabama, awarded Moseley an honorary doctorate. In 1975 he won Oakwood's Alumnus of the Year award. Moreover, in 1977 Oakwood named its newly constructed Religion and Theology Complex after him.15 His retirement years afforded him time to write. In 1973 he produced a second book, Information Please. His first volume, The Lord's Day, was published in 1949. For two decades Message Magazine ran his column Bible Answers to Your Questions. He also wrote articles featured in the Adventist Review, Youth's Instructor, and Ministry.16 Moseley died on January 28, 2001, at the age of 95 in Huntsville, Alabama.
Generations of black Adventist ministers and Oakwood alumni will remember Moseley as a multitalented Christian man who ardently served the Lord as a musician, pastor, author, pioneering educator, and church administrator. Historically, he will always have the distinction of being the first person of color to head Oakwood's Religion Department and serve as the senior pastor of the campus church. Moreover, he was one of the first blacks to serve as an administrator at the world headquarters of the Seventh-day Adventist Church.17
Sources
"An Era Ends at Oakwood." Huntsville Times, January 30, 2001. Oakwood University Archives.
"Biographical Sketch: C. E. Moseley, Jr." Oakwood University Archives.
"Biography of Calvin E. Moseley." Oakwood University Archives.
"Calvin E. Moseley: Pastor, Teacher, General Conference Administrator." Oakwood University Archives.
Certificate of Ordination for C. E. Moseley. St. Louis, Missouri, September 2, 1933. Oakwood University Archives.
"Chronology of the Life of Elder C. E. Moseley." January 29, 2001. Oakwood University Archives.
Cook County, Illinois. Marriage Certificate File 1372079 (1933). Calvin E. Moseley, Jr., and Harriet F. Slater. Cook County Genealogy Records (Marriages), Chicago, Illinois.
"Cover Story: Called to Preach, a Pen Portrait of Calvin Edwin Moseley, Jr." North American Regional Voice, April 1989.
"Dr. Calvin Edwin Moseley, Jr., obituary." Oakwood College Church. Oakwood University Archives.
Dykes, James E. "Biographical Sketch of Calvin Edwin Moseley, Jr. (1906– )." Oakwood University Archives.
"Elder C. E. Moseley (1906–2001): 'Good and Faithful Servant.' " Biweekly Oaks 2, no. 3 (February 16, 2001).
Johnson, Ben. "Father of Preachers." Adventist Review, August 3, 2000.
Marengo County, Alabama. Marriage Certificate File 001293871 (1903). Calvin Moseley and Lilly Jones. Marengo County, Alabama, Marriage Records, 1805–1967.
"1992 Message Magazine Excellence Award: Elder Calvin Moseley, Jr." Oakwood University Archives.
Roper, Kemyesha. "Calvin E. Moseley." Regional Voice, Summer 1998.
Warren, Mervyn A. They Called Him Rabbi: A Biography of Calvin E. Moseley, Jr. Nampa, Idaho: Pacific Press Publishing Association, 2017.
Notes