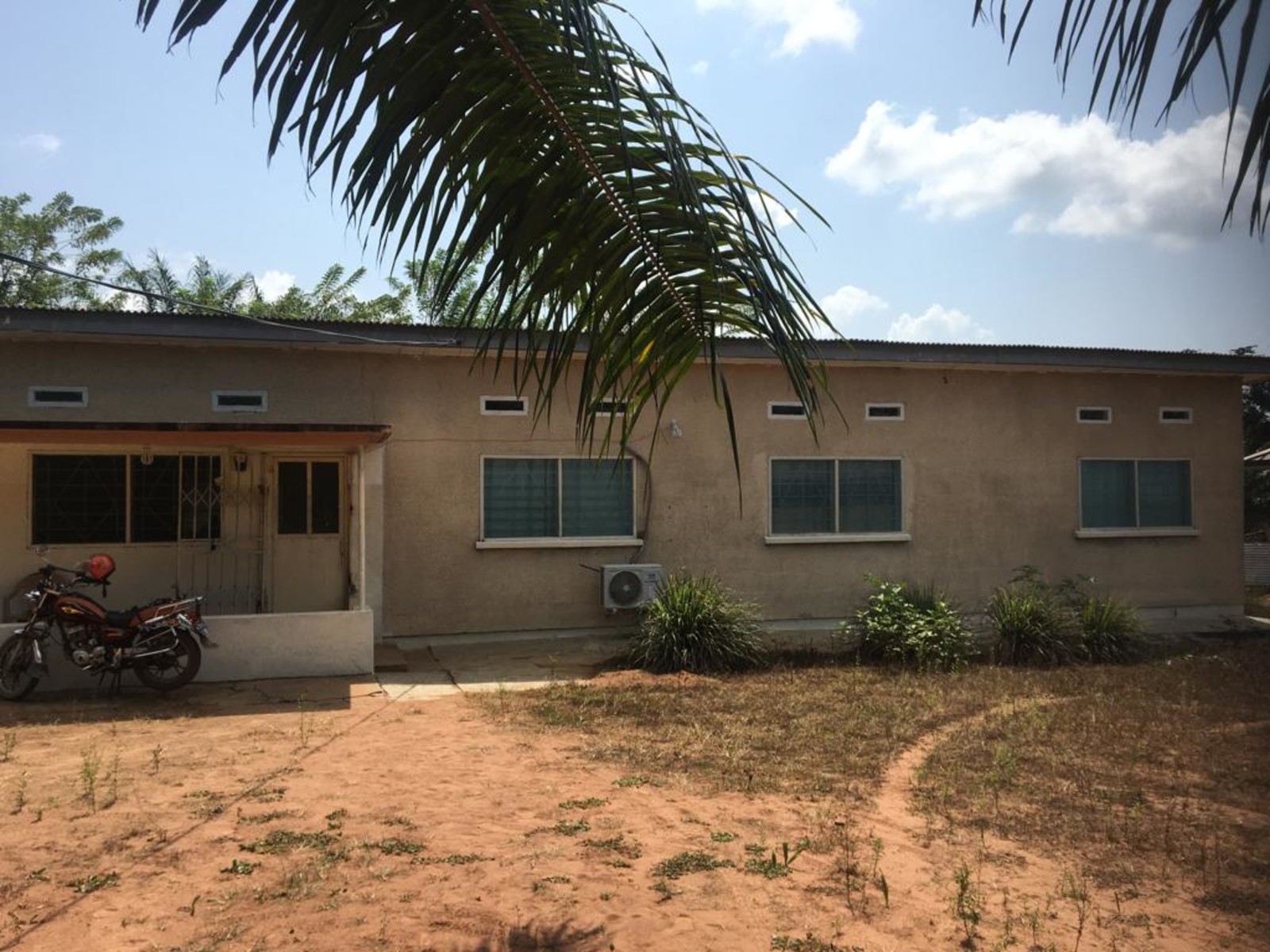 Volta North Ghana Mission
First Published: January 29, 2020
Volta North Ghana Mission, formerly part of the Accra City Conference, was organized in 2017. It occupies the following territories: the northern portion of the Volta region, covering the Jasikan, Krachi East, Krachi West, Kadjebi, Krachi Nchumuru, Nkwanta North, and Nkwanta South districts; bordered on the south with Volta South Mission at Bowiri, on the east by the Togo highlands, on the west by Volta Lake, and on the north by the North Ghana Mission.1
As of June 30, 2018, Volta North Ghana Mission had 16 churches, membership of 3,637, and total population, of 579,926.2 Volta North Ghana Mission is located in Jasikan, Ghana.3
Bodada
The Seventh-day Adventist Church was started in Oti region around 1940 by Thomas Adjei of Baglo, Eastern Buem in the Buem-Krachi district. In 1895 a young lady called "MPUSA" was taken as a slave by the Ashanti war lords. Her name was changed to Adwoa Fordwuo and later she married Nana Kwabena Adjei, the chief of Mprim, a village near Mampong Ashanti. Fordwuo gave birth to Thomas Adjei and taught him the ancient history of the Buems and Ashantis. When Thomas Adjei accepted the Adventist faith, he decided to bring the message to his people at Baglo-Kute. He traveled on bicycle from Mprim, Ashanti, via Krachi to Baglo with the Adventist message. Unfortunately, his own people did not accept the message at Baglo-Kute. He came to Bodada the capital of the Buem traditional area to share the message and Nana Peter Akpandja (a.k.a.) Nana Ati, the chief linguist of Buem traditional area accepted the message. Pastor Charles Bennet Mensah was invited to baptize Nana Kofi Akpandja and to organize an evangelistic campaign at Bodada in 1940. After the evangelistic campaign eight souls were baptized. Including the earlier baptism of Nana Kofi Akpandja, the first nine baptized persons were Nana Peter Kofi Akpandja, Forson Apew, Mrs. Forson Apew, Opanin Forson Addo, Opanin Ebenezer Ayim, Opanin Paul Ayim, David Tukpe, Juliana Tsotsrobu, and Madam Alemiese.4
Nana Akpandja relinquished his post as the chief linguist to the Buemhene Nana Konko and his elders because of his new faith in Christ. The first minister for the church was Pastor P. K. Asare of Kokofu in the Ashanti region. The first chapel was built in 1943 at Bodada.
The first convert, Nana Peter Kofi Akpandja, died after a short illness in 1972 and was buried by Pastor B. K. Opoku. The Adventist message spread rapidly to other parts of the Volta region. One of the early places the Advent message spread to in the Oti region from Bodada is Okadjakrom.5
Madam Afua Otomo, a native of Okadjakrom, visited some relatives at Bodada in the 1940's and returned with the Adventist faith. She shared her faith with John Ampim and Enoch Darko, and they started keeping the Sabbath. Daniel Atta Mensah and Albert Myres (a.k.a.) Olympio later joined these Sabbath keepers. The first baptism at Okadjakrom was in 1950 and those baptized were Afua Otomo, Julia Darko, John Ampem, Mary Darko, Rosina Kokroko, and Rachael Badu. The first church building at Okadjakrom was built in 1954. The pioneers established a school and B. K. Opoku was hired to take care of it. He was converted and later became a gospel minister, Pastor B. K. Opoku (nick-named Volta Methuselah of the Adventist Church).6
The Adventist message continued to spread to other parts of the region and in 1951 Teacher Tato was the first baptized Adventist in Nkonya. The Adventist message also spread to Teteman in 1968 when Joseph Thompson was baptized.
Boafri
Paul Didanyi and his family came to Boafri from Kumudi on April 15, 1961, and he worked as a blacksmith. He was a Seventh-day Adventist when he came to Boafri, and he and his family started worshiping in his house. Other families in the community joined them and they moved to a milling house as a house of worship. The milling house collapsed and they began worshipping under a mango tree. Their pastor was Pastor Boahen. It took three years (1970-1972) to build a place of worship. Pastor Onjuka officiated at the first baptism at Boafri where 18 souls were baptized.7
Kete-Krachi
The church in Kete-Krachi started at Kwakuae but it collapsed when all the members left for Kwahu North in the Afram Plains to farm. Later, in 1977, Pastor Ambrose Waahu organized an evangelistic campaign at Kete-Krachie and Isaac Anyorbode was the first to be baptized by Pastor W. S. Whalley on November 6,1977. Pastor Francis Denyo, who was then a literature evangelist, was asked to take care of the church. Pastor Adams Nwumele was later assigned to take care of Kpandai district, which included Kete-Krachi. In 1985 Kete-Krachi was carved out of the Kpandai district and Pastor A. K. Boateng was asked to care for the newly created district. The message then spread from Kete-Krachi to the other communities within the district.8 In 1980 a church was started in Dambia when W. K. Asante moved from Akyem Sekyere to settle there.9 He joined some students at Dambai Training College on Sabbath for worship. These students came from different communities, so during vacation there was no place to worship. W. K. Asante found a place to worship in town, and by 1982 a congregation had been formed. In 1986 Dambai Adventist Secondary and Commercial College was established at Dambai and a resident pastor was sent there to take care of the school. This facilitated the growth of the church at Dambai. Also, in 1982, Mercy Tsekpo and Elder Paul Appiah Ansah assisted Pastor E. O. Abbey in an evangelistic campaign at Kadjebi and Samson Fordjour was baptized there. The church in Nkwanta was started in 1983 when Teacher Passco was baptized.10
Both laypersons and pastors worked tirelessly to spread the gospel in the region. Before 2013, these districts in the Oti region, Nkwanta South (Nkwanta), Nkwanta North (Kpassa), Krachi East (Dambai), Krachi West (Kete-Krachi), and Krachi Nchumuru (Chinderi), were part of the North Ghana Mission. There was a realignment and these five districts became part of South Ghana Conference (now Accra City Conference) in 2014. Volta Ghana Administrative Unit was formed under the leadership of Pastor Emmanuel Gaizer (director) and Pastor Richard Kwabena Daves (secretary) to take care of the churches in the Volta region under the supervision of the South Ghana Conference. On December 18, 2016, Volta Ghana Administrative Unit was divided into two missions, Volta North and Volta South. Volta North Ghana Mission was later renamed Oti Ghana Mission under the leadership of Pastor Richard Kwabena Daves as president, Pastor George Kuzagbe the executive secretary, and Dr. Daniel Yaw Faakye.11
Some of the pioneering pastors of the region are: Pastor P. K. Asare, Pastor Appiah Dankwah, Pastor O. K. Onyina, Pastor D. N. Agboka, Pastor E. B. Achianor, and Pastor B. K. Opoku.12
Administration13
Richard Kwabena Daves, president (2017-present)
George Kuzagbe, secretary (2017)
Godwin Yaw Agboado, secretary (2018-present)
Emmanuel Cobbina, treasurer (2017)
Martin Danquah, treasurer (2018-present)
Sources
Executive Committee Minutes, Volta North Ghana Mission, Action Number 036/12/2018, Volta North Ghana Records, Jasikan, Ghana.
Seventh-day Adventist Yearbook. Nampa, ID: Pacific Press Publishing Association, 2018-2019.
Notes