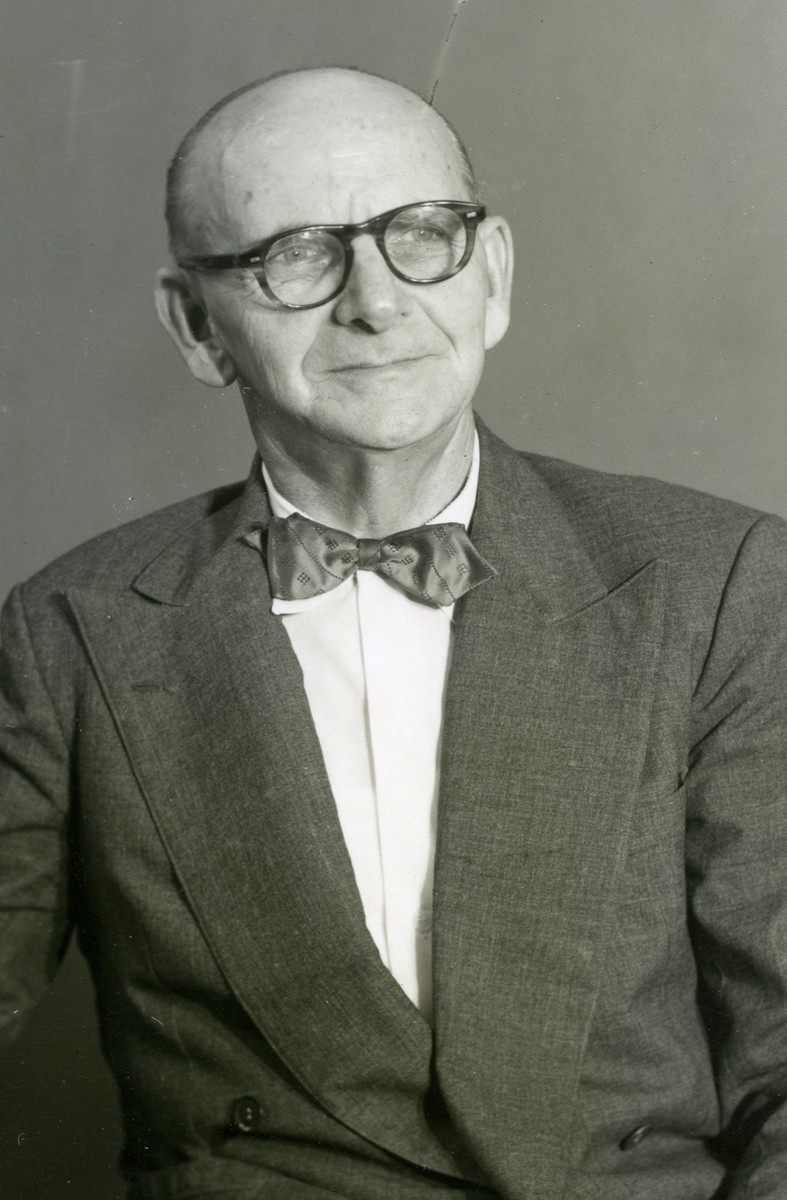 Branster, Gordon (1896–1987) and Idarene (Felsch) (1898–1984)
×
Originally trained as a secondary history teacher, a career long Adventist educator, Lester Devine, Ed.D., has taught at elementary, secondary and higher education levels and spent more than three decades in elected educational leadership positions in two divisions of the world Church, NAD (1969-1982) and SPD (1982-2005). He completed his forty years of denominational service with a term as director of the Ellen G. White/Adventist Research Centre at Avondale University College in Australia where his life-long hobby of learning and presenting on Adventist heritage issues became his vocation. 
Gordon Branster served the Church for 42 years in the South Pacific Division as a pastor, evangelist, and administrator at the conference and union levels.
Gordon Brandstater was born to Emanuel Brandstater and Wilhelmina (Darko) at Upper Castra in the Ulverstone District of Tasmania on October 22, 1896.1 Gordon's father, Emanuel, had arrived in Australia as a 10-year-old with his parents and family on the Eugenie from Prussia. The ship left Hamburg on October 20, 1871, and arrived in Tasmania on March 24, 1872. The entry in the ship's manifest read: "Emanuel Brandstadter 37, Protestant, Reads and writes, farmer and carpenter, brought out [sponsored] by J. Meredith. Wife, Caroline 31; children, Emanuel 10 r & w, farmer, [this is Gordon's father]; Adolphe 6, Caroline 3, Hermann 9 mo."2 Gordon was one of a family of eight children with birthdates between 1886 and 1898. His siblings were Ernest, Annie, Louisa, Lydia, Florence, Ida, and Roy.3 Born into a Seventh-day Adventist family, Brandstater attended the first Seventh-day Adventist School in Australia, located in Collinsvale, Tasmania.4 After leaving school, he worked at a sawmill. A miraculous escape from death in a logging accident convinced him that the Lord had a plan for his life, and he attended the Australasian Missionary College for five years,5 graduating in 1917 with a teaching diploma.6 He entered denominational service at the end of 1917 and taught at the Marrickville Adventist School in Sydney for a little more than two years before being appointed as a teacher in Fiji.7
Brandstater married Idarene Felsch on January 29, 1920.8 Ida had been born in Woodburn, New South Wales, on April 3, 1898.9 She had graduated with Gordon in 1917 from the Australasian Missionary College.10 Initially, she was assigned to the Wahroonga School.11 Immediately before they were married, however, they had both been teaching at the Marrickville school.12 Three children were born to the couple: Russell (born August 8, 1921, in Suva, Fiji), Marjorie (born August 3, 1924, in Suva), and Beryl ("Betty," born August 13, 1926, in Sydney, Australia).13 Before leaving for Fiji in January1920, Gordon and Ida changed their surname from Brandstater to Branster.14
In Fiji, Branster commenced his teaching in the Wainibuka River valley, in central Viti Levu.15 There, he founded the Wainibuka School, where he taught for four years.16 He then spent three years at Buresala Training School (1924–1927) on the island of Ovalau.17 Buresala had been opened in 1905 and was the forerunner of what has become Fulton Adventist University College.18 While at Buresala, he organized and conducted a brass band, one of the first in the country, which the Fijian people greatly appreciated.19 Gordon was ordained to the gospel ministry while the family was on furlough at Launceston, Tasmania, in January 1926.20 He then served as a district director at Naqia on the eastern side of Viti Levu from 1927 to 1930.21 From there the family moved to a similar role at Buca Bay on Fiji's second largest island, Vanua Levu, where they remained until the end of 1934.22
On his return to Australia, Branster engaged in pastoral evangelism in the South New South Wales Conference from December 1934 until March 1938. In 1935–1936 the family cared for the Leeton-Narrandera area.23 During those years, a new church building was constructed at Leeton and dedicated on December 28, 1936.24 During 1937 the family was located in Bowral.25
The family returned to Fiji in April 1938. During their time in Fiji on this occasion, Branster was the editor of the Fijian paper Rarama. In 1939 Branster was appointed as the acting superintendent and then the superintendent of the Fiji Mission located in Suva. He remained in that position until August 1940, when the family returned to Australia.26
On returning to Australia, Branster was appointed as superintendent of the North Queensland Mission. He remained in that position for a year until October 1941, when he was invited to be the president of the Queensland Conference, which is located in Brisbane. In December 1943, Branster returned to the South New South Wales Conference, this time as president, and continued in that role for five years until the end of 1948.27
Between December 1 and 12, 1948, an important meeting of the Australian Union Conference was held at Avondale. At that meeting, the union was reorganized and renamed the Australasian Inter-Union Conference. It was to comprise four unions: a Trans-Tasman Union Conference, a Trans-Commonwealth Union Conference, a Central Pacific Union Mission, and a Coral Sea Union Mission. Gordon Branster was appointed as the first president of the Central Pacific Union Mission with headquarters in Suva, Fiji.28
For the next decade, Branster administered the work of the Church across the territories of the Union. Travel around Polynesia was difficult and time-consuming. Pitcairn Island was particularly challenging. With no regular shipping service, visitors to the island had to depend on cargo freighters and passenger ships passing by being willing to stop and let visitors on or off the vessels. On one occasion, Branster took six weeks to get to Pitcairn. He left Wellington, New Zealand, on June 24, 1952, on the Rangitiki, expecting to arrive at Pitcairn in eight days. However, the weather was so bad when the ship reached the island that the Pitcairn longboats could not be launched from shore, and he had to stay on board until the vessel reached Panama. He then had to find a vessel willing to let him off as it passed Pitcairn. He eventually boarded the Ruahine and arrived on Pitcairn on August 5.29 In his eventual five weeks on the island, Branster provided pastoral ministry that was greatly appreciated by the Pitcairn islanders, and he conducted a baptism.30
At the end of 1958 the Branster family returned to Australia, where after a period of 14 months comprising sick leave, some pastoral responsibilities in the North New South Wales Conference, and long-service leave, Gordon Branster retired at the end of February 1960, having accumulated a little more than 42 years of denominational service.31
During retirement at Nords Wharf, south of Newcastle in New South Wales, Branster remained active in local church work, especially with the placement of hundreds of copies of Your Bible and You in the area motels.32 Ida Branster died on August 14, 1984.33 Gordon Branster died on March 22, 1987, in the Belmont hospital in New South Wales.34 His funeral on March 25, 1987, concluded with the hymn "Abide With Me." For 100 years it had been a tradition in the Branster family to close Sabbath each week with the singing of that hymn, so it seemed fitting to the family to sing it once again at that time as the postlude to an effective life of Christian service.35
Sources
Allbon, Rhae. "On the Threshold." Australasian Record, September 10, 1917.
"An Australasian Inter-Union Conference." Australasian Record, January 3, 1949.
Barnard, L. H. "Gordon Branster obituary." Adventist Record, May 30, 1987.
"Before leaving for his new field . . ." Australasian Record, March 22, 1920.
Branster, G. "Church Dedication at Leeton." Australasian Record, March 15, 1937.
"Brother Gordon Branster . . ." Australasian Record, March 22, 1926.
"Brother Gordon Brandstater and Miss Idarene Felsch . . ." Australasian Record, February 9, 1920.
Christian, Evelyn R. "The President Visits Pitcairn Island." Australasian Record, December 1, 1952.
District of Ulverstone. Birth Registration no. RGD33/1/82 no 2754 (1896). Gordon Brandstater. Registry of Births, Deaths, and Marriages, Tasmania. https://linctas.ent.sirsidynix.net.au/client/en_AU/names/search/detailnonmodal/ent:$002f$002fNAME_INDEXES$002f0$002fNAME_INDEXES:1064154/one?qu=Gordon&qu=Brandstater.
Gordon Branster Biographical Information. South Pacific Division of the General Conference Archives. Folder: "Branster, Gordon." Document: "Biographical Information Blank, April 12, 1950."
Gordon Branster Sustentation Information. South Pacific Division of the General Conference Archives. Folder: "Branster, Gordon." Document: "Pastor G. Branster."
Gordon Branster Sustentation Information. South Pacific Division of the General Conference Archives. Folder: "Branster, Gordon." Document: "Branster, Pastor G. (Gordon); Weekly Rates."
Howse, E. W. "The Isle of Mystery." Australasian Record, September 1, 1952.
"Leeton and Narrandera." Australasian Record, April 8, 1935.
"Over two hundred children . . ." Australasian Record, October 7, 1918.
Pastor G. Branster. "The Buresala Brass Band." Missionary Leader, June 1928.
"Pastor Branster Passes Pitcairn Island." Australasian Record, August 11, 1952.
Rudge, E. B. "Mission Notes, Fiji: Wainibuka School." Australasian Record, January 29, 1934.
"Seventh-day Adventist Education: 1905." Office of Archives, Statistics, and Research. https://www.adventistarchives.org/seventh-day-adventist-education.
Ship's Manifest for Eugenie sailing from Hamburg, Prussia, to Tasmania. Accessed February 18, 2018. https://linctas.ent.sirsidynix.net.au/client/en_AU/names/search/results?qu=Emmanuel&qu=Brandstater&qf=NI_INDEX%09Record+type%09Arrivals%09Arrivals.
Simmonds, Wal. "Life-Sketch of Gordon Branster." South Pacific Record and Adventist World Survey, May 30, 1987.
Smith, J. L. "The Tasmanian Camp Meeting." Australasian Record, March 29, 1926.
"With Our Missions in South New South Wales." Australasian Record, June 28, 1937.
Notes