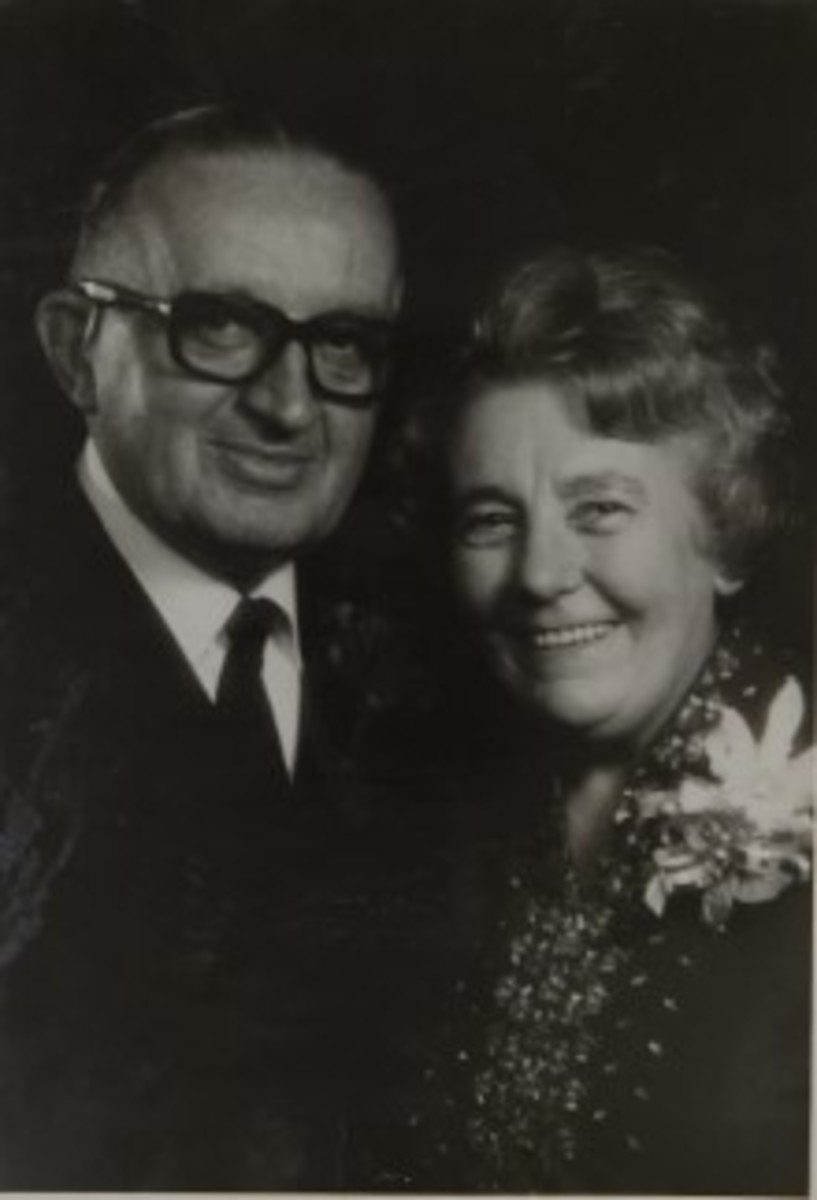 Jorgensen, Alfred Stanley (1911–2008)
×
Merle Cozens, Ph.D. (University of Newcastle, New South Wales, Australia) taught for 41 years in Adventist schools in the South Pacific Division, with her most recent position before retirement being course coordinator and senior lecturer, Faculty of Education, Avondale College of Higher Education. In retirement, Dr. Cozens is an Honorary Senior Research Fellow with Avondale College of Higher Education. She has authored and co-authored 20 scholarly articles published in refereed journals and in the proceedings of national and international educational conferences.
First Published: January 29, 2020
Alfred Stanley Jorgensen was a teacher, preacher, and writer from Australia.
Early Life and Education (1911-1924)
Alfred (Alf) Stanley Jorgensen, teacher, preacher, writer, was born in Culcairn, New South Wales (NSW), on September 23, 1911. He was the oldest of two children born to Carl Freidrich and Maria Agnes (nee Polst) Jorgensen. His sister, Sophie Agnes was born on December 23, 1917. The family were of staunch Lutheran stock. Carl had previously been married to Johanna (nee Graetz) who bore him eleven children before her passing in 1908, aged 54. After Carl and Maria were married, he continued farming at Burrumbuttock, a strongly Lutheran farming area about 34 km (21 miles) north-west of Albury NSW, before retiring to Wodonga, Victoria. Sadly, Carl passed away on December 28, 1917, aged 70, when Alfred was six years old, and just 5 days after Sophie was born.1
After the death of her husband Maria and the children lived in Albury, where Alfred obtained his primary school education. However, tragedy struck again when Maria succumbed to cancer on November 10, 1924, aged 41 years.2 Alfred was 13 at the time and in his first year of high school. After this the children were separated, with Sophie going to live with one of her half-sisters and Alfred taken in by his mother's sister,3 Emily Krueger, who was a Seventh-day Adventist.4
Conversion and Early Employment (1925-1929)
While on her deathbed, his mother made Alfred Jorgensen promise not to become a Seventh-day Adventist, and for a time he was resolute in this matter. However, one day his Aunty Emily invited him to a Sabbath afternoon Mother's Day program at her church, suggesting that there could be no harm in this. Jorgensen attended and from that time on became convinced about the Adventist message.5 After studies with Pastor Graham G. Stewart he was baptised by Pastor Stewart at Albury on January 26, 1926, aged 15.6
Following his baptism, and after having completed only two years of high school, Alf went to work for 2 years (1926-1927) as a farm assistant at the Warburton Sanitarium Health Food (SHF) Company.7 While at Warburton his employer, Mr. Brandstater, counselled him on his speech as he had developed some bad habits of pronunciation. Jorgensen heeded the advice and, looking for inspiration to men like Pastor W. G. Turner, he made improvements almost immediately and continued to work diligently at improving his speech.8
In 1928 Jorgensen was transferred to the Sanitarium Café in Little Collins Street, Melbourne, where he worked for two years as a storeman.9 Here he met Miss Jean Winfred Cook, daughter of Henry and Olive Cook, who was working at the same establishment. The following year, 1929, the two started dating. Jean's story was somewhat similar to Alfred's. Born on November 6, 1913, in Moreland, a suburb of Melbourne, her mother died when she was nine, and she spent her teen-age years living with her great-aunt Elsie Jackson, who was a Seventh-day Adventist. Through the influence of Elsie and her family Jean became a member of the SDA church.10
Education and Marriage (1930-1945)
It was during 1929 that a Lutheran relative who had taken an interest in Jorgensen, made a tempting offer to pay all his expenses for ministerial training at the Lutheran Seminary in Adelaide.11 However, Jorgensen declined and with encouragement from the then Union Conference Youth Director, S.V. Stratford, he chose rather to enrol in the Ministerial Course at Avondale Missionary College (now Avondale College of Higher Education), commencing at the beginning of 1930. Prior to making this move he arranged with his employer to be given a job at the Cooranbong SHF factory with an adult wage – the only way he could afford to be at College.12
With the commencement of his studies at Avondale, Jorgensen showed a keen desire to learn to read the Greek New Testament as soon as possible. With reluctant permission from C.H. Schowe to commence Greek in his first year, he purchased a Greek Lexicon Dictionary, and with diligent study was soon able to reach his goal.13
It was while Jorgensen was a student at Avondale that the first of numerous devotional and doctrinal articles which he was to write for Adventist journals, appeared in the February 8, 1932, Signs of the Times.14 Some sixty-eight years later the May, 2000, Ministry Magazine carried his final article to appear in print.15 Recurring themes included: Jorgensen's love for his Saviour, his passion for Spirit-filled living, and his confidence in the distinctive beliefs and prophetic role of the Seventh-day Adventist Church, as evidenced by titles such as "Our Glorious Heritage in Christ,"16 "What if We Did Not Have the Holy Spirit?"17 and "The Seventh-day Adventist Church–It's Distinctive Role in the Christian Mission."18
In 1933 Jean Cook spent a year at Avondale College, and the friendship continued.19
However, by the end of 1933 Jorgensen's finances were such that he could not finish his course, so at the beginning of 1934, after spending eight pounds of a total savings of thirteen pounds on a push bike,20 he commenced employment with the North New South Wales (NNSW) Conference as a colporteur (literature evangelist).21 For the next three years he canvassed in the Hunter Valley area north-west of Newcastle selling, in particular, the medical books, "Home Nursing" and "Home Physician".22
At the end of 1936 Jorgensen left denominational employment to pursue other lines of work – a period which he later described as his "wilderness years." Although Alfred and Jean continued to correspond during this time, he never felt that he had the money or the job security to ask her to marry him.23
This all changed when joined the 19th Field Ambulance at Gympie, Qld, in 1941.24 He was stationed first at Maryborough and then at Townsville, where he was soon promoted to the rank of Sergeant.25 In 1942, Jorgensen was posted to the Solomon Islands as a medic where he assisted with surgery in the camp Operation Theatre. From here he was Mentioned-in-Despatches.26 During this period Jorgensen faithfully worshipped with fellow-believers each Sabbath at local churches in Queensland and with a small group of Adventist army personnel in the Solomon Islands. Frequently he was the much-appreciated preacher for the day.27
With renewed self-confidence, and now with a steady income, Jorgensen travelled to Melbourne during a short period of leave and proposed to Jean Cook.28 She accepted his proposal and travelled with him to Townsville where they were married on September 12, 1942.29 Jorgensen continued his army service in the Solomon Islands and Jean returned to Melbourne where Alfred joined her at the conclusion of World War II. Two daughters, Estelle Ruth and Faye Vernette graced their home.30
Career/Ministry (1946-1981)
After obtaining his "Trained Primary Teacher's Certificate" at the Victorian Teachers' College (1946-1947), Jorgensen taught for the next three years for the Victorian Education Department.31 He then joined the staff of the Western Australia Missionary College (currently known as Carmel Adventist College), near Perth, where he served from 1951-1956 as a teacher of Bible, history and English.32 Jean was employed as a dressmaking teacher.33 During this period Jorgensen obtained a B.A. degree from the University of Western Australia.34
During 1957-1959, Jorgensen served in Departmental work for the Western Australian Conference, followed by two years (1960-1961) as a pastor/evangelist in Perth and Bunbury, Western Australia.35 He was ordained to the gospel ministry in 1959.36
Following a year of post-graduate study in Hebrew and Greek at the University of Sydney in 1962,37 Jorgensen (affectionately known by his students as Jorgy)38 served for ten-and-a half years (1963-June 30,1973) at Avondale College (Avondale College of Higher Education).39 Here he made a major contribution to the education of ministers through the teaching of biblical studies and biblical languages, and also through taking a personal interest in each student and challenging them to achieve their best.40 During this time Jean taught classes for wives of ministerial students on their future roles and responsibilities.41
Jorgensen's final active service was as Field Secretary for the Australasian Division (now South Pacific Division) of the Seventh-day Adventist Church, from July, 1973 to December, 1981, when he retired, aged 70.42 His responsibilities during this time included being Chairman of the Biblical Research Institute for the Australasian (South Pacific) Division,43 and Division Representative of the Ellen G. White Estate.44 Jorgensen used the opportunities of this wider field of ministry to educate and challenge the Church through biblical teaching, preaching and writing. At his retirement, he was commended in particular for his wise counsel during a time of doctrinal crisis.45
Later Life (1982-2008)
Alfred and Jean lived their years of retirement in Melbourne, from where Alfred continued to preach most Sabbaths until he was 95 years of age.46 Although Alfred had a very serious side to his nature, he also had a great sense of humour evidenced by the memorable children's stories he told whenever he preached.47
Jean passed away on October 14, 1995.48 Alfred prized personal independence and continued to drive and maintain his own home until relocating to Coronella Adventist Retirement Village, Nunawading, Melbourne, in July 2007.49 Alfred Jorgensen passed to his rest on 26 February, 2008, aged 96 years.50
Legacy and Contributions to the Church
Jorgensen's lasting legacy and contributions to the church in the three major areas of teaching, preaching and writing was recognised when he, at age 94, was presented with an honorary Master of the College award at the 2005 Avondale College graduation service.51
Through Jorgensen's generosity his legacy continues to live on through the establishment of the A. S. and J. W. Jorgensen Scholarship, which is a trust fund established to provide financial assistance in the form of scholarships to ministry and theology students at Avondale College of Higher Education.52
Alfred Jorgensen's great passion was to minister the Word of God, and this he did faithfully right till the end.
Sources
"Alfred S. Jorgensen Master of the College." Citation presented to Alfred Jorgensen by Avondale College, December 4, 2005.
Alfred Stanley Jorgensen Biographical Information. South Pacific Division of the General Conference Archives. Folder: "Jorgensen, Alfred Stanley." Document: "Biographical Record."
Alfred Stanley Jorgensen Personal Service Information. South Pacific Division of the General Conference Archives. Folder: "Jorgensen, Alfred Stanley." Document: "Personal Service Record."
Alfred Stanley Jorgensen Sustentation Information. South Pacific Division of the General Conference Archives. Folder: "Jorgensen, Alfred Stanley." Document: "Sustentation Fund Application."
"Commonwealth Gazette Appointments and Employment." Commonwealth of Australia Gazette, No 43, March 6, 1947. Accessed February 20, 2018. https://trove.nla.gov.au/newspaper/page/25114374.
Commonwealth of Australia Department of Veteran's Affairs, World War II Service, Veteran Details, Jorgensen, Alfred Stanley. Accessed February 20, 2018. http://nominal-rolls.dva.gov.au/veteran?id=42975&c=WW2#R.
Croft, D., K. Andrews, B. Shields, B. Whelan, and L. Coombe. "Jean Jorgensen Obituary." Record, November 16, 1995.
G. E. G. "Retirement of Pastor Alfred S. Jorgensen." Australasian Record, January 18, 1982.
Gibbs, Bert. "Pastor Jorgensen." Unpublished manuscript in the personal collection of the author.
Jorgensen, Alfred S. "Christianity-A Failure?" Australian Signs of the Times, February 8, 1932.
Jorgensen, Alfred S. "Finding Joy in the Colporteur Work." Australasian Record, August 6, 1934.
Jorgensen, Alfred S. "Independent Publications." Australasian Record, August 20, 1976.
Jorgensen, Alfred S. "Lest We Forget…." Australasian Record, July 11, 1977.
Jorgensen, Alfred S. "Man of the Word: The Ministry of G. Campbell Morgan." Ministry Magazine, May, 2000.
Jorgensen, Alfred S. "Our Glorious Heritage in Christ." Australasian Record, September 17, 1962, 13-14.
Jorgensen, Alfred S. "The Seventh-day Adventist Church - Its Distinctive Role in the Christian Mission." Australasian Record, February 19, 1979.
Jorgensen, Alfred S. "What if We Did Not Have the Holy Spirit." Australian Signs of the Times, September 1, 1977.
Jorgensen, Keith. A Family History of the Forbears [i.e., Forebears] and descendants of Christian Seidler Joorgensen: who immigrated to South Australia in the Year 1848. Dubbo, NSW: Keith Jorgensen, 1994.
Parmenter, K.S. K. S. Parmenter to A. S. Jorgensen, December 14, 1981. Personal collection of Bert Gibbs.
Shelley, Barbara. Personal knowledge communicated to the author from being one of the student wives taught by Jean Jorgensen.
Stacey, Brenton. "Avondale Graduation Second Largest in 20 years." Record, December 17, 2005, 7.
Stanley, Chester, Russell Gibbs, Dean Giles, Bert Gibbs, and Tony Campbell. "Pastor Alfred Stanley Jorgensen Obituary." Record, April 5, 2008, 14.
"The A. S. and J. W. Jorgensen Scholarship." Avondale College of Higher Education. Accessed February 20, 2018. https://www.avondale.edu.au/Main/Information/Scholarships/Jorgensen-Theology-Scholarship.pdf
Notes
Keith Jorgensen, A Family History of the Forbears [i.e., Forebears] and descendants of Christian Seidler Jorgensen: who immigrated to South Australia in the Year 1848 (Dubbo, NSW: Keith Jorgensen, 1994), 40-42.↩

Ibid., 43.↩

Bert Gibbs, "Pastor Jorgensen," unpublished paper in the personal collection of the author.↩

Bert Gibbs, "Pastor Jorgensen," 1.↩

Ibid., 1.↩

Alfred Stanley Jorgensen Biographical Information, South Pacific Division of the General Conference Archives, folder: "Jorgensen, Alfred Stanley," document: "Biographical Record."↩

Alfred Stanley Jorgensen Personal Service Information, South Pacific Division of the General Conference Archives, folder: "Jorgensen, Alfred Stanley," document: "Personal Service Record."↩

Bert Gibbs, "Pastor Jorgensen," 1.↩

Alfred Stanley Jorgensen Personal Service Information, South Pacific Division of the General Conference Archives, folder: "Jorgensen, Alfred Stanley," document: "Personal Service Record."↩

Bert Gibbs, who communicated to the author his personal knowledge gained from being a second cousin of Jean Jorgensen.↩

Ibid.↩

Bert Gibbs, "Pastor Jorgensen," 1-2.↩

Ibid.↩

Alfred S. Jorgensen, "Christianity-A Failure?" Australian Signs of the Times, February 8, 1932, 7-8.↩

Alfred S. Jorgensen, "Man of the Word: The Ministry of G. Campbell Morgan," Ministry Magazine, May, 2000, 12-14.↩

Alfred S. Jorgensen, "Our Glorious Heritage in Christ," Australasian Record, September 17, 1962,13-14.↩

Alfred S. Jorgensen, "What if We Did Not Have the Holy Spirit," Australian Signs of the Times, September 1, 1977, 17-19.↩

Alfred S. Jorgensen, "The Seventh-day Adventist Church - Its Distinctive Role in the Christian Mission," Australasian Record, February 19, 1979, 8-9.↩

Bert Gibbs, who communicated to the author his personal knowledge gained from being a second cousin of Jean Jorgensen.↩

Bert Gibbs, "Pastor Jorgensen," 2.↩

Alfred Stanley Jorgensen Personal Service Information; South Pacific Division of the General Conference Archives; Folder: "Jorgensen, Alfred Stanley;" Document: "Personal Service Record."↩

Alfred S. Jorgensen, "Finding Joy in the Colporteur Work," Australasian Record, August 6, 1934, 5.↩

Bert Gibbs, "Pastor Jorgensen," 2.↩

Commonwealth of Australia Department of Veteran's Affairs, World War II Service, Veteran Details, Jorgensen, Alfred Stanley, accessed February 20, 2018, http://nominal-rolls.dva.gov.au/veteran?id=42975&c=WW2#R↩

Ibid.↩

Commonwealth Gazette Appointments and Employment, Commonwealth of Australia Gazette, No. 43, 6 March, 1947, 756, accessed February 20, 2018, https://trove.nla.gov.au/newspaper/page/25114374↩

Bert Gibbs, who communicated to the author his personal knowledge gathered from former church members at Maryborough and service men in the Solomon Islands.↩

Bert Gibbs, "Pastor Jorgensen," 2.↩

Alfred Stanley Jorgensen Biographical Information; South Pacific Division of the General Conference Archives, folder: "Jorgensen, Alfred Stanley," Document: "Biographical Record."↩

Ibid.↩

Bert Gibbs, "Pastor Jorgensen," 2.↩

Alfred Stanley Jorgensen Biographical Information; South Pacific Division of the General Conference Archives; Folder: "Jorgensen, Alfred Stanley;" Document: "Biographical Record."↩

Alfred Stanley Jorgensen Sustentation Information; South Pacific Division of the General Conference Archives; Folder: "Jorgensen, Alfred Stanley;" Document: "Sustentation Fund Application."↩

Alfred Stanley Jorgensen Biographical Information; South Pacific Division of the General Conference Archives; Folder: "Jorgensen, Alfred Stanley;" Document: "Biographical Record."↩

Alfred Stanley Jorgensen Personal Service Information; South Pacific Division of the General Conference Archives; Folder: Jorgensen, Alfred Stanley;" Document: "Personal Service Record."↩

Ibid.↩

Ibid.↩

Rosalie Richards, email message to Avondale College staff announcing the passing of Pastor Alfred Jorgensen, February 27, 2008.↩

Alfred Stanley Jorgensen Personal Service Information; South Pacific Division of the General Conference Archives; Folder: Jorgensen, Alfred Stanley;" Document: "Personal Service Record."↩

"Alfred S. Jorgensen Master of the College," Citation presented to Alfred Jorgensen by Avondale College, December 4, 2005.↩

Barbara Shelley, personal knowledge communicated to the author from being one of the student wives taught by Jean Jorgensen.↩

G.E.G. "Retirement of Pastor Alfred S. Jorgensen," Australasian Record, January 18, 1982, 7.↩

Alfred S. Jorgensen, "Independent Publications," Australasian Record, August 20, 1976, 12.↩

Alfred S. Jorgensen, "Lest We Forget…," Australasian Record, July 11, 1977, 1.↩

K.S. Parmenter, Personal letter to Alf at the time of his retirement, private letter, personal collection of Bert Gibbs.↩

Bert Gibbs, "Pastor Jorgensen," 3.↩

Bert Gibbs, who communicated to the author his personal knowledge gained from being a second cousin of Jean Jorgensen.↩

D. Croft, K. Andrews, B. Shields, B. Whelan, and L. Coombe, "Jean Jorgensen Obituary," Record, November 16, 1995, 13-14.↩

Bert Gibbs, "Pastor Jorgensen," 4.↩

Chester Stanley, Russell Gibbs, Dean Giles, Bert Gibbs, and Tony Campbell, "Pastor Alfred Stanley Jorgensen Obituary," Record, April 5, 2008, 14.↩

Brenton Stacey, "Avondale Graduation Second Largest in 20 years," Record, December 17, 2005, 7.↩

"The A S and J W Jorgensen Scholarship," Avondale College of Higher Education, https://www.avondale.edu.au/Main/Information/Scholarships/Jorgensen-Theology-Scholarship.pdf.↩