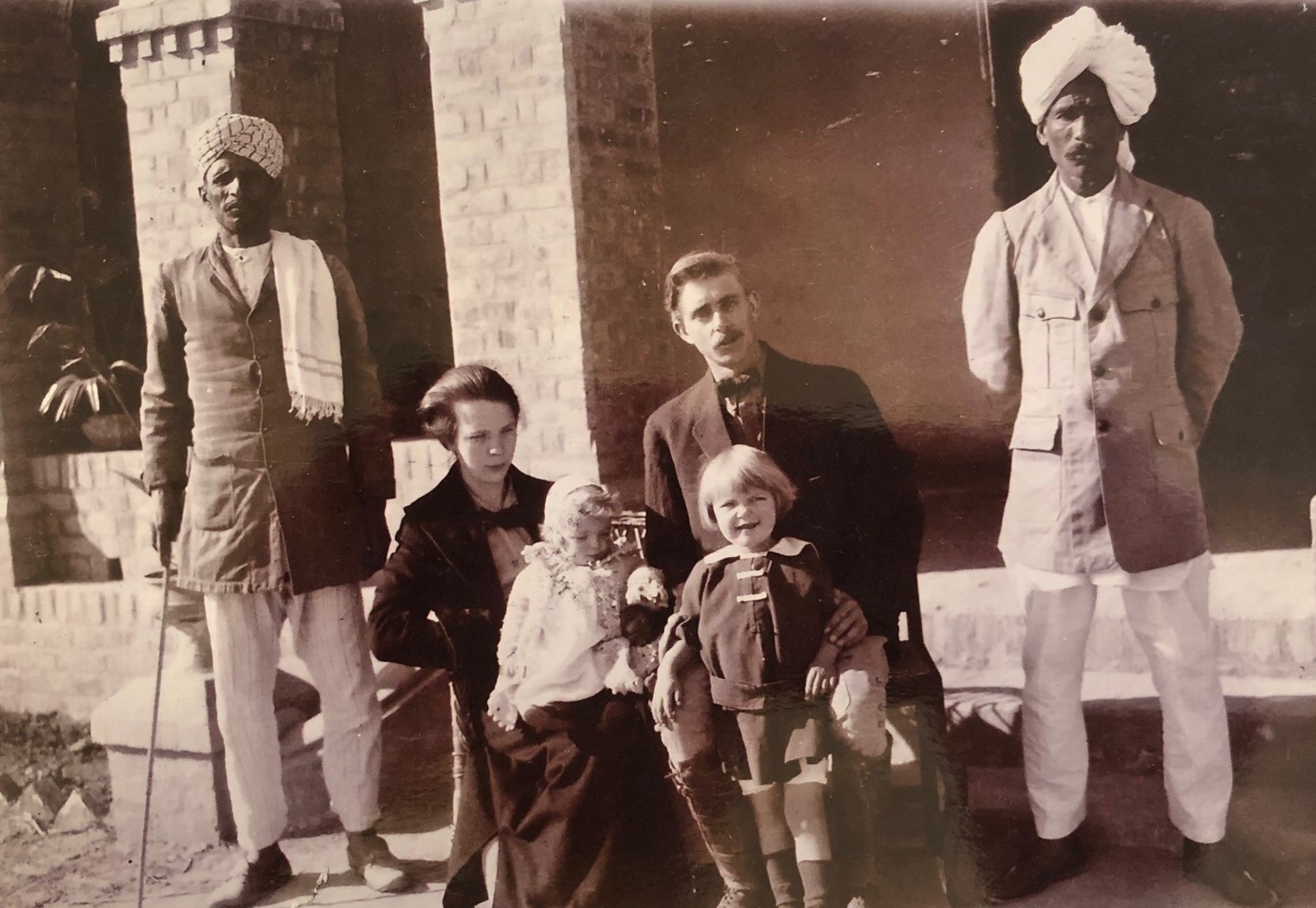 Loasby, Frank Herbert (1887–1966)
×
Andrew Tompkins is currently assistant professor of Mission and Intercultural Theology at the Seventh-day Adventist Theological Seminary at Andrews University, Berrien Springs, Michigan, the United States. Tompkins has served as a teacher, pastor, and professor in India prior to his work at Andrews University.
First Published: January 29, 2020
Frank Herbert Loasby was a pioneering Seventh-day Adventist missionary to present-day Pakistan and northern India.
Early Life
Frank Herbert Loasby was was born in England on April 8, 1887.1 As a young man, Loasby went to the United States to further his Adventist education at what was then called the Foreign Missionary Seminary in Takoma Park, Maryland. After beginning his studies, he spent the summer of 1908 canvassing in New Jersey.2 Support in another form came in 1910 when the General Conference agreed to pay half of his school fees at the seminary.3
In 1911, Loasby married Mary Jane Barritt (1887-1975), who had also come to the United States from England as a young adult. The wedding took place in Takoma Park, Maryland.4 Frank and Mary Jane Loasby had two children: Lucille, born in 19155 and Frank, Jr., born in 1917.6 During these early years, Loasby showed an interest in foreign lands and world mission. He wrote a poem, published in the Youth's Instructor in 1910, titled "Ilala," the place where the renowned medical missionary David Livingstone died in Africa.7 The Youth's Instructor also published three articles by Loasby in 1911 and 1912 on religion, culture, and mission history in East Asia.8
Pioneering Work in the Punjab
In 1913, Frank and Mary Jane Loasby were called to serve in India as pioneer missionaries.9 They arrived in Bombay in July and after a brief stay moved to the Punjab, a region that would be divided between the newly-independent nations of India and Pakistan in 1947. This was new territory for Adventists–the Loasbys, along with Dr. Victor L. Mann (1880-1951) and his wife Adeline, were the first Adventist missionaries to serve in this location.10 The Loasby family spent the next 13 years initiating the Adventist work in various mission stations in the Punjab. In 1917, Frank Loasby passed his third-year examinations in Urdu, the language spoken most widely in the region at the time.11 This gave him the capacity to both better understand the local people and communicate the gospel to them in verbal and print form.
The Loasbys often traveled together as a family from village to village in a bullock cart. In a two-week trip in 1921, for example, they visited four villages where Indian workers were stationed, staying three days at each. They slept in a tent on the edge of the villages. Each morning they conducted a short meeting for the local Adventist workers. During the day, Mary Jane Loasby distributed basic medicines from a dispensary. In the evening, Frank Loasby set up a white sheet on a wall somewhere in the village and show lantern slides illustrating his biblical message.12 Meetings of this nature often drew a crowd of 200-300 people, Loasby wrote in 1918. Most of the attendees were Muslims and Sikhs.13 While very few of these would commit to following Jesus and becoming Adventist, some eventually did. Loasby claimed to have baptized the first Sikh to become an Adventist, Bhagwan Singh, in 1925.14
In the town of Chuharkana, northwest of Lahore, the Loasbys helped establish a small mission station and school. This would eventually grow into a full-fledged elementary school that continued operating long after they left.15
In 1927, Loasby was called to oversee moving the Adventist school in Lucknow, India, to a more rural location called Roorkee. The move was intended to create an environment in which students could both study and work in various industries,16 in accordance with the views Loasby expressed in denominational periodicals concerning training for evangelism and industrial work as the primary purpose of Adventist education.17
After firmly establishing the school in Roorkee, the Loasby family went on furlough. When they returned to the mission field, they were assigned back to Lahore in the Punjab.
Northeast India Union Mission Leadership
After a few years in Lahore, Frank Loasby was called to be the superintendent of the Northeast India Union Mission in 1937.18 Mary Jane Loasby served as Dorcas Society leader for the union mission during part of their time at this assignment.19 Frank Loasby was responsible for overseeing the work in a vast territory comprised of the northeastern states of India as well as what became the nation of Nepal. He spent many months of the year visiting remote villages and mission stations.
It was a very challenging location. Much of the assigned territory still did not have any Adventist presence. This was a matter of prayer for Loasby, he wrote in 1939, with specific reference to Nepal.20 In some locations, there had been an Adventist presence for nearly forty years without a single new member.21 Other locations, such as the tribal territories of the Santal, saw sizable groups of people accept in the Adventist message and join the church.22
In his 1939 report, Loasby lamented that a diminishment of foreign missionaries made it necessary to close some mission stations.23 World War II and the growing threat of a possible Japanese invasion in 1942 also hampered the work.24 The Loasbys had been in India since 1914 and much had changed in the dynamics of leadership and the relationship between local Indian leaders and foreign missionaries. Some of Loasby's articles suggest that he was in favor of the "Indianization" of leadership. He oversaw this transition in a number of mission stations in his territory.25 But, at other times his writing appears to lament this change.26
By the end of 1943, the Loasbys had moved to Salisbury Park in Pune, India, where Loasby became an editor at the Oriental Watchmen Press.27 In 1946, the Loasbys took permanent leave from India, having served there for thirty-three years.28
Contribution
After retirement from overseas mission service, the Loasbys lived in various parts of the United States before settling in British Columbia, Canada, where Frank Loasby passed away in 1966 at age 79. Mary Jane Loasby died in 1975 at aged 87. They were the first Adventists to reach many of the villages they entered as missionaries, and at times the first Christians of any denomination.29 Along with the countless lives transformed by their thirty-three years of service on the Indian subcontinent, the school they established in Roorkee continued into the twenty-first century as a thriving institutional emblem of the Loasbys' legacy, providing Adventist education at the elementary, secondary, and tertiary levels.30
Sources
Arinda, S. N. "Gopalganj and Village Dispensary Work, East Bengal." Eastern Tidings, November 15, 1942.
Daniells, A. G. "The Northwest India Mission." ARH, May 13, 1915.
"Elections." Eastern Tidings, January 15, 1937.
Fernando, Mrs. R. S. "Baragain (Ranchi) Dorcas Society Report for 1941." Eastern Tidings, March 15, 1942.
Fletcher, W. W. "The Villages of India." Missions Quarterly First Quarter, 1921, 10-12.
"Frank Herbert Loasby." Find a Grave. 2019. Accessed February 5, 2019. https://www.findagrave.com/memorial/137022820/frank-herbert-loasby.
General Conference Committee Minutes, General Conference Archives. Accessed December 12, 2019. http://documents.adventistarchives.org/Minutes/GCC/GCC1910.pdf.
"Gleanings." Eastern Tidings, August 15, 1946.
"Here and There." Indian Union Tidings, January 1, 1918.
"Items of Progress During 1917." India Union Tidings, February 1, 1918.
Kneeland, B. F. "New Jersey." Columbia Union Visitor, August 5, 1908.
Loasby, F. H. "The Advent Message in the Far East." Youth's Instructor, April 4, 1911.
Loasby, F. H. "Biennial Report of the Northeast India Union–1939 and 1940." Eastern Tidings, March 1, 1941.
Loasby, F. H. "Carrying on With a Reduced Staff." Eastern Tidings, November 1, 1942.
Loasby, F. H. "Ilala." Youth's Instructor, June 28, 1910.
Loasby, F. H. "In the Santal Country." Eastern Tidings, May 1, 1938.
Loasby, F. H. "Nepal, Where the Gospel Has Never Been." Missions Quarterly, Fourth Quarter, 1939, 5.
Loasby, F. H. "The Northeast Under the Present Distress." Eastern Tidings, August 1, 1942.
Loasby, F. H. "Northeast Union Report, 1938." Eastern Tidings, February 1, 1939.
Loasby, F. H. "The People of the Far East and Their Religions." Youth's Instructor, April 4, 1911.
Loasby, F. H. "Relation of the School and the Field." Eastern Tidings, April 15, 1923.
Loasby, F. H. "Talk: 'Banishing the 'Man Bap' Idea.'" Church Officers' Gazette, July 1929.
Loasby, F. H. "Words of Encouragement." Columbia Union Visitor, July 1, 1908.
Loasby, Frank H. "Political Affairs in China." Youth's Instructor, February 13, 1912.
Loasby, Frank H. "A Priest from a Heathen Temple Accepts the Message." Missionary Leader, October 1925.
Loasby, Frank H. "Suggestions and Experiences of a Missionary in India." ARH, July 3, July 10, and July 24, 1924.
Loasby, Frank H. "Trekking Punjab's Sultry Plain." Signs of the Times, July 2, 1918.
Loasby, Frank H. "Word from the Punjab." Missions Quarterly First Quarter, 1921, 32-34.
"Mary Jane Barritt Loasby." Find a Grave. Accessed February 5, 2019. https://www.findagrave.com/memorial/137023000/mary-jane-loasby.
"Mary Jane Loasby obituary." Canadian Union Messenger, November 1, 1975.
"Of Special Interest." Eastern Tidings, December 15, 1943.
Salisbury, H. R. "The Autumn Council." Eastern Tidings, November 1913.
Smedley, Gordon. "Frank Herbert Loasby obituary." Canadian Union Messenger, January 25, 1967.
"Victor L. Mann obituary." Pacific Union Recorder, February 19, 1951.
Notes