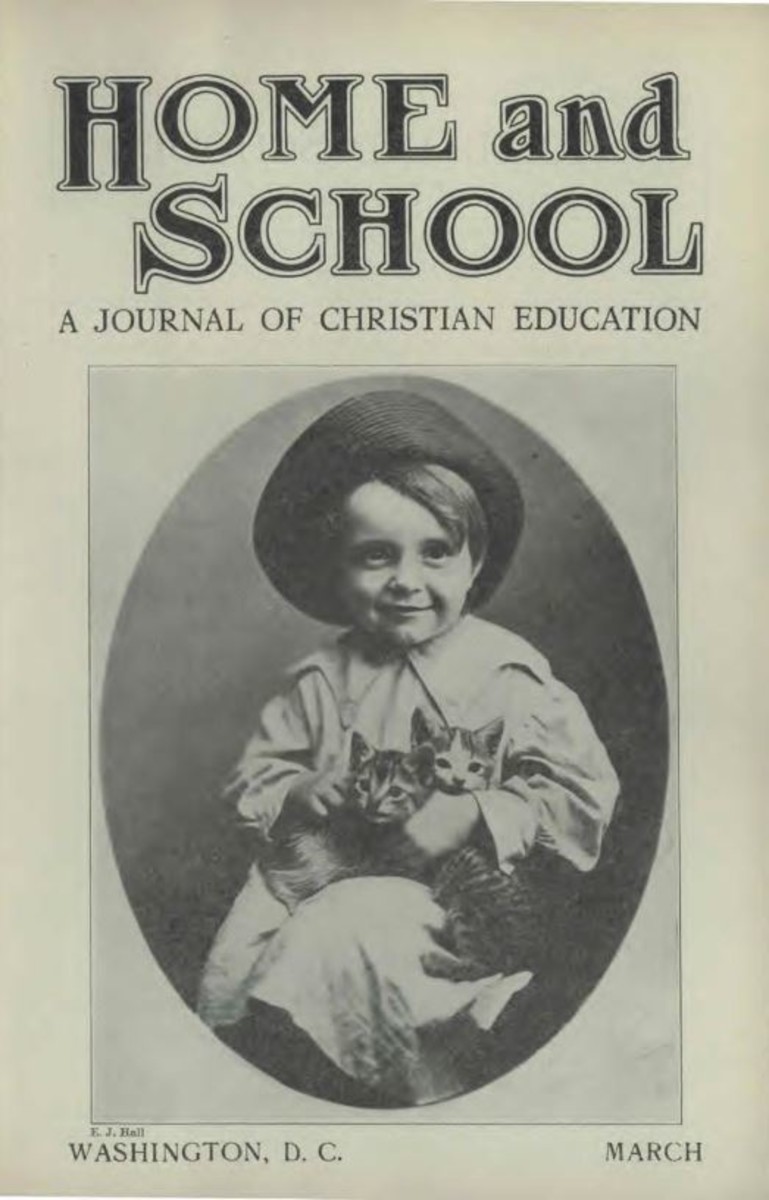 Home Commission and Home and School Association
×
Milton Hook, Ed.D. (Andrews University, Berrien Springs, Michigan, the United States). Hook retired in 1997 as a minister in the Greater Sydney Conference, Australia. An Australian by birth Hook has served the Church as a teacher at the elementary, academy and college levels, a missionary in Papua New Guinea, and as a local church pastor. In retirement he is a conjoint senior lecturer at Avondale College of Higher Education. He has authored Flames Over Battle Creek, Avondale: Experiment on the Dora, Desmond Ford: Reformist Theologian, Gospel Revivalist, the Seventh-day Adventist Heritage Series, and many magazine articles. He is married to Noeleen and has two sons and three grandchildren.
First Published: December 31, 2021
In the 1880s the importance of parental influence with respect to the development of moral values became an important topic in Adventist circles. Pacific Press published several volumes titled Sabbath Readings for the Home Circle: Moral and Religious Lessons.1 They were written as educational story books for young Christian couples to read to their children. The church periodical, Advent Review and Sabbath Herald, initiated a regular section titled "The Home," written by various authors.2
A random sample of later church periodical articles reveals numerous instances advising parents about child training. For example, Christian Education carried many articles addressing the parental role in fostering ethical development.3 In 1912 Arthur Spalding published a nine-part series titled "Come, Let Us Live With Our Children," a phrase taken from the early childhood educator Friedrich Fröbel.4 Further, in 1915/1916 Edward Gates published a series titled "Save the Children," his material taken from Scripture and the writings of Ellen White.5 At the same time Parent-Teacher Associations were actively promoting similar sentiments under the aegis of the General Conference Education Department.6
The Home Commission
On October 12, 1919, a recommendation came to the General Conference Committee that an entity be established with the vague mandate "to foster home interests." The source of the recommendation was not identified. Nevertheless, subsequent developments indicate Spalding and Milton Kern, Missionary Volunteer Secretary, were working in unison to promote the moral training of pre-school children. At the same meeting five names were added to these two chief protagonists to form a committee and give the recommendation for further study. Those names were: Clarence Leach, Home Missions Department Secretary; Warren Howell, Education Secretary; Louis Hansen, Assistant Medical Missionary Secretary; Flora Plummer, Sabbath School Secretary and Rollin Quinn, Atlantic Union Conference President.7 The choice was an attempt to draw together individuals linked in some way to children's character development, some links being stronger than others.
For two years the General Conference Minutes made no further mention of an entity for character development in the home environment. Not until October 20, 1921, is Kern mentioned in the minutes as the chairman of that entity, one titled The Home Commission. He was apparently carrying the weight of promoting its cause. He gave a brief verbal report, saying some literature had been printed.8 In the meantime Spalding, under the banner of The Home Commission, had published a series of five articles titled "Studies Upon the Home," May through June 1921.9 Even though Spalding lacked academic degrees he had valuable practical experience as a church school teacher; therefore Kern nominated him at the General Conference Committee Meeting of December 8, 1921, to be his assistant. He wanted Spalding to join him in conducting "Home Institutes" among the local churches. Church officers went further by voting Spalding as the Field Secretary for The Home Commission, subject to ratification at the May 1922 General Conference Session.10 The action heralded two decades of leadership by Spalding.
At the 1922 General Conference Session in San Francisco Spalding submitted his first report, one covering two years of activities. He spoke of instruction given at camp meetings and institutes in local churches. His topics included family worship, Sabbath keeping for parents and children, the work ethic and thrift, sex education for children, health habits, problems of adolescence and ideals in courtship and marriage. He informed the gathering that a series of leaflets matching these topics were distributed during his lectures. He concluded by saying, "The Home Commission is not a separate department in the sense that it requires a staff extending through our whole organization. At present there is only one person, [himself], employed especially for the Commission."11 A latent problem existed in that admission, namely the eventuality that Spalding would find it physically impossible to meet the majority of opportunities to lecture.
With the future of the Christian Educator periodical in doubt, the Education Department was pleased to enlist Spalding and Flora Williams as associate editors in 1922. Its name was changed to Home and School in recognition of the dual venues for ethics training and Spalding used the magazine as his platform to promote early childhood education on behalf of The Home Commission. He quickly established Young Mothers' Societies in local churches and regularly mailed lessons to them that advised of methods for proper training. As of December 1922 he wrote that twelve societies were already established in his own country and advertising material had been despatched to Canada, the West Indies, South America, Africa, and Europe.12 Fathers were also identified as imperative for sound childhood education. Articles on this aspect were frequently published after 192513 and Parent's Councils for both mothers and fathers were established in local churches under the auspices of The Home Commission.14 Spalding had limited office assistance15 nevertheless he himself was a prolific writer and provided the parents with monthly instruction leaflets titled Leader's Aide and Parent's Lessons. Certificates were issued to parents when they completed a course of study.16
In 1928 Spalding moved from the use of individual lessons to a textbook method of instruction. In addition to his book Christian Storytelling and Stories he began to publish the Christian Home Series. The first was titled Makers of the Home.17 Other books soon followed, titled Through Early Childhood, The Days of Youth, Growing Boys and Girls and All About the Baby. Dr. Belle Wood-Comstock wrote some of the material. All works were published in the English language.18 Young parents were urged to take up the study of these books. The first Sabbath in February was designated by the General Conference as Christian Home Day, a time when the spotlight shone on the work of The Home Commission and parents were encouraged, in the sentiments of Malachi 4:5-6, to turn their hearts to their children and for the hearts of the children to turn to their parents.19
The Home Commission met with limited co-operation. One notable response came from the opposite side of the world in Western Australia where Mary Tank, Sabbath School and Missionary Volunteer Secretary, faithfully promoted Spalding's series of lessons.20 With the absence of Home Commission secretaries at Division, Union and Local Conference levels the success of the cause largely depended on the enthusiasm of local conference presidents. Spalding, in his report at the 1930 General Conference Session, gently reminded the presidents of their obligations to support him, an arrangement voted at the 1927 Autumn Council. At the same time he sought their favor for the introduction of further parent education subjects in the curricula of their schools of higher learning.21
In the early 1930s Spalding began to suffer intestinal and pancreatic problems, losing stamina to propel his cause. Financial problems caused by the Great Depression exacerbated the downward trend for The Home Commission. Most parents could not afford books of instruction. This dilemma was met with the decision to place the Christian Home Series in church libraries. Spalding increasingly spent less time in the office, lack of assistance forcing him to conduct himself local church and camp meeting institutes and attend junior camps, especially on the West Coast where calls for his services were more frequent. At one stage he requested retirement but then another health diagnosis showed promise22 and he toiled on until 1941 when the General Conference voted to absorb The Home Commission into the Education Department where it had begun two decades earlier.23 Spalding must have retired with mixed feelings. He did not contest the merger but because The Home Commission had been starved of sufficient staff during the years of its existence he had cause to wrestle with a sense of abandonment and a notion that the church had not caught his vision with any passion. However, many did indeed appreciate his work.24
Within the Education Department after the Spalding era the following individuals were assigned to foster what was called Parent and Home Education: Florence Rebok (1941-1947),25 Arabella Williams (1947-1954),26 Archa Dart (1954-1970)27 and John Cannon (1970-1975).28 The office of Parent and Home Education had no real equivalent at the grass roots level therefore the elected exponent had to resort to the publication of advisory articles.29 Only occasionally did they conduct seminars in the local churches.30 After 1975 their portfolio effectively became a part of the Home and Family Service headed by Delmer Holbrook with his wife, Betty, as an assistant.31 Under a re-organisation in 1986 Holbrook became the Director of Church Ministries, a broader umbrella with four assistants and twenty associates.32
The Parent-Teacher Association and Later Titles
The genesis of the Parent-Teacher Association occurred at the same time as The Home Commission, not in opposition but rather as a complementary unit. In the February 1919 issue of Christian Educator, the General Conference Education Department's periodical, associate editor Otto John wrote an ambiguous article about "School Extension," a term he used to describe an ideal co-operation between local school teachers and the community who funded the school.33 The idea was mirrored in the Education Department's School Manual and twelve months later the term Parent-Teacher Association began appearing in Christian Educator. First reports spoke of units springing up in Oregon, South Dakota, and Alabama. Membership cards were made available from the Education Department.34
When the title of Christian Educator was changed to Home and School in September 1922 the periodical began to refer to the Parent-Teacher Association as the Home and School Association. The entity's objectives were to promote Christian education, provide social activities among parents and teachers, raise funds for local school equipment, engage pupils in the annual church Ingathering campaign and encourage parents to read about child development.35 Mothers and fathers were invited to use an enrolment card to sign up for the Parent Reading Course and certificates were issued for those who completed the plan. They were also challenged to raise funds for their local school by conducting stalls to sell cakes and embroidery.36
From its inception parents and teachers were not left to devise their own monthly meetings. Instead, outlines of detailed programs were published in the Home and School periodical for chairmen to follow.37 Furthermore, constructive ideas were made from time to time to enhance the interest of attendees. One suggestion was to allow children to attend the meetings to demonstrate what they were learning. Another suggestion was to screen the same appropriate film for both school and parental viewing, followed by a home discussion of its content.38 It was also proposed that agendas could include problem solving of school administrative and discipline issues.39
Practical ideas for meetings were supplemented with many theoretical articles in the church periodicals. These provided modeling for child training. Examples include Flora Williams' 1937 article "Character Building"40 and Mae Bradley's 1963 piece "Building Better Homes."41
From about 1932 the entity was referred to as the Home and School Association42 or, later, the Christian Home Council.43 In the mid-1960s its name was changed to Home and School Fellowship.44 Its objectives remained the same with later additions such as facilitating the care of orphans and handicapped children and assistance to obtain suitable work for 12-to-15-year-old children during summer vacations.45 By 1986 the name of the entity had reverted back to Home and School Association.46 It was regarded as an auxiliary organization of the General Conference, its ideals carried forward by the Department of Home and Family Service directed by Delmer and Betty Holbrook, 1975 through 1985,47followed by the departments of Church Ministries, Children's Ministries and Women's Ministries.
A synopsis of the current objectives of the Home and School Association can be expressed as follows:
To promote cooperation between parents and teachers in the educational process.

To give guidance for establishing in the homes an atmosphere of Christian love and discipline.

To support the church schools in their efforts to harmonize with the principles of Christian education.

To provide suggestions to the school principals and school boards for curriculum improvements.

To encourage the parents to visit the schools.

To encourage the teachers to visit the homes of the parents.

To provide volunteer services as requested by the school teachers.

To provide school equipment not forthcoming from other authorities.

To aim for the enrolment of every child from Seventh-day Adventist homes, including those financially disadvantaged.48
Sources
Advertisement. Home and School, January 1929.
"Archa O. Dart, assistant secretary…." ARH, October 30, 1969.
Armstrong, Marty Gilpin in The School Parent reprinted in Home and School, October 1925.
B[ourdeau], A[lice] M. "The Mother as Teacher." Christian Education, September 1909. Retrieved from https://adventistdigitallibrary.org/adl-411119/christian-education-september-1-1909.
Bradley, Mae Carberry, "Building Better Homes." ARH, June 6, 1963.
"Christian Home Day." ARH, January 22, 1931.
Christian, L[ewis] H. "Transfer of Home Commission to Educational Department." ARH, June 10, 1941.
Dart, Archa O. "Do You Know What the Home and School Association Can Do for the Teacher?" Journal of True Education, April 1955.
Dart, Archa O. "The Place and Purpose of Child Discipline." ARH, March 20, 1969.
Freed, Allan William, "Arthur Whitefield Spalding: A Study of His Life and Contributions to Family-Life Education in the Seventh-day Adventist Church." Ph.D. diss., Andrews University, 1995.
Fry, Frances. "Suggestive Plans for the Home and school Association." Home and School, February 1926.
Gates, E[dward] H. "Save the Children." Australasian Record, serialised November 29, 1915 through April 10, 1916.
General Conference Committee Minutes, 1919-1921. General Conference of Seventh-day Adventists Office of Archives, Statistics and Research, Silver Spring, Maryland.
Hoffman-Lucas, Ivy. "Home and School Association." Journal of True Education, February 1940.
"Home and School Association." Home and School, January 1924.
J[ohn], O[tto] M. "What is School Extension?" Christian Educator, February 1919. Retrieved from https://adventistdigitallibrary.org/adl/411202/christian-educator-february-1-1919.
Ritz, O[tto] J. "Home and School Association." Journal of True Education, April 1958.
Sabbath Readings for the Home Circle: Moral and Religious Lessons, 4 vol. Oakland, CA: Pacific Press, 1881. Retrieved from https://adventistdigitallibrary.org/adl-426599/sabbath-readings-home-circle-vol-4.
Seventh-day Adventist Church Manuals. General Conference of Seventh-day Adventists, 1963-2015.
Seventh-day Adventist Yearbook. Washington, D.C.: Review and Herald Publishing Association, 1941-1985.
Spalding, Arthur W. "Come, Let Us Live With Our Children." ARH, serialised October 3 through November 28, 1912.
Spalding, Arthur W. "Parents at Study." Home and School, January 1930.
Spalding, Arthur W. "Studies Upon the Home." ARH, serialised May 26 through June 30, 1921.
Spalding, Arthur W. "The Home Commission." ARH, June 1, 1922.
Spalding, A[rthur] W. "The Home Commission." ARH, June 12, 1930.
Tank, Mary E. "Home Commission Rally in West Australia." Australasian Record, September 19, 1927.
"The Home." ARH, January 20, 1885.
"The Parent-Teacher Association." Christian Educator, May 1920. Retrieved from https://adventistdigitallibrary.org/adl-411215/christian-educator-may-1-1920.
"The Young Mothers' Society is Growing." Home and School, February 1923.
W[illiams], F[lora] H. "Character Building." Home and School, September 1937.
Notes