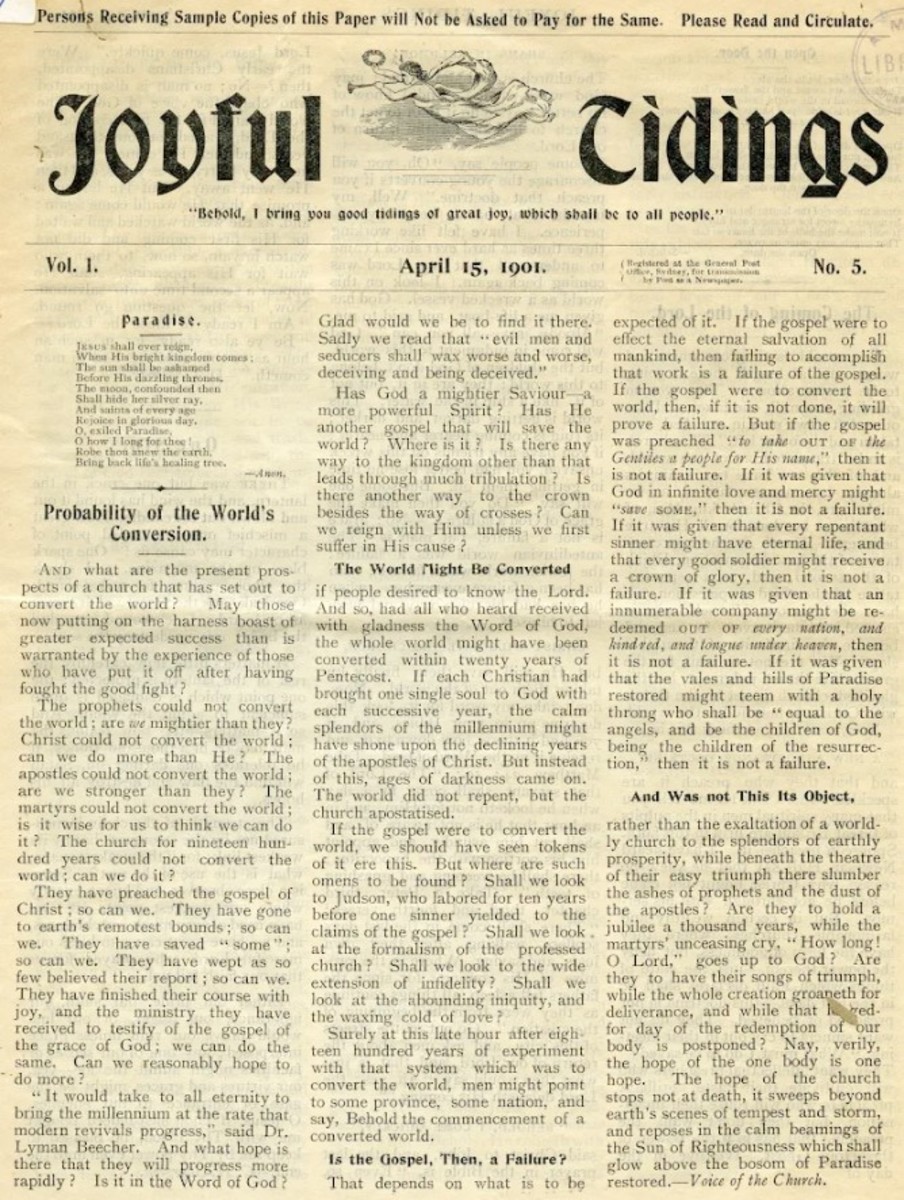 Joyful Tidings Australasian Union Conference
×
Milton Hook, Ed.D. (Andrews University, Berrien Springs, Michigan, the United States). Hook retired in 1997 as a minister in the Greater Sydney Conference, Australia. An Australian by birth Hook has served the Church as a teacher at the elementary, academy and college levels, a missionary in Papua New Guinea, and as a local church pastor. In retirement he is a conjoint senior lecturer at Avondale College of Higher Education. He has authored Flames Over Battle Creek, Avondale: Experiment on the Dora, Desmond Ford: Reformist Theologian, Gospel Revivalist, the Seventh-day Adventist Heritage Series, and many magazine articles. He is married to Noeleen and has two sons and three grandchildren.
First Published: January 29, 2020
Joyful Tidings was a periodical published by Avondale Press from 1900 to 1902.
Origins
Over the weekend of July 14 and 15, 1900, meetings were held in the Avondale Church, New South Wales, for the benefit of Seventh-day Adventist members in the district. At the Sunday meeting, when ideas for local missionary efforts were discussed, the concept was raised to have Avondale Press issue a four-page (eight sided) periodical designed for isolated areas, especially taking advantage of low postage rates on bulk lots printed locally.1 Initially, they thought of distribution within New South Wales only but plans were soon extended to post quantities to other parts of Australasia at appropriate rates.2 By October the name Joyful Tidings had been chosen.3
Publication and Distribution
The first issue of volume one was apparently printed in November or December 19004 and the issue numbers continued into 1901. Only copies of numbers five (April 1901) through ten (September 1901) have survived. The paper featured some small illustrations to accompany the evangelistic articles.5
The offer was made to church members that Avondale Press would post twenty-five free copies that could be sold to neighbours for one penny each and then the proceeds could be used to purchase more copies.6 Five thousand copies were printed for the earliest issues. By mid-1901 ten thousand copies were being printed for each monthly issue.7 The September issue contained articles about the Saturday Sabbath, prompting the printing of twenty thousand copies.8 The Avondale Missionary Society were in the habit of enlisting elementary school children to wrap hundreds of the papers for mailing.9 New South Wales electoral rolls were used to obtain addresses of far-flung rural properties.10 Some Adventist book salesmen began to sell copies. Testimonials from satisfied readers were published in the Union Conference Record to encourage others to join in the missionary endeavours.11
Termination
At the Australasian Union Conference Council held in Wahroonga, NSW, April 1902 the decision was made to discontinue printing Joyful Tidings. Despite good reports from the public it was apparently considered to be so similar in nature to The Bible Echo that it functioned as a cheaper competitor. Any readers who had shown interest in the little paper were encouraged to subscribe to The Bible Echo.12
Sources
Chapman, E[lliott] C. "The Avondale Press." Union Conference Record, July 17, 1901.
Crothers, W[illiam] M. "It will be 'Joyful Tidings.'" Union Conference Record, January 1, 1901.
Crothers, W[illiam] M. "That New Paper." Union Conference Record, October 1, 1900.
Gates, Ida. "The Avondale Missionary Society." Union Conference Record, May 1, 1901.
"How It Is Received." Union Conference Record, January 1, 1902.
Irwin, Geo[rge] A. "Union Conference Council." Union Conference Record, May 1, 1902.
Joyful Tidings, Avondale College Archives, Cooranbong, NSW. Shelf Records. Joyful Tidings, vol.1, nos. 5-10, April - September 1901."
"Joyful Tidings." Union Conference Record, March 1, 1902.
Robinson, A[sa] T. "Avondale District Meeting." Union Conference Record, August 1, 1900.
Robinson, A[sa] T. "The Avondale Press as a Missionary Enterprise." Union Conference Record, October 1, 1900.
"Sells Like Hot Cakes." Union Conference Record, June 1, 1901.
"The September number of Joyful Tidings…" Union Conference Record, October 1, 1901.
Notes