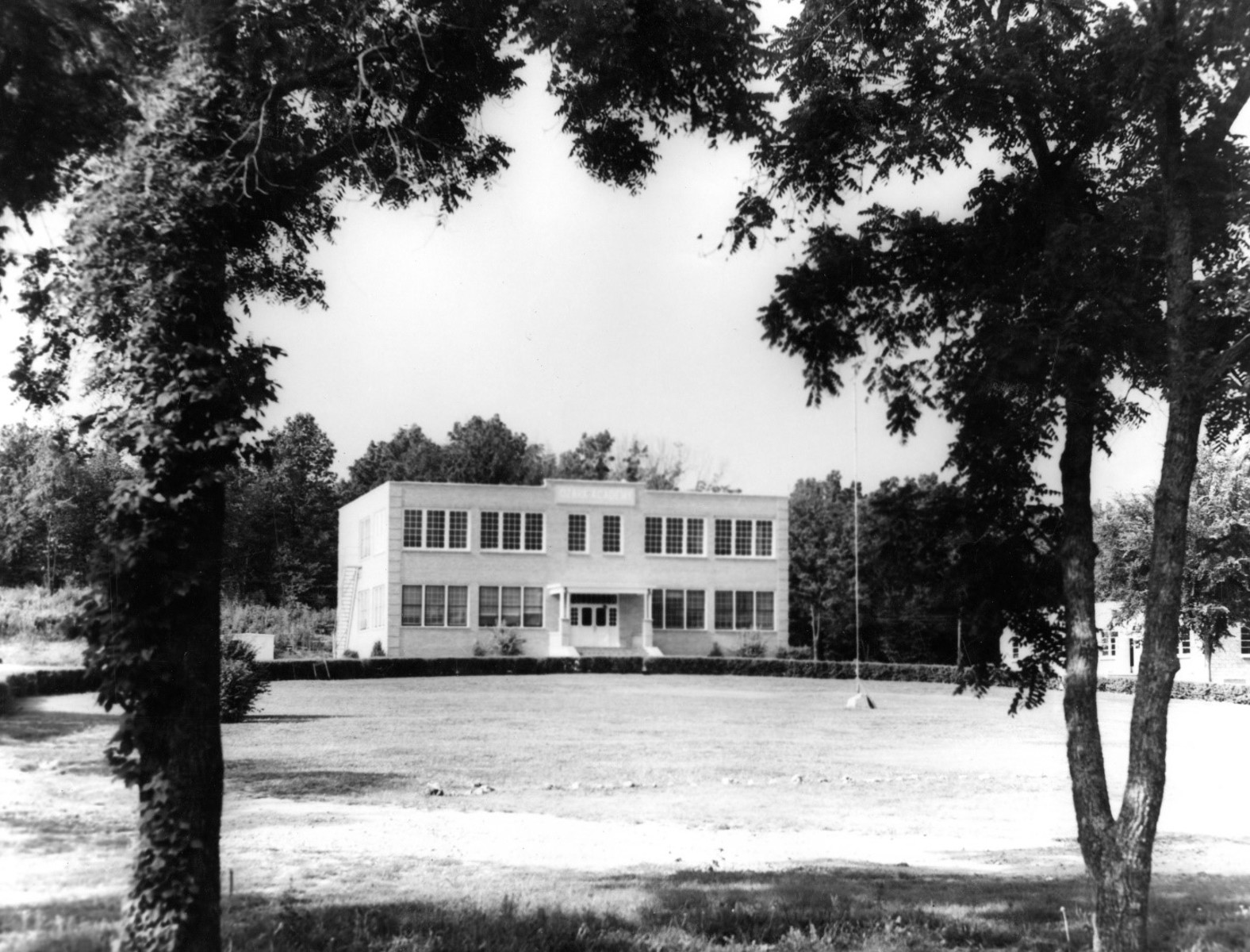 Ozark Adventist Academy
×
Rebecca Burton lives in Shreveport, Louisiana, where she serves as an administrative assistant for the Arkansas-Louisiana Conference and does research projects every chance she gets. A recent project was a website on the history of Seventh-day Adventists in Arkansas and Louisiana at https://arklasdahistory.org/.
First Published: October 1, 2020
Ozark Adventist Academy is a fully accredited Seventh-day Adventist coeducational boarding academy in northwest Arkansas, owned and operated by the Arkansas-Louisiana Conference. It lies in the foothills of the Ozark Mountains beside Flint Creek about two miles southwest of Gentry and six miles northeast of Siloam Springs. It is 20 minutes from Northwest Arkansas Regional Airport (XNA).
Developments That Led to the Establishment of the School
The Gentry Seventh-day Adventist Church was organized with about 26 members1following a camp meeting held August 8–17, 1902.2 A year later, V. B. Watts and Dr. J. A. Sommerville, held tent meetings August 7 to September 27, 1903,3 and fifteen new members were added, bringing the church membership to 41.4 A young people's missionary society was organized October 3, 1903,5and the church members began to envision a church school for their children. The members built a church and two weeks after completion, opened a church school on or about December 16, 1904. That first school had nine students with Goldie McLaughlin as the teacher.6 Josephine Wilson taught for the next four years, followed by J. Scott Moore in 1909, and Edna Boaz in 1910.
Founding of the School
By the end of February 1911, the church sold the property and a new church was built southwest of town on an acre of land along Flint Creek.7 Meeting in the basement of the church, the new Flint Creek School was planned as an industrial intermediate school.8 School opened October 7,1912,9 with Grace Elliott as the teacher.10 A classroom wing was added to the south side of the church in 1920 and ninth grade was added.11 Myrtle Butler and Emma Hooper were the teachers, with an enrollment of 35.12
Meanwhile, William B. Miller and Clark Evilsisor were hoping to establish a self-supporting intermediate boarding school somewhere in the Ozarks. They moved with their families, including 14 children, from Enterprise, Kansas, and decided to stay in the Flint Creek area. Their mission was "to build up a school here that will prepare our children for places in God's cause, and thus a place in His kingdom."13 They hoped to have Adventist families move to the area so their children could attend school. Local families would also be asked to take worthy students into their homes and pay their tuition, while the students worked to earn part of their expenses.14 Early work opportunities included canning fruits and vegetables, picking strawberries, making sorghum, working in the kitchen, and later, making brooms.15
History of the School
In the fall of 1924, school opened with the name Flint Creek Intermediate School, and Mr. and Mrs. Miller as the teachers. In1925 there were eight students in the ninth-grade class, and 28 in grades one through eight.16 The Gentry district pastor and two church members became the school board. William B. Miller was the principal and the classes offered included Algebra, English, General Science, Woodwork, General History, and Bible.17 A second classroom was built onto the church in 1926 and tenth grade was added.18 In 1930, the school became known as Flint Creek Junior Academy.19
The first building added after the school became a junior academy was a teacher cottage.20 Lumber from an old barn was salvaged and covered inside and out with blue building paper. The principal, Joshua C. Turner, and his family moved into the cottage on Thanksgiving Day, 1933.21 When the conference president, Elder H. C. Hartwell, saw the cottage he dubbed it "Blue Castle" and the name stuck.22 Blue Castle also served as the administration building with offices for the principal and treasurer, and a classroom. In 1935, the name of this growing school was officially changed to Ozark Junior Academy. Two new areas of student employment were added that year. The "nut house" for shelling black walnuts was built onto the side of Blue Castle, and a print shop was built.23 Eleventh grade was added to the program in 1936, and the next building was a two-story frame structure used for a library and classrooms. It was later used as a temporary dorm, a storeroom, elementary classrooms and the site of a hot lunch program.24
Two key families moved to the area in 1937. Warren D. Pierce and his wife came from Little Rock to teach at Ozark Junior Academy and Elder Isaac Baker and his wife came to pastor the eight churches in northwest Arkansas.25 The goal of the Gentry church members had been to establish a ten-grade school. "There was no idea… of developing an academy in the minds of the brethren," Pierce later explained.26 However, Pierce and Baker began working to create a four-year boarding academy.27 Elder Baker bought an acre of land from Mr. and Mrs. Joe Rogers, and another twenty acres from the McCrarys. The Bakers donated this land to the school; this land is where the academy buildings stand today. Dormitories were built and named after these two beloved men – Pierce Hall for the girls' dormitory, and Baker Hall for the boys' dormitory.28 The first year the school operated as a boarding academy was 193829 and in 1939 the school name was changed to Ozark Academy.30
By 1940, enrollment in the academy was 89, supported by 13 teachers and staff.31 Roy Cole opened a venetian blind factory that employed several students.32 Other student employment opportunities included the school farm and agriculture program, as well as maintenance work and employment in the laundry, a store, a bakery, and the office.
The Class of 1940, with five members, was recognized as the first graduating class, even though the school only went to 11th grade. The following year 12th grade was added, and the Class of 1941 was the first to graduate from a four-year program.33 Up until this time the Gentry church had funded and operated the school, but during the Arkansas-Louisiana Conference constituency meeting in the summer of 1941, it was voted for the conference to assume operation of the academy.34
In 1941, Ozark Academy began preparing their young people for the World War II draft by providing Medical Cadet Corps training for both boys and girls.35 Most of the young men who received this training were placed in the Medical Department when they were inducted into the Army, making it easier to keep the Sabbath.36 The war years affected high schools all across the nation, and Ozark Academy was no exception. Enrollment dropped from 109 to 60 between 1941 and 1945.37 The conference could not supply the heavy funding needed, so it was voted to close the dormitories and operate as a day academy. The academy staff asked the conference to give them a year to try to operate the school on their own, and it was agreed. Teachers and staff were reduced to seven and they decided to continue as a boarding academy but only have grades nine through eleven. Crystal Duce was asked to serve as the principal. That year proved the turning point in the history of the school. WWII had ended and military camps were closing around the country, so Mrs. Duce went to Camp Crowder near Neosho, Missouri, bought a gymnasium, salvaged the lumber, and had it brought back to build an administration building.38 When the year ended with a balanced budget the conference realized that Ozark Academy was worth supporting.
In 1946, the General Conference approved the academy's request to build an administration building, so that summer the constituency voted to proceed with the building and to operate Ozark Academy as a twelve-grade conference boarding school.39 Conference President Ira C. Pound stated that "Our purpose and aim is to make Ozark Academy Christ-like in spirit, attractive in appearance, modest in its adornments, reasonable in its requirements, and thorough in its work of building character that will endure for time and eternity. We solicit the cooperation of all parents, students, and teachers who desire to achieve this goal."40
On March 10, 1947, Ozark Academy received accreditation from the Arkansas State Department of Education.41 The General Conference Board of Regents granted the academy provisional accreditation at that time and full accreditation in 1949.42
The Class of 1948 graduated in the unfinished administration building,43 and although some classes met there in 1949, the brick exterior was not completed until the fall of 1950.44 This building housed the offices, classrooms, library and a chapel. By 1950, Ozark Academy's rating by the State of Arkansas progressed from a Class C to a Class B school, based on the number of students, teachers, and classrooms.45A principal's house was completed in 1951, as were a maintenance building in 1952, an industrial building in 1953, and in 1954 a building housing the music and home arts classes, a bakery, laundry, and cafeteria. Three faculty homes were built in 1960 and 1961. These construction projects provided work for students who otherwise would not have had the finances to attend Ozark Academy.46 The first major industry that provided student labor for the school was Brandom's Kitchen Cabinets of Texas, which opened a Gentry branch near the academy campus in 1962.47 The plant burned in 1969 but was rebuilt with more safety features.48
By 1958 the Ozark Academy had 11 staff and 168 students,49 making larger dormitories essential to the continued operation of the school. Construction on a new boys' dormitory began during the 1957–1958 school year. Through the request of constituents, the boys' dormitory was again named "Baker Hall."50 In 1964, a new girls' dormitory was completed, replacing Pierce Hall. The new dormitory was named I. M. Evans Hall in honor of the man who had served as the conference president from 1954 to 1963. A gymnasium was the next major building project. "Completed in 1966, it was named Callicott Hall in honor of R. E. Callicott, whose generous financial backing had made it and the new girls' dorm possible."51 An industrial arts building was erected in 1972 offering classes in graphic arts, architectural and mechanical drawing, auto mechanics, general shop, and flight training.52 Ten students earned their pilot's license that year.53Six faculty homes and two faculty duplexes were added by 1974.54
In 1976, the Oklahoma conference voted to become a constituent of the academy and the school's name was changed to Ozark Adventist Academy. The administration building was no outgrown by this time, and the Oklahoma conference provided much needed funding for a new administration building 55 Adding Oklahoma to the constituent base facilitated an increase in enrollment: the opening enrollment escalated to 280, the highest in the history of the school. Teachers and staff now numbered 29.56 Construction began on the 52,000 square foot building a few feet behind the existing administration building. The project took over a year, with an open house on February 5, 1978. The new building housed the administrative offices, a 400-seat chapel, a library, a science lab, home economics and music departments, a lecture hall, and classrooms for core areas of instruction.57 R. E. Callicott made a significant contribution toward the cost of the administration building and it was named the R. E. Callicott Educational Center. Ozark Adventist Academy remained the official boarding academy for the Oklahoma Conference until 1986.58
When the Brandom's Gentry plant closed in 1982, several Gentry church members opened Mid-America Cabinets, which employed about 35 students.59 In 1986, McKee Foods Corporation opened a box recycling plant near the academy campus. This was an important student industry and employed over 100 students by 1998.60 The box industry closed in 2004 but had generated over $10 million to help students obtain an Adventist education.61 No other industry has had as great an impact on the school.
In 1983, Ozark Adventist Academy made a strong commitment to include computer technology on campus and by 1984, fundraising by students provided enough money to purchase eight computers, a dot-matrix printer, and assorted software. That fall, classes were offered in computer programming and word processing. Both students and faculty used the computers.62 In January 1998, Doug Fisher, a teacher at the academy, launched the first website for the school. The website continues to feature information about student life, academics, a parent portal, and more.63 The school has since added Google Classroom, 1:1 and Chromebooks, and is working toward paperless classes. The academy is developing Connected Classrooms to collaborate with other schools and offer classes that may not otherwise be available.
By 1995, enrollment stood at 207 with 20 teachers and staff. Baker Hall, the boys' dormitory, had been outgrown and outdated for some time. McKee Foods Corporation contributed $750,000 toward construction of a new dormitory in addition to many other donations.64 Construction took place in phases so the new dormitory would stand in approximately the same location as the previous dormitory. When three wings of the new dormitory were completed, the boys moved in, the old dormitory was demolished, and the fourth wing was completed. The new McKee Hall grand opening was held September 19, 1999.65 During this time, a pitched roof replaced the flat roof of the girls' dormitory in 1998,66 and in 2005, their dormitory was completely renovated on the inside, along with the addition of a beautiful new entrance.67 Meanwhile, on the night of October 17, 2001, the academy cafeteria caught on fire. The building was a complete loss, and temporary facilities were used for two years. A dedication ceremony for both McKee Hall and a new cafeteria was held on December 13, 2003.68
In 2010 Ozark Adventist Academy was recognized by the Arkansas State Board of Education for academic excellence.69 Today, Ozark Adventist Academy is accredited with the Accrediting Association of Seventh-day Adventist Schools, Colleges, and Universities, Inc., is pending accreditation with Middle States Association Commissions on Elementary and Secondary Schools, and has been associated with the Arkansas Non-Public School Accrediting Association since 1991. OAA is "authorized under Federal law to enroll nonimmigrant alien students."70 Dual credit for taking college coursework and receiving secondary academic credit by the academy is also available.71
The opening enrollment for 2019-2020 was 131, with 79 boarding students, 52 community students, 18 teaching and administrative staff, and 20 support staff. Current academic departments offering a variety of classes include Computers, English, Fine Arts, Health, Mathematics, Physical Education, Religion, Science, Social Studies, Spanish, Speech, and electives. In 2021 a new Architecture class was being offered. Campus work opportunities include custodial and maintenance work, as well as employment on the grounds, in the cafeteria, and the office. Some students work at the elementary school as teachers' aides. McKee Foods Corporation hires students for custodial work, and students can participate in a unique work opportunity provided by a partnership with Southern Adventist University's ASSIST grant program and Ozark Adventist Academy: students spend time helping an elderly person in the community with things like cooking, yard work, or cleaning and the elderly person serves as a mentor to the student. As Ozark's students build generational bridges, they benefit from their mentor's wisdom and life experiences.72
What Remains to Be Done
The buildings, industries, and accomplishments have been an important part of the school, but the sacrifices made by so many people over the years are what have made Ozark Adventist Academy successful. "Educating students to lead a life of significance by discovering a love for God, respect for self and others, and by acquiring skills for active Christian living" is the mission of the academy today.73 Ozark Adventist Academy has operated debt-free since mid-2018.
Principals
Flint Creek Intermediate School (1924-1930)
William B. Miller (1924-1926); Mrs. Martha L. Low (1926-1927); R. C. Post (1927-1928); K. R. Haughey (1928-1929); Ben G. Butherus (1929-1930).
Flint Creek Junior Academy (1930-1935)
Pearl Pride (1930-1932); Robert L. Benton (1932-1933); Joshua C. Turner (1933-1936).
Ozark Junior Academy (1935-1939)
John S. Hindbaugh (1936-1937); Mrs. Orval Atkins (1937-1938).
Ozark Academy (1939-1976)
Warren D. Pierce (1938-1944); Chester E. Kellogg (1944-1945); Crystal Duce (1945-1946); Joseph H. Bischoff (1946-1950); Leon E. Russell (1950-1955); Harold Eugene Haas (1955-1957); F. Herbert Hewitt (1957-1963); Joshua J. Swinyar (1963-1969); H. Dean Kinsey (1969-1973); Orlin R. McLean (1973-1974).
Ozark Adventist Academy (1976- )
Richard W. Bendall (1974-1979); Beaman T. Senecal II (1979-1983); Garry J. Sudds (1983-1985); Dale R. Kongorski (1985-1986); C. Paul Rouse (1986-1991); Richard A. Aldridge (1991-1996); G. Charles "Papa" Dart (1996-2002); David A. Branum (2002-2003); Lyle H. Hansen (2003-2006); Perry F. Pollman (2006-2008); J. Mike Dale (2008-2020).
Location:
Ozark Adventist Academy
20997 Dawn Hill East Rd.
Gentry, AR 72734
Sources
Baker, Isaac. "A Visit Among the Churches." Southwestern Union Record, April 14, 1937.
Beem, Anna to F. H. Hewitt, January 12, 1958, letter, collection of the Arkansas-Louisiana Conference Education Office.
Bischoff, J. H. "News From Ozark Academy." Southwestern Union Record, November 30, 1949.
Bischoff, J. H. "Ozark Academy." Southwestern Union Record, April 2, 1947.
Bischoff, J. H. "Principal's Report to the Ozark Academy Board Members." Southwestern Union Record, June 7, 1960.
Branson, W. H. "Medical Cadet Training." Southwestern Union Record, August 26, 1942.
"Campmeeting." Southwestern Union Record, July 28, 1902.
Cole, Roy B. "Ozark Academy, Ozark Junior Academy, Flint Creek Junior Academy." Arkansas-Louisiana Conference of Seventh-day Adventists Education office, 1967.
Dart, Charles. "Ozark Adventist Academy shares good news." Southwestern Union Record, June 1998.
Department of Communication, Arkansas-Louisiana Conference. "Major Movements of Ozark Academy." Southwestern Union Record, April 28, 1973.
Eastman, C. N. "Gentry Church and School." Southwestern Union Record, February 27, 1912.
Eastman, C. N. "School Opening Postponed." Southwestern Union Record, September 10, 1912.
"Everyone is invited to upcoming celebration." Southwestern Union Record, December 2003.
Fisher, Caroline A. "Go Surfing at Ozark Adventist Academy." Southwestern Union Record, January 1998.
"Flint Creek." Journal-Advance and Benton County Gazette, November 30, 1933.
"Flint Creek." Journal-Advance and Benton County Gazette, December 7, 1933.
"Flint Creek Intermediate School Starts Industry." Southwestern Union Record, October 16, 1928.
Griffin, H. Clay. "Gentry." Southwestern Union Record, November 30, 1920.
Grove, Rodney A. to Ozark Academy Board, August 3, 1999, letter, collection of the Arkansas-Louisiana Conference Education Office.
Hansen, Lyle. "Ozark Box Company Closes Doors." Southwestern Union Record, October 1, 2004.
Hevener, Don R. "OAA boys dorm takes shape." Southwestern Union Record, January 1980.
Hevener, Don R. to ARKLA K-12 Board Members, August 23, 1999, letter, collection of the Arkansas-Louisiana Conference Education Office.
"Items of Interest." Southwestern Union Record, October 5, 1903.
James, D. S. "The Field." Southwestern Union Record, October 19, 1903.
Leach, B. E. "A Dynamic Record." Southwestern Union Record, September 28, 1974.
Matsumoto, Yukiko, ed. "Girls Dorm 'Extreme Makeover.' " The Flintonian, 2006.
May, Bill. "A Report to the People." Southwestern Union Record, June 12, 1976.
Melton, June, comp. "A Pictorial History of Ozark Adventist Academy: A School Born in Hard Times." Ozark Adventist Academy, Spring 2004. Accessed January 5, 2020. https://www.ozarkacademy.org/alumni/oaa_history.pdf.
Minutes of the Education Sub Committee Meeting of the Arkansas-Louisiana Conference of S. D. A., September 16, 1962, Exhibit 1: Comparative Data on Enrollment. Arkansas-Louisiana Conference Education Office.
"New Cabinet Plant Opens at OAA." Southwestern Union Record, April 28, 1983.
"News Notes." Southwestern Union Record, August 25, 1941.
"OAA Advances in Computer Use." Southwestern Union Record, January 31, 1985.
"OAA Launches Drive for New Boys Dorm." Southwestern Union Record, July 1995.
Olson, Boyd E. "Gentry School Given Publicity in Newspaper." Southwestern Union Record, September 3, 1947.
"Open House for New Administration Building February 5." Southwestern Union Record, January 26, 1978.
Ozark Adventist Academy 2019-2020 Student Handbook, 2019-2020.
"Ozark Academy." Annual Statistical Report. Takoma Park: General Conference of Seventh-day Adventists, 1976.
Pierce, W. D. "Ozark Junior Academy." Southwestern Union Record, June 12, 1940.
Richards, H. M. J. "Information for our Arkansas Believers Concerning Our Gentry School." Southwestern Union Record, March 24, 1925.
Ruf, A. F. "Ozark Junior Academy." Southwestern Union Record, May 22, 1935.
Russell, L. E. "'Let Us Rise Up and Build.'" Southwestern Union Record, March 10, 1954.
Seventh-day Adventist Yearbook. https://www.adventistyearbook.org/.
Shafer, S. T. "Flint Creek Junior Academy." Southwestern Union Record, June 17, 1930.
Shafer, S. T. "The Gentry, Arkansas, Church." Southwestern Union Record, November 15, 1927.
Swinyar, J. J. "Brandom Corporation to Rebuild on OA Campus Following Fire." Southwestern Union Record, February 22, 1969.
"Watch SWJC!." Southwestern Union Record, April 4, 1962.
Watts, V. B. "Arkansas." ARH, October 15, 1903.
Watts, V. B. "Field Reports." Southwestern Union Record, January 17, 1905.
Wells, Frank D. "Ozark Academy." Southwestern Union Record, July 24, 1946.
Wilcox, Lorena E. "Report of the Educational Work in the Arkansas Conference." Southwestern Union Record, November 30, 1920.
Wilson, J. O. "History of Ozark Academy." Arkansas-Louisiana Conference of Seventh-day Adventists Education office, May 1975.
Wines, E. E. "Flight Training Program at Ozark Academy." Southwestern Union Record, April 28, 1973.
Notes
"Items of Interest," Southwestern Union Record, October 5, 1903, 2. The exact date of the organization of the Gentry church is not known. It took place after August 17, 1902, when the camp meeting ended, and before the August 1903 meetings.↩

"Campmeeting," Southwestern Union Record, July 28, 1902, 2.↩

D. S. James, "The Field," Southwestern Union Record, October 19, 1903, 2.↩

"Items of Interest," Southwestern Union Record, October 5, 1903, 2.↩

V. B. Watts, "Arkansas," ARH, October 15, 1903, 20.↩

V. B. Watts, "Field Reports," Southwestern Union Record, January 17, 1905, 2.↩

C. N. Eastman, "Gentry Church and School," Southwestern Union Record, February 27, 1912, 5.↩

"The Gentry School," Southwestern Union Record, August 6, 1912, 7.↩

C. N. Eastman, "School Opening Postponed," Southwestern Union Record, September 10, 1912, 7.↩

"Arkansas Conference," Seventh-day Adventist Yearbook (Washington, D.C.: Review and Herald Publishing Association, 1913), 75.↩

Lorena E. Wilcox, "Report of the Educational Work in the Arkansas Conference," Southwestern Union Record, November 30, 1920, 3.↩

H. Clay Griffin, "Gentry," Southwestern Union Record, November 30, 1920, 3.↩

S. T. Shafer, "The Gentry, Arkansas, Church," Southwestern Union Record, November 15, 1927, 2.↩

H. M. J. Richards, "Information for our Arkansas Believers Concerning Our Gentry School," Southwestern Union Record, March 24, 1925, 2.↩

"Flint Creek Intermediate School Starts Industry," Southwestern Union Record, October 16, 1928, 2.↩

"Flint Creek Inter. School," Annual Statistical Report (Takoma Park: General Conference of Seventh-day Adventists, 1925), 13.↩

"Flint Creek Intermediate School," Seventh-day Adventist Yearbook (Washington, D.C.: Review and Herald Publishing Association, 1926), 229.↩

Shafer, "The Gentry, Arkansas, Church."↩

S. T. Shafer, "Flint Creek Junior Academy," Southwestern Union Record, June 17, 1930, 3.↩

"Flint Creek," Journal-Advance and Benton County Gazette, November 30, 1933, 3.↩

"Flint Creek," Journal-Advance and Benton County Gazette, December 7, 1933, 2.↩

Roy B. Cole, "Ozark Academy, Ozark Junior Academy, Flint Creek Junior Academy," Arkansas-Louisiana Conference of Seventh-day Adventists Education office, 1967.↩

A. F. Ruf, "Ozark Junior Academy," Southwestern Union Record, May 22, 1935, 3.↩

Boyd E. Olson, "Gentry School Given Publicity in Newspaper," Southwestern Union Record, September 3, 1947, 2, 3.↩

Isaac Baker, "A Visit Among the Churches," Southwestern Union Record, April 14, 1937, 2, 3.↩

Warren D. Pierce to the Arkansas-Louisiana Conference of S. D. A., March 17, 1992, letter, collection of the Arkansas-Louisiana Conference Education Office.↩

J. O. Wilson, "History of Ozark Academy," Arkansas-Louisiana Conference of Seventh-day Adventists Education office, May 1975, 9.↩

Anna Beem to F. H. Hewitt, January 12, 1958, letter, collection of the Arkansas-Louisiana Conference Education Office.↩

Cole, "Ozark Academy, Ozark Junior Academy."↩

"Ozark Academy," Annual Statistical Report (Takoma Park: General Conference of Seventh-day Adventists, 1939), 20.↩

"Ozark Academy," Annual Statistical Report, 1940, 22.↩

W. D. Pierce, "Ozark Junior Academy," Southwestern Union Record, June 12, 1940, 2, 3.↩

June Melton, comp., "A Pictorial History of Ozark Adventist Academy: A School Born in Hard Times," Ozark Adventist Academy, Spring 2004, accessed January 5, 2020, https://www.ozarkacademy.org/alumni/oaa_history.pdf.↩

"News Notes," Southwestern Union Record, August 25, 1941, 3.↩

The Flintonian (Ozark Academy Printing Class, 1942), 16; The Flintonian, 1943, 15.↩

W. H. Branson, "Medical Cadet Training," Southwestern Union Record, August 26, 1942, 1.↩

"Ozark Academy," Annual Statistical Report, 1941, 20; cf. "Ozark Academy," Annual Statistical Report, 1945, 16.↩

Wilson, "History of Ozark Academy," 10.↩

Frank D. Wells, "Ozark Academy," Southwestern Union Record, July 24, 1946, 2, 3.↩

I. C. Pound, The Flintonian (1942), 2.↩

J. H. Bischoff, "Ozark Academy," Southwestern Union Record, April 2, 1947, 3-5.↩

J. H. Bischoff, "News From Ozark Academy," Southwestern Union Record, November 30, 1949, 2, 3.↩

Wells, "News Notes," Southwestern Union Record, June 9, 1948, 2.↩

J. H. Bischoff, "Principal's Report," 4.↩

J. H. Bischoff, "Principal's Report to the Ozark Academy Board Members," Southwestern Union Record, June 7, 1960, 3, 4.↩

L. E. Russell, "'Let Us Rise Up and Build,'" Southwestern Union Record, March 10, 1954, 3, 4.↩

"Watch SWJC!," Southwestern Union Record, April 4, 1962, 8.↩

J. J. Swinyar, "Brandom Corporation to Rebuild on OA Campus Following Fire," Southwestern Union Record, February 22, 1969, 9.↩

Minutes of the Education Sub Committee Meeting of the Arkansas-Louisiana Conference of S. D. A., September 16, 1962, Exhibit 1: Comparative Data on Enrollment. Arkansas-Louisiana Conference Education Office.↩

Beem to F. H. Hewitt.↩

Melton. "A Pictorial History."↩

Department of Communication, Arkansas-Louisiana Conference, "Major Movements of Ozark Academy," Southwestern Union Record, April 28, 1973, 3, 4.↩

E. E. Wines, "Flight Training Program at Ozark Academy," Southwestern Union Record, April 28, 1973, 6.↩

B. E. Leach, "A Dynamic Record," Southwestern Union Record, September 28, 1974, 6.↩

Bill May, "A Report to the People," Southwestern Union Record, June 12, 1976, 7.↩

"Ozark Academy," Annual Statistical Report (Takoma Park: General Conference of Seventh-day Adventists, 1976), 22.↩

"Open House for New Administration Building February 5," Southwestern Union Record, January 26, 1978, 9.↩

Rodney A. Grove to Ozark Academy Board, August 3, 1999, letter, collection of the Arkansas-Louisiana Conference Education Office.↩

"New Cabinet Plant Opens at OAA," Southwestern Union Record, April 28, 1983, 6,7.↩

Charles Dart, "Ozark Adventist Academy shares good news," Southwestern Union Record, June 1998, 10.↩

Lyle Hansen, "Ozark Box Company Closes Doors," Southwestern Union Record, October 1, 2004, 15.↩

"OAA Advances in Computer Use," Southwestern Union Record, January 31, 1985, 8.↩

Caroline A. Fisher, "Go Surfing at Ozark Adventist Academy," Southwestern Union Record, January 1998, 10.↩

"OAA Launches Drive for New Boys Dorm," Southwestern Union Record, July 1995, 18, 19.↩

Don R. Hevener to ARKLA K-12 Board Members, August 23, 1999, letter, collection of the Arkansas-Louisiana Conference Education Office.↩

Don R. Hevener, "OAA boys dorm takes shape," Southwestern Union Record, January 1980, 11, 12.↩

Yukiko Matsumoto, ed., "Girls Dorm 'Extreme Makeover,' " The Flintonian, 2006, 102.↩

"Everyone is invited to upcoming celebration," Southwestern Union Record, December 2003, 23.↩

Mike Dale, personal knowledge from serving as the Ozark Academy Principal from 2008 - .↩

"Who May Attend," Ozark Adventist Academy 2019-2020 Student Handbook, 2019, 5.↩

"Dual Credit Policy," Ozark Adventist Academy 2019-2020 Student Handbook, 12.↩

"Work Program," Ozark Adventist Academy, 2020, accessed January 27, 2020, https://www.ozarkacademy.org/work_program.php.↩

"Mission," Ozark Adventist Academy 2019-2020 Student Handbook, 2019-2020, 4.↩