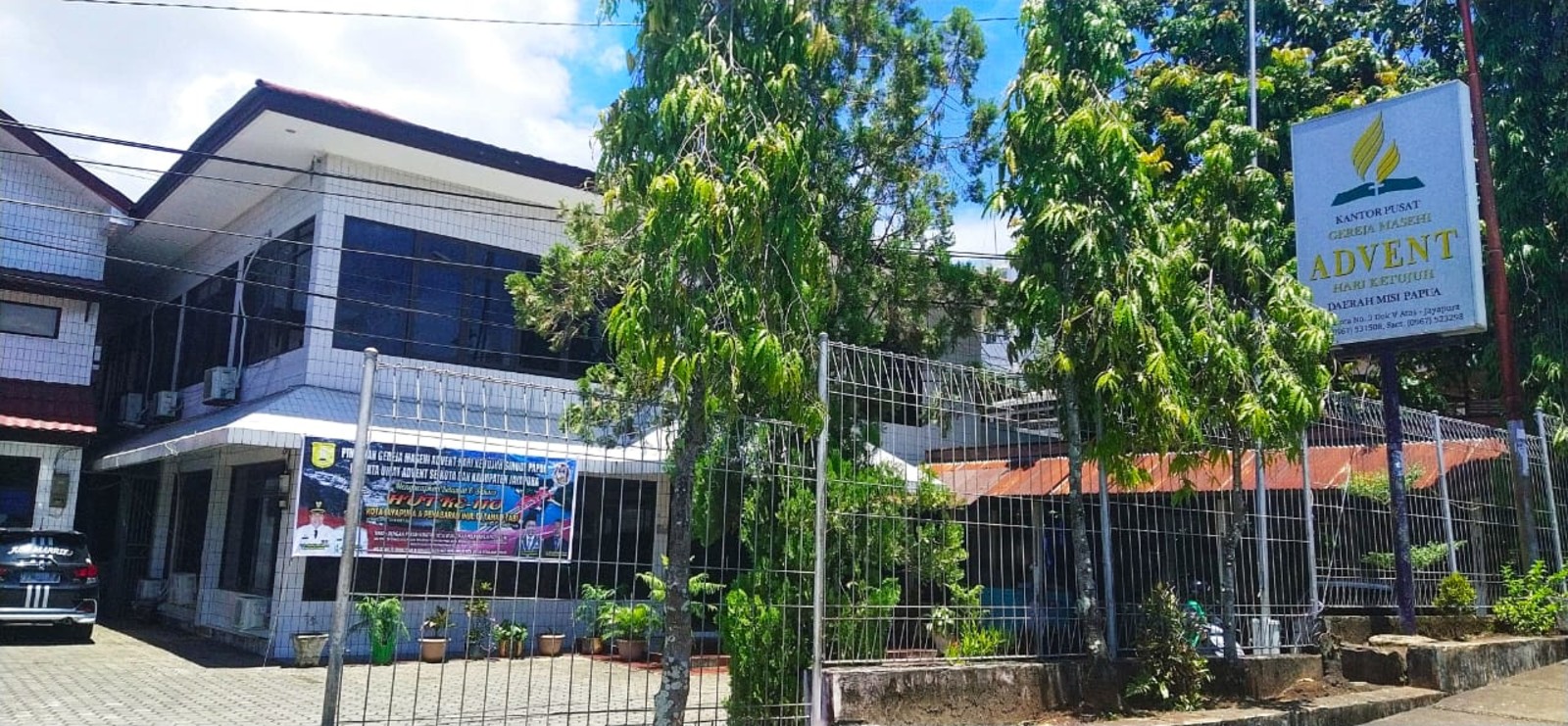 Papua Mission
×
Desmond Sirami, M.A. in education (Adventist International Institute of Advanced Studies, Silang, Cavite, Philippines), is the director of the Sabbath school and personal ministry departments of Papua Mission, Indonesia. He was a member of 1000 Missionary Movement and served as a missionary in the Philippines. He was an English and Bible teacher at Doyo Baru Academy, Papua, Indonesia, and director of Papua Adventist Academy and Papua Adventist School of Theology. He is married to Elihama Villanueva Okan and has three children.
First Published: November 8, 2020
Papua Mission of Seventh-day Adventist Indonesia, formerly known as Irian Jaya SDA Mission of Indonesia, is located on the island of Papua. The eastern half is the country of Papua New Guinea, with a total land area of 319, 036.05 square kilometers. As part of the East Indonesia Union Conference, established in 1950, it was reorganized in 1955 and renamed in 2006. Given the increasing growth of the Church, its territory was divided into two in 2013, the West Papua Mission and the Papua Mission. As of June 30, 2018 Papua Mission of Seventh-day Adventist Indonesia had 121 churches, with a total membership of 18,757 from a total population of 1,780,113.1
Origin of SDA Work in the Territory of Papua Mission
Papua, Indonesia, previously known as Dutch/Netherlands/West New Guinea, or Irian Jaya, had long been an unentered territory until 1920. The Far Eastern Division Publication Ministry Department was aware of the growing need for evangelization in this region since no Seventh-day Adventist literature had yet been published nor evangelistic work undertaken in the vernacular of Dutch New Guinea, particularly in Mafur/Mafoor, the most widely spoken language in the North Coast at that time.2
In 1924, when colonization had been encouraged in Dutch New Guinea, several Seventh-day Adventist Dutch families moved from Java and settled on the north coast of New Guinea,3 forming a church under the Malaysian Union Mission.4
By May 1928, because of their zeal for the gospel commission and their commitment to God, Pastor Albert Munson the then president of the Adventist Church in Manado (North Sulawesi) and Pastor B. L. Beecham, field secretary for the Malaysian Union, sailed to the northwest of Papua Island, Sorong to survey and find opportunities to spread God's work.5
A few years later a literature evangelist, Manasee Patty, visited Dutch New Guinea in 1931 and made an appeal to the Church of the need for workers to bring light to the Papuans.6
In 1941 Isak Tuamulia and Arsad Kadir from Gorontalo,7 trained in Manado as literature evangelists by Pastor Albert Munson, were sent to Dutch New Guinea to begin God's work through selling books to the people in Babo, Sorong, Dobo, Kaimana, Merauke, and other interior areas.8
During the union committee meeting held in Bandoeng, Java in March9 1948, Pastor D. Van Waardenburg and Pastor D. A. Dompas volunteered for service in Dutch New Guinea.10
Pastor D. Van Waardenburg and family traveled by ship and arrived in one of the islands of Manokwari early in 1948.
After meeting with the government officer, they were given a place to stay, pitched their tents, and began making friends with the local people. They visited them in their villages and told them about the story of creation and the Sabbath. Many of the listeners understood well and went to other villages to tell their friends of what they had heard. However, the government officer and the highest resident chief were told and the missionaries were considered to be agitators since there were only two mission organizations recognized that time--the Roman Catholic and the (Dutch) Protestant. Although they were moved to several places, they continued sharing the truth about their Savior, Jesus, until they were finally given a written permit to occupy a piece of land. With the help of the natives and the Maniokion tribe neighbors, they settled in an old abandoned Japanese hut. Despite obstacles and difficulties, with God's help a way was opened for the the third angel's message to the Papuans.11
Meanwhile, Pastor D. A. Dompas penetrated the region of Sorong. As told by Dompas, Sorong was divided into two sections at that time. Sorong Doom, the capital of West New Guinea was the seat of the local government, whereas the other section was on the island of New Guinea where thousands of people were working for the oil company. Among them were several Seventh-day Adventists who worked for their living and were dedicating their free time to spreading the gospel message.
Because the officials, employees, and traders were always on the move, there was a great chance to spread the gospel to the neighboring islands who didn't yet know the truth. They were visited in their small huts, in their boats, and wherever the missionary and church members had a chance, they shared the truth and distributed tracts. The Holy Spirit was indeed working in marvelous ways, moving the hearts of the people and preparing them for the acceptance of God's truth. One of the villages' chief, who was heathen and had never heard of Christ before, had received some instructions from the Bible. One day, he came with his people after sailing four days from his place and requested to open a school on his island.
Another gospel worker from a different denomination was convinced of the Sabbath truth he received and decided to return to his home village to tell of the newly found truth to others.
Some local people from the island of Serui, who had received regular Bible studies from our church members, requested for a gospel worker to be sent to their place. Indeed God was preparing this wide field, Dutch New Guinea, for a harvest.
On October 15, 1948 the first baptism was conducted. Two young men gave their hearts to the Lord. This was followed by a second baptism on April 8, 1950. Twelve souls accepted Christ and were added to the fold (three from Ceram, one from Sangihe, and eight Papuans).12 These eight local Papuans were Betuel Tanati, Terianus Aibini, Daud Saroi, Benyamin Saroi, Simon Bindosano, Simon Imbenai, and Barens Agaki who worked for Dutch Petroleum Company at Sorong. They regularly met with their co-worker by the name of Taliwongso, a Seventh-day Adventist church member who shared the Sabbath truth with them and were finally baptized by Pastor D. A. Dompas.
On December 12, 1950, the seven baptized local Papuans arrived in their own village at Nubuai, Waropen and worshiped for the first time on Sabbath at Mambui, Waropen in Simon Imbenai's house.13
They then continued to enthusiastically pass on the truth they had received to their relatives and friends and to people in their own villages. A thirst for truth was evident in the hearts of the people. Many brethren in Sorong, Serui, and other islands appealed for gospel workers to come to this vast mission field, whose people still lived in ignorance and darkness.14
Official Organization of Mission
In 1950, during the Indonesia Union annual meeting of the executive committee, the West New Guinea Mission was created and Pastor E. H. Vijsma was appointed as its first president and secretary-treasurer. By this time, they had three workers in New Guinea; Pastor Dompas at Sorong; D. Van Waardenburg at Manokwari; and Pastor Vijsma at Hollandia.15 Pastor Vijsma had secured land to build a mission home and a mission office in Berg en Dal (Argapura), Hollandia .16 About this time, a directory of present membership indicated a total of 80 members, as reported by Sorensen (1950).17 Among those baptized were the 15 Irians (Papuans) by Pastor Dompas at Sorong, 18 eight members in Manokwari, 17 members in Sarmi, although there was no worker yet, and 15 members in Hollandia. There were already about 24 families in Serui, on the island of Jappen, who were not yet baptized but were asking for someone to come and teach them the way to Jesus.19
On December 17, 1951 another native Papuan by the name of Jacobus Bindosano was baptized.20 His conversion began while he was walking one night along the road and saw Pastor Vijsma showing pictures on a screen, with many people sitting on the grass watching and listening. He decided to join them. The Savior's picture made a deep impression on him as he learned of the loving Jesus Who came to die for him. He then asked to study more about the Bible from missionary Vijsma, and after his baptism he perseveringly shared his new found faith to his people in Waropen village.21 He later became the first ordained native Papuan minister.
In August 1953, the Far Eastern Division sent Pastor Klaas Tilstra to Hollandia as the second mission president of West Papua Mission to work with Pastor Vijsma.22 They obtained a piece of land on which to build the first mission church and the workers' quarters. The supplies and materials for the buildings had to be ordered from Singapore, taking about two months to reach Hollandia (Jayapura).
In 1955, a training school was opened at the same mission church site in Berg en Dal (Argapura) for Papuan young men to become missionaries among their own people, with Mrs. Vijsma and Mrs. A. Tilstra joining the teaching force.23
After eight months of intense study, six eager Papuan youth graduated from the course on May 28, 1956.24 These six young men were Habel Sirami, Albert Waramory, Corneles Windesi, Matius Manisru, Lukas Yandeday, and John Uyai. Together with Jacobus Bindosano, they formed the core of the national work force in West New Guinea.25
Without delay these missionaries, equipped with supplies, medicines, and books, set out to different places to bring light to darkened souls filled with sin and superstition. Habel Sirami and Albert Waramory were sent to the people in Arfak Manokwari,26 John Uyai was sent to Ransiki, and Jacobus Bindosano was sent to Waropen.
March 20, 1955 marked the opening of the first Mission Session in West New Guinea with the Far Eastern Division President F. A. Mote giving encouragement to carry God's work on to victory. The mission reached its goal, doubling its membership during 1955.27
In 1958, Doctor Godfried Oosterwal, an anthropologist from the Netherlands, conducted studies and surveyed the mission possibilities among the tribes in Murumare (Mamberamo) to Upper Tor (Sarmi),28 assisted by Lukas Jandeday and Berya Yapun.
Other Institutions
On December 2, 1957 Doyo Baru Missionary Training School was opened. L. E. Keizer was the school principal, with eight students enrolled, doubling the enrollment by the following year. By 1960, eight graduates were presented for their diplomas. The occasion marked the first graduation of Doyo Baru Missionary Training School. The graduates were then sent as missionaries to certain villages around Sarmi and Mamberamo River.29
During the next decades Adventists established mission work in several areas in Papua. They introduced missions in Upper Mamberamo (1960), the same year a church in Roaimbo, Mambui, Waropen was dedicated with eight additional baptisms the following year. Siboiboi, Hobong; Ifale, Lake Sentani (1961), Nabire (1964), Serui (1967), Biak (1968), Merauke (1969), Abepura (1970), Fak-fak (1972), Wamena (1972), Lereh (1973), Genyem (1974), Timika (1974), and Bintuni (1975).
Although Seventh-day Adventists had organized work in Irian (Papua) since 1951, lack of transportation had restricted expansion to coastal towns. It was not until late in 1972 when the Far Eastern Division sent Bruce Johnston and Ed Barnes, the division evangelistic secretary and associate educational secretary, respectively, and Pastor pilot W. E. Smith, in a Cessna 180 from Singapore to the north coast of New Guinea, to prepare for the establishment of the mission aviation program and search for possible airstrip sites.30 This was then followed by another survey trip by W. V. Clements, the Sabbath School Secretary of the Far East Division and W. E. Smith to Baliem Valley (Wamena).31 How the Lord had prepared the way was beyond what the missionaries dared to hope for. In 1974, the single-engine Cessna 185 arrived in Doyo Baru. Painted on its side were the three angels bearing the mission aircraft's work of spreading the gospel to the farthest outposts of humanity that these people too might be prepared for Jesus' coming. Pastor pilot Kenneth Dale Smith, sent from the East Indonesia Union Mission in January 1974 served as the mission pilot,32 working with his brother Pastor pilot W. E. Smith. By that time Irian Jaya Mission had received many invitations to open up new work. Missionary pilots served one after another furthering the Adventist Aviation mission of Papua Mission, including D. Thompson; L. Amundson; Sirey and Sutomo (1976-1977); L. Kelm (1977);33 B. Roberts (1991- 2013); H. Sakul, and G. Roberts (2014-present).
Adventism continued to expand. The Global Mission Training Center was established in 1995 at Doyo Baru, led by Pastor Evert Kamuh and Pastor Samuel Bindosano which was focused on training volunteers to be sent to unreached people groups and to support various projects. Thus, elementary schools and junior and senior high schools were built in different areas. In addition, a Maranatha program was begun in 1998, directed by Jan Roberts, partnering with Global Mission in constructing churches and schools and supporting unschooled children.
In 2006, the Adventist Seminary School was begun in Doyo Baru, currently called Papua Adventist School of Theology, with the same facilities as the dormitory, cafeteria, and classrooms used by the previous Global Mission Training Center.
By 2011, Pastor Darron Boyd and his family arrived to help the mission work in the interior villages of Papua, building jungle schools and churches. Working with Adventist Aviation Indonesia and the 1000 Missionary Movement, missionaries and local church members were trained to help reach the unreached tribes of Papua.
In 2016, Papua Adventist Health Center was built adjacent to Papua Adventist Academy and Elementary School in Doyo Baru.
Evolution of Papua Mission
| | |
| --- | --- |
| 1920 - 1928 | Dutch New Guinea territory under the Malaysian Union Mission.34 |
| 1929 - 1930 | Dutch New Guinea territory under the Celebes Mission.35 |
| 193136-1949 | Dutch New Guinea under the Ambon Mission, under the Netherlands East Indies Union Mission37 |
| 1950 - 1953 | West New Guinea Mission under the Indonesia Union Mission.38 |
| 1954 - 1973 | West New Guinea directly under the Far Eastern Division.39 |
| 1965 | Name changed to West Irian Mission |
| 1974-present      | West Irian Mission under the East Indonesia Union Conference. |
| 1975             | Name changed to Irian Jaya Mission |
| 2013  | Name changed to Papua Mission |
Mission Office Addresses Over the Years
| | |
| --- | --- |
| 1950 - 1951 | 63, Bandung, Java40 |
| 1952 - 1963  | 101, Hollandia, New Guinea |
| 1964 | 101, Kotabaru, Irian Barat, Indonesia |
| 1965 - 1969 | 101, Sukarnapura, Irian Barat, Indonesia |
| 1970 - 1974 | 101, Jayapura, Irian Barat, Indonesia |
| 1975- 1994 | 101, Jayapura, Irian Jaya |
| 1995 – 2012 | 1079, Jayapura 99011, Irian Jaya |
| 2013  | 1079, Jayapura 99011, Papua41 |
Year-Territory Population-Church Membership
| | | | |
| --- | --- | --- | --- |
| Year | Territory Population | Churches | Church Membership |
| 1955 | 1,000,00042 | 3 | 9643 |
| 1965 | 1,000,00044 | 7 | 51545 |
| 1975 | 850,00046 | 18 | 1,71847 |
| 1985 | 1,215,92748 | 31 | 5,72249 |
| 1995 | 1,806,06050 | 42 | 9,22051 |
| 2005 | 3,260,62852 | 77 | 15,98353 |
| 2015 | 1,496,28054 | 110 | 15,73055 |
| 2018 | 1,771,85756 | 125 | 19,54057 |
The drop in church membership from 2005 to 2015 was the result of the formation of West Papua Mission in 2013.
Challenges and Future Outlook
There are approximately 175 spoken dialects throughout Papua, whereas only 20 exist among Seventh-day Adventists. Numerous unreached tribal groups are still unreached in the highlands and other rural areas.
The rapidly growing Moslem religion in the region is another challenge to the Church. Religious intolerance from other denominations, especially with the two larger Christian denominational groups, have influenced the local people to believe that the Seventh-day Adventist Church is a sect or cult. Thus, protests and resistance are always encountered by our church and workers.
Literature evangelism still remains one of the key strategies of the growth of mission. Education ministry, with the presence of our school in every place, either in the city, jungle, or interior area, and the presence of our missionary teachers or mission workers, even without an existing school, has contributed much to the growth of our mission.
Personal and lifestyle ministry is important for growth of the mission, with every church member revealing Jesus wherever they are. Medical ministry is another method for building bridges against prejudice and letting people know that the Church cares for them. Media ministry reaches the visually-driven and ever-changing world, and youth programs rekindle the missionary spirit.
As of 2018, Papua Mission of Seventh-day Adventists Indonesia had over 121 churches, with nearly 18,757 members. It also has 30 elementary schools, 14 junior high schools, nine senior high schools, and one college, including Papua Adventist School of Theology and Papua Adventist Health Center. As of 2019, the total number of pastors is 75; twenty-seven are ordained ministers and 49 unordained ministers.
List of Presidents
E. H. Visma (1950-1952); K. Tilstra (1953-1963); C. G. Oliver (1963-1966); B. Malingkas (1966-1967); L.A. Smith (1967-1969); J. S. Maramis (1969-1972); F. A. Massie (1973-1977); D. Pungus (1978-1981); J. Jacobs (1982-1985); R. Kasaulia (1985-1986); H. Kalalo (1986-1987); B. Mambo (1988-1995); R. Wawondatu (1996-1997); J. S. Dimara (1998-2002); S. Y. Bindosano (2002-2005); F. Kafiar (2006-2010); S. Dike (2011-2014); J. L. Umbora (2014-2016); W. Suebu (2017- present).
Sources
Armstrong, V. T. "President's Address to the division Annual Session." Far Eastern Division Outlook, March 1949.
Beecham, V. L. "A Visit to New Guinea." Far Eastern Division Outlook, October 1928.
Bindosano, Jacobus. Ketika Fajar menyingsing di Ufuk Timur. Februari 2004. unpublished article.
Clements, W. E. "Reaching Out in the Far East." Far Eastern Division Outlook, May 1974.
Crisler, C. C. "Languages of the Far Eastern Division." Asiatic Division Outlook, June 15/July 1, 1921.
Dompas, D. A. "We Enter West New Guinea." Far Eastern Division Outlook, September 1950.
Finster, L. V. "Malaysian Union Mission." Missions Quarterly, Third Quarter, 1924.
Pratt, F. A. "How it Happened in Western New Guinea." Atlantic Union Gleaner, December 12, 1950.
Seventh-day Adventist Yearbooks. Various years. https://www.adventistyearbook.org/.
Smith, W. E. "Breakthrough in New Guinea's Cannibal Valley." ARH, June 21, 1973.
Sorensen, C. P. "Dutch New Guinea." Far Eastern Division Outlook, January 1952.
Tilstra, Albertine Klingbeil. A Dutchman Bound For Paradise. Review and Herald Publishing Association, 1980.
Southern Asia-Pacific Division Record Center, Service record of Kenneth Dale Smith.
Tilstra, K. "Into an unentered Region of Netherlands New Guinea." ARH, June 30, 1960.
Tilstra, K. "West New Guinea Mission." Far Eastern Division Outlook, May 1955.
Van Waardenburg, D. "My Experience in Dutch New Guinea." Australian RECORD, July 25, 1949.
Vijsma, E. H. "West New Guinea Mission." Far Eastern Division Outlook, September 1950.
Notes
C. C. Crisler, "Languages of the Far Eastern Division," Asiatic Division Outlook, June 15/July 1, 1921, 7.↩

C. P. Sorensen, "Dutch New Guinea," Far Eastern Division Outlook, January 1952, 1.↩

L. V. Finster, "Malaysian Union Mission," Missions Quarterly, Third Quarter, 1924, 3.↩

V. L. Beecham, "A Visit to New Guinea," Far Eastern Division Outlook, October 1928, 13.↩

F. A. Pratt, "How it Happened in Western New Guinea," Atlantic Union Gleaner, December 12, 1950, 4.↩

W. P. Bradley, "New Items from Netherlands East Indies," Far Eastern Division Outlook, July 1941, 10.↩

Bradley, 6.↩

V. T. Armstrong, "President's Address to the division Annual Session," Far Eastern Division Outlook, March 1949, 1.↩

Pratt, 1.↩

D. Van Waardenburg, "My Experience in Dutch New Guinea," Australian RECORD, July 25, 1949, 8.↩

D. A. Dompas, "We Enter West New Guinea," Far Eastern Division Outlook, September 1950, 17.↩

Jacobus Bindosano, Ketika Fajar menyingsing di Ufuk Timur (Februari 2004. unpublished article), 2.↩

Dompas, 17.↩

Sorensen, 1.↩

Sorensen, 2.↩

Ibid.↩

E. H. Vijsma, "West New Guinea Mission," Far Eastern Division Outlook, September 1950, 17.↩

Bindosano, 6.↩

Albertine Klingbeil Tilstra, A Dutchman Bound For Paradise (Review and Herald Publishing Association, 1980), 99, 100.↩

Ibid., 94, 95.↩

Habel Sirami, interview by the author, October 19, 2017. One of the six graduates who is still living. Jayapura, Papua.↩

Tilstra, 95-101.↩

Habel Sirami, interview by the author, October 19, 2017.↩

Tilstra, 103.↩

K. Tilstra, "West New Guinea Mission," Far Eastern Division Outlook, May 1955, 6.↩

K. Tilstra, "Into an unentered Region of Netherlands New Guinea," ARH, June 30, 1960, 16.↩

Emil H. Tambunan, (1999). Gereja Masehi Advent Hari Ketujuh di Indonesia Sejarah Perintisan dan Pengembangannya, 381.↩

W. E. Smith, "Breakthrough in New Guinea's Cannibal Valley," ARH, June 21, 1973, 14.↩

W. V. Clements, "Reaching Out in the Far East," Far Eastern Division Outlook, May 1974, 4.↩

Southern Asia-Pacific Division Record Center, Service record of Kenneth Dale Smith.↩

Bindosano, 36.↩

See Endnote 4.↩