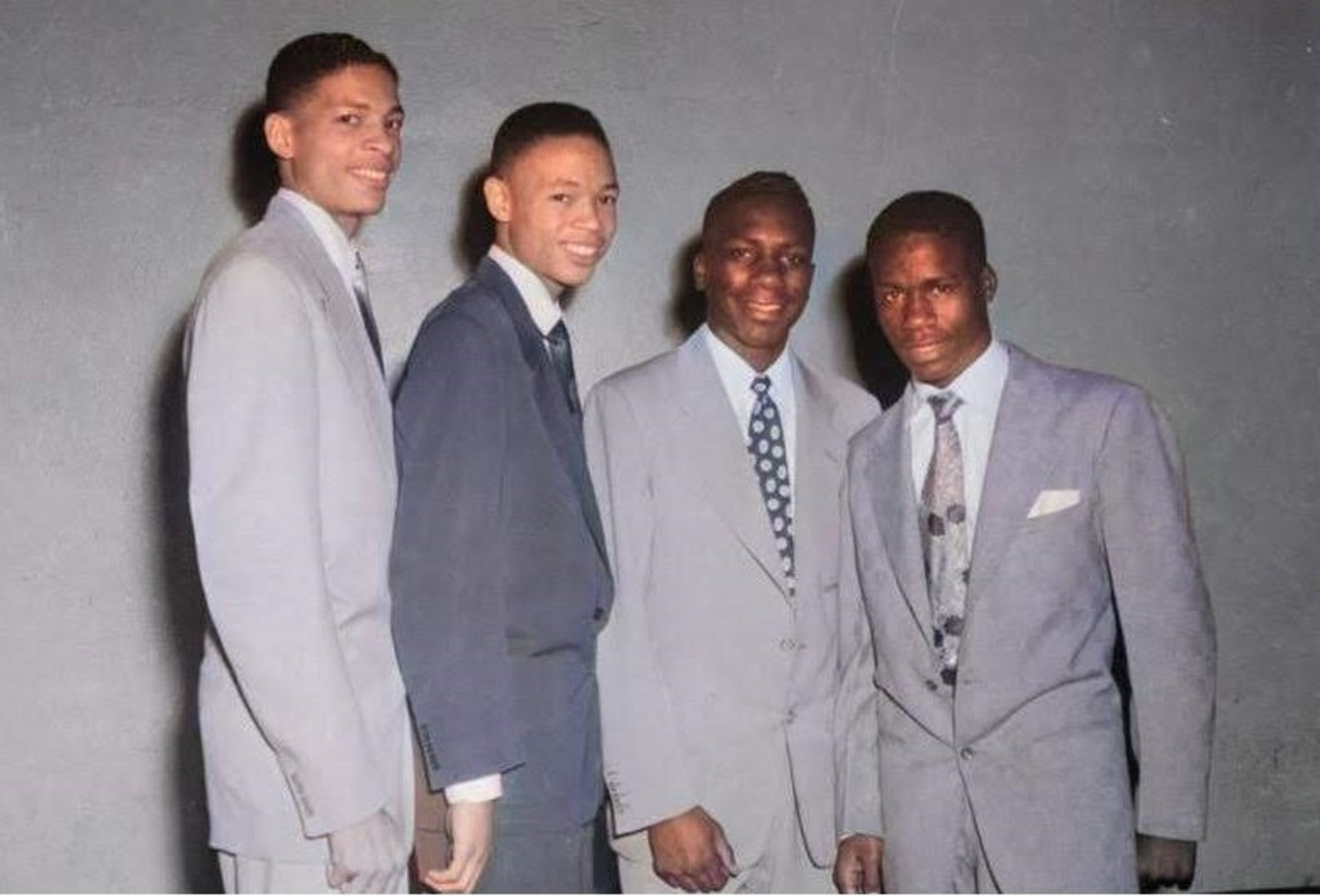 Velvetones Quartet
×
Frederick G. Murphy, B.S. (Oakwood College) and both the Master Science of Hygiene (MSHyg) and Master of Public and International Affair (MPIA) (University of Pittsburgh), currently serves as executive director of Life Long Health, Inc. in Atlanta, Georgia, and as an adjunct professor at Morehouse School of Medicine and Georgia State University. Murphy has been affiliated with Centers for Disease Control and Prevention (CDC) and the Sickle Cell Disease Center of Pittsburgh. He has authored and edited articles for several professional and academic journals and is the author of a public health textbook (Spring Publishing, New York).
First Published: September 8, 2021
The Velvetones Quartet won wide acclaim for its a cappella sound both in and beyond Adventist circles during the 1950s.
Origins
The quartet sprang up from the Ethnan Temple Seventh-day Adventist church, located in the Hill District community of Pittsburgh, Pennsylvania. Founded in 1916, Ethnan Temple was a thriving constituent church of the Allegheny Conference (later divided into the Allegheny East and Allegheny West conferences). Two sets of teen-aged brothers from families active in the church formed the quartet: Ronald Murphy and Darrel Murphy, sons of Thomas and Zorabell Murphy; and Ronald Nelson and Wayman Nelson, sons of Lillie and Pat Nelson.1
The Velvetones developed a wide-ranging repertoire that included distinctive renditions of hymns, gospels, spirituals and anthems. The quartet became renowned for a pristine a cappella sound and was sought out for performances in a variety of venues in Greater Pittsburgh, western Pennsylvania, and Ohio, including countless church federation meetings, worship services, conferences and convocations.
Ministry Venues
The venues for their musical ministry included:
1952: Allegheny Conference Youth Day observed at the Ethnan Temple Church in Pittsburgh.2

1952-1956: numerous performances on radio and television broadcasts in Greater Pittsburgh.

1953: Allegheny Conference Tri -City Youth Congress Federation, Baltimore, Maryland.3

1956: Columbia Union Temperance weekend, Pittsburgh, Pennsylvania.4

1957: Missionary Volunteer Golden Anniversary celebration, Mount Vernon, Ohio.5

1950s: Ongoing musical guests, Katherine Kuhlman Ministry television and radio broadcast at Carnegie Hall, Pittsburgh.
Winning first prize in the Wilkens Amateur Hour contest during the early 1950s was a standout achievement for the quartet. This amateur hour was one of Pittsburgh's most popular shows for over 23 years, beginning as a radio broadcast in 1935 and simulcast on television from 1950 to 1958. It was the first regularly scheduled live local television show in Pittsburgh's history.6 The Velvetones became the first group to win the competition with a rendition of religious music. Many contest winners went on to stardom as performers and the Velvetones were "swamped with offers for contracts from every phase of the entertainment world." They refused the offers "without hesitation," instead "directing their talents toward the service of God in helping finish the work of carrying the gospel to the world."7
Influence
Another a cappella group, the Crescendos, grew out of the Velvetones at the Ethnan Temple Church in the mid-1950's. This group became known throughout the Allegheny Conference for their outstanding four, five and six part harmonies. Velvetones member Darrel Murphy formed the group and arranged most of their music. He also wrote songs for the group, such as "Never for Forsake Me" and "I Have a Savior." The crystal clear vocals of the Crescendos' "child prodigy" lead singer, Jesse Murphy, added to a patented musical blend that many found inspiring.
Two acclaimed a cappella quartets spun off from the Velvetones – the Elegants Quartet of Oakwood College and the Excelsior Quartet of Washington, D.C. Both groups, led by Thomas Vincent Murphy, originated in the 1960s. Tommy, who was an original member of the Crescendos and an understudy of Darrel Murphy, did many of the musical arrangements for both these groups. His arrangements of hymns, spirituals, and anthems such as "Not I but Christ," "He's Got the Whole World in His Hands," "Get on Board Little Children," and "My Lord's Going To Move This Wicked Race" found their way into the repertoire of noted choral groups including the Brothers of Washington, D.C., during the 1960s and 1970s.
Though the Velvetones Quartet sang together for only a few years, the group's a cappella musical ministry left a long-lasting legacy illustrative of what can happen when gifted young people commit their lives to the service of God.
Sources
"Amateur Hour on Television." Pittsburgh Press, November 19, 1950.
Haas, Harold E. "Kansas Youth Rally." Central Union Reaper, October 22, 1957.
Pinkney, A.V. "Youth Day at Ethnan Temple." Columbia Union Visitor, November 20, 1952.
Pinkney, A.V. "Tri-Federation Youth Congress." Columbia Union Visitor, April 2, 1953.
Yost, Don. "We Dedicate…." Youth's Instructor, August 13, 1957.
Notes