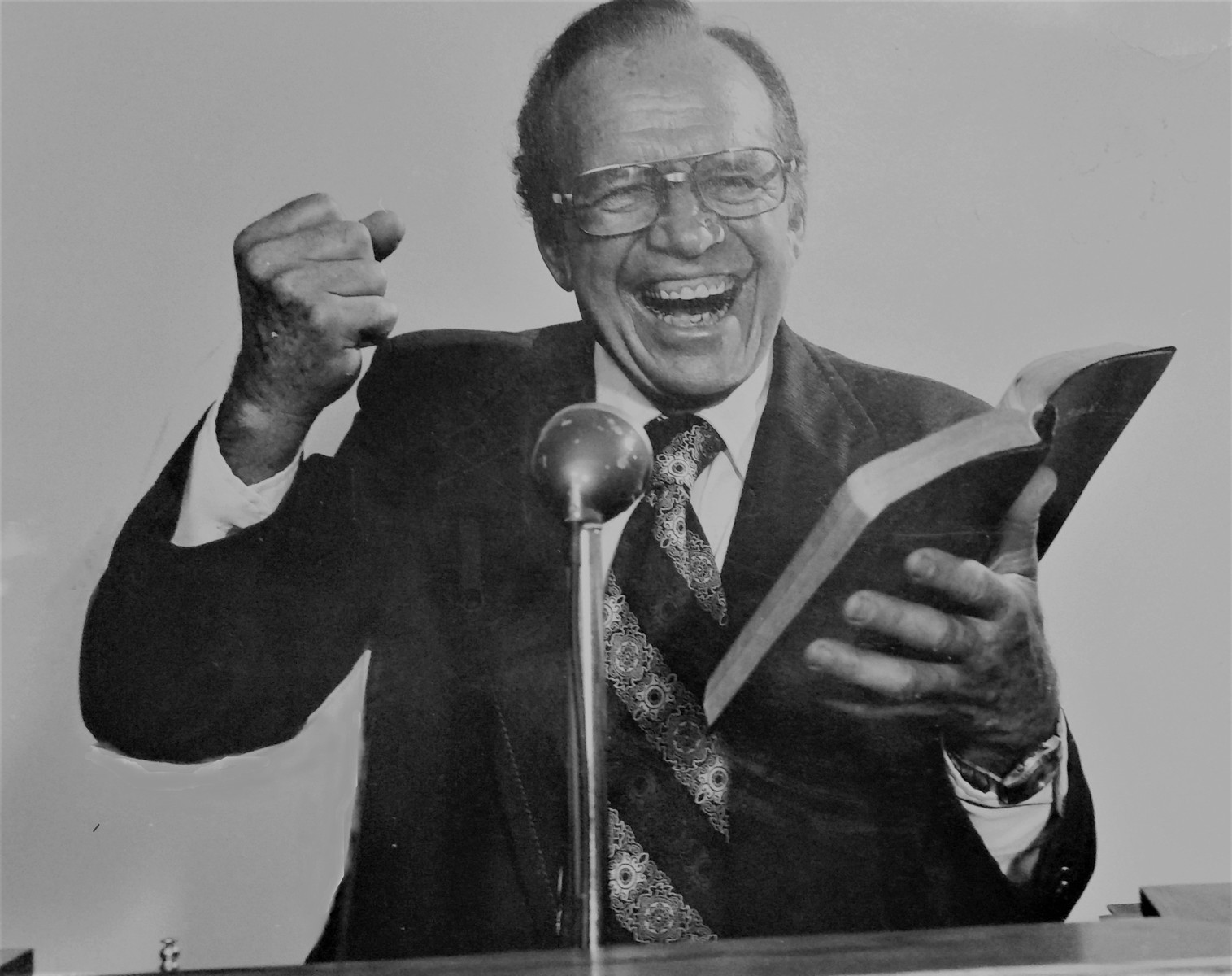 Coon, Glenn Adelbert, Sr. (1903–1996)
×
Glenn Coon, Jr. earned a theology degree from Southern Adventist University in 1953 and a master's in education from Andrews University in 1959. He taught for 18 years in Seventh-day Adventist schools and assisted in organizing the ABC Prayer Crusade. After completing studies at the Medical College of Virginia in 1975 he practiced pharmacy for 11 years. In 1986 he joined the ABCs of Prayer ministry and continued it for twelve years following his father's stroke in 1987.
First Published: September 18, 2021
Glenn Coon, pastor-evangelist, founded the ABCs of Prayer ministry in which he conducted revivals throughout the United States and abroad for nearly 40 years.
Family Heritage
Glenn Adelbert Coon, Sr. was born on August 12, 1903 at Lincklaen Center in central New York state, the last of the seven sons of Charles Saunders Coon (1858-1943) and Emma Jane Higby-Coon (1867-1969).1 Charles was a sixth generation descendant of John MaCoone, Sr., who was born in Aberdeenshire, Scotland around 1625. MaCoone migrated to the American colonies where he was a member of the first Seventh Day Baptist church in Rhode Island. He died in East Cambridge, Massachusetts in 1705.2
Charles S. Coon was part of a Seventh Day Baptist congregation in Lincklaen Center that gravitated toward Seventh-day Adventism in the 1880s. He married Jennie Marie Stillman (1864-1884) in 1883, but she died only a month after the birth of their son, Arthur Willard. Charles and Emma Jane Higby married on September 22, 1887. Soon afterwards Charles went to Battle Creek College where he spent a year in the ministerial course. He returned to Lincklaen Center in 1888 where he and Emma raised their sons in a farm located next to the church.3
Charles Coon did not enter full-time ministry but was granted a ministerial license by the New York Conference in 1888. He pastored the Lincklaen Center church for the next 45 years and took a leading role in the work of the conference, serving on the executive committee for many years. He encouraged all of his sons to study for ministry – Arthur and the seven he had with Emma: Clinton, Miles, Lloyd, Lane, David, Lester, and Glenn. Five of the sons did serve in ordained ministry and the other three engaged in denominational work in other capacities.4
Education, Marriage, and Early Ministry
Glenn Coon graduated from Union Springs Academy in New York and studied at Atlantic Union College in South Lancaster, Massachusetts for two years before being called into ministry. He assisted his brother, Miles R. Coon, in a major evangelistic effort in Pittsburgh, Pennsylvania in 1926 and also during that year stepped in for several months as Missionary Volunteer and Sabbath School departmental secretary for the West Pennsylvania Conference.5
After evangelistic work in the Potomac Conference during 1927 and 1928, Glenn accepted a call to mission service in the West Indies. Just before leaving for a five-year term of service, he proposed marriage to Ethel Lucile Numbers (1907-2002) by saying, "How would you like to pack up your bags and go traveling with me!" They were married in Ethel's home in Takoma Park, Maryland on October 16, 1928 in a ceremony performed by her father Ernest R. Numbers, a prominent Adventist minister.6 Their two children would be born during their years in the West Indies: Juanita, in Trinidad on February 25, 1930; and Glenn, Jr., in Grenada on May 17, 1932.
Coon's evangelistic work in the Caribbean Union thrived. The locales of his major campaigns included Port-of-Spain, Tunapuna, and San Fernando in Trinidad, Grenada and Georgetown, Guyana, where approximately 300 were baptized.7 Coon's work in the West Indies was long remembered for having "shifted the tide of Adventism from island to island" as he conducted his tent efforts.8
Evangelistic Ministry
On their return to America in 1935 the family settled in New Jersey for pastoral and evangelistic work, first in Trenton and then in the Newark area. For his evangelistic meetings, Coon memorized the sermons of the respected Southern Union evangelist John L. Shuler, whose materials on evangelistic preaching and methods were compiled in the book Public Evangelism (1939).9 Coon's New Jersey ministry climaxed with his "tabernacle" catching fire accidentally.
The family then moved to Florida for a two-year stint in Orlando (1939-1941). While there Coon presented his messages on a radio program that he advertised with the slogan "Hear COON on WOLF!" Then, it was back to the vicinity of his origins, New York state, for pastorates in Syracuse, Binghamton and Rochester.
In 1947, Elder Coon accepted a call to the Madison College Church in Tennessee where he served as pastor for nearly five years. His evangelistic work there led to establishment of a new church, the Boulevard church in Madison. His radio program there, "Prayer is Power," helped bring about a more receptive attitude toward Adventists in the surrounding community.10
The ABCs of Prayer
In 1952, as he neared the age of 50, Glenn Coon's life took a new turn. He took a new position as Southern Union revivalist, but the change went deeper than that. It had begun during his time in Rochester (1944-1947) when he suffered severe emotional problems. Difficulties with evangelistic plans were one source of stress. A recommendation from Coon's physician, though, pointed to a problem that had been building for years: "Brother Coon," the doctor said, "you need to learn how to claim God's promises."
During twenty years of ministry he had led 2,000 new believers into the Adventist church by convincing them of the truth of the church's distinctive doctrines. But, he wondered, had he made Jesus the center of his messages?
He had warned people of the final crisis over the law of God foretold in the book of Revelation, and that those who instead gave their loyalty to a spurious religious system would receive the mark of the beast and thus could not go to heaven. He wanted to be sure that those who attended his meetings knew all about it, and thus preached the message so fervently that a listener once told him, "Brother Coon, tonight you rode that Beast all over the platform!"
His Rochester experience led him to an in-depth study of prayer. He discovered what he called a "science" – a simple formula called the ABCs of Prayer.
During the first 16 years of his marriage, the family lived in 16 different homes. But he now would have one home at Roan Mountain, Tennessee, and for the next 35 years he would have one message -- "God answers prayer." He launched the ABC Prayer Crusade International, preaching at camp meetings, weeks of prayer, and revivals in all 50 states of the USA and points abroad such as South Korea, Singapore, China, England and Australia.11 He and Ethel used a motor home for their travels throughout America, living like "two Coons in a hollow log," as he put it.12
In presenting an ABCs of Prayer series or seminar, Coon kept the focus fixed on "Jesus only." In this he seemed for a time like a lone "voice in the wilderness." But he would not engage in doctrinal disputation. "That is not the spirit of Jesus," he said. He characterized "soul winning" as "a love affair" so that "we must l-o-v-e them into Jesus."13
Coon also disseminated his message through books, publishing an estimated 20 in all. Among the most widely-read were The ABCs of Bible Prayer and Path to the Heart: How to Reach People for Christ.
A disabling stroke brought Coon's traveling ministry to an end in 1987. His son, Glenn Coon, Jr., continued the ABCs of Prayer ministry for twelve years thereafter. Along with his wife, Ethel, Glenn Coon, Sr., relocated to Ooltewah, Tennessee, where he died on November 7, 1996.
Contribution
Beyond the thousands he led into the Adventist faith in 60 years of ministry, countless lives were blessed and transformed through Glenn Coon's ABCs of Prayer ministry. His sermons can still be accessed online at AudioVerse.14 Pacific Press continues to make available 17 of his books as of 2021.15
Undoubtedly, though, he would want to be remembered most, not for those achievements, but for simply being "a nail upon the wall," as expressed in the poem "God's Nail" by Mildred Hill, published on the front cover of the September 3, 1929 issue of the Youth's Instructor. After discovering the poem, Glenn Coon made it his prayer at the opening of every sermon:
      Make me, O Lord, a nail upon the wall.
      Fastened securely in its place;
      Then, from this thing, so common and so small,
      Hang a bright picture of Thy face.
Sources
Anderson, V. G. "Southern Union Revivalist." Southern Union Tidings, January 16, 1952.
Andross, C. E. "Cheering Words From the South Caribbean Conference." Inter-American Division Messenger, April 1931.
Carcich, Theodore. "A Grandmother Reaches 100." ARH, December 7, 1967.
Finster, L. V. "The Caribbean Union Committee Meeting." Inter-American Division Messenger, September 1932.
"Former New Jersey pastor dies at 93." Columbia Union Visitor, January 15, 1997.
Garner, O. T. "Charles S. Coon." ARH, August 26, 1943.
"Harold Baptiste Named Secretary of N.A.D." North American Regional Voice, December 1990.
Neuharth, Ruben and Nancy. "Glenn Coon obituary." Southern Union Tidings, February 1, 1997.
Odell, Jr. Erling. "Emma Jane Higby-Coon obituary." Atlantic Union Gleaner, August 19, 1969.
"O're Land and Sea." Inter-American Division Messenger, March 1931.
"Potomac News Notes." Columbia Union Visitor, November 1, 1928.
Reiswig, J. J. "Rochester District." Atlantic Union Gleaner, July 8, 1947.
Rydzewski, Ella. "A Nail on the Wall: The story of Glenn Coon., Sr., and the ABCs of prayer ministry." ARH, January 8, 1998.
"The Life and Ministry of J.L. Shuler." Ministry, October 1972.
"The Master's Hand in the Caribbean." Inter-American Division Messenger, May 1933.
Tyson, R. A. "Historic Lincklaen Center Church Restored." Atlantic Union College, November 22, 1977.
"West Pennsylvania News Notes." Columbia Union Visitor, January 14, 1926 and September 30, 1928.
White, Arthur L. "From Incredulity to Faith." British Advent Messenger, August 18, 1967.
Notes