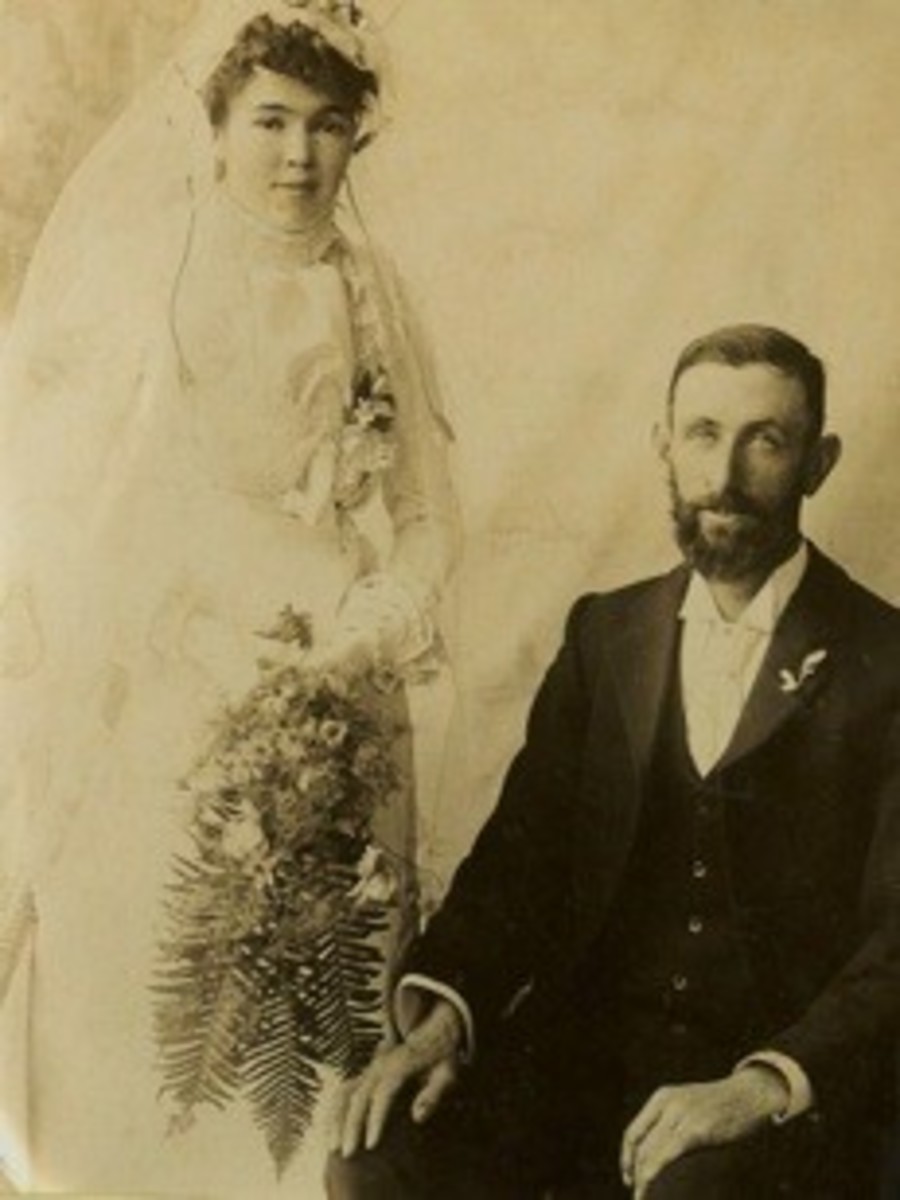 Ferris, Arthur Houston (1869–1961) and Jessie (Dunlop) (1879–1958)
×
Shirley Tarburton, M.Litt. (Distinction) (University of New England, Armidale, New South Wales, Australia) retired in 2008 after 40 years teaching church-school (mainly high school but including eight years at university). An Australian, she has taught in four mission fields, Australia, and New Zealand. She has authored five books and co-authored one on church history, biography and family history, as well as several magazine articles. She is married to Dr. Michael Tarburton with two adult children and four grandchildren.
First Published: January 29, 2020
Arthur Houston Ferris was a Seventh-day Adventist (SDA) pastor and pioneer missionary from Victoria, Australia, who spent twenty-eight years in evangelistic and pastoral work, first as a volunteer, and then as an employee of the Church.
Birth and Early Life
Arthur was born on April 11, 1869, at Northwood near Seymour, Victoria,1 the eldest son and third of nine children of David Curtis Ferris (1832-1895) and his wife, Isabella (nee Carnie, 1844-1938). His father was a farmer's son2 who had emigrated from Wiltshire, England, to Sydney in 1852 and then walked to Ballarat to join the gold rush.3 His mother was the youngest daughter of Scottish immigrants who arrived in Melbourne in 1848, who married David at the age of nineteen.4 They set up their home in the country district of Northwood, Victoria, where they lived until Arthur was six. In 1875 the family moved to Thoona in the Mokoan district where Arthur spent the rest of his childhood.5 Arthur learned early in life how to shepherd his father's sheep and continued to assist with this task during his school years.6
Marriage and Conversion
After leaving school, Arthur continued with farm work until he commenced working for Mr. Walter Stuart Dunlop (1858-1922) at the Boxwood Butter Factory.7 After a time he became the manager of the factory.8 He also developed a friendship with Mr. Dunlop's eldest daughter, Jessie, and when she was twenty-one, they married, on February 4, 1901.9 At first they traveled as portrait photographers, but then settled on an orchard at Dookie, a rich fruit-growing area.10 They also ran a creamery, where dairy farmers brought their milk to have the cream removed for sending to the butter factory.11
In late 1903, George Burgess came to their home selling Seventh-day Adventist books and Arthur bought The Desire of Ages.12 As a result, Mr. Burgess was invited to hold Bible Studies in their home, which a number of other family members and employees attended.13 In June 1904 Arthur, Jessie, and seven other family members were baptized, followed shortly by others.14 At the beginning of September 1904, they were organized into the Devenish SDA Church, with twenty-six members.15
Jessie's mother, Mary Dunlop (nee Cameron, 1861-1943), and some of her ten brothers and sisters, were also baptized over the coming years and several of her sisters married church workers. Her brother, Walter George (1887-1945), spent his working life working for the SDA church, as did many of her nieces and nephews.16 Her first cousin, Colonel Sir Ernest Edward "Weary" Dunlop, achieved fame as a surgeon in the Australian Army in the Middle East and Java (where he became a Japanese prisoner-of-war) during World War II, and his image appears on an Australian fifty-cent coin issued in 1995.17
Their faith was tested when the dairy farmers refused to send them their milk if Arthur would not treat it on Saturday as usual.18 By this time Arthur and Jessie had three children, Norman Asprey (1902-1958), and twins, Walter Geoffrey (1904-1985) and David Andrew (1904-1987) who were four months old when their parents were baptized.19 Soon after, their orchard also failed. Arthur said, "With every visible earthly prospect gone, we prayed and determined whatever the cost we would obey and trust the Lord."20 While facing destitution, they were miraculously asked to buy and market another orchardist's crop, obtaining an unexpectedly high price, which abundantly provided for their needs.21 In 1906, a daughter, Esther, (1906-1922) was born, so there was another mouth to feed.22
Church Employment
Arthur held Bible studies with neighbors, and to further fit himself for this, he obtained some training at the SDA Conference Workers' Institute in Melbourne.23 He began selling The Desire of Ages in nearby towns.24 His soul-winning was so successful that the Victorian SDA Conference gave him a ministerial license25 and in 1908 asked him to care for the Shepparton Church while conducting evangelistic outreach in the surrounding district as a part-time employee.26 Supporting his family was very difficult as the conference often had no money for employee wages, and the stores sometimes refused credit.27
After being employed for a year Arthur was put on full-time payroll.28 Three years were spent in Shepparton, after which the family moved to other Victorian towns, Mooroopna, Numurkah, Euroa, Diamond Creek, and Horsham (from where he also ran an evangelistic campaign in Stawell), building up the SDA church in each town.29
Mission Service
At the union conference session held in October-November 1910, Arthur was appointed to go as a missionary to Norfolk Island to build up the church there.30 The family left on December 31,31 and immediately made a good impression on the Norfolk people when Arthur saved the life of a dangerously ill resident by giving him hydrotherapy treatments.32 He and his wife ran popular Bible study classes and well-attended instruction on healthful living, as well as giving health treatments and nursing the sick in their homes.33 During the nearly ten years that he was superintendent of the Norfolk Island SDA Mission, church membership increased from thirteen to sixty.34
One of his first tasks upon arrival was to find somewhere for the church to meet as the lease on their former meeting place had expired and was not being renewed. A block of well-situated land was donated by "Aunt Dianna" and pine trees were given by "Uncle" Joe and "Aunt" Emily Christian. Arthur worked with the other men felling the trees and pit-sawing them into boards.35 It was a long project as all the work was done by Arthur and the members, but they were encouraged as they saw God's leading. During World War I, with the workforce depleted, Arthur's young sons, aged fifteen and thirteen, worked with him36 and the owner of a local sawmill offered the free use of his mill when more timber needed preparation.37 Before leaving the island, the Ferris family saw the beautiful new church finished and in use.38
When the 1918 influenza epidemic struck Norfolk Island, Jessie Ferris was on call day and night to administer hydrotherapy treatments to those afflicted and to pray for their recovery. Her special focus was for the suffering children and her success rate was so good that the island doctor would tell parents that Mrs. Ferris was the one to call for the best chance of saving their children.39
In February 1920, Arthur was transferred to Lord Howe Island and, once again, his first task was to build a church. The hand of the Lord was again well evident as materials unprocurable on the island came to hand in a miraculous way, such as an Oregon log of just the needed length washing ashore at the time it was required.40 Within six months the church was completed and dedicated debt free.41
By this time their sons had left home and were studying in Australia,42 but a second daughter, Muriel Ruth, had been born on Norfolk Island in 1918 (1918-2006, married Peter M. Ferris).43 Not long after moving to Lord Howe Island, a third daughter, Edna Isobel (1922-2006, married Pastor Vern Heise), was born in January of 192244 so Jessie still had a young family to care for. Edna was a frail child and for months Jessie battled to improve her health.45 Then, in November of the same year, their eldest daughter, Esther, tragically died from an incurable illness.46 Despite these trials, Arthur's and Jessie's faith remained strong and they continued working in their isolated post until Arthur's retirement.47
During those years, one after the other, their sons graduated, married, and all became missionaries to the Pacific Islands.48 Each of them was ordained as a minister of the SDA Church. Although Arthur was never ordained, that didn't stop him from being a successful minister who was much loved.49
Retirement and Death
Arthur began experiencing medical problems. In answer to prayer, his hearing was restored after months of near total deafness.50 However, other problems assailed him and on reaching the age of sixty-five the decision was made to retire.51 Muriel was sixteen and Edna only thirteen, and their further education was of concern to their parents. Arthur and Jessie therefore chose to retire to Avondale where the girls could attend the Australasian Missionary College.52
They arrived back in Sydney on December 28, 1934.53 Pastor and Mrs. G. F. Jones, pioneer missionaries to the Solomon Islands, who replaced them on Lord Howe Island, gave this testimony, "The Ferris family have been most faithful and hard-working in laboring both here and on Norfolk Island, and are greatly beloved by everyone. They certainly are a model missionary family and will be sadly missed."54
After visiting family in Victoria, Arthur commenced building his family a small home in the Avondale village while they lived in tents. He and Jessie were full of gratitude when local church folk organized working bees to put on the roof and complete other tasks that would have been very difficult for the aging missionary.55
Arthur remained active in church work while his health permitted and continued to hold a ministerial license into his 70s.56 The couple invited any who wished to attend the Sunday morning prayer meetings they held in their home. There, and at occasional evening meetings they held, people continued to give their hearts to the Lord.57 Jessie also held church office as senior deaconess and worked hard with the Dorcas Welfare Society. She was heavily involved in providing relief to needy families during and immediately after World War II, and frequently donated her beautiful paintings to be sold to raise funds for various church projects.58
When Jessie's health deteriorated, Arthur and Jessie went to live with Edna and her husband who were in pastoral ministry in Western Australia.59 There, in the Bunbury Hospital, Jessie died on October 15, 1958 after suffering a series of strokes.60 Arthur died nearly two and a half years later on March 3, 1961 at the Geraldton Hospital, Western Australia, aged 91.61 The lives of both Arthur and Jessie were full of loving concern for others and their chief delight was to tell people about Christ's love for them.
Sources
"A church of twenty-six members . . ." Australasian Record, October 1, 1904.
"After a furlough . . ." Australasian Record, April 18, 1921.
"After twenty-four years . . ." Australasian Record, January 14, 1935.
"An Instructive Lecture." Australasian Record, March 7, 1921.
Arthur Houston Ferris, Worker's Biographical Record. South Pacific Division of the General Conference Archives. Folder: "Ferris, Arthur Houston." Document: "Worker's Biographical Record."
"Before the departure . . ." Australasian Record, February 6, 1911.
British Censuses for 1841 and 1851, for Trowbridge, Wiltshire, accessed online through "Family Search."
"Brother and Sister A Ferris. . ." Australasian Record, October 1, 1934.
"Brother and Sister A. H. Ferris . . ." Australasian Record, January 9, 1911.
"Brother and Sister A. H. Ferris. . ." Australasian Record, October 1, 1934.
"Brother and Sister David A. Ferris. . ." Australasian Record, March 23, 1931.
Cole, J. M., "Ferris." Australasian Record, December 11, 1922.
"Family Fortitude." Australasian Record, August 18, 1958.
Ferris, A. H., "The Mission Was a Big Success With Just One Convert, Part II." Australasian Record, September 12, 1955.
Ferris, Jessie, "Norfolk Island" Australasian Record, December 31, 1917.
Ferris, Mrs. A. H., "Lord Howe Island." Australasian Record, June 28, 1920.
Hadfield, B. E., "Dunlop." Australasian Record, March 8, 1943.
Heise, Edna Ferris, "Interest on a Colporteur's Investment." Australasian Record, December 14, 1985.
"Henceforth a Crown." Australasian Record, April 24, 1961.
Imrie, L. J., "North New South Wales Conference." Australasian Record, January 8, 1940.
Maberly, F. T., "Ferris." Australasian Record, April 24, 1961.
"Monthly Summary of Australasian Canvassing Work, Victoria, September." Australasian Record, November 1, 1905.
"On retiring from their long . . ." Australasian Record, May 27, 1935.
"Report of the Australasian Union Conference Held October 23 – November 1, 1910." Australasian Record, November 7, 1910.
"She Was Always a Missionary. A Brief Life Sketch of Mrs. Jessie Ferris." Australasian Record, December 8, 1958.
"Sister G. F. Jones wrote . . ." Australasian Record, November 19, 1934.
"Some of the Testimonies Given at the Closing Meeting." Australasian Record, October 11, 1926.
"The largest Annual Council . . ." Australasian Record, September, 10, 1934.
"The Late Mrs. Isabella Ferris." Benalla Ensign, January 24, 1938.
"The Norfolk Island mail . . ." Australasian Record, March 3, 1919.
"The Victorian Conference." Australasian Record, March 18, 1907.
Victorian Marriage Index, 1863/663 https://online.justice.vic.gov.au/bdm/indexsearch.doj.
"Weary Dunlop." Wikipedia. Accessed July 1, 2019. https://en.wikipedia.org/wiki/Weary_Dunlop.
Notes
"The Late Mrs. Isabella Ferris." Benalla Ensign, January 24, 1938, 2 and Arthur Houston Ferris, Worker's Biographical Record. South Pacific Division of the General Conference Archives. Folder: "Ferris, Arthur Houston." Document: "Worker's Biographical Record."↩

British Censuses for 1841 and 1851, for Trowbridge, Wiltshire, accessed online through "Family Search."↩

"Henceforth a Crown." Australasian Record, April 24, 1961, 13.↩

Victorian Marriage Index, 1863/663 and "Henceforth a Crown." Ibid.↩

"The Late Mrs. Isabella Ferris." Ibid.↩

"Henceforth a Crown,"13.↩

Ibid.↩

Ibid.↩

Ervin Ferris to author, e-mail, January 9, 2017.↩

"Henceforth a Crown," 13.↩

A. H. Ferris, "The Mission Was a Big Success With Just One Convert, Part II." Australasian Record, September 12, 1955, 2-3.↩

Ibid.↩

Edna Ferris Heise, "Interest on a Colporteur's Investment." Australasian Record, December 14, 1985, 10.↩

Ibid; A. H. Ferris, 2-3.↩

"A church of twenty-six members . . ." Australasian Record, October 1, 1904, 7.↩

B. E. Hadfield, "Dunlop." Australasian Record, March 8, 1943, 7.↩

"Weary Dunlop," Wikipedia, accessed July 1, 2019, https://en.wikipedia.org/wiki/Weary_Dunlop.↩

A. H. Ferris, 2-3.↩

Arthur Houston Ferris, Worker's Biographical Record. ibid.↩

A. H. Ferris, 2-3.↩

Ibid.↩

Arthur Houston Ferris, Worker's Biographical Record.↩

"Henceforth a Crown,' 13.↩

"Monthly Summary of Australasian Canvassing Work, Victoria, September," Australasian Record, November 1, 1905, 6.↩

"The Victorian Conference." Australasian Record, March 18, 1907, 5.↩

A. H. Ferris, 2-3.↩

"Henceforth a Crown," 13.↩

A. H. Ferris, 2-3.↩

Ibid.↩

"Report of the Australasian Union Conference Held October 23 – November 1, 1910." Australasian Record, November 7, 1910, 69.↩

"Brother and Sister A. H. Ferris . . ." Australasian Record, January 9, 1911, 8.↩

"Before the departure . . ." Australasian Record, February 6, 1911, 8.↩

"The Norfolk Island mail . . ." Australasian Record, March 3, 1919, 8.↩

A. H. Ferris, 2-3.↩

"Henceforth a Crown," 13.↩

Jessie Ferris, "Norfolk Island" Australasian Record, December 31, 1917, 3.↩

A. H. Ferris, 2-3.↩

"The Norfolk Island mail . . ." 8.↩

"She Was Always a Missionary. A Brief Life Sketch of Mrs. Jessie Ferris." Australasian Record, December 8, 1958, 14-15.↩

"An Instructive Lecture." Australasian Record, March 7, 1921, 2.↩

Mrs. A. H. Ferris, "Lord Howe Island." Australasian Record, June 28, 1920, 4.↩

Ervin Ferris to author, e-mail, January 9, 2017 and "After a furlough . . ." Australasian Record, April 18, 1921, 7.↩

Ibid.↩

Ibid.↩

"She Was Always a Missionary. A Brief Life Sketch of Mrs. Jessie Ferris," 14-15.↩

J. M. Cole, "Ferris." Australasian Record, December 11, 1922, 7.↩

"Brother and Sister A Ferris. . ." Australasian Record, October 1, 1934, 8.↩

"Brother and Sister David A. Ferris. . ." Australasian Record, March 23, 1931, 8, and "The largest Annual Council . . ." Australasian Record, September, 10, 1934, 8↩

"After twenty-four years . . ." Australasian Record, January 14, 1935, 8.↩

"Some of the Testimonies Given at the Closing Meeting." Australasian Record, October 11, 1926, 39-40.↩

"Brother and Sister A. H. Ferris. . ." Australasian Record, October 1, 1934, 8.↩

"On retiring from their long . . ." Australasian Record, May 27, 1935, 8.↩

"After twenty-four years . . ." 8.↩

"Sister G. F. Jones wrote . . ." Australasian Record, November 19, 1934, 8.↩

"On retiring from their long . . ." 8.↩

L. J. Imrie, "North New South Wales Conference." Australasian Record, January 8, 1940, 6.↩

"Henceforth a Crown," 13.↩

"She Was Always a Missionary. A Brief Life Sketch of Mrs. Jessie Ferris," 14-15.↩

"Family Fortitude." Australasian Record, August 18, 1958, 7.↩

"She Was Always a Missionary, A Brief Life Sketch of Mrs. Jessie Ferris," 14-15.↩

F. T. Maberly, "Ferris." Australasian Record, April 24, 1961, 14.↩