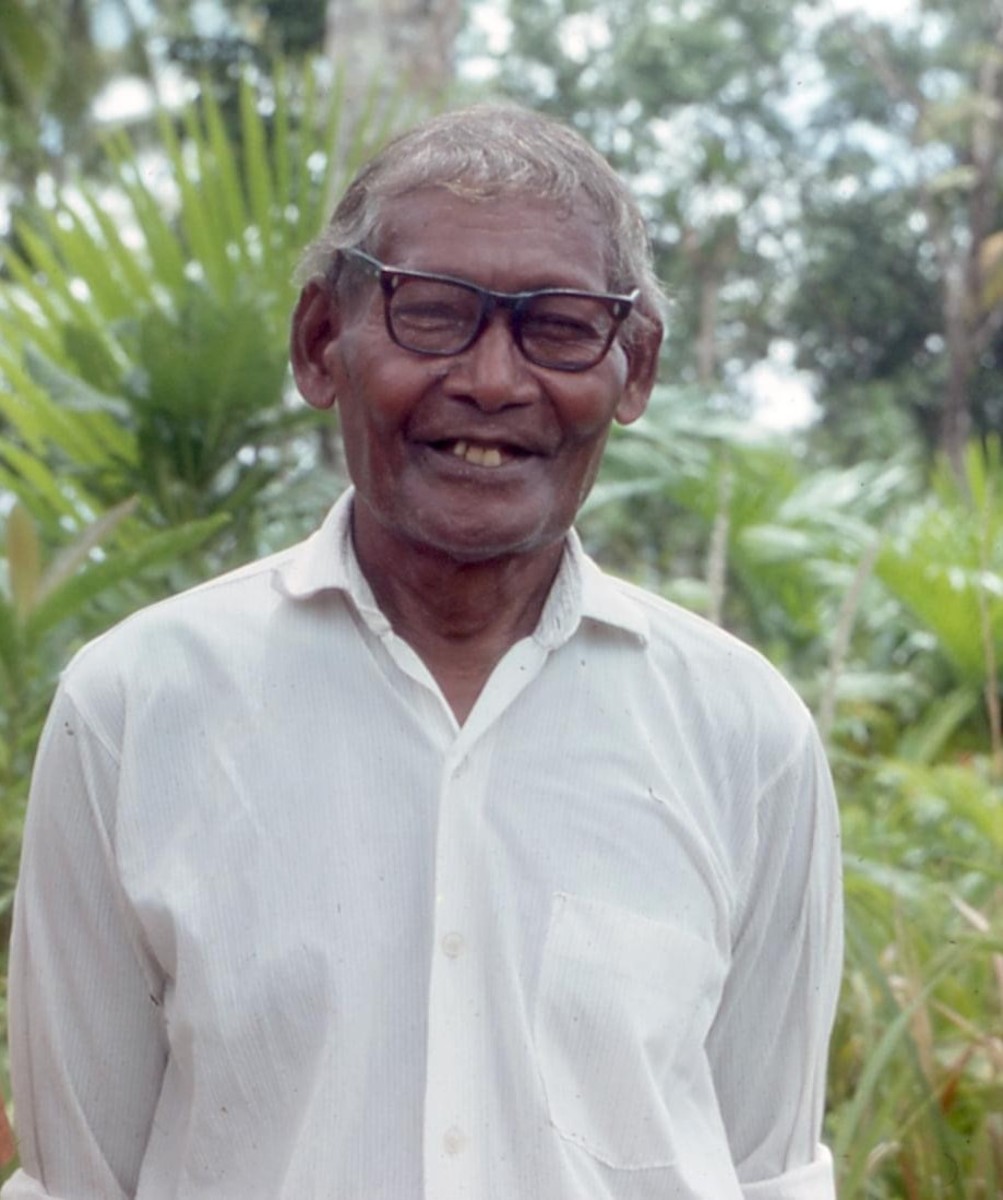 Maekera, Oti (1906–1984)
×
Milton Hook, Ed.D. (Andrews University, Berrien Springs, Michigan, the United States). Hook retired in 1997 as a minister in the Greater Sydney Conference, Australia. An Australian by birth Hook has served the Church as a teacher at the elementary, academy and college levels, a missionary in Papua New Guinea, and as a local church pastor. In retirement he is a conjoint senior lecturer at Avondale College of Higher Education. He has authored Flames Over Battle Creek, Avondale: Experiment on the Dora, Desmond Ford: Reformist Theologian, Gospel Revivalist, the Seventh-day Adventist Heritage Series, and many magazine articles. He is married to Noeleen and has two sons and three grandchildren.
First Published: July 14, 2020
Oti Maekera was a pioneering Solomon Island missionary responsible for initiating the work of the Seventh-day Adventist Church in New Britain, Mussau, Manus, and Kainantu in Papua New Guinea. Each of these areas was to become a center of Adventist influence in the country.
Oti Maekera was born in 1906 on Lire (Liliu) Island in the Marovo Lagoon, near Batuna, Solomon Islands.1 He was just a lad when Griffiths Jones first sailed the Advent Herald into the Marovo Lagoon to explore mission prospects. Soon afterwards, Maekera attended the elementary mission school near his home at Telina. He showed promise as a worship leader and was asked to work in the northern reaches of the Marovo Lagoon, possibly at Ramata village. He contracted tuberculosis and missionary Jack Radley took him into his home to make sure proper medication was administered. Almost certainly, Maekera's life was saved by Radley.2
After his recovery, Maekera married and was appointed to serve in the remote mountains of Bougainville Island. Sadly, his wife became ill and died. Maekera also found himself in court, accused of assaulting a priest. However, the judge found him innocent and praised him for the dignified manner in which he had conducted himself under provocation.3
At a mission planning session in Batuna, in May 1929, Maekera was chosen, along with Robert Salau, for pioneering work in Papua New Guinea.4 They assisted Jones in establishing a base at Matupi, near Rabaul.5 Maekera learned the language and translated doctrinal tracts for their evangelism.6 From Matupi, they extended their efforts to Mussau Island where Maekera led the thrust in late 1931. Other Solomon Island missionaries joined him. Their work led to the conversion of the entire population of Mussau, Emirau, and Tench Islands.7
In 1934, Maekera was chosen to help pioneer inland Papua New Guinea.8 A team of ten men from the Solomon Islands, Mussau Island and Matupi were air-lifted to location near Kainantu in order to build a mission station. Maekera took his guitar to provide some music when they gathered some locals for worship. They spent seven months using native materials to build a mission school and homes for staff and students, then trekked for a week to reach Madang and board a ship for the return to Rabaul.9
Maekera's next assignment was to pioneer the Admiralty Group with Salau. They were taken by the mission ketch Veilomani to their new field of labor, arriving in April 1935.10 Maekera was placed on Baluan Island and within a few months 130 islanders were attending his Sabbath School.11 In November 1937, Maekera and Salau sailed on the steamer Nellore for Australia in order to attend some camp meetings and speak of their mission work.12 The Victorian camp was one on their 1938 itinerary.13 During the year both men had an appendectomy, "Salau for genuine reasons, Oti probably in sympathy," as one writer told of it.14
Following the Australian tour, Maekear returned to his mission station on Baluan Island. He remained there during the Second World War. The Japanese gave him a hard time, confiscating his Bible, and using the pages to roll their cigarettes.15 On one occasion, three Japanese soldiers insisted they be taken by canoe to another island during daylight hours. The islanders advised them to travel under the cover of darkness because of American bombers, but the Japanese persisted. Maekera held a prayer session for the small group who paddled the canoe. As expected, an American plane spotted them and circled so low the wing tip almost swept the water. The islanders jumped out as the gunner fired on the Japanese. The three troops lost their lives, but all the islanders survived. The American pilot could not rest until he visited Maekera to discover that all the island paddlers were safe.16
During the war years Oti married widow Alongarari (usually known as Alo), a Mussau woman. They had four children: Aemileny or Amilini or Amelia (b. about 1946), Hiti or Heath (b. about 1950, Linda (b. about 1956) and Glynn or Glen (b. about 1960). From 1950 through 1963 Oti served as district director of the Bougainville Mission.17 Early in this period he pioneered work on Buka Island.18 Alo had three children from her first marriage. Her youngest, John, contracted tuberculosis. Knowing of Oti's earlier recovery from the same disease as a result of Jack Radley's care, John solicited Radley also and, once again, a life was saved with proper medication.19
Oti and Alo Maekera retired to Lire Island in the Marovo Lagoon in 1964. They continued to take an active part, as always, in mission activities. Oti Maekera died in 1984 leaving a legacy of significant pioneering leadership in the Solomon Islands and Papua New Guinea.20 Alo died in 2008.21
Sources
Atkins, Arthur S. "Later Word from New Guinea." Australasian Record, March 14, 1932.
Atkins, Arthur S. "Visit to the Admiralty Islands." Australasian Record, August 5, 1935.
Hindson, Anna L. "Sabbath School Department of the Australasian Division." Australasian Record, September 29, 1930.
Judd, T[homas] F. "Snapshots from the Bismark Archipelago Mission." Australasian Record, February 27, 1950.
Maekera, Oti. "Letter from Oti." Australasian Record, October 28, 1929.
Maekera, Oti. "Letter from Oti." Australasian Record, November 19, 1934.
"Oti and Salau, two Solomon Islands…" Australasian Record, December 5, 1938.
Oti Maekera Work Service Records. South Pacific Division of the General Conference Archives.
"Pastors E.B. Rudge, A.G. Stewart…" Australasian Record, January 23, 1939.
Radley, Rose-Marie. Captain Jack Radley and the Heyday of the Fleet. Warburton, Victoria: Signs Publishing Company, 2018.
Salau, [Robert]. "Over 300 Believers in the Admiralty Group." Australasian Record, October 21, 1935.
Steley, Dennis. "Heroes of the Solomons Saga." Australasian Record and Advent World Survey, January 12, 1985.
Stewart, A[ndrew] G. "The General Meeting in the Solomon Islands." Australasian Record, July 22, 1929.
Stewart, A[ndrew] G. "Written from Kavieng, New Guinea." Australasian Record, April 13, 1935.
Stratford, S. V[ictor]. "Secretary's Report." Australasian Record, November 20, 1944.
Turten, August, as told to Paul Cavanagh. "Beginnings: Through Indigenous Eyes." Journal of Pacific Adventist History 7, no. 1 (June 2007): 28-29.
Notes