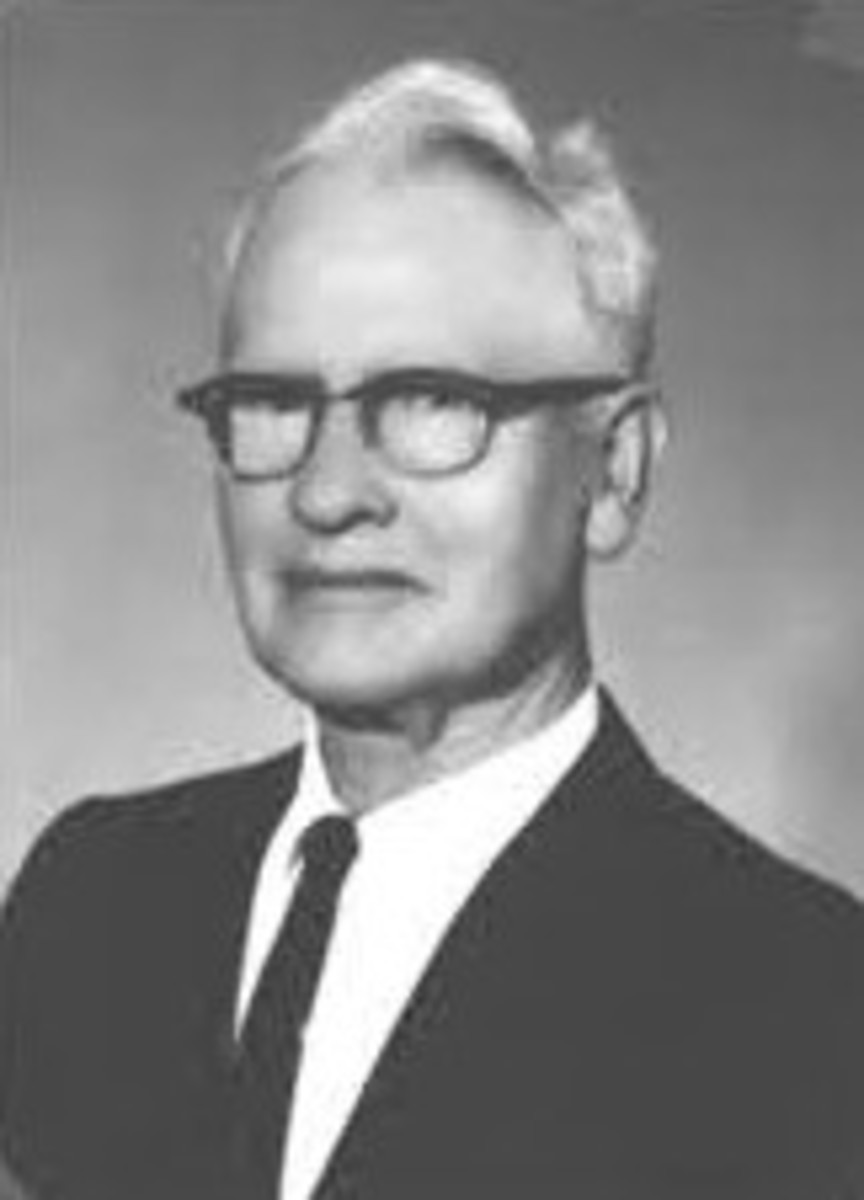 Coffin, Day Dean (1893–1973) and Edyth Crystel (Gruber) (1896–1992)
×
Milton Hook, Ed.D. (Andrews University, Berrien Springs, Michigan, the United States). Hook retired in 1997 as a minister in the Greater Sydney Conference, Australia. An Australian by birth Hook has served the Church as a teacher at the elementary, academy and college levels, a missionary in Papua New Guinea, and as a local church pastor. In retirement he is a conjoint senior lecturer at Avondale College of Higher Education. He has authored Flames Over Battle Creek, Avondale: Experiment on the Dora, Desmond Ford: Reformist Theologian, Gospel Revivalist, the Seventh-day Adventist Heritage Series, and many magazine articles. He is married to Noeleen and has two sons and three grandchildren.
First Published: May 5, 2022
Dr. Day and Edyth Coffin (高清瑞) served as missionaries in southern China for twenty-two years, including many years in war conditions. Day served as a medical doctor, and Edyth served as treasurer bookkeeper, and matron. They developed a medical institution at Nanning, Guangxi Province, leaving it functioning as a well-respected sixty-bed hospital, and then transferred to care for the Canton Sanitarium and Hospital in Guangdong Province.
Early Years
Day Dean Coffin was born at Montesano, Washington State, on May 6, 1893, to William and Lucretia (Hornback) Coffin. Day's father was a public school teacher at Montesano. Day had two older brothers: Clyde (b.1885), who died in 1900, and Glen Glee (b.1890). His mother died when he was seventeen and his father remarried.1
Day graduated from the College of Medical Evangelists at Loma Linda, California, in 1919.2 In the same year, August 17, he married Edyth Crystel Gruber in Lane County, Oregon.3
Medical Mission Service
On April 25, 1924, Day and Edyth, together with their infant son Galen, arrived in Shanghai and proceeded south to Nanning, Guangxi Province.4 For several years the Seventh-day Adventist mission had conducted a small medical dispensary in the city. Day was placed in charge of the dispensary with the former medical officer and a male nurse as his assistants.5
Civil unrest plagued the region around Nanning in 1925. The dispensary was undamaged during the fighting, although both armies temporarily used the premises as a fort. However, the circumstances made it perilous to bring in supplies using the Xijiang River.6 The following year, 1926, was more peaceful. In his annual report, Day told of 4,844 dispensary patients, sixteen major surgeries, and one hundred minor operations. He was also treating many people suffering from leprosy. By this stage he had enlarged the enterprise to include hospital status and reported 124 in-patients for the twelve months.7 Under his management, the institution eventually grew to a capacity of sixty beds.8
In 1927 warring factions in the region brought a resumption of perils. Some of the time it was too dangerous for the wives and children to remain in Nanning. Instead, they found refuge in the walled city of Kowloon near Hong Kong.9 In 1929 communication broke down completely, leaving Day isolated and without supplies for extended periods.10 Despite the difficulties he managed to get to Kowloon and bring back medical and food supplies in 1930.11 In the same year about thirty friends would regularly seek shelter at night in the mission cellar when the fighting grew intense. On one occasion a bomb landed in the garden between the mission home and the chapel, but it did not damage the mission property. Through it all the mission buildings only suffered bullet holes in the upper levels.12
A 1933 summary of events at the hospital/dispensary told of relatively peaceful times. A new wing was added, funded by hospital earnings, and a fully-equipped laboratory was installed. Out-patients numbered 7,015 and in-patients totaled 850, including 128 obstetric cases.13 There were twenty-nine on the hospital staff, a team made up of Day himself, trained nurses and others in training, a pharmacist, a laboratory technician, launderers, chefs, and janitors. Edyth served as treasurer, bookkeeper, and matron.14
The Coffin family took a furlough in the United States during the academic year of 1939/1940. They returned under appointment to manage the Canton Sanitarium and Hospital at Canton (or Guangzhou), Guangdong Province.15 The building was an imposing structure of four storeys under the supervision of the South China Union Mission.16 At the time the institution had expanded its influence by conducting a city clinic and caring for some refugees.17 Second World War conditions dramatically worsened circumstances. However, one report of hospital activities from April 1942, said, "Dr. and Mrs. D.D. Coffin while confined to our mission compound in Canton, are evidently still able to go about their work."18 The situation deteriorated and Edyth returned to the United States in 1943.19 Day refused repatriation, choosing to be interned in a prisoner of war camp at Canton so that he would be on hand to protect the hospital property as soon as peace returned. When the Japanese soldiers left and Day gained his freedom he immediately returned to the hospital and prevented Chinese soldiers from taking over. Chinese church members who had hidden surgical instruments and hospital beds brought them back and the hospital was soon functioning again.20 Day remained as the hospital superintendent and manager until he returned to the United States in late 1946.21
Back in America
Day united with his family again and settled in Oregon. He passed away at Portland, Oregon, on July 16, 1973, and was laid to rest in the Forest Lawn Cemetery, Gresham, Oregon.22 He was survived by Edyth and their two sons, Dr. Galen Coffin and Dr. Harold Coffin.23 Edyth passed away at Clackamas, Oregon, on March 12, 1992, aged ninety-five. She was interred alongside Day.24
Sources
"Advancing in China Under Difficulties." Far Eastern Division Outlook, June 1930.
Anderson, John P. "The Cantonese Mission-1940." China Division Reporter, May 1941.
Coffin, Day D. "From Dr. Coffin." Far Eastern Division Outlook, September 1930.
Coffin, Day D. "From Nanning to Kowloon." Far Eastern Division Outlook, July 1929.
Coffin, Day D. "Nanning Hospital-Dispensary 1926 Annual Report." Far Eastern Division Outlook, July 1927.
Coffin, Day D. "Nanning S.D.A. Hospital." China Division Reporter, January/February 1935.
Coffin, Day D. "The Medical Work in Kwangsi." China Division Reporter, April 1934.
Cormack, Alexander W. "God Watches Over All." ARH, April 2, 1942.
Crisler, Clarence C. "Getting Back into Nanning." Far Eastern Division Outlook, December 1927.
"Day Dean Coffin." FamilySearch, Intellectual Reserve, 2022. Accessed February 28, 2022. https://www.familysearch.org/tree/pedigree/landscape/9M35-KTF.
"Day Dean Coffin." Find A Grave Memorial, 2022. Accessed February 28, 2022. https://www.findagrave.com/memorial/92905251/day-dean-coffin.
"Day Dean Coffin." North Pacific Union Gleaner, September 3, 1973.
"Dr. Coffin Arrives." North Pacific Union Gleaner, January 7, 1947.
"Edyth Crystal (Gruber) Coffin." Find A Grave Memorial, 2022. Accessed February 28, 2022. https://www.findagrave.com/memorial/92905091/edyth-crystal-coffin.
"Former missionary to China…" Far Eastern Division Outlook, November 1973.
Frost, Samuel L. "Division Notes." China Division Reporter, September 1, 1940.
Howard, M.D. "A Visit to the South China Union." China Division Reporter, September 1, 1940.
"Recent Arrivals." Far Eastern Division Outlook, June 1, 1924.
Seventh-day Adventist Yearbook. Washington, D.C.: Review and Herald Publishing Association, 1925-1945.
Williams, Paul L. "From Brother Williams of Nanning." Far Eastern Division Outlook, July 1925.
Notes