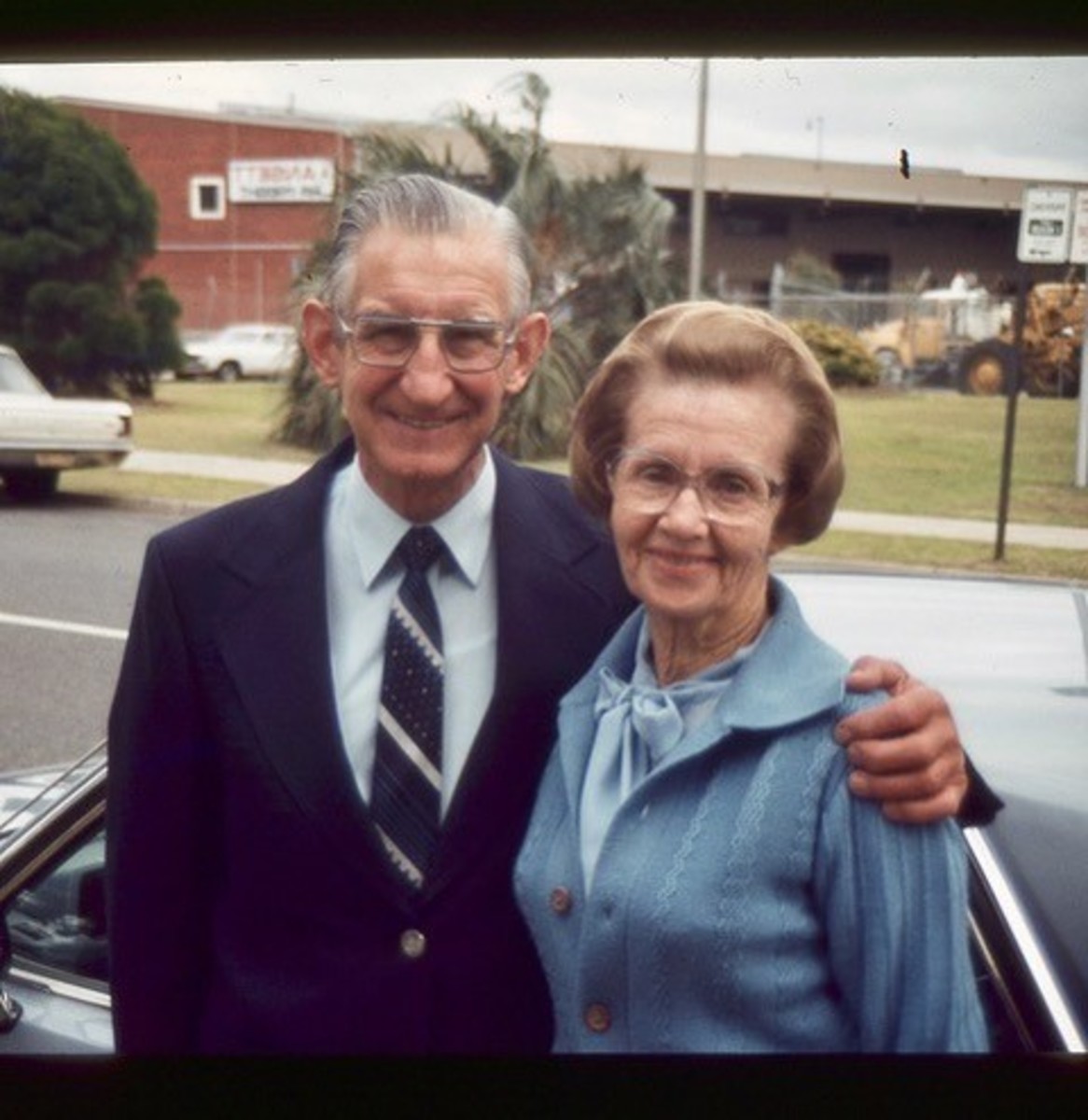 Grubb, Stanley George (1912–1988) and Adele Honor Cazalar (Trute) (1913–1997)
×
Warren Grubb, Ph.D. (University of Western Australia, Perth, Australia), retired in 2013 as professor of microbiology, Curtin University, Perth. Born in Australia, Grubb's career has been teaching and researching at universities. He has served as a layman on committees from local church to General Conference and been health director in the Western Australian Conference. In retirement, Grubb is an emeritus professor at Curtin University. He has published 130 peer-reviewed scientific papers.
First Published: January 29, 2020
Stanley George Grubb led the Sanitarium Health Food Company into a new era of mechanisation that enabled the Company to remain competitive in spite of increasing competition from other cereal manufacturers.
Early Life
Stanley George Grubb was born on September 26, 1912, in Hastings New Zealand (NZ), the second of three children, to Frederick Theodore Grubb and Annie Maria Grubb (Garratt).1 Frederick was born in Ireland to a Quaker family that migrated to NZ when he was young and Annie was born in Taneru (Masterton), NZ.2 The year Stan was born his parents were baptised into the Seventh-day Adventist (SDA) Church.3 After his baptism Frederick became a colporteur4 until he was employed in the Health Food work (later the Sanitarium Health Food Company (SHF)) in manufacturing health foods in Wellington and Christchurch.5 Consequently, Stan was raised in an SHF environment.
Education and Marriage
Stan attended Waimari School in Papanui (Christchurch). As he was doing very well at school, the headmaster suggested to his parents that Stan should prepare for university entrance. His parent's response was that they were Seventh-day Adventists and believed the second coming of Christ was imminent, and, therefore, Stan would not have time to use advanced qualifications. Consequently, he left school and was apprenticed to a bicycle manufacturer. Later, with the knowledge he had acquired, he built a bicycle for his son.6
In 1928 Stan was baptised,7 and the following year he was employed as a fitter in the Papanui SHF factory until the end of 19328 at which time he enrolled in the Building Construction Course at the Australasian Missionary College (now Avondale College of Higher Education).9 He later used his acquired knowledge of manual skills to build the family home which was still standing in 2019.10 In order to fund his studies, he worked part-time in the SHF Cooranbong factory with Mr H C Tempest who had been employed to electrify the Cooranbong factory.11 In 1934 when the General Engineering Department (GED) was formed under Tempest, Stan was employed full-time.12
He described his role as "Mr Tempest's batman, private secretary, draughtsman and sometimes, assistant engineer."13 He apparently filled the role to Tempest's satisfaction, as, 12 months later, Tempest wrote to the General Manager, Mr George Chapman, "I … would like to recommend that his (Stan's) wages be raised at least 10 shillings per week (from £3.5.0). Brother Grubb has been very faithful in his duties and his work is very good. He is steadily improving, too."14 With this increase Stan proposed to, and married, fellow student and Cooranbong factory worker, Adele Honor Cazalar Trute on February 21, 1936.15 Honor was born April 11, 1913, in Murwillumbah, New South Wales, the second of two children of SDA parents, Frederick James Trute and Mary Sophie Trute (Cazalar).16 They had one son, Warren Bruce Grubb.17
Career Ministry
Stan was the first draughtsman and initially drew all the plans, but as the GED expanded, he became responsible for supervising the building of new factories and installing new machinery. In those days travel involved long journeys by train and sometimes boat. Stan's first travelling assignment was with Tempest to Melbourne in the winter of 1935. This entailed an overnight train trip from Sydney to the border town of Albury where they would have breakfast and transfer to a train with a different railway gauge. Stan was provided with a second-class ticket which necessitated sitting up all night in an unheated compartment with seven other people whereas Tempest had been provided with a first class sleeping compartment. On arriving at Albury Stan joined Tempest for breakfast. Tempest was fresh and groomed while Stan was still trying to thaw out from the night's ordeal. Tempest observed Stan's appearance and sympathetically said, "If you continue to work diligently, one day you may have the privilege of travelling in a sleeping car." He must have been diligent because five years later he was finally upgraded to this privilege.19
Stan's work soon involved extensive travel, often taking him away from home for months. Consequently, Head Office made provision for his wife and son to accompany him when he was required to be away for long periods of time. Subsequently, the family spent from 12-18 months with him in each of Adelaide, Melbourne, Christchurch and Hobart.20
In 1948 the family was sent to Hobart, Tasmania, so Stan could install machinery and commission the Company's first fully mechanised plant.21 The production line was completely enclosed by panels and glistened with stainless steel and chrome.22 Subsequently, all factories were gradually fully mechanised; for instance, up until this time the moulding of the wheat flakes into biscuits used a press imported from another cereal manufacturer in 1898. It required a minimum of three minutes to set the biscuits whereas the new machinery decreased moulding time to less than 30 seconds, and overall production increased from 160 kg/hr to over 1000 kg/hr.23
Because of the disruption to their son's education the family no longer accompanied Stan after their visit to Tasmania, and although Stan's times away were shorter, it still meant that bringing up their son Warren was largely left to Honor.24 One of Stan's assignments in 1951 was to install machinery in the new Longburn (Palmerston North) factory in NZ. Progress was so satisfactory that it appeared work would be finished before Christmas. However, the General Manager, Wilf Kilroy, when he observed the progress said, "Stan, if you finish before Christmas we won't be able to pay for it."25
When Tempest retired in 1953 Stan replaced him.26 The mechanization of new factories continued under his leadership.27 To meet the rapidly expanding demands for new factories and machinery a dedicated building was constructed in 1962 and named the Plant Development Division (PDD). This name caused both confusion and mirth. The company's gardeners labelled their shed, Plant Development Division, and the PDD received requests from horticulturists for the cultivars they were developing.28
Stan had early realised the need to be better qualified and had studied Advanced Engineering subjects by correspondence for five years.29 This had impressed on him the need for qualified people to meet the demands of the technological age, and it was with satisfaction that Head Office, under General Manager Wilfred (Wilf) Kilroy, finally agreed to establish the "H. C. Tempest Memorial Scholarship Fund" to train future staff in engineering. One of the recipients of this scholarship was Dr Ivan Scale who later succeeded Stan as Director in 1967.30
In 1967 Stan was transferred to Head Office in Wahroonga, Sydney, to be assistant secretary/production Manager.31 He was told by the General Manager, Wilf Kilroy, that the rationale for this appointment was that he had an in-depth knowledge of all the machinery in the company's factories and was well qualified to help the factories achieve maximum production capacity while still overseeing the PDD to provide even more efficient machinery. It was with some trepidation and reluctance that he moved to Sydney. Trepidation, as there was no job description or key performance indicators, and he was not given any brief as to his responsibilities. After he had been in the position for some time, and having not had any feedback from his superiors, it was with some nervousness that he responded to a request by the Assistant General Manager to come to his office. He was politely asked to sit down. He became even more nervous as the Assistant Manager seemed a bit hesitant. Eventually the Manager said, "I hope you don't mind Stan but our washing machine isn't working and I am wondering if you would have a look at it?" By now Stan had earned a reputation as "Mr Fix It."32
The role of Production Manager once again involved much travelling to the company's 11 factories in Australia and NZ. After their son left home, Honor occupied herself in Stan's absences as a volunteer at the Sydney Adventist Hospital, Wahroonga, New South Wales.33
Later Life
Stan retired on November 1, 197534 but his travelling was not over. He accepted a Sustantees Overseas Service call, and he and Honor spent three months at Loma Linda Foods in California, and then 15 months in Lüneburg, Germany assisting in the commissioning of the new German health food factory.35
Even in retirement Stan took subjects at the local Technical College, and he used his talents to make equipment for the ADRA depot at the South Pacific Division Offices and for various business people.36 He also fixed neighbourhood appliances; he even repaired an artificial leg!37
When Stan became terminally ill, he and Honor moved to Perth, Western Australia at the beginning of 1988, to be with their son Warren. Six months later Stan died on August 29, 1988.38 Honor died on August 26, 1997.39 Both are buried in the Karrakatta Cemetery, Perth.40
Legacy
H. C. Tempest commenced the process of modernisation for the Sanitarium Health Food Company and Stanley Grubb continued it and helped the Company to remain competitive in the world of increasing competition from other cereal manufacturers.
Sources
Adele Honor Cazalar Grubb. Certificate of Particulars of Birth No. 7803/71 G, 1971. Registrar Generals Department: Government of New South Wales. Held in the personal collection of the author.
"After Being Away for 18 Months . . ." Australasian Record, January 9, 1978.
Arthur, Dale and Eric Howse. "Life-Sketch: Stanley Grubb." Australasian Record, October 15, 1988.
Arthur, Dale and Philip Rhodes. "Adele Honor Cazalar Grubb obituary." Australasian Record, October 4, 1997.
Brown, R. K. "Story of the Day." Australasian Record, January 2, 1967.
Clifford, Henry. Henry Clifford, to George Chapman. February 11, 1935. Private letter in the personal records of the author.
Govett, R. "Grubb-Trute marriage." Australasian Record, March 16, 1936.
Herbert, A. S. "Frederick Theodore Grubb obituary." Australasian Record, July 14, 1947.
"In the Health Food Department . . ." Australasian Record, October 6, 1975.
Johanson, B. O. "S. H. F. Co's New Factory in Hobart." Australasian Record, October 31, 1949.
"Monthly Summary of Australasian Colporteur Work: South New Zealand." Australasian Record, March 11, 1929.
"Queensland factory Unexcelled in State." Australasian Record, December 1, 1958.
Stanley George Grubb. "History of the plant Development Division." Unpublished manuscript of an oral presentation given on March 26, 1984. Held in the personal records of the author.
Stanley George Grubb. Register-Book of Births No. 20658, 1955. Hastings New Zealand: Government of New Zealand. Held in the personal collection of the author.
Stanley George Grubb Biographical Records. South Pacific Division of the General Conference Archives. Folder: "Grubb, Stanley George;" Document: "Biographical Record."
Stanley George Grubb Service Records. South Pacific Division of the General Conference Archives. Folder: "Grubb, Stanley George." Document: "Personal Service Record."
Stanley George Grubb Sustentation Records. South Pacific Division of the General Conference Archives. Folder: "Grubb, Stanley George." Document: "Sustentation Fund Application."
Stanley George Grubb Sustentation Records. South Pacific Division of the General Conference Archives. Folder: "Grubb, Stanley George." Document: "Weekly Rates."
Notes