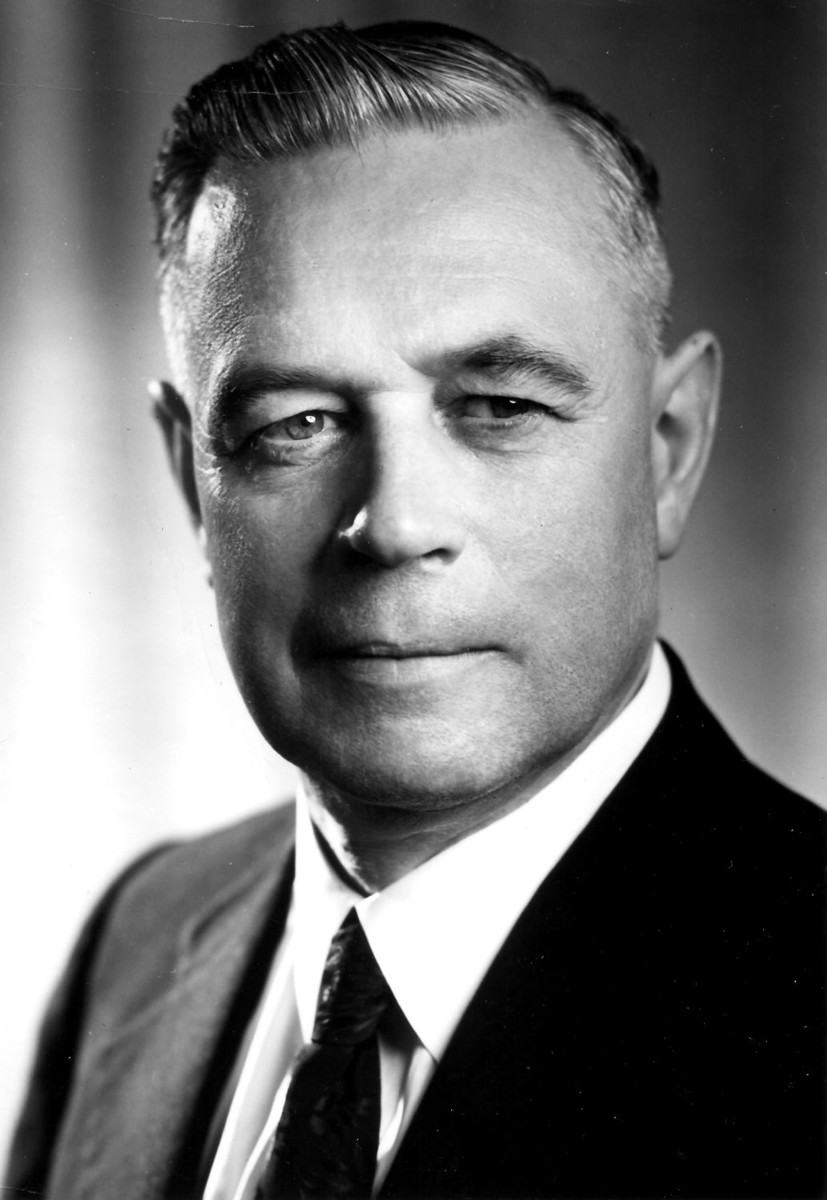 Murdoch, William Gordon Campbell (1902–1983)
×
Betty Carol Patterson Spalding, MMUSED, MMUS (Andrews University, Berrien Springs, Michigan), has lead orchestras and choirs along with lessons in violin, viola and piano, for 40 years. She worked in western Canada, U.S.A., Puerto Rico and Jamaica. She has taught in music conservatories and also started music conservatories in the music departments. As a genealogist, she has written family history.
First Published: September 5, 2021
William Gordon Campbell Murdoch was president of Newbold College in England (1930-1946) and Avondale College in Australia (1947-1952) and Dean of the Seventh-day Adventist Theological Seminary at Andrews University in Berrien Springs, Michigan (1959-1973).
Born September 25, 1902 to John Lamont and Margaret Ellen Cochrane Murdoch on the family farm in the Southern Uplands of Scotland, William attended local schools for his primary education. He then worked on the farm for four years milking cows and tending sheep. During this time a visit from a literature evangelist to the Murdoch home resulted in the entire family--William, his parents, and his four brothers and five sisters--becoming Seventh-day Adventists. While tending sheep, William heard a voice telling him to lead God's sheep. Consequently, he decided to become a minister.1
Murdoch attended Stanborough Park Missionary Training College in England, graduating from the ministerial program in 1924. William taught Greek and Hebrew during his final year as a student, and continued teaching at Stanborough until 1928. He then attended Emmanuel Missionary College (EMC) in Michigan, finishing with a B.A. degree in theology and history. While at EMC, William met Ruth Mae Rittenhouse.2
Murdoch returned to Stanborough College in 1930 as college president. During his first year he worked with the board in locating a new site for the school. They decided on Newbold Revel near Rugby in Warwickshire and, with the move, renamed the school Newbold College in 1931.3
In 1936, Murdoch returned to the United States, having been granted a year's study leave. He earned an M.A. in Semitic Studies at the University of Michigan in 1937.4 On September 19, 1937, he married Ruth Rittenhouse in Riverside, California.5
The couple returned to England, where William resumed his responsibilities as president of Newbold and pursued further graduate studies. He completed a B.D. at London University in 1938, then earned a Ph.D. in early church history from the University of Birmingham in 1946 with a dissertation on Montanism.6
During World War II Newbold was taken over by the Royal War Office. The school was able to temporarily relocate to Packwood Haugh and continue its ministerial training program. After the war, Newbold moved the school to Binfield, Berkshire, its present location.7
After sixteen years as president of Newbold, Murdoch was called to Australasian Missionary College (now Avondale University College), where he served as president from 1947 to 1952. He worked to raise the institution's academic level. For example, in 1951 the ministerial course was increased from two to three post-secondary years, with graduates of the program receiving a Licentiate of Theology (L.Th.). Also, arrangements were made with the University of London for students to take external studies leading to a Bachelor of Science degree.8
In 1952 Murdoch accepted appointment as chair of the Department of Systematic Theology at the Seventh-day Adventist Theological Seminary in Washington, D.C. Now with four children, the Murdochs crossed the Pacific Ocean to the United States. They moved again in 1959 when the seminary moved to Berrien Springs Michigan, where it would become part of Andrews University.9
Murdoch also became Dean of the Theological Seminary in 1959. Under his leadership, the seminary gained full accreditation from the American Association of Theological Schools with authorization to grant the Master of Divinity (M.Div.) degree. He also developed the Doctor of Ministry (D.Min.) program that was accredited in 1973.10
In addition to publishing numerous scholarly articles, Murdoch was a contributing editor of the Seventh-day Adventist Bible Commentary series first published from 1953 to 1957. He held memberships in the Royal Society of Teachers in England, the Society of Biblical Literature, and the American Academy of Religion. He also served as a lifetime member of the Board of Trustees of the Ellen G. White Estate. In 1972 the General Conference Department of Education awarded Murdoch the Medallion of Merit, its highest level of recognition.11
After William Murdoch retired in 1973, he and Ruth spent the winter months in California to get out of the cold of Michigan. They had four children, each of whom served in a professional capacity at Seventh-day Adventist educational and health care institutions: Dr. John Lamont Murdoch, a physician now retired from Loma Linda University Medical School; Dr. Floyd Murdoch, a retired educator who served Adventist educational institutions on several levels as both a teacher and administrator; Dr. Marilyn Murdoch Herrmann, who served as the Dean of the School of Nursing at Loma Linda University; and Dr. William Murdoch, Jr., a child psychiatrist and chairman of the Department of Psychiatry of Loma Linda University School of Medicine.12
William G. C. Murdoch died on November 16, 1983 at Loma Linda, California, survived by Ruth (died 1996) and their four children. Renowned as "theologian, educator and administrator," he is also remembered for his "humility and willing spirit."13 In a letter nominating Murdoch for the Medallion of Merit in 1972 the Andrews University Board of Trustees asserted that "no single educator has contributed more to the education of the Adventist ministry."14
Sources
"Briton Receives Highest Education Award." British Advent Messenger, January 26, 1973.
"Former Teacher Weds." College Criterion, September 30, 1937.
Seventh-day Adventist Encyclopedia. 2nd rev. edition. Hagerstown, MD: Review and Herald Publishing Association, 1996. S.v. "Avondale College."
White, Edward E. "In Memoriam William G.C. Murdoch." Messenger, April 20, 1984.
Notes