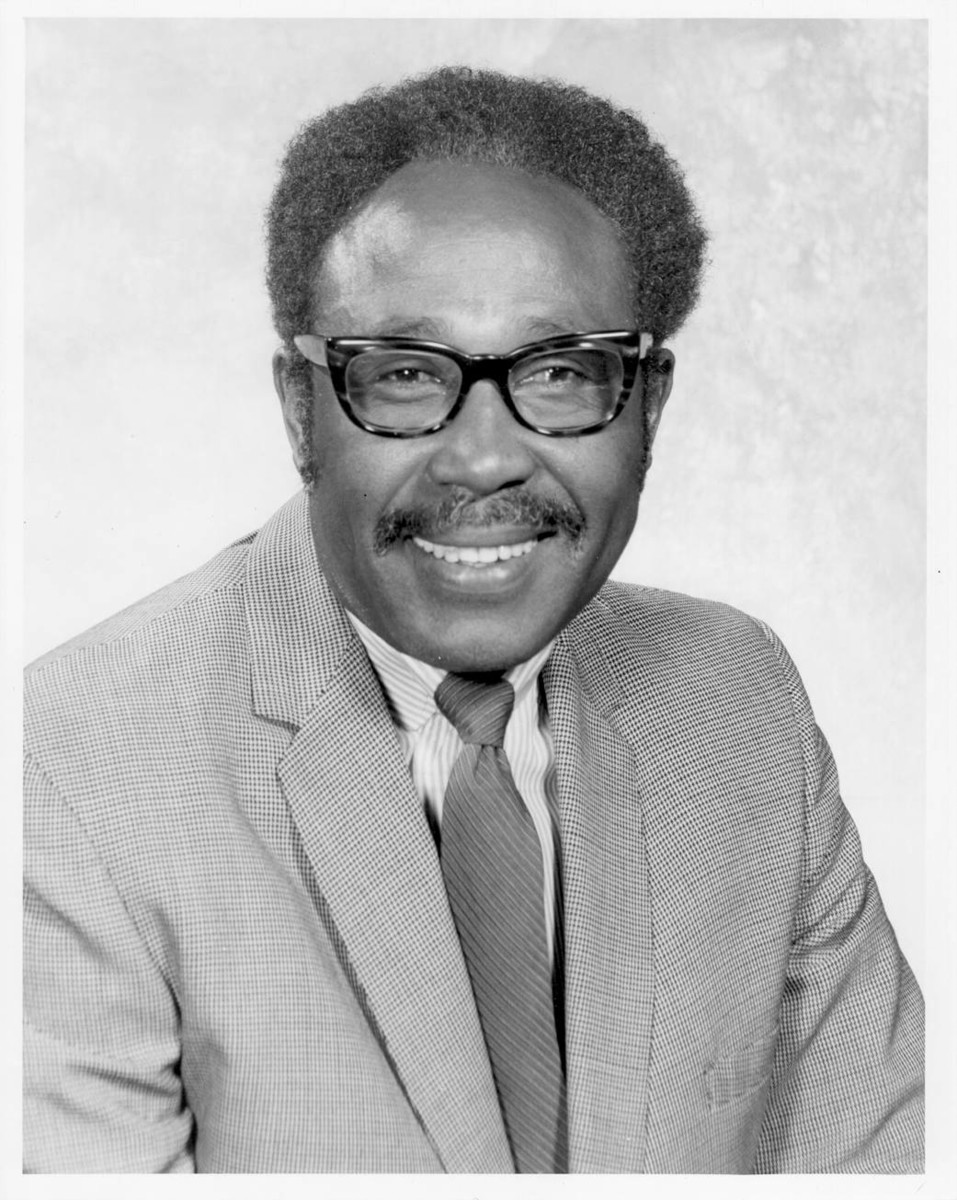 Shurney, Robert Ellerston (1921–2007)
×
Nathan Moravetz, a student at Southern Adventist University at the time of this writing, has served as a student missionary dean and secondary history teacher overseas on the island of Yap. His interest in Adventist history comes from reading books as a child on Adventist pioneers, and spending a summer as a tour guide at the Historic Adventist Village in Battle Creek, MI. An early fascination with space travel inspired his research of Robert Shurney. 
Robert E. Shurney, an aerospace engineer at NASA renowned for achievements critical to the success of the Apollo and Skylab programs, was a deacon, community services leader, and longtime member of the Oakwood College church.
Early Years
Born on December 29, 1921 in Dublin, Georgia to Vance Shurney (1900-1991) and St. Clair (Clara) Weston Shurney (1901-1930), Robert was the third of four children. His father, a veteran of World War I, was employed in the Dublin Lumber Company sawmill.1 Following the death of their mother in 1930 due to complications during pregnancy, Robert and his siblings were raised by grandparents in San Bernadino, California.2
As a teenager Robert discovered he had a talent for designing things, and worked as an auto mechanic. He wanted to become an engineer, but had to drop out of school in order to help support his family during the Depression years. Eventually he made his way to Huntsville, Alabama, where he studied and worked at Oakwood Junior College. He was inducted into the United States Army on November 13, 1943, serving as a medic in the European theater during World War II.3
Marriage, Family, and High Aspirations
Shurney married Susie Flynt (d. 1997), whom he met while a student at Oakwood, on May 16, 1946, two months after his discharge from the Army. They would have four children: Darrell, Glyndon, Glenn, and Ronald.4 The Shurneys lived in southern California for approximately three years. They then moved to Nashville, Tennessee, where Robert took a position as a maintenance engineer for Riverside Sanitarium and Hospital, an Adventist medical institution established to serve African Americans during the segregation era.5 While at Riverside, Shurney and his colleague Jonathan Walker led the hospital's maintenance staff in completing every phase of the construction of a new Adventist elementary school, except for the architectural plans. The school, intended primarily to provide Adventist education for the children of hospital employees, opened September 19, 1961.6
Shurney's inventive gift became evident when he designed and installed a rotational surgical lamp for the hospital. Dr. Carl Dent, Riverside's medical director, urged him to complete his college degree. Having long desired to pursue higher education, Shurney resolved to do so despite warnings from others about the obstacles he would face as a middle-aged Black man and father of four children.7 He pushed forward, graduating in 1962 with a bachelor of science degree in engineering and physics from Tennessee State University.8
NASA Aerospace Engineer
After his graduation, Shurney's application for an engineering position at NASA was initially turned down. His sister-in-law, an acquaintance of Dr. and Mrs. Martin Luther King, Jr., informed them about his plight and the Kings in turn informed Attorney General Robert F. Kennedy, who contacted NASA on Shurney's behalf, as did Congressman Adam Clayton Powell, Jr., of New York. After a favorable interview, NASA hired Shurney in the fall of 1962 as a flight systems engineer at the Marshall Space Flight Center in Huntsville, Alabama.9 One of Shurney's first contributions at NASA was to work on the weight distribution of the massive Saturn V rocket. President John F. Kennedy's dream to send a man to the moon by the end of the 1960s was successful in part because of Robert Shurney's work.10
As test coordinator for flight operations, he directed crew training and research programs in aircraft-based weightlessness simulations to test human reactions.11 He spent 300-400 hours in weightless flight using NASA's modified KC-135 aircraft but, remarkably, never had to take motion sickness pills. One of Shurney's most notable contributions was designing wheels for the NASA lunar rover, or "moon buggy," that enabled Apollo 15, 16, and 17 astronauts to move easily across the moon's surface. His successful design, combining metal plates on the outside with mesh on the inside, made the wheels both strong and lightweight, giving the rover maximum traction while keeping the vehicle within weight specifications. He also helped design a solar shield to insulate spacecraft from the intense heat of the sun and a solar panel as a constant source of power.12
Shurney's standout achievements also included developing ways for astronauts to perform essential human functions in a zero gravity environment. He developed a binding agent to keep the astronauts food from flying apart while they were trying to eat it and designed utensils and storage containers for the food. He also helped invent space toilets for the Skylab missions.13
Continuous Education and Church Involvement
Shurney was relentless in his pursuit of education, and in the ever-changing world of NASA and space travel, such advancement was essential. "During my time as an aerospace engineer, I kept abreast of new innovations in space by attending many colleges and universities, including Meharry Medical College, Howard University, the University of Michigan, the University of Alabama and the University of Oklahoma," he stated.14 He also published several NASA Technical Memorandums and Papers on findings in microgravity research for leading scientific journals. A graduate again at the age of 64, Shurney completed his Ph.D. in physics from Columbia Pacific University, San Rafael, California, in 1986.15
Throughout his years at NASA, Shurney's involvement in the Adventist church remained strong. He served as a deacon and held other offices in the Oakwood College church. He spoke at several Adventist colleges, including Andrews University where he lectured for Black History week in 1978.16 He was a vigorous fundraiser for Oakwood and active in the J. L. Moran Chapter of the Oakwood College Alumni Association.17
Final Years
After 28 years with NASA, Shurney retired in 1990. He and his wife Susie continued residing in Huntsville. They helped to establish the Adventist Community Services Center in the city. In fact, Shurney's daily routine in retirement, for several days out of the week, revolved around collection and distribution of food and other items donated for the center.18
He remained active after Susie's death in 1997. They had been married 51 years. After a short illness, Robert E. Shurney died on November 25, 2007, at age 85.19
Legacy
Robert Shurney's presence as an engineer with a leadership role challenged racial stereotypes at NASA, as seen in his initial meeting with Mercury astronauts soon after he was hired in 1962. "They said they were looking for the one in charge of weightlessness training," he recalled, "and they went to every white person in the room asking if they were the person who ran the program." To their surprise they finally discovered that, as Shurney put it, "It was my program."20
Astronaut James Lovell, in an essay about his early days in the space program, cited Shurney's work in discussing the contributions of Black people:
[M]any people I meet think the space program was the exclusive domain of white, middle-aged men with crew cuts. But the reality is that African-Americans have played an active and important part in space exploration since the very beginnings of the program.21
For his work, NASA awarded Shurney the Lunar Flight Award, Skylab Achievement Award, Apollo Achievement Award, and the NASA Exceptional Service Medal.22
On April 7, 2021, Huntsville, Alabama, city officials held a ribbon-cutting ceremony to celebrate the opening of the Dr. Robert Shurney Legacy Center, an eleven-acre campus featuring the new North Huntsville Library and recreation facilities. The city of Huntsville, supported by donations from private and governmental sources, funded the $11 million project. The center is named after Dr. Shurney in recognition of his "valued contributions" as "a NASA engineer and one of the most important leaders in manned space flight" and as "a trailblazer in the African American community."23
Robert Shurney's achievements despite formidable obstacles showed what a strong faith combined with hard work can accomplish. As he put it, "Success is possible with clear goals, determination to succeed, and the blessings of God."24
Sources
Chavez, Steven. "Pushing the Boundaries of Space." ARH, June 2, 2019.
"City Celebrates Opening of Dr. Robert Shurney Legacy Center and North Huntsville Library." City of Huntsville, Alabama, News & Updates, April 7, 2021. Accessed August 20, 2021, https://www.huntsvilleal.gov/city-celebrates-opening-of-dr-robert-shurney-legacy-center-and-north-huntsville-library/.
"Lifetime Achievement: Dr. Robert Shurney." US Black Engineer 17, no. 1 (1993): 46
Marshall, Norwida A. A Star Gives Light: Seventh-Day Adventist African-American Heritage. Decatur, GA: Southern Union Conference, Office of Education, 1989.
Martin, Brenda. "City proposes to rename Berachah Campus in honor of late NASA engineer." Huntsville City Blog, January 14, 2021. Accessed August 20, 2021, https://cityblog.huntsvilleal.gov/city-proposes-to-rename-berachah-campus-in-honor-of-late-nasa-engineer/
Minner, Ray. "Andrews Observes Black History Week." Lake Union Herald, February 29, 1978.
"NASA People: Dr. Robert Shurney." NASA People, February 14, 2018. Accessed August 20, 2021, https://www.nasa.gov/centers/marshall/history/dr-robert-shurney.html.
Simons, Ray. "Riverside School Dedicated." Southern Tidings, November 8, 1961.
Thomson, Scott B., Sr. "Dr. Robert. E. Shurney – Top African American Physicist and Engineer in The Apollo Program." Pieces of our Past (blog), July 20, 2019. Accessed August 20, 2021, http://dublinlaurenscountygeorgia.blogspot.com/2019/07/pieces-of-our-past-dr-robert-e-shurney.html
Williamson, Edna Lett. "Robert Eller[s]ton Shurney, Ph.D. NASA Aerospace Engineer." North American Regional Voice, June 1986).
Notes