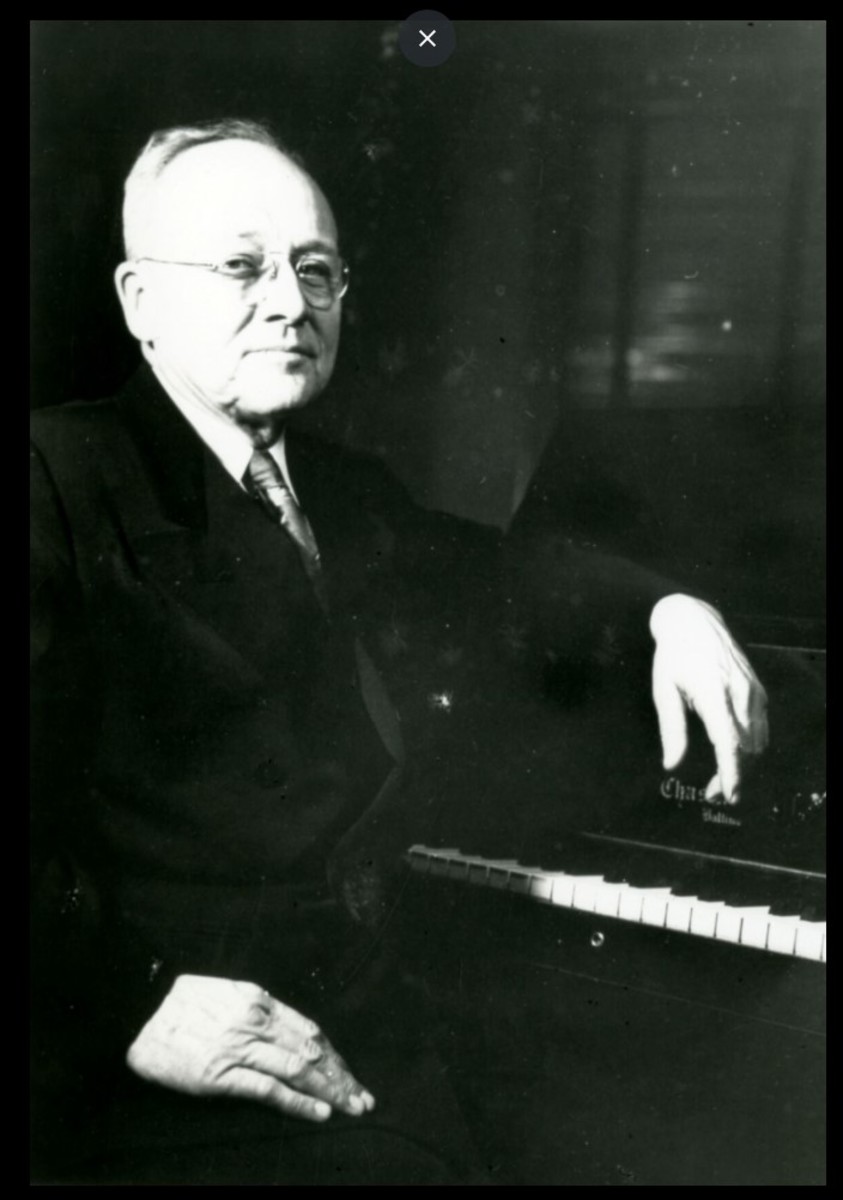 Beltz, Oliver Seth (1887–1978)
×
Dan Shultz, emeritus professor of music, Walla Walla University, has researched and written extensively about Seventh-day Adventist music history and musicians. His publications include A Great Tradition–a history of music at Walla Walla University, and the Adventist Musicians Biographical Resource–an encyclopedia with biographies of over 1100 Adventist musicians. He founded the International Adventist Musicians Association, serving as its president for ten years and editing its publications and website for over thirty years. Shultz and his wife, Carolyn (nee Stevens), live in College Place, Washington.   
First Published: February 22, 2022
Oliver S. Beltz was among the most influential musicians in the Seventh-day Adventist Church during the twentieth century.
Education and Early Career
Oliver Beltz was born in La Crosse, Kansas, on November 26, 1887, the first of 12 children of Alexander and Eva Catherine Simon Beltz. Music was an important activity in their home and the family often sang German lieder for entertainment.1  
After graduating from high school, he attended Union College in Lincoln, Nebraska, where he was taught by Buren Roscoe Shryock, a music graduate of Battle Creek College and student of Edwin Barnes.2 Beltz, inspired by Shryock's high musical standards and vision, excelled in his studies and in his final year assisted in teaching music at the school.3
In 1908 he started his teaching career at Lodi Normal School, later an academy, in California. During the next two years, he also directed the singing at evangelistic efforts and meetings held by J. N. Loughborough, S. N. Haskell, and Ellen G. White. In 1910 Beltz was hired to teach at Clinton Theological Seminary, a school established that year in Missouri to train German-speaking workers for the Adventist church. His success there led to an invitation in 1915 to direct the choir and chair the music department at Union College.4
Beltz led the department at Union for seven years during a time of financial hardship for the school. Despite the uncertainty at the college, the music department flourished under his leadership. He directed a college chorus of 75 members in the production of 13 different oratorios and cantatas.5
Northwestern University Years
Beltz's talents were not fully realized, however, until he took a study leave from Union in 1922, enrolling at Northwestern University in Illinois. After graduating with a baccalaureate degree in 1923, at age 36, Northwestern hired him to join the teaching faculty. He completed both a master's degree and a doctorate at the university during his 23 years of teaching there. His doctoral dissertation was entitled German Religious Radicalism: 1525 to 1535. Beltz served in several faculty and administrative positions, including chair of the Department of Church and Choral Music for the last 14 years.6
During his time at Northwestern he assisted without pay in the music programs at two Adventist schools in the region, Broadview College and Swedish Seminary west of Chicago, later an academy, and Emmanuel Missionary College (EMC), now Andrews University, in Berrien Springs, Michigan. At EMC during the 1930s, he conducted the first performances of the Messiah and Elijah oratorios.7
Commitment to Church Music
Although three Adventist schools—EMC, Union, and Walla Walla College—attempted to hire Beltz while he was at Northwestern, he declined. He finally accepted a position in 1946 at Washington Missionary College (WMC), now Washington Adventist University, in Takoma Park, Maryland, when the school agreed to establish a degree in church music. This was a first in Adventist higher education, and something that the other schools that tried to lure him away from Northwestern had refused to do. However, due to philosophical differences between Beltz and WMC music department chair George Wargo, the church music program was not well supported and drew a low enrollment. The degree was discontinued when Beltz retired and left WMC in 1952.8
Beltz believed that developing choirs that could sing the great masterpieces of sacred music would promote higher standards in church music. Accordingly, he would go to larger Adventist churches, at their invitation, and develop groups that would then sing oratorios, motets, and other sacred masterpieces in their churches and at other distinguished venues.9
Along with the classical masterpieces, Beltz also had a deep interest in hymnody. He composed several hymns, nine of which were included in the 1916 German hymnal Sions Lieder. His only hymn in the 1985 Seventh-day Adventist Hymnal is "The Lord Is in His Holy Temple," No. 687. He prepared Te Decet Laus: A Hymnal for the Musician, which was published in 1970 and again in 1982 by Warwick Press in Loma Linda, California.10
In the last six years of his life Beltz began working on the monumental project of collecting and organizing church music by century from the first through the twentieth. He was unable, however, to complete the nineteenth and twentieth centuries due to illness.
When Andrews University established a church music program in 1963, Beltz and his wife, Dorothy Foreman, whom he had married in 1945, helped establish a Sacred Music Endowment Fund with a major contribution. Seven years later, he worked with Albert E. Mayes, Jr. to establish the Church Musicians Guild (CMG), an organization committed to the promotion of quality church music in the Adventist church.11
Legacy
After Beltz's death in Loma Linda, California, on December 16, 1978, at age 91, the endowment at Andrews was renamed the Oliver S. Beltz Chair of Sacred Music, and the CMG did fundraising for it until it ended as an organization in 1989. Proceeds from the endowment help fund the salary of a person who teaches a required class in sacred music for ministerial students at the Seventh-day Adventist Theological Seminary.12
Sources
Becker, C. Warren. "Sacred Music at Andrews University." Journal of Music Ministry, January-March 1989
Hooper, Wayne H. and Edward E. White. Companion to the Seventh-day Adventist Hymnal. Washington, D.C.: Review and Herald, 1988.
Little, Helen Foreman. "Oliver Seth Beltz (1887-1978)." Adventist Heritage 14, no. 1 (Spring 1991): 34-38.
Notes