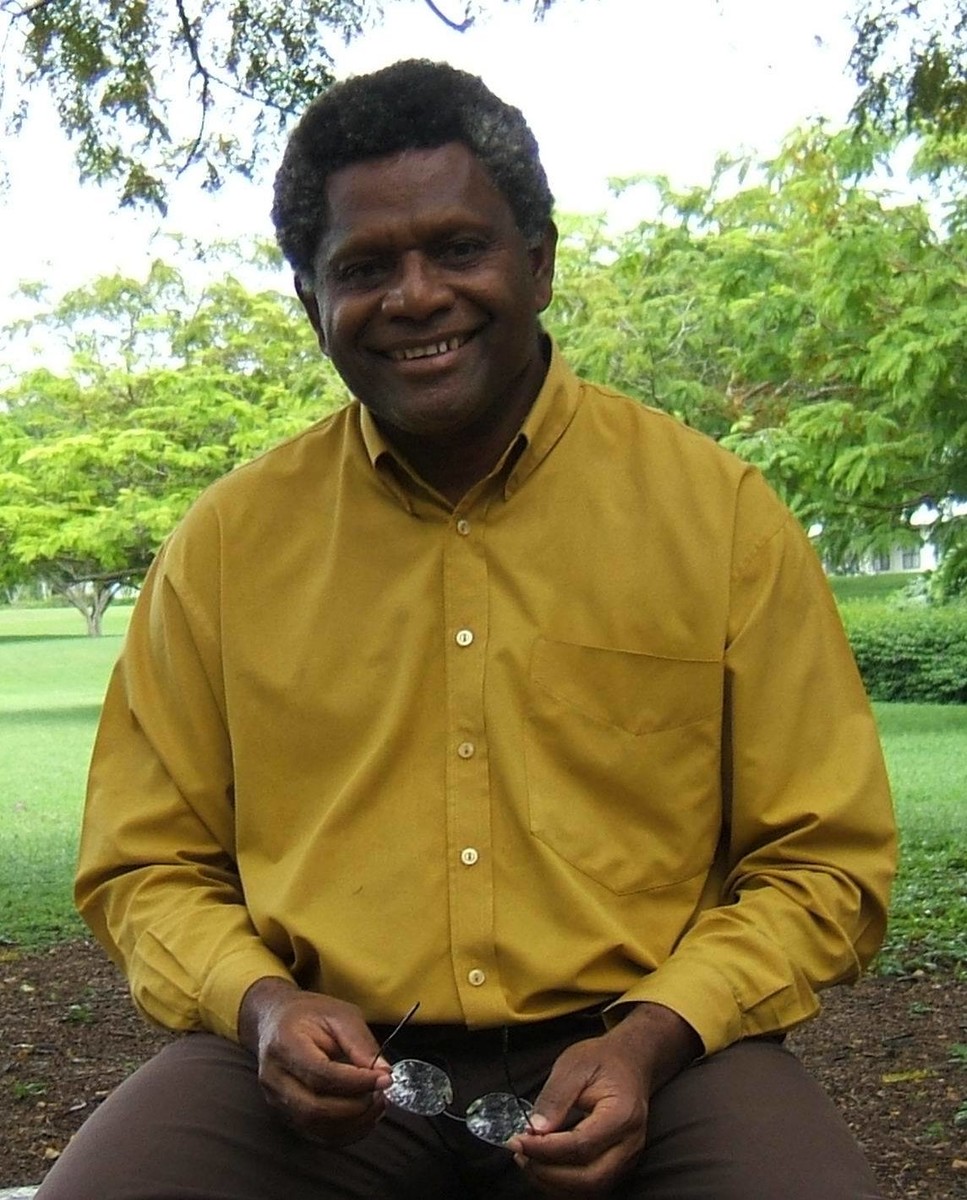 Darius, Matupit (1955–2014)
×
Graeme Humble is a consultant missiologist, former field secretary and director of Adventist Mission for the South Pacific Division (retired 2019). His doctorate explored redemptive analogies and contextual theologising within a Pacific culture. He served in Papua New Guinea for 16 years as an area supervisor, mission president, union ministerial association secretary, senior lecturer, and dean of Pacific Adventist University School of Theology. His publications focus on contextualization and missiology.
First Published: July 6, 2020
Matupit Darius was a pastor from East New Britain, Papua New Guinea (PNG). His diverse ministry extended from his home country to influence the world church.
Matupit Darius, born on July 27, 1955.1 His marriage to Elsie was blessed with three children: Martina Darius Naulu (died July 2007),2 Aaron, and Keisiva. After Elsie's death (November 27, 2002), he married Stella Nakin (January 8, 2004).3
Darius trained for ministry at Sonoma Adventist College, graduating with a diploma in theology in 1977. He went on to complete a diploma in Communication Arts in 1991 at Divine Word Institute, Madang, PNG, and two degrees at Pacific Adventist University: a Bachelor of Theology (1995) and a Master of Arts, Theology (2005).4
His ministry began as a church pastor at Madang (1978-1979), followed by a pastorate in Vanimo (1980--1981).5 He served as a chaplain at Sopas Adventist Hospital (1982) and as the youth director for Eastern Highlands-Simbu Mission (1983-1986)6 where he was ordained at a ministers' meeting at Homu mission station in 1983.7
While in Vanimo he was also the speaker for the Seventh-day Adventist (SDA) Church on the provincial radio station, Radio West Sepik.8 His radio ministry continued when he was called to relocate across PNG: producer and speaker for In-Tune (2004-2005)9 and Voice of Hope (2009),10 on both local and national radio.
During his early ministry Darius was a key actor in the lingua franca New Guinea Pidgin witnessing film Tokautim Gutnius (Sharing the Good News), produced by the Adventist Media Centre (1981).11 He later acted as the main actor Hiwi in the five-part Just a Little/Liklik health video series (1987-1991).12 He went on to produce an HIV/AIDS DVD O Papa God: Wai na em Olsem! (2006);13 directed the HIV drama DVD Em Rong Blo Mi Yet! (2007);14 directed and scripted a DVD about child sex abuse, Wai Na Mi Bon? (2008),15 and a domestic violence DVD Bai Mi Sanap Strong (2012).16 His productions have been used extensively by other faith-based organizations and government agencies both in PNG and the wider Pacific.17 They have been distributed throughout the PNG public-school system and aired on PNG national TV stations.18
Darius' giftedness as a communicator was recognized when he was appointed as Communication, Voice of Prophecy, and Religious Liberty director for Papua New Guinea Union Mission (1987-1989).19 He also served in this capacity from 2006-2009. During this time Darius wrote many articles for the South Pacific Record, the Australian Signs of the Times, and Adventist World. Darius edited the PNG SDA Church newsletters (Go Tell – 1986--1989, Tell the World, 2006-2009) and was also an editor for the Pacific Signs of the Times (2003). He was writer for the Your Choice column for The National newspaper (2005-2007)20 and served on the Censorship Board of PNG (1986-1990).21
He published a personal reflection of spirituality and loss after suffering the earlier loss of his wife, Elsie, and later, his daughter, Martina.22 Darius was an avid student of cross-cultural ministry and contextualization, his only known academic paper in this area reflecting his passion.23 As a result of his HIV/AIDS movie productions, he became increasingly involved in his latter years in presenting his research and observations within academia.24 A posthumous co-edited paper was also published in 2014: Co-InterviewingAcross Gender and Culture: Expanding Qualitative Research Methods in Melanesia.25
Darius was recognized as an engaging and vigorous public speaker. For example, he was the designated local evangelist to continue evangelistic meetings in Goroka PNG after LaVerne Tucker's 1986 evangelistic campaign.26 Darius' speaking ministry included camp meeting speaking appointments in Australia (1987),27 Revelation seminars (1987),28 presenter for Meditation and Faith for Today on PNG national television (1987),29 graduation speaker at Sopas Adventist Hospital (1988),30 Week of Praise speaker at Kabiufa High School (1989),31 among others. Darius' multilingual proficiency was recognized when he was appointed as the simultaneous Tok Pisin translator for Dwight Nelson's The Next Milennium Seminar, popularly referred to as NET '98.32
Other ministry commissions included stewardship director, New Britain New Ireland Mission (1996-1999); general secretary, Madang Manus Mission (2000-2001); church pastor and chaplain, Pacific Adventist University (2002-2003); and church pastor, Korobosea church (2004-2005).33
Pastor Matupit Darius' last ministry assignment took him to Pacific Adventist University, where he served as a lecturer in practical theology at the School of Theology (2010-2014). He was recognized as a "senior and highly respected church leader, … renowned across PNG and the Pacific as a film maker, actor, and HIV advocate, as well as being a theologian and academic."34 Matupit Darius died on April 24, 2014.35
Sources
Coombe, Raymond. "The Media Men of P.N.G." Australasian Record and Advent World Survey, December 14, 1981.
———. "The Story of a Film." Australasian Record and Advent World Survey, December 7, 1981.
Darius, Martina, and The National Newspaper. "New Religious Radio Show Airs in PNG." Record, June 4, 2005.
Darius, Matupit. ""Faith for Today" Wins Friends in PNG." Record, July 11.
———. "… a Child Is Born." Record, December 16, 1989.
———. Groping for God: My Search for Answers During My Sorrows. Wewak, PNG: Christian Books Melanesia, 2009.
———. "Seventh-day Adventist Church's Use of Narrative Video to Disseminate HIV/AIDS Message in PNG." Paper presented at the Australian National University Workshop Symposium: Sexualities, Sexual Rights, and HIV in Papua New Guinea and the Pacific, Canberra, Australia, July 12, 2012.
———. "The Use of Scripture in Cross Cultural Context." In Hermeneutics, Intertextuality and the Contemporary Meaning of Scripture, edited by R. Cole and P.B. Petersen, 89-94. Adelaide, SA & Cooranbong, NSW: ATF Theology & Avondale Academic Press, 2014.
Eby, Mark A. "The Story of Aliko and Ambai: Cinema and Social Change in Papua New Guinea." Ph.D. diss., RMIT University, 2017.
Elwin, Priscilla, and Record staff. "PNGUM Releases New DVD on HIV/AIDS." Record, July 12, 2008.
"Flashpoint." South Pacific Record and Advent World Survey, September 20, 1986.
Gate, John. "Exciting Ordination in Eastern Highlands." Australasian Record and Advent World Survey, September 24, 1983.
———. "Eastern Highlands Mission Ordination." Australasian Record and Advent World Survey, February 25, 1984.
"Kabiufa Praise." Record, November 18, 1989.
"Pastor Matupit Darius . . ." South Pacific Record and Advent World Survey, July 5, 1986.
Redman-MacLaren, Michelle L. "Field Notes: Papua New Guinea–Australia Partnerships Strengthen Capacity in HIV Research." Lowy Institute: AUS-PNG Network. March 20, 2015. Accessed March 4, 2020. https://auspng.lowyinstitute.org/article/field-notes-papua-new-guinea-australia-partnerships-strengthen-hiv-research-capacity/.
Redman-MacLaren, Michelle L., Unia K. Api, Matupit Darius, Rachael Tommbe, Tracie A. Mafile'o, and David J. MacLaren. "Co-Interviewing across Gender and Culture: Expanding Qualitative Research Methods in Melanesia." BMC Public Health 14, no. 1 (2014): 1-7.
Robinson, Lloyd. "Northern Australian Conference Holds Camp-Meeting." South Pacific Record and Advent World Survey, May 30, 1987.
"Seminars in PNG." Record, August 29, 1987.
"Sopas Graduation." Record, July 16, 1988.
"The Biggest Evangelistic Effort Ever." Record, September 26, 1998.
Notes