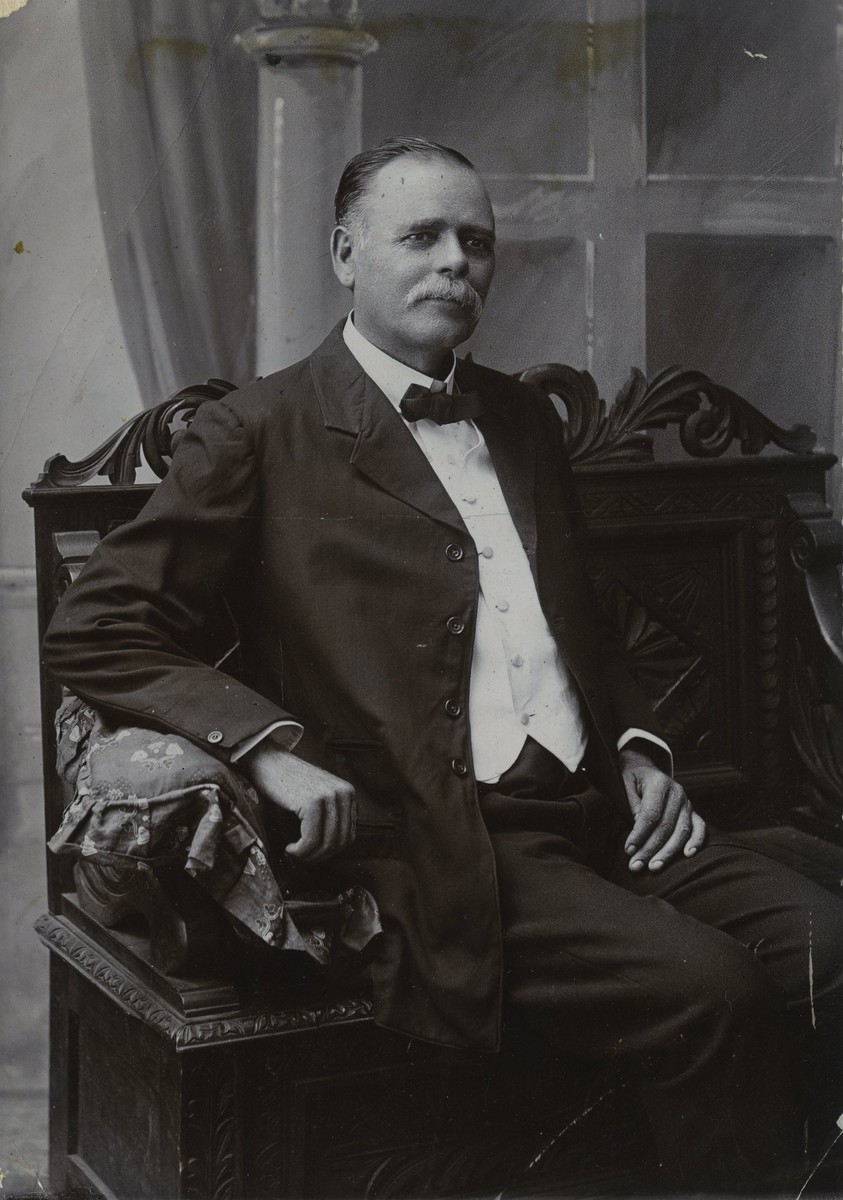 Babcock, David Caldwell (1854–1932)
×
Milton Hook, Ed.D. (Andrews University, Berrien Springs, Michigan, the United States). Hook retired in 1997 as a minister in the Greater Sydney Conference, Australia. An Australian by birth Hook has served the Church as a teacher at the elementary, academy and college levels, a missionary in Papua New Guinea, and as a local church pastor. In retirement he is a conjoint senior lecturer at Avondale College of Higher Education. He has authored Flames Over Battle Creek, Avondale: Experiment on the Dora, Desmond Ford: Reformist Theologian, Gospel Revivalist, the Seventh-day Adventist Heritage Series, and many magazine articles. He is married to Noeleen and has two sons and three grandchildren.
First Published: August 21, 2020
David Caldwell Babcock was an evangelist, conference administrator and pioneer missionary to Guyana, Sierra Leone, Nigeria and Curaçao.
Early Years
David Caldwell Babcock was born in New Hampshire, Ohio, on September 12, 1854, to Azariah and Julia Ann (Caldwell) Babcock. Azariah (Asa) Babcock was a mill-hand and farmer. David's siblings were Eli (b. 1867), Alasana or Evaretta (b. 1873) and George (b. 1878). The family moved westward around 1856. The 1870 United States Census records the Babcocks living in Richardson, Nebraska, where the teen-aged David helped his father on a farm.1
On November 17, 1874, David married Lydia Ann Davis at Humboldt, Nebraska. They had three children: Edwin (b. 1877), Bertha (b. 1878) and Emma (b. 1880). The two eldest perished in childhood.2 David had been raised in the Seventh Day Baptist church but in 1876, when Charles Boyd and Matthew Wing presented evangelistic lectures in Humboldt, David along with Lydia accepted Seventh-day Adventism.3
Mid-Atlantic Mission Field
Babcock began ministry in 1879 by assisting G. G. Rupert with meetings at Dunkirk, Ohio. By then David's parents had returned to Union Township in Auglaize County, Ohio, and he and his young family lived with them while he canvassed denominational books for four years.4 One area of his labors was Bellefontaine, not far from home.5 Tragedy visited the family when Lydia contracted measles and died on February 24, 1885.6
Babcock remarried in 1886. Little is known of his new wife, Elmira, except that she was a relatively new Seventh-day Adventist and was serving as a Bible worker.7 In the same year Babcock was sent to Delaware and Maryland, both states in which no Adventist work was yet organized and thus a mission field under General Conference supervision.
Babcock and Victor Thompson helped to pioneer the field by conducting tent meetings. In 1887 Babcock assisted D. E. Lindsey with meetings in Baltimore. The following year Babcock raised up a church in rural Hollandsville, Delaware. He was ordained to gospel ministry in 1888 in Washington, D.C. by Ole Olsen, General Conference president, and Asa Robinson, New England Conference president. Babcock took a study break at Battle Creek College in 1890, the only formal Bible training he received. He then returned to the east coast in 1891 under appointment as president of West Virginia Conference. He held this position for six years and then transferred to the Virginia Conference as president in 1897.8
Guyana
Late in 1899 the Foreign Mission Board (FMB) sent Babcock to British Guiana (now Guyana) as superintendent of the work there, charged with carrying forward the pioneering efforts of Dudley Hale, who had resigned from the mission for family reasons. The Babcocks began their efforts in early 1900 at Georgetown. Subsequent minutes of the FMB contain actions addressing some of Babcock's requests for material assistance such as a mission boat, two chapel organs for evangelistic work, funds to obtain seating and lighting for a crusade tent and wages for local men to serve as missionaries.9 He organized and built four churches and raised two other companies of converts while in British Guiana.10 Another domestic loss marred this mission episode. Babcock's wife, Elmira, had suffered cardiac problems for some time but wished to remain at their post of duty rather than return to the homeland. She passed away in Georgetown on June 20, 1901.11
Babcock remained in Georgetown and remarried in 1903. His new bride was Wilhelmina Alice Bradshaw, usually known as Mina, who was born and raised in Guyana and taught at the Congregational church school in Georgetown. After attending lectures given by Babcock and others, she was baptized and became an Adventist in July 1902.12
West Africa
In 1905 David was appointed superintendent of the British West Africa Mission, with headquarters at Freetown, Sierra Leone. The field covered a vast territory extending from Gambia to Nigeria. On arrival the Babcock's rented a home in Freetown but the humidity was oppressive and fevers prevalent. On behalf of the mission, Babcock purchased some land on the side of a mountain away from the city and built his mission home headquarters.13 He began a tent series in January 1907, resulting in a church of 40 members with a suitable house of worship.14 Work prospered among the Mende people of Sierra Leone and the Fante people of the Gold Coast (Ghana). By 1910 a school was established at Freetown and another further inland at Waterloo. Mission stations were opened at Sherbro Island, Sierra Leone, and in neighboring Liberia. In Ghana, centers were operating at Axim, Appatem, Apollonia and Saltpond.15
During Babcock's time in West Africa he returned to America as a delegate at two General Conference Sessions, 1909 and 1913. At the 1909 session he made a plea for funds to build more mission homes. He saw it as a priority. "While we have asked for missionaries to come to West Africa," he said, "we do not want them until the General Conference is ready to build mission homes for them."16 By 1913 the proliferation of stations in the territory warranted a sub-division into three parts, the Sierra Leone Mission, the Gold Coast Mission and the Nigeria Mission. Babcock was placed in charge of the latter and located inland from Lagos in March 1914.17
Babcock established his first mission station at Erunmu in southwestern Nigeria. Providing education was one of the principal means he used to reach the people. He built a school in Erunmu and another one about four miles away. Babcock was a skilled builder, as were some of his African workers, and the schools and church buildings they constructed have been credited as one source of the mission's success in winning converts.18
Unfortunately, one blow after another befell the Babcocks during their time in Nigeria. David injured his leg in a bicycle accident and it became ulcerous, preventing him from working for some months. Mina was bitten by a centipede and lay unconscious for several days. Their two young boys contracted measles, the eldest nearly losing his life. In September 1916 Babcock was bitten by a tsetse fly and the parasites transferred to his blood stream caused sleeping sickness, medically known as African trypanosomiasis. At that time, though, he did not know the cause of his declining strength. He battled on for another twelve months, visiting his field and building new churches until he worked himself into a bed-ridden state. In June 1917 the decision was made for the family to leave their mission station and seek medical help in Lagos. Pathology tests revealed his true condition.
After a few weeks rest the Babcock's sailed on the S.S. "Apapa" to seek a remedy at London's School of Tropical Medicine. This was during World War I, so their ship joined a convoy under naval escort to protect them from enemy attack. They reached the Irish Sea and apparent safety, so the naval escort was lifted. But two German submarines saw the ship's vulnerability and sank it. The Babcocks managed to get their life jackets on and scramble into a lifeboat. The waves were heavy and some lifeboats overturned but, hearing the distress signal from their sinking ship, a patrol rescue boat had set out from Holyhead in Wales and after three hours in the darkness transferred them to safety. In London, Babcock underwent two days of "rigid treatment" after which the parasites completely disappeared. It was "a great wonder to the doctors," he wrote, but no trace could be found in 40 days of frequent testing that followed.19 With World War I almost over the Babcock family crossed the Atlantic and arrived in Washington, D.C. in early June 1918.20
Renewed Service in Inter-America
They spent 18 months recuperating in Virginia after years of privations in the tropics. Then, in December 1919, Babcock and his family sailed for the mission field again, this time under appointment for the American Virgin Islands, a part of the Puerto Rican Mission.21 The Adventist cause was well established there with headquarters at Charlotte Amalie on the island of St. Thomas. Babcock joined the ministerial team and remained for more than five years.22
In 1925 Babcock was called back to Georgetown to serve as superintendent of the British Guiana Mission. In 1927 he was asked to pioneer the work on the little island of Curaçao in the Dutch East Indies. He located at Gravenstraat for three years and did what he could to generate interest in the Adventist message. Mina served as secretary and treasurer of the small Curaçao Mission.23
Babcock's efforts on Curaçao were hampered because he had no means of transport and had to walk to his visitations. Not having taken a furlough for ten years, he had virtually depleted his energies. He was hemorrhaging from his stomach, possibly as a result of an attempt to murder him years earlier in West Africa by spiking his food with pulverized glass. By May 1930 he could not endure any longer and returned home to Arlington, Virginia, for medical aid.24
Final Years
David and Mina had three sons, Foster A. (b. 1906), Samuel Arlington (b. 1913) and David Caldwell, Jr. (b. 1917).25 At one stage the eldest was engaged to be married but when the parents of the intended bride met Mina they persuaded their daughter to abandon the plans because they believed Mina was partially of African descent. The incident caused much distress for the Babcock family. Babcock wrote to Mina's father to discover her real lineage and was told that her complexion was due to some distant Indian ancestry. Apparently, similar prejudices from some church members surfaced when they returned permanently from mission service in 1930. David shared his concerns with General Conference officials, declaring that "all stand upon the same footing before God."26 It was a sad episode for a man who had spent much of his life evangelizing dark-skinned peoples in faraway lands, only to return home and be troubled at heart because of unchristian bias.
In November 1931 Babcock had another severe hemorrhage from which he barely recovered and pneumonia finally brought his end at his Arlington home on April 7, 1932.27 Mina Babcock remained in Virginia, passing away at Newport News on January 23, 1950, at age 70.28
Legacy
David C. Babcock's advances on the early frontiers of Adventist world mission, accomplished through much hardship and pain, did not go unforgotten. The school he started at Erunmu, Nigeria, in 1914, was the beginning of an educational enterprise that led to establishment of the Adventist College of West Africa in 1959. In recognition of his pioneering endeavors, it was renamed Babcock University in 1999. By 2020 the university had grown to encompass two colleges and nine schools serving more than 10,000 students.29
Sources
Adesegun, Abiodun A. "Babcock University." Encyclopedia of Seventh-day Adventists. Accessed September 15, 2021. https://encyclopedia.adventist.org/article?id=3C2P.
Babcock, D. C. "Three Years in West Africa." ARH, November 5, 1908.
Babcock, D. C. "Trials and Victories." ARH, November 27, 1918.
Babcock, [Wilhelmina]. "Workers' Meeting in West Africa." ARH, February 2, 1911.
D. C. Babcock. Secretariat Missionary Files. RG 21, Record 45151, General Conference of Seventh-day Adventists Archives, Silver Spring, Maryland [GCA].
"David Caldwell Babcock." FamilySearch. Accessed May 6, 2021, https://familysearch.org/tree/pedigree/landscape/LRWZ-239.
"Elder D. C. Babcock and family . . . ." ARH, June 6, 1918.
Eregare, Emmanuel O. An African Christian Church History: Seventh-day Adventist Cosmology in Edo/Delta States: 1948-2012 and Ecumenical Initiatives. Yaba, Lagos State, Nigeria: Christ Coming Books, 2013.
Evans, I. H. "David Caldwell Babcock obituary." ARH, May 5, 1932.
Foreign Mission Board Minutes. General Conference Office of Archives, Statistics, and Research, Silver Spring, Maryland [GCA]. Accessed May 14, 2021, https://documents.adventistarchives.org/Minutes/Forms/AllFolders.aspx.
Forsyth, J. L. "Lydia Babcock obituary." ARH, March 17, 1885.
"General Conference Proceedings: Thirty-Sixth Meeting." ARH, June 17, 1909.
Haysmer, A. J. "Elmira Babcock obituary." ARH, September 3, 1901.
Robbins, Andrew. "Wilhelmina Alice Babcock obituary." Columbia Union Visitor, July 27, 1950.
Seventh-day Adventist Yearbook. Battle Creek, Michigan: Review and Herald, 1886-1894.
Seventh-day Adventist Yearbook. Washington, D.C.: Review and Herald, 1904-1932.
Shaw, J. L. "Workers Sent to the Fields in 1919." ARH, January 8, 1920.
Notes