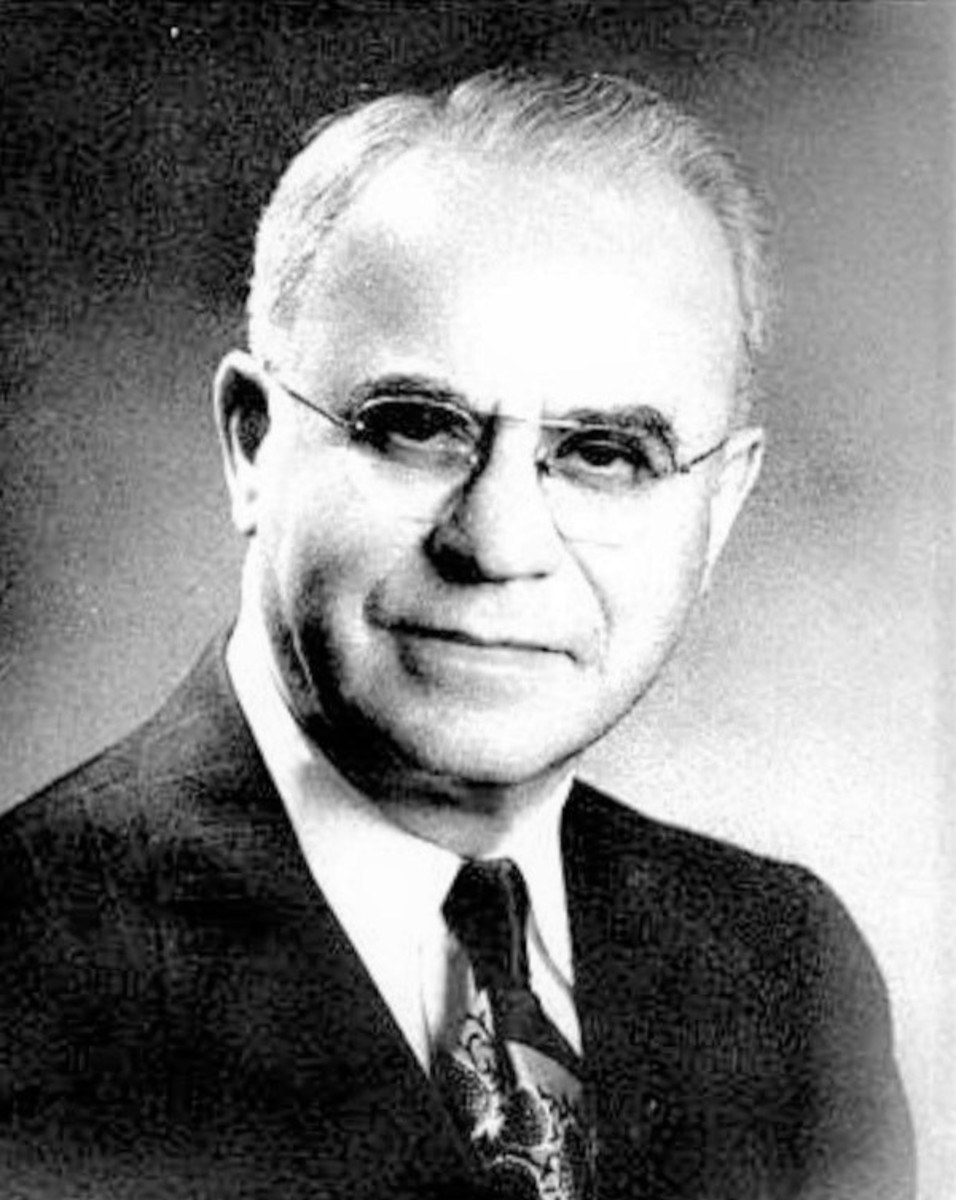 Oswald, Theodore Lewis (1891–1970)
×
Milton Hook, Ed.D. (Andrews University, Berrien Springs, Michigan, the United States). Hook retired in 1997 as a minister in the Greater Sydney Conference, Australia. An Australian by birth Hook has served the Church as a teacher at the elementary, academy and college levels, a missionary in Papua New Guinea, and as a local church pastor. In retirement he is a conjoint senior lecturer at Avondale College of Higher Education. He has authored Flames Over Battle Creek, Avondale: Experiment on the Dora, Desmond Ford: Reformist Theologian, Gospel Revivalist, the Seventh-day Adventist Heritage Series, and many magazine articles. He is married to Noeleen and has two sons and three grandchildren.
First Published: September 30, 2020
Theodore L. Oswald, minister, missionary in South America, and conference president, led the Home Missionary (Personal Ministries) department of the General Conference from 1946 to 1958.
Early Life and Ministry
Theodore's parents, Gottlieb and Maria Oswald, were of Russian heritage, born in Germany. They were Seventh-day Adventists who raised their family in the farming community around Eureka, South Dakota. Theodore was born on September 19, 1891. He had seven sisters: Christina (b. 1879), Katherine (b. 1881), Emila (b. 1884), Lydia (b. 1886), Anna (b. 1888), Elma (b. 1895) and Martha (b. 1899).1
From 1911 through 1914, Theodore attended Plainview Academy in Redfield, South Dakota, and was baptized there in 1913 by Otis Kittle. He advanced to Union College, Nebraska, graduating in 1919 from the literary course which included units in Latin, Spanish and German. It was at college that Theodore met Cora Ruth Youngberg, an earlier graduate of the literary course who returned to Union College to teach English. They married in 1918.2
While Theodore was attending college he assisted with some tent crusades during the summer vacations, his first being at Huron, South Dakota. In the winter of 1917-1918 he took time out from his studies in order to conduct his own evangelistic campaign and was instrumental in winning approximately 50 converts. In 1919 he was ordained in Huron by Arthur G. Daniells. He remained in the South Dakota Conference throughout 1920 and 1921. In 1920 he was appointed as Home Missionary secretary. The following year the Sabbath School portfolio was added to his responsibilities.3
Mission Service in South America
Late in 1921, Oswald was appointed to overseas mission work in Bolivia where he would utilize his knowledge of Spanish to good advantage. He and Ruth and infant son Donovan sailed from New Orleans in January 1922 to make their way to La Paz near Lake Titicaca in the mountains of Bolivia.4 Bolivia was a difficult country to evangelize. The established church incited violence against alternative mission outposts, burning down homes and schools, plundering property and bashing national mission workers. One attack against Seventh-day Adventists took place at Rosario in 1923.5 In 1927, another attack occurred in remote Viacha, the daughter of the mission teacher dying from her injuries.6 On other occasions, however, Oswald reported local people were pleading for teachers to minister to them.7 As the mission strengthened Oswald adopted the portfolios of Sabbath School, Education and Missionary Volunteers in addition to his work as superintendent.8
In 1927 Oswald accepted the presidency of the Chile Conference.9 The membership numbered 1,187. Substantial groups of believers were found in Santiago and Pitrufquén to the south. The field was renowned for its active team of colporteurs. At Chillán, inland from Concepcion, a training school was already established under the name Colegio Adventista de Chillán.10 At the conclusion of Oswald's three-year term as president the Chile Conference reported to having 15 churches with a total baptized membership of 1,249.11
Home Missionary Departmental Leadership
After nine years in South America, Oswald returned to the United States where he was elected president of the Arizona Conference, at that time a community of 624 members scattered among 11 churches.12 After three years in Arizona (1930-1932), he accepted a call to the Pacific Union Conference to serve as Home Missions secretary, a role familiar to him since the early days of his ministry in the South Dakota Conference. He continued in the Pacific Union for the remainder of the 1930s, then served in the same capacity in the North Pacific Union for nearly four years (1940-1943).13 Oswald returned to administration as president of the Kentucky-Tennessee Conference (1943-1946).14
At the 1946 General Conference session, Oswald was called upon to give leadership to the world church in his area of strength and experience by serving as secretary of the Home Missionary Department of the General Conference. He retired in 1958 after 12 years at the helm of the department that would later become known as Personal Ministries.15
Theodore and Ruth Oswald retired to Redlands, California.16 He passed away in Loma Linda on January 28, 1970, leaving Ruth and three sons, Maynard Donovan, Donald Wilton and Robert Leon.17 Ruth passed away in Kernersville, North Carolina, on December 16, 1979.18
Sources
Andross, [Matilda]. "Francesco, the Indian Who Gave All for the Truth." Missionary Leader, August 1926.
Annual Statistical Reports. General Conference of Seventh-day Adventists Online Archives. https://documents.adventistarchives.org/Statistics/Forms/AllItems.aspx?RootFolder=%2fStatistics%2fASR&FolderCTID=0x01200095DE8DF0FA49904B9D652113284DE0C800ED657F7DABA3CF4D893EA744F14DA97B.
Baker, C. H. "Persecution in Bolivia." Missionary Leader, April 1927.
"Cora Ruth Oswald obituary." Southern Tidings, March 1980.
Esteb, Adlai A. "The Home Missionary Department." ARH, July 10, 1958.
Montgomery, O. "Visiting South America: Meetings in Chile." ARH, June 9, 1927.
"Mr. and Mrs. Clyde Miller . . . ." ARH, January 26, 1922.
Oswald, Theodore Lewis and Cora Ruth Youngberg. Secretariat Missionary Files, RG 21, Record 114935. General Conference of Seventh-day Adventists Archives, Silver Spring, MD, U.S.A. (GCA).
Seventh-day Adventist Yearbooks. General Conference of Seventh-day Adventists Online Archives. https://documents.adventistarchives.org/Yearbooks/Forms/AllItems.aspx.
Stevens, H. H. "Struggles for the Truth in Bolivia." ARH, January 17, 1924.
"Theodore Lewis Oswald." FamilySearch. Accessed June 23, 2021, https://www.familysearch.org/tree/pedigree/landscape/KHGY-RFD.
"Theodore Lewis Oswald obituary." ARH, May 7, 1970.
Notes