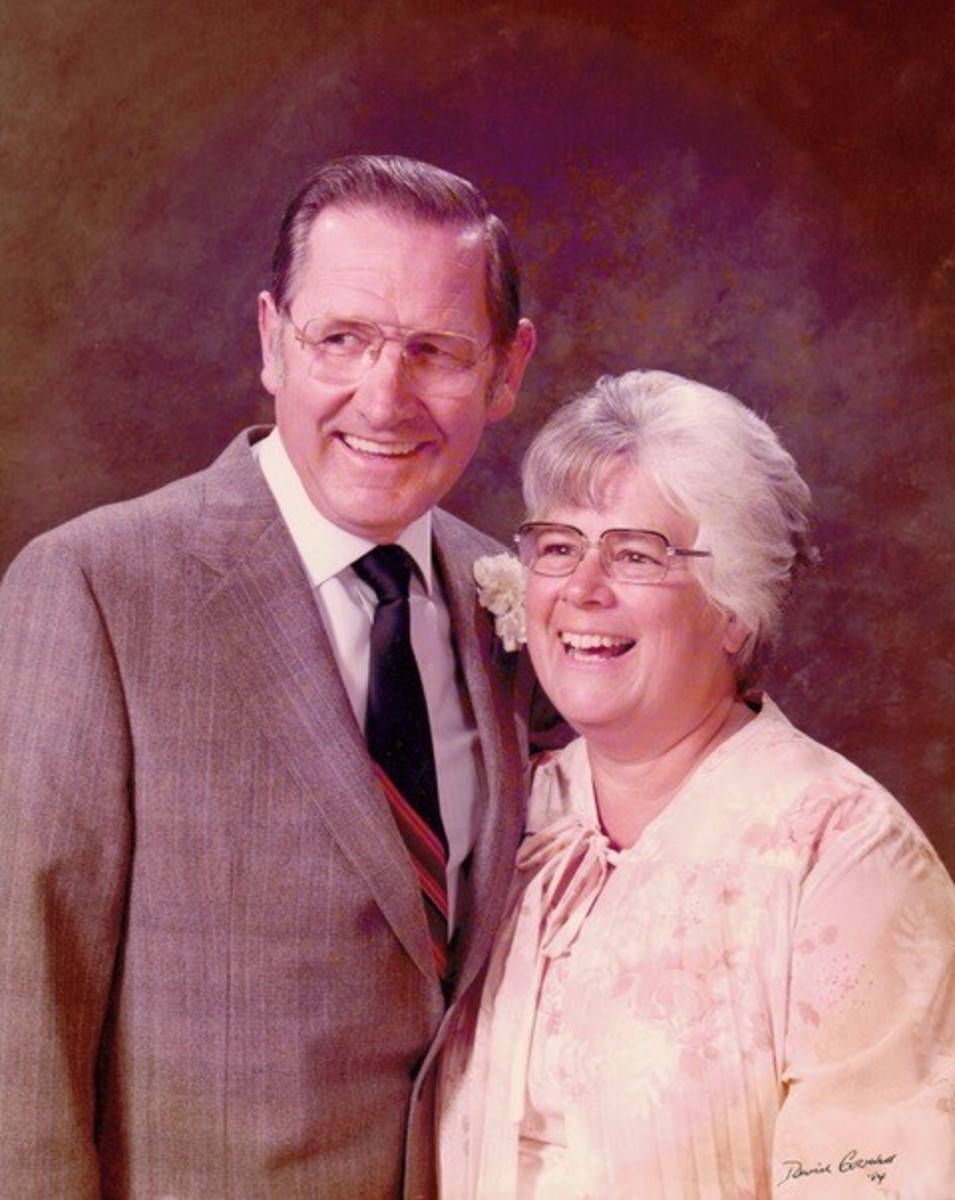 Fehlberg, Eric Claude (1927–2016), and Delysia Illanor Bolst (1929–2016)
×
Shirley Tarburton, M.Litt. (Distinction) (University of New England, Armidale, New South Wales, Australia) retired in 2008 after 40 years teaching church-school (mainly high school but including eight years at university). An Australian, she has taught in four mission fields, Australia, and New Zealand. She has authored five books and co-authored one on church history, biography and family history, as well as several magazine articles. She is married to Dr. Michael Tarburton with two adult children and four grandchildren.
First Published: January 29, 2020
Eric Claude Fehlberg was a manager for the Seventh-day Adventist Church's Sanitarium Health Food Company (SHF) and then was director for the General Conference of Seventh-day Adventists' World Food Services.1
Early Life
Eric Fehlberg was born November 16, 1927, in Collinsvale, Tasmania, the third of eight children of Frederick Fehlberg (1896–1979) and his wife, Annie Lilian Robertson (1897–1979).2 Eric's parents were Seventh-day Adventists, as were his Fehlberg grandparents before them, being members of the first Seventh-day Adventist (SDA) church in Tasmania.3 Eric's mother was introduced to the Advent message when her family went from Tasmania to Rhodesia for her father to work in mining there. Annie was sent to boarding school at Helderberg College, Capetown, South Africa, so she could be educated in English. When her parents learned she was becoming interested in joining the SDA Church, she was sent home to Tasmania. Here she discovered the Hobart SDA Church and was baptized. After training at the Adventist college at Avondale, she returned to Tasmania to become the first schoolteacher at the Collinsvale church school.4
Eric's six surviving siblings were Ivan Robertson (1924–2009); Trevor Keith Owen (1926-2012); Geoffrey Maurice; Glen William (1932–2016); Maisie June Donald (1936–1992), an adopted daughter; and Alan Lyndon.5
Education and Baptism
Eric and his brothers and sister attended the Collinsvale SDA church school. He took his schooling seriously and always strove to be at the top of his class.6 When he completed his elementary schooling, World War II was raging, and few men remained at home to work his family's market garden. He did not have the opportunity to attend high school, but worked in the market garden instead, becoming a supervisor. When the war was over, he was able to continue his schooling and attended the SDA Australasian Missionary College at Avondale, where he graduated in 1950 from the business course.7 Although he had attended the Adventist Church all his life, he chose not to be baptized until he was at college, by which time he felt he had obtained a good understanding of the doctrines of the church.8
Marriage and Family
When he wanted a break from college, Eric would travel to Sydney and stay with his uncle David Fehlberg. One weekend his cousin Lawrence introduced him to Del Bolst, a trainee nurse at the nearby SDA Sydney Sanitarium and Hospital (San),9 and from then on, Eric had eyes for no one else.10
After graduating from college, Eric was employed as a cashier at the Australasian Division (then called the Inter-Union) office in Wahroonga.11 This was just across the road from the San and enabled the couple's romance to flourish. A wedding was planned for the following year, but was brought forward when they were asked to accept a mission-field appointment commencing in 1952.12
Eric and Del married at the Auburn SDA Church in Melbourne on August 7, 1951.13 Delysia Illanor Bolst, had been born on September 15, 1929, in Muzaffarpur, India,14 about fifty kilometers from the Nepalese border, south of Kathmandu. She was the youngest child of her parents, Elliot William Bolst (1886–1973)15 and Esther Leyland Ellis (1895–1989).16 Her father was a businessman whose interests took the family to various locations in Bengal.17 Del spent most of her childhood in Bangalore,18 where the family joined the Seventh-day Adventist Church19 in January 1939.20 Here her father had a clove and cardamom plantation21 and established the Bolst's Indian Condiments company, which he sold when they moved overseas.22 After Del completed her schooling in Bangalore, she and her sister emigrated to Australia with their parents, arriving in mid-1948.23 Soon after arrival, Del and Kathleen commenced nurse's training at the Sydney San.24 She left the hospital without completing her course when she married in August 1951.25
Three children were born to Del and Eric: Bronwyn Anne (Duffy, later Cowled) was born in Lae. Julie Margaret (Ruotsalainen) was born also in Lae, and Leonard Paul was born in Sydney.26
Career
In May 1952 Eric and Del left for Lae, New Guinea.27 Here Eric served as accountant for the Coral Sea Union Mission of SDAs28 for one term, until 1955.29 They were a very hospitable couple and often entertained visitors in their home and for a tour of the town.30
Late in 1955 they and their two daughters returned to Australia for furlough,31 and shortly afterward Eric was transferred to the office of the Sanitarium Health Food Company wholesale branch in Lewisham, Sydney, New South Wales (NSW).32 He served there in the office and then as accountant for ten years.33 He studied to become a certified public accountant, and held membership in this respected body for more than 50 years, receiving recognition for the fiftieth anniversary of his CPA membership during his retirement.34
Del was kept busy raising their two daughters and baby son, but they continued to open their home to visitors. During this time they frequently offered hospitality to missionaries who were needing somewhere to stay while having medical treatment or conducting business during their furloughs, or just because they had nowhere else to stay. Eric and Del kept in touch with many of these missionaries when back at their stations, writing them letters of encouragement and providing support.35
In January 1967 Eric was appointed as manager of the Hobart, Tasmania, SHF Retail Branch.36 Not only did he enjoy the opportunity to return to his home state and be near his parents, but he relished the challenge of making "his" stores top the sales records.37 It was with great satisfaction that he was able to announce, at the Tasmanian session early in 1969, that the Hobart SHF store had the highest annual sales in the Australasian Division.38
At the next conference session, held from December 24, 1970, until January 2, 1971,39 Eric reported that, as well as the Tasmanian SHF retail sales breaking yet another record, a newly established SHF shop and snack bar in Moonah was an outstanding success.40 Later that year he became the SHF retail manager for Western Australia, based in Perth.41
Since 1940 the SHF had annually presented a Challenge Cup to the Australian or New Zealand branch attaining the highest percentage increase in sales.42 When Eric took over, the SHF retail department in Western Australia had just had its best year in a while, under retiring manager Engelbrecht. Nevertheless, a much greater improvement would be needed to win the Challenge Cup, and the general consensus was that it couldn't be done.43 Eric designed a strategy that included opening five new SHF shops,44 and in 1974 (for the 1973 sales) the cup was theirs!45 Western Australia retail won the cup again in 197546 and 1976, three years running.47 This gave Eric a great deal of satisfaction.48
Eric's abilities were not confined to growing the SHF retail business in Western Australia, as he also contributed strongly to church development. Soon after his arrival in the state he was asked to chair the building committee for the Maida Vale SDA Church, of which he was a member, and the following year he saw the project through to completion.49 He also served on the executive committee of the conference.50
By the end of his six and a half years in Western Australia, there were 12 SHF shops operating in the city of Perth, as well as a central bakery, which supplied them with bread, bread rolls, vegetarian savory rolls, pies, pasties, sweet pastries, cakes, and cookies.51
Usually career paths in the Sanitarium Health Food Company had no crossover between the retail division and wholesale division. However, after a successful ten years as a retail manager for the SHF, Eric's next appointment was as a factory manager in the wholesale division of the company. At the end of 1977 he was appointed to be the manager of the SHF factory in Palmerston North, New Zealand.52 This was a very profitable factory, and under Eric's managership over the next five years maintained its profitability, exceeding the level attained by all other SHF factories in the division at the end of Eric's tenure.53
Serving Overseas and at the General Conference
In mid-1982 Eric was transferred to South Africa to be the managing director of the SDA food company in Heidelburg, National True Foods.54 This appointment did not last long as, a little more than a year later, he was elected director of the General Conference (of Seventh-day Adventists) World Food Services, based in Washington, D.C.55 (later renamed International Health Food Association of the General Conference).56
This service was instituted in 1969 "for the purpose of coordinating and counselling with the 16 Seventh-day Adventist food manufacturing plants and their branches operating in eight divisions of the world field."57 (There were 26 health food factories at the time Eric took over.58) Eric was only the second director of this service, and the position had been vacant since the previous director, E. W. Howse (also an Australian), retired in 1980.59 By the time Eric delivered his first report to the General Conference session, in July 1985, the number of manufacturing plants had increased to more than thirty,60 and there were double that number of units when food outlets and restaurants were added to the number of factories.61
Eric and Del moved to Washington in January 1984.62 His job entailed a lot of travel, and he was almost constantly away from home.63 Del found this hard, but both of them were fully committed to the work Eric was doing. Eric was ambitious for the Lord, but not for himself. His focus was completely on what he could contribute, and how he could use the business acumen and discernment that God had given him in the building up of the health food work around the world.64 He considered his work to be a calling, and just as much directed by God as was evangelistic or teaching ministry.65 He believed that the health food industry was not only there to produce healthy food, but to promote healthful living with "nutrition classes, vegetarian cooking schools, stop-smoking clinics, and other courses designed to improve life, and as a Christian outreach to the community."66 Eric loved sharing stories of how people had been brought to Christ through their contact with the SDA health food industry.67
He worked very closely with the SDA health-food manufacturers and providers around the world, providing opportunities for them to gain insights and inspiration from each other, and taking them on tours to expose them to new products or processes which they might incorporate in their operations.68
He encouraged the administrators of the South American SDA food companies to cooperate with the Adventist Development and Relief Agency (ADRA) to "investigate the possibility of developing and providing a reasonably priced food suitable for the drought-stricken areas of the world."69 He felt it was also important for health food factories to supply work for students attending Adventist educational institutions, and for converts who otherwise found it difficult to find work that did not require them to work on Sabbath.70
Eric also did much to ensure the proliferation of the production of a nutritious soy drink that could be used by people unable to obtain or tolerate milk from cows or other animals. This drink was developed by SDA missionary doctor to China, Harry W. Miller, in the 1930s, who later set up a factory in Ohio to produce it.71 This factory was obtained by Loma Linda Foods in 1951,72 the management of which company was added to Eric's responsibilities in 1984.73 Eric believed that the knowledge of how to make this nutritious drink was a gift of God to the world through the Seventh-day Adventist Church,74 and sought to produce it in as many countries as possible.75
He took advantage of his position in business to interact with other businessmen that he came in contact with, being active in the (secular) Rotary service club wherever he could in order to show that Adventists were compassionate members of society and interested in the welfare of the wider community.76
Personal Life
Right throughout his working life, Eric cared about his workers personally, whatever their position in the business. Wherever he was, his fellow workers ended up respecting him for his work ethic, fairness, and integrity. He was a faithful servant of God, and wherever he served, his work flourished. He honored God in all that he did, and God blessed him and his work. He and Del were open-handed in giving, and always deducted a second tithe, using it for mission projects, needy people—whether local or overseas—and numerous other needs that they saw, continuing this even when they were unable to distribute it personally, by enlisting the help of their daughters. They always kept this giving private, preferring not to be known as the givers.77
Eric was an accomplished sportsman, although in later years was not able to indulge his passion so frequently. As a young man he participated in cycle racing and boxing, entering competitions because he was competitive by nature, but although he was successful, he saw it only as a pastime. Into his old age he loved watching the cycling races on TV. He also loved playing badminton, and in the late 1960s, while stationed in Hobart, he and his brother, Ivan, won the Tasmanian state men's badminton doubles championship.78
In 1985 Eric was diagnosed as having a meningioma (a brain tumor).79 He was due a furlough home to visit his family, and underwent surgery for its removal early in 1986 while he was in Australia,80 experiencing a recovery that was considered miraculous.81 He continued his active schedule as director of the International Health Food Association, but by 1991 the brain tumor had grown back.82
Retirement
Eric decided to retire. He had completed 41 years of service when he retired on April 10, 1992.83 He and Del moved back to Australia and set up their home in Canberra, Australian Capital Territory (ACT). The second brain tumor, like the first, was not malignant, and he recovered fully from its removal.84 He engaged in church work and delighted in being able to have a large garden and grow vegetables as in his teenage years with his father. He grew far more than he and Del could use, and enjoyed sharing the produce with family and neighbors. He also raised hens, entering them in competitions (and winning prizes).85
Approximately five years later the tumor had grown back for the third time and again required removal. About 1999 he and Del sold their home in Canberra and moved closer to Julie and Paul, to a retirement village in Cooranbong, near Avondale College. Once again, after a few years, the meningioma returned and required removal. This time it was atypical, and he required radiation therapy and regular follow-up MRIs.86
Death
Eric died in the Sydney Adventist Hospital on June 2, 2016, aged 88.87 Del's health failed rapidly after Eric's death, and she passed away in the Sydney Adventist Hospital on August 16, 2016, just nine days after what would have been their sixty-fifth wedding anniversary.88
Sources
"At a recent meeting . . ." Australasian Record, February 6, 1967.
"Australian Soy Product Awarded Gold Oscar." Adventist Review, January 19, 1989.
Bolst, Christine. "Bolst Family Tree." Anglo Family Trees, undated. Accessed July 28, 2019. https://anglofamilytrees.com/bolst_family_tree.htm.
Conley, J. B. "Bolst." Australasian Record, March 19, 1973.
Cooper, Victor. "Loma Linda Foods Under New Management." ARH, August 16, 1984.
"Coral Sea Union Mission Staff." Australasian Record, May 25, 1953.
Dowling, W. G. "Success of Sanitarium Retail Shops." Australasian Record, April 21, 1975.
———. "The Seventy-second Convention in WA." Australasian Record, June 2, 1975.
———. "Western Australia Reporting." Australasian Record, May 7, 1973.
Dowling, W. G., and Ken Lawson. "Two New Churches in the West." Australasian Record, April 14, 1975.
"E. C. Fehlberg . . ." Australasian Record, January 9, 1978.
"Eric Fehlberg . . ." Australasian Record, June 14, 1982.
"Exchanges have been arranged . . ." Australasian Record, February 6, 1956.
"Fehlberg, Delysia . . ." Australasian Record, October 15, 2016.
Fehlberg, E. C. "Report Presented at the General Conference Session: International Health Food Association." ARH, August 2, 1990.
"Fehlberg, Eric . . ." Australasian Record, October 15, 2016.
Fehlberg, Eric C. "Health Food Industry Prospers Worldwide." Adventist Review, October 3, 1991.
———. "SDA Food Industry Seeks to Combat Hunger." Adventist Review, May 30, 1985.
———. "World Foods Service Report Presented at the General Conference Session." Adventist Review, July 7, 1985.
"Food Conference." Australasian Record, April 22, 1989.
"Food." ARH, February 16, 1984.
Goldstone, S. R. "The Wedge Used in Western Australia." Australasian Record, June 12, 1972.
Hooper, W. T. "Fehlberg–Bolst." Australasian Record, October 8, 1951.
Joseph, Thomas K. "Bolsts Visit Southern Asia." Southern Asia Tidings, December 1987.
"Leaving Sydney by air . . ." Australasian Record, June 16, 1952.
"Missionaries on furlough are . . ." Australasian Record, October 17, 1955.
Mitchell, D. B. "Tasmanian Conference Session and Camp Meeting." Australasian Record, November 16, 1970.
"Mr. and Mrs. E. W. Bolst . . ." Far Eastern Division Outlook, June 1, 1948.
"1949 Nursing Class." Australasian Record, January 24, 1949.
"Retired." Australasian Record, August 22, 1992.
Richter, W. R. "Gratifying Results From Unpromising District." Australasian Record, May 23, 1955.
Smith, Ralph C. H. "Tasmania's Oldest Adventist," Australasian Record, April 28, 1952.
"Spring Meeting Briefs." ARH, April 30, 1992.
"Surprise visitor . . . " Australasian Record, May 17, 1986.
"The Sanitarium Health Food . . ." Australasian Record, July 19, 1965.
Thomas, R.H.H. "In a Field of 200 Entrants an SHF Apprentice Gains Three Firsts at Perth Show." Australasian Record, January 16, 1978.
———. "Tasmanian Camp Session, 1969." Australasian Record, May 9, 1969.
———. "Tasmanian Camp Session Report." Australasian Record, March 2, 1971.
Victorian Deaths Registrations Index 1973, no. 2410.
Victorian Deaths Registrations Index 1989, no. 2311.
Watts, R. B. "Another College Year Ends." Australasian Record, January 29, 1951.
Widmer, Myron. "Soymilk, an Up-and-coming Drink?" ARH, February 23, 1989.
"World Food Service . . ." ARH, March 13, 1969.
"World Food Service. . ." ARH, September 22, 1983.
Notes
"Fehlberg, Eric . . . ," Australasian Record, October 15, 2016, 23.↩

Julie Ruotsalainen, email message to author, June 30, 2019.↩

Ralph C. H. Smith, "Tasmania's Oldest Adventist," Australasian Record, April 28, 1952, 8.↩

Julie Ruotsalainen, email message to author, June 30, 2019.↩

Ibid.↩

Julie Ruotsalainen, email message to author, June 24, 2019.↩

Ibid.; R. B. Watts, "Another College Year Ends," Australasian Record, January 29, 1951, 5.↩

Julie Ruotsalainen, email message to author, June 30, 2019.↩

"1949 Nursing Class," Australasian Record, January 24,1949, 6.↩

Julie Ruotsalainen, email message to author, July 24, 2019.↩

W. T. Hooper, "Fehlberg–Bolst," Australasian Record, October 8, 1951, 7.↩

Julie Ruotsalainen, email message to author, July 24, 2019.↩

Hooper, 7.↩

"Fehlberg," Australasian Record, October 15, 2016, 23.↩

Victorian Deaths Registrations Index 1973, no. 2410.↩

Victorian Deaths Registrations Index 1989, no. 2311.↩

J. B. Conley, "Bolst," Australasian Record, March 19, 1973, 15.↩

Julie Ruotsalainen, email message to author, June 30, 2019.↩

Thomas K. Joseph, "Bolsts Visit Southern Asia," Southern Asia Tidings, December 1987, 19.↩

Muriel Langer, email message to author, July 29, 2019.↩

Christine Bolst, "Bolst Family Tree," Anglo Family Trees, undated, accessed July 28, 2019, https://anglofamilytrees.com/bolst_family_tree.htm.↩

Joseph, 19.↩

"Mr. and Mrs. E. W. Bolst . . . ," Far Eastern Division Outlook, June 1, 1948, 6.↩

"1949 Nursing Class."↩

Julie Ruotsalainen, email message to author, July 24, 2019.↩

Julie Ruotsalainen, email message to author, June 24, 2019.↩

"Leaving Sydney by air . . . ," Australasian Record, June 16, 1952, 8.↩

"Coral Sea Union Mission Staff," Australasian Record, May 25, 1953, 2.↩

"Exchanges have been arranged . . . ," Australasian Record, February 6, 1956, 16.↩

W. R. Richter, "Gratifying Results From Unpromising District," Australasian Record, May 23, 1955, 4.↩

"Missionaries on furlough are . . . ," Australasian Record, October 17, 1955, 16.↩

"Exchanges have been arranged . . . ," Australasian Record, February 6, 1956, 16.↩

"At a recent meeting . . . ," Australasian Record, February 6, 1967, 8.↩

Ibid.↩

Julie Ruotsalainen, email message to author, July 30, 2019.↩

"At a recent meeting . . . ," Australasian Record, February 6, 1967, 8.↩

Julie Ruotsalainen, email message to author, June 24, 2019.↩

R.H.H. Thomas, "Tasmanian Camp Session, 1969," Australasian Record, May 9, 1969, 6.↩

D. B. Mitchell, "Tasmanian Conference Session and Camp Meeting," Australasian Record, November 16, 1970, 15.↩

R.H.H. Thomas, "Tasmanian Camp Session Report," Australasian Record, March 2, 1971, 6.↩

Julie Ruotsalainen, email message to author, June 30, 2019; S. R. Goldstone, "The Wedge Used in Western Australia," Australasian Record, June 12, 1972, 3.↩

"The Sanitarium Health Food . . . ," Australasian Record, July 19, 1965, 16.↩

Julie Ruotsalainen, email message to author, June 30, 2019.↩

W. G. Dowling, "Western Australia Reporting," Australasian Record, May 7, 1973, 6, 7, 14.↩

W. G. Dowling, "Success of Sanitarium Retail Shops," Australasian Record, April 21, 1975, 12.↩

Ibid.↩

Julie Ruotsalainen, email message to author, June 30, 2019.↩

Ibid.↩

W. G. Dowling and Ken Lawson, "Two New Churches in the West," Australasian Record, April 14, 1975, 8.↩

Dowling, "Western Australia Reporting"; W. G. Dowling, "The Seventy-second Convention in WA," Australasian Record, June 2, 1975, 6, 7.↩

R.H.H. Thomas, "In a Field of 200 Entrants An SHF Apprentice Gains Three Firsts at Perth Show," Australasian Record, January 16, 1978, 1.↩

"E. C. Fehlberg . . . ," Australasian Record, January 9, 1978, 16.↩

Julie Ruotsalainen, email message to author, June 30, 2019.↩

"Eric Fehlberg . . . ," Australasian Record, June 14, 1982, 16.↩

"World Food Service. . . ," ARH, September 22, 1983, 18.↩

"Australian Soy Product Awarded Gold Oscar," ARH, January 19, 1989, 7.↩

"World Food Service . . . ," ARH, March 13, 1969, 19.↩

"World Food Service. . . ," ARH, September 22, 1983, 18.↩

Ibid.↩

Eric C. Fehlberg, "World Foods Service Report Presented at the General Conference Session," ARH, July 7, 1985, 9, 10.↩

"Food," ARH, February 16, 1984, 18.↩

Ibid.↩

Julie Ruotsalainen, email message to author, June 30, 2019.↩

Ibid.↩

E. C. Fehlberg, "Report Presented at the General Conference Session: International Health Food Association," ARH, August 2, 1990, 21.↩

Ibid.↩

Ibid.↩

Eric C. Fehlberg, "SDA Food Industry Seeks to Combat Hunger," ARH, May 30, 1985, 23; "Surprise visitor . . . ," Australasian Record, May 17, 1986, 16; "Food Conference," Australasian Record, April 22, 1989, 8; Eric C. Fehlberg, "Health Food Industry Prospers Worldwide," ARH, October 3, 1991, 21.↩

Fehlberg, "SDA Food Industry Seeks to Combat Hunger."↩

Fehlberg, "Health Food Industry Prospers Worldwide."↩

Myron Widmer, "Soymilk, An Up-and-coming Drink?" ARH, February 23, 1989, 4.↩

Ibid.↩

Victor Cooper, "Loma Linda Foods Under New Management," ARH, August 16, 1984, 22.↩

Widmer, 4.↩

Ibid.↩

Julie Ruotsalainen, email message to author, June 30, 2019.↩

Ibid.↩

Ibid.↩

Ibid.↩

Ibid.↩

"Surprise visitor . . . ."↩

Julie Ruotsalainen, email message to author, June 30, 2019.↩

"Spring Meeting Briefs," ARH, April 30, 1992, 7; "Retired," Australasian Record, August 22, 1992, 9.↩

Julie Ruotsalainen, email message to author, June 30, 2019.↩

Ibid.↩

Ibid.↩

"Fehlberg, Eric . . . ."↩

"Fehlberg, Delysia . . . ," Australasian Record, October 15, 2016, 23.↩