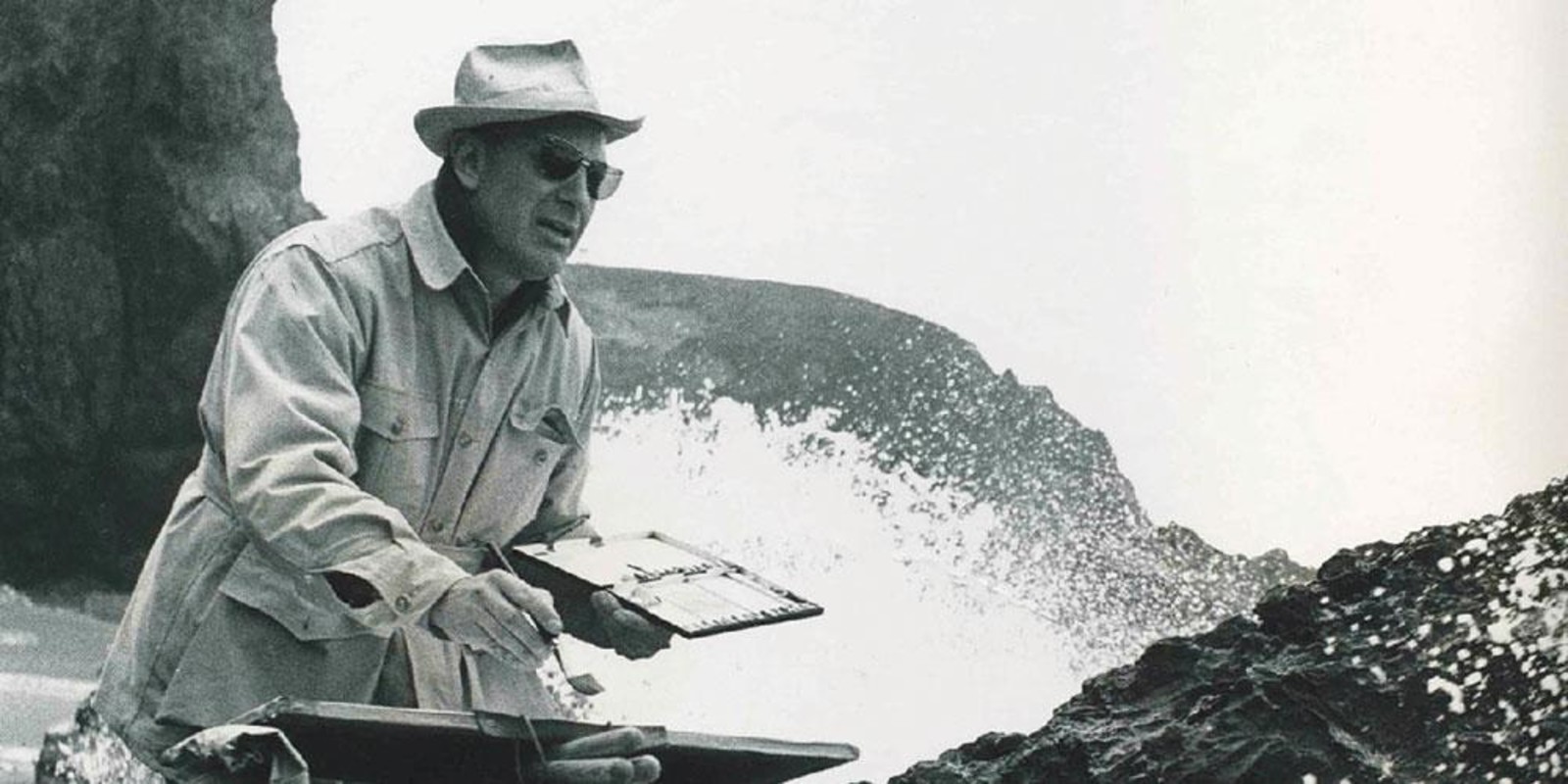 Nye, Vernon Paul (1915–2013)
×
Erika Weidemann is a doctoral candidate in history at Texas A&M University. While a missionary kid in Guam and the Philippines, she developed a fascination for population movements; her doctoral research examines ethnic German immigration to North America in the post-World War II period. Erika has published in the Society for German American Studies' Yearbook and has a forthcoming book chapter in European Mennonites and the Holocaust (University of Toronto Press).
First Published: August 30, 2021
Vernon Paul Nye, an Adventist illustrator, was born to James Ervin and Blanche Nye on December 16, 1915, in Batavia, New York.1 He became interested in illustrations with pencil and ink at an early age. He attended school at the Mechanics Institute in New York.
Vernon met his future wife, Nora Catherine Neffel, in 1924 when they were children. They married August 14, 1938. Nora, born in 1912, was a homemaker and an administrative assistant. Vernon and Nora had a son named Gilbert and a daughter named Paulette.2
In 1941 Nye began working for the Review and Herald Publishing Association in Takoma Park, Maryland. Nye illustrated well-known mission stories like The Schoolhouse Burned Twice and Treasure from the Haunted Pagoda. He also illustrated other books including Sons of the Incas, Skipper of the Sentinel, School Days, Once Upon a Bible Time, and Five-Finger Stories. Gwendolen Lampshire Hayden wrote a number of books that Nye illustrated: The Boom Stick Bear, Karen and the Cobra, Pawnee Pony, and Mary Martha's Really-Truly Stories.
In addition to work at the Review and Herald, Nye was also employed by the Federal Civil Defense Department, the Department of Defense, and the United States Treasury.
After leaving the Review and Herald, Nye moved to the Napa Valley in California, where he became an art professor at Pacific Union College (PUC) in 1955. As chair of the art department for 21 years, he expanded PUC's art program to offer Bachelor of Arts and Bachelor of Science degrees. After Nye left PUC in 1975, he shared his artistic talent and passion for teaching at Walla Walla University, Atlantic Union College, and Loma Linda University. Nye was a member of the American Watercolor Society, and was awarded the prestigious Edgar A. Whitney Award for his work.3
During his retirement, Nye painted a series of watercolor paintings now displayed at the General Conference Headquarters of Seventh-day Adventists in Silver Spring, Maryland. Depicting the early work of the Seventh-day Adventist Church, they include "The `Great Controversy' Vision," "A Gospel of Good Health," "The Coming Judgment," "Meet It!," and "Apocalyptic Doom," which depict several of founder Ellen G. White's visions, the church's work, and the second coming of Christ.
Nora Nye died in 2009.4 Vernon Nye passed away July 24, 2013, at the age of 97 in Fresno, California. Vernon and Nora are buried in the St. Helena Cemetery in St. Helena, California, a few miles from Pacific Union College.5
Not only did Vernon Nye contribute to the Adventist Church as an illustrator, but he was an important figure in the art community on the American West Coast as a watercolor artist.
Sources
McClelland, Gordon, and Jay T. Last. California Watercolors 1850-1970: An Illustrated History and Biographical Dictionary. Santa Ana, Calif.: Hillcrest Press, 2002.
"Nora Catherine Leffel Nye obituary." Find A Grave. Accessed April 16, 2020, https://www.findagrave.com/memorial/54291905/nora-catherine-nye.
Oswald, Caron. "Adventist Illustrator Vernon Paul Nye, 97, Watercolorist, Mentor, and Teacher." ARH, November 27, 2013. Accessed September 6, 2019, https://www.adventistreview.org/church-news/adventist-illustrator-vernon-paul-nye,-97,-watercolorist,-mentor,-and-teacher.
"Vernon Paul Nye obituary." Napa Valley Register. July 31, 2013.
Notes