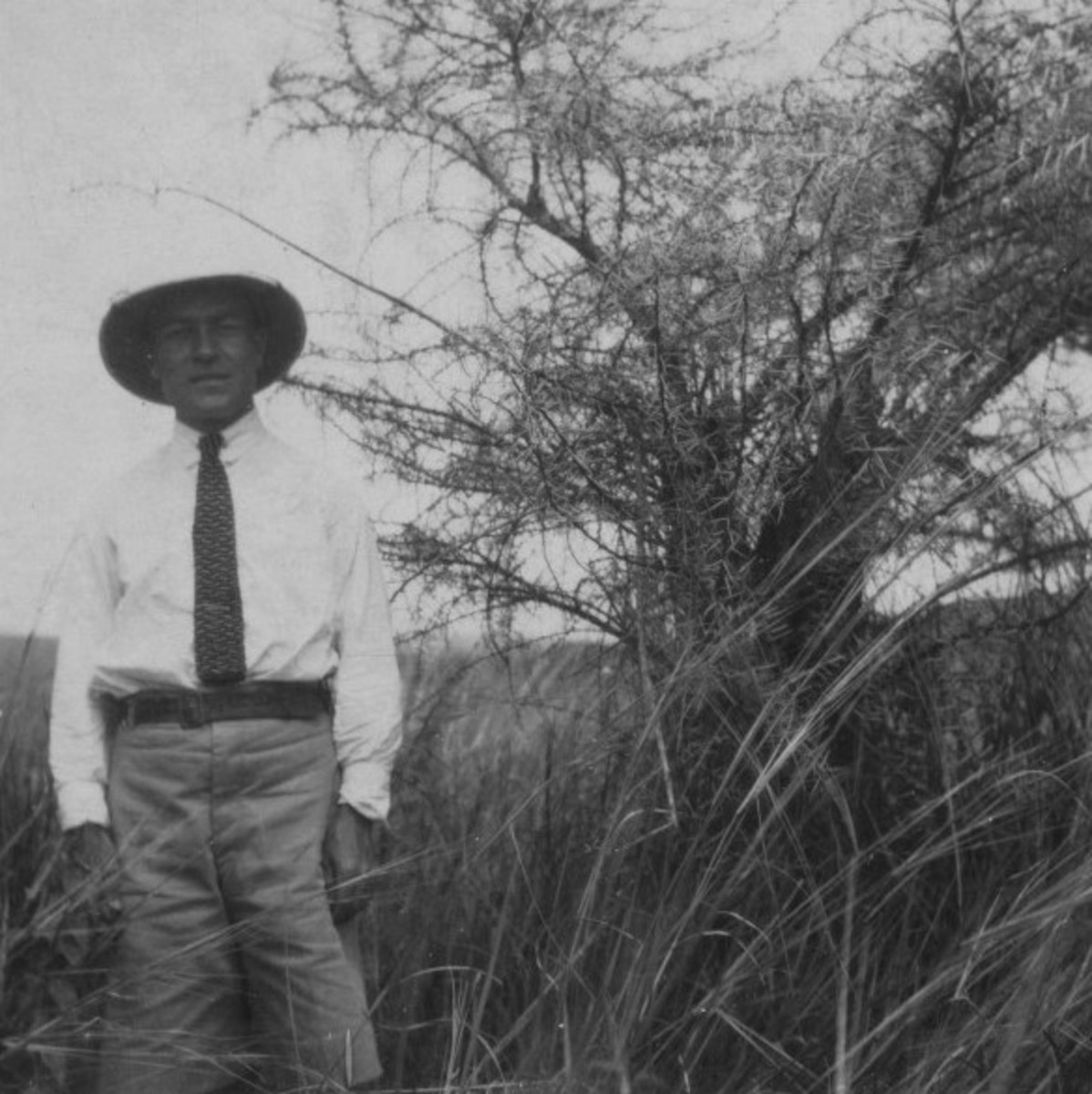 Beavon, Eric Armson (1898–1987)
×
Godfrey K. Sang is a historical researcher and writer with an interest in Adventist history. He holds a B.A. in History from the University of Eastern Africa Baraton and a number of qualifications from other universities. He is a published author. He is the co-author of the book On the Wings of a Sparrow: How the Seventh-day Adventist Church Came to Western Kenya. 
First Published: February 3, 2022
E. A. Beavon was a pioneer missionary at Nyanchwa, working among the Abagusii people of Western Kenya. He was the third missionary to work among the Abagusii with Ira B. Evanson, commencing the work in 1912 followed by L. E. A. Lane. Beavon is however the first substantive missionary. Upon arrival, Nyanchwa was the one mission station that did not have any baptized members despite eight years of work.
Early Life
Eric Armson Beavon was born in Birmingham on November 15, 1898. His father was named Frederick W. Beavon, and they lived 12 miles north of the city.1 He began his ministerial studies at Stanborough Park Missionary College but was interrupted by the onset of World War I. He joined the military and became a conscientious objector due to his Adventist faith.2 At the end of the war, he resumed and completed his studies. He then became a teacher at the Stanborough Park Academy in England.
Moving to Kenya
On June 5, 1920, the ship SS Nevasa sailed from London carrying the largest missionary party out of England so far.3 Eric Beavon was part of the team of missionaries that included William T. Bartlett, Spencer G. Maxwell and wife, Walter Armstrong and wife, Thomas G. Belton and wife, and Robert H. Matthews and wife and son. At the age of 21, Beavon was the youngest and the only one who wasn't married. Initially, he had been detailed to go to West Africa with J. E. E. Borgeaud to work in the Gold Coast (now Ghana).4 Last minute changes saw Beavon sent to Kenya and Borgeaud sent to Nigeria.5 Maxwell, Matthews, and Belton came with their children.6 Bartlett's wife and daughter joined him the following year. On July 4, 1920 the party eventually arrived at Gendia and were shared out to various stations, the Maxwells going to Kamagambo, the Armstrongs going to Kanyadoto, the Beltons to Wire Hill, Matthews to Karungu, and Bartlett remaining in Gendia. Beavon was sent to work in Nyanchwa.
Missionary Work at Nyanchwa
Upon arrival at Nyanchwa, Beavon began learning the Gusii language, eventually learning enough of it to begin the translation of the Bible into the language. He found at Nyanchwa a brick house (constructed by his predecessors Lane and Watson) and also a grass thatched house. He set up a garden and planted all manner of vegetable seeds he had brought with him from Europe. He also planted flowers in neat beds and cared for the lawns.7 There were about one hundred fifty pupils in his school, and he used part of his work day teaching there. There were another 135 in four out-schools under the mission.8 In January 1922 he conducted the first baptism in Nyanchwa, which brought in the first ten Abagusii to the Adventist faith. These were Mathayo Ratemo, Ibrahim Ombega, Musa Nyandusi,9 Joel Araka, Daniel Kiyondi, Paulo Nyamweya,10 Johana Omboga, Yusufu Simba, Mariko Nyasing'a, and Samwel Omoke.11 Bartlett came over from Gendia to carry out the baptism. The ten were chosen from 50 candidates, and it is not clear what criteria were used to select these ten, but literacy and numeracy prior to baptism were strictly enforced and a strict curriculum was followed.
Later in 1922 the new schoolhouse at Nyanchwa was well underway, constructed by the missionary builder F. Salway.12 Funds for this had been released by the British Union Conference (BUC) through a grant of £600 meant to benefit a number of schools and buildings in the missions. A hailstorm had brought down the old grass-thatched schoolhouse necessitating the new building. Beavon completed a small hymnal and a leaflet containing the Lord's Prayer, The Beatitudes, and the Ten Commandments.13 The Kisii people also proved to be great at giving. The total tithes and offerings in 1921 (the first full year of Beavon in charge) came to Sh. 247.46 (£12. 7s. 1d.) and rose to Sh. 644.31 (£32. 4s. 1d.)14 in 1922, an increase of 260 percent within a year15 (£32 in 1922 is worth £1,865.2516 or about KSh. 279,15317 in June 2021). Beavon also reported that of the 11 out-schools in his charge as in 1922, 8 had previously belonged to the Catholic Church (founded in Kisii earlier in 1909).18 By 1923 the number of students enrolled in the school had shot up from 55 to 500.19 He also set the mission families into villages around the Nyanchwa area that provided more students for the school.
A School for Girls
In April 1923 he baptized the first six Kisii women.20 In 1924 he also made the case for the establishment of a boarding school for girls to remove them from the negative influence of the local custom.21 By this time the Kamagambo school for girls had been established about fifteen miles away from Nyanchwa by Ms. Grace Clarke.
By 1924 the work in Kisii was moving astonishingly fast. Wrote Beavon, "Great things are happening here these days. Kisii is stirred from end to end by the meetings our unpaid evangelists are holding up and down the country, and our students in Kisii now number over one thousand; the majority of these are members of our twenty Sabbath Schools. Attendance at Sabbath School in Kisii exceeds the membership, so keen is the interest! We are confident that God has a special interest in these Kisiis."22
To the appeal for a school for the girls, the BUC set a goal for £250 for the year 1925.23 This goal was met and an instructor, Ms. Bertha E. Milne, was sent over.24 Prior to going to Nyanchwa, Ms. Bertha Milne, 24, was a teacher at the Stanborough Park Academy. She arrived and took charge of the girls' work. The girls arrived at the mission clad in their traditional dress of skin, beads, and ornaments. Bertha would then set them to work for a week before granting them a cloth skirt. After another three weeks, she gave them a dress, and their metamorphosis from the traditional to modern clothing was completed. The afternoon was devoted to reading and writing, and in the evening after the meal, they had worship, learned music, and then went to bed.25
Beavon began teaching Kiswahili, and some of the older boys who had gained proficiency in the language acquired the Bible in Kiswahili and enthusiastically pored through the pages, at the same time memorizing lengthy portions.26 He used the core of the young people who had shown academic promise to start schools under his close supervision. For two days each month, the teachers returned to Nyanchwa for additional instruction. By the end of 1928, there were 80 schools with an enrollment of about four thousand students.27 In 1929 he set the first six Kisii literature evangelists who now took advantage of the growing literacy among Africans to sell their books. He also set eight itinerant evangelists working on a full time basis to move to the villages and also to care for the seven churches that had been inaugurated. The seven churches had over four hundred baptized members, 800 in baptismal classes, and several thousand regular congregants.28
Family
On January 1, 1922, Eric Beavon married Myrna Haroldine Campbell, the daughter of Malcolm N. Campbell who was the president of the British Union Conference.29 Myrna was born on May 23, 1900, in Juneau, Wisconsin, U.S.A. Her father, Malcolm Neal Campbell, a Canadian, became the president of the British Union Conference30 in 1917 and moved with his daughter to England. She became engaged to Beavon, and Campbell traveled with his daughter from England to Kenya in November 1921 for the wedding, which was held at Gendia.31
On November 4, 1922, their first son, Harold W. E. Beavon, was born in Kenya. Their second son, Frederic Malcolm Beavon, was born on April 21, 1924, followed by Everyl Armson Beavon on May 23, 1928. Their fourth son, Chester Beavon, born on December 25, 1933, was the only one born outside of Africa.32
Leaving Africa
At any rate, Beavon's work among the Abagusii was a roaring success. It was the inability to find a good school for their children that prompted them to consider ending their missionary service at Nyanchwa.33 In 1929 Hal was now seven while Fred was five and needed to have formal schooling. Beavon then requested to be transferred to somewhere he could find a school for their children. Everyl was still a baby. The BUC then decided to release them to go to Canada where his father-in-law, Malcolm N. Campbell, worked.
Meanwhile, Spencer Armstrong took over from W. T. Bartlett in 1928 and organized the Kenya Mission and appointed Walter W. Armstrong to take over from Beavon at Nyanchwa. In October 1929, as part of his farewell activities, he baptized 116 persons in a single day.34 This was the largest baptism held on the same day at Nyanchwa.
After nearly a decade working in Africa, it was time to leave. Later that month he sailed with his family for London, arriving on November 15 aboard the SS Leconte de Lisle.35 While in London he held some mission lectures, together with other returned missionaries including G. D. King and W. T. Bartlett.36 The Beavons remained in England until February 13, 1930 when they sailed for the United States to visit the American side of the family before going to work in Canada as their new posting.
In Canada
The Beavons now moved to Toronto to work under the Ontario Conference, then led by Pastor M. V. Campbell.37 The conference at this time had 26 churches with 769 members, only slightly more than what he had managed while at Nyanchwa. He pastored several churches in Ontario for two years. In 1932 the Eastern and Western Canadian unions were merged to form the Canadian Union Conference. Beavon's father-in-law, Malcolm N. Campbell, was appointed the first union president. In August 1934 Beavon was appointed as president of the British Columbia Conference, taking over from H. A. Lukens, who had moved to head the Ontario-Quebec Conference.38 Beavon would now be based in Vancouver in the west of Canada and also doubled up as the pastor of the Vancouver church.39 In September 1941 he was appointed to serve in the Maritime Conference as president taking over from S. G. White.40 He now moved to Moncton, New Brunswick, in the east of Canada, over five thousand five hundred kilometers by road from Vancouver. He served in the Maritime Conference until early in June 1944 when he was called to serve in the United States, moving to the West Pennsylvania Conference.41 Here he served under president M. E. Loewen.42
In America
In June 1944 Beavon was appointed pastor of District 8 of Erie, the lakeside city on Lake Erie in Pennsylvania. In 1947 he was appointed the Home Missionary Secretary under the West Pennsylvania Conference.43 He also became the Missionary Volunteer Secretary at the same conference. In 1948 he moved to Pittsburg serving for several years as pastor of a number of churches in northern and southern Pittsburg.44 In 1957 he moved to Colorado and became the pastor of the Alamosa district.45 In 1961 the Beavons retired from active service settling at Centralia, Washington, in the United States.46
Later Life and Death
Their eldest son Harold Beavon returned to Africa in the 1950s becoming a missionary at the Rwese Mission in the Congo while Fred Beavon joined church administration, eventually becoming president of the Alaska Conference (1974-1977).47 Everyl became an accountant and also worked with the church. Beavon died in Albany, Oregon, U.S.A. on August 8, 1987 at the age of 89. He was survived by his wife and their sons Harold, Frederick, Everyl, and Chester and also a sister named Amy.48 Myrna died on May 25, 1994, in Marion, Oregon.49
Legacy
The Adventist Church is today the dominant Christian denomination among the Abagusii of Kenya. It was Beavon who was largely responsible for the rekindling of the flame first lighted in 1912 and moved on to become a raging fire. When the Beavons took over, there was already a company of the Nyanchwa church at Gionseri in Bobasi founded in 1919. Under their ministry, the Adventist Church continued to new areas: Bonyungu in North Mugirango (1921), Matunwa in Nyaribari (1921), Iruma in Wanjare (1921), Sengera-Munga in Kitutu (1922), Nyabioto in Majoge (1924), and Nyangweta in South Mugirango.50 Today the Adventist Church is found in nearly every village in Kisii country, and their diaspora has moved with the church to many parts of Kenya and outside Africa, particularly in the United States.51
Most of the schools they started are still in the Adventist educational system. Beavon translated portions of the New Testament to Ekegusii and also translated the hymns to create the hymnal Ogotera kwa Gusii52that is still in use today. Other portions of the Bible that he translated include the Ten Commandments and Psalm 23.53 He also produced a book in Ekegusii on a fictional character named Sindiga, which was adopted by four other denominations as a reader for their schools.54
Sources
Anscombe, C. H. "Transportation Notes." The Advent Survey, January 1, 1930.
Bartlett, W. T. "Notes from the President." Missionary Worker, January 10, 1930.
Bartlett, W. T. "Re-Kindling the Beacon Fires." Missionary Worker, December 20, 1922.
"Beavon." Europeans in Africa. Accessed June 25, 2021. www.eauropeansineastafrica.co.uk.
Beavon, E. A. "With Our Missionaries: Ten Years Progress in British East Africa." The Advent Survey, December 1, 1929.
Beavon, Eric A. "Fighting the Shadows in a Corner of the Dark Continent." Missionary Worker, June 1, 1923.
Beavon, Eric A. "Is Mission Enterprise Worth While?." Missionary Worker, March 9, 1923.
Beavon, Eric and Myrna. "Lest You Forget Us." Central Union Reaper, September 11, 1962.
"Beavon, Eric Armson," obituary. ARH, October 29, 1987.
"Bwana Beavon . . . ." These Times, December 1956.
Campbell, M. N. "Our Kavirondo Missions." Missionary Worker, January 25, 1922.
Campbell, M. N. "Recent Changes in Leadership." Canadian Union Messenger, August 21, 1934.
"From the Office Window." The Advent Survey, October 1, 1929.
Gustafson, June. "Dorcas Federation Meetings." Columbia Union Visitor, February 19, 1948.
Harker, J. "Missionary Volunteer Offerings for 1925." Missionary Worker, January 23, 1925.
Joyce, R. S. "Welcome to Elder and Mrs. E. A. Beavon." Central Union Reaper, January 1, 1957.
Milne, Bertha E. "My First Six Weeks in Africa." Missionary Worker, April 3, 1925.
Nyaundi, Nehemiah M. Seventh-day Adventism in Gusii, Kenya. Nairobi, Kenya: Africa Herald Publishing House, 1997.
Ochs, W. B. "Message from the President." Canadian Union Messenger, September 23, 1941.
Rudy, H. L. "Midsummer Offering." Canadian Union Messenger, July 12, 1944.
Sang, Godfrey K. (2019) "Whose Church? Ethnicity, Identity, and The Politics of Belonging In The Adventist Church In Kenya." Spectrum Magazine. Accessed June 27, 2021. https://spectrummagazine.org/news/2019/whose-church-ethnicity-identity-and-politics-belonging-adventist-church-kenya-part-1-6.
"The following word came . . . ." Missionary Worker, October 17, 1924.
"The President Reviews 1919." The Missionary Worker, February 4, 1920.
Ruble, W. A. "College Graduating Address." The Missionary Worker, June 2, 1920.
Seventh-day Adventist Encyclopedia. Second revised edition. Hagerstown, MD: Review and Herald Publishing Association, 1996. S.v. "Alaska Conference;" "Campbell Malcolm Neal."
Seventh-day Adventist Yearbook. https://www.adventistyearbook.org/.
Williams, Williams C. "Elder Beavon is Welcomed." Canadian Union Messenger, October 16, 1934.
Notes
The Canadian Watchman, September 1, 1941, 6.↩

"Beavon," Europeans in Africa, accessed June 25, 2021, www.eauropeansineastafrica.co.uk.↩

W. A. Ruble, "College Graduating Address," The Missionary Worker, June 2, 1920, 1.↩

"The President Reviews 1919," The Missionary Worker, February 4, 1920, 1.↩

Seventh-day Adventist Yearbook (1922), 86.↩

Ibid.↩

M. N. Campbell, "Our Kavirondo Missions," Missionary Worker, January 25, 1922, 2.↩

Ibid.↩

Later a powerful Chief of the Kisii people and father of the late former member of Parliament and Cabinet minister in Kenya Simeon Nyachae.↩

Became the first Kisii pastor and later the first African mission director in Kenya when he was sent to open the Kipsigis Mission at Kabokyek in 1948. His son James Nyamweya became a member of Parliament and Cabinet minister.↩

Nehemiah M. Nyaundi, Seventh-day Adventism in Gusii, Kenya (Nairobi, Kenya: Africa Herald Publishing House, 1997), 44.↩

W. T. Bartlett, "Re-Kindling the Beacon Fires," Missionary Worker, December 20, 1922, 3.↩

Eric A. Beavon, "Is Mission Enterprise Worth While?" Missionary Worker, March 9, 1923, 2.↩

Ibid.↩

Prior to February 15, 1971 the British pound was made up of 20 shillings, and each shilling (s.) made up of 12 pence (d.). The same currency was convertible on the same terms with the East Africa shilling from 1921.↩

https://www.in2013dollars.com/uk/inflation/1922 (accessed June 25, 2021)↩

Beavon, "Is Mission Enterprise Worth While?."↩

E. A. Beavon, "With Our Missionaries: Ten Years Progress in British East Africa," The Advent Survey, December 1, 1929, 3.↩

Nyaundi, 46.↩

Eric A. Beavon, "Fighting the Shadows in a Corner of the Dark Continent," Missionary Worker, June 1, 1923, 2.↩

"The following word came . . .," Missionary Worker, October 17, 1924, 7.↩

J. Harker, "Missionary Volunteer Offerings for 1925," Missionary Worker, January 23, 1925, 2.↩

Ibid.↩

Bertha E. Milne, "My First Six Weeks in Africa," Missionary Worker, April 3, 1925, 1.↩

Ibid.↩

Beavon, "With Our Missionaries."↩

Ibid.↩

"Beavon," www.eauropeansineastafrica.co.uk, accessed June 25, 2021.↩

Seventh-day Adventist Encyclopedia (1996), s.v. "Campbell Malcolm Neal."↩

Seventh-day Adventist Yearbook (1922), 218.↩

"Beavon," www.eauropeansineastafrica.co.uk, accessed June 25, 2021.↩

M. N. Campbell, "Recent Changes in Leadership," Canadian Union Messenger, August 21, 1934, 1.↩

"From the Office Window," The Advent Survey, October 1, 1929, 8.↩

C. H. Anscombe, "Transportation Notes," The Advent Survey, January 1, 1930, 4.↩

W. T. Bartlett, "Notes from the President," Missionary Worker, January 10, 1930, 3.↩

Seventh-day Adventist Yearbook (1930), 47.↩

Campbell, "Recent Changes in Leadership."↩

Williams C. Williams, "Elder Beavon is Welcomed," Canadian Union Messenger, October 16, 1934, 2.↩

W. B. Ochs, "Message from the President," Canadian Union Messenger, September 23, 1941, 1.↩

H. L. Rudy, "Midsummer Offering," Canadian Union Messenger, July 12, 1944, 1.↩

Seventh-day Adventist Yearbook (1944), 36.↩

June Gustafson, "Dorcas Federation Meetings," Columbia Union Visitor, February 19, 1948, 22.↩

R. S. Joyce, "Welcome to Elder and Mrs. E. A. Beavon," Central Union Reaper, January 1, 1957, 4.↩

Ibid.↩

Eric and Myrna Beavon, "Lest You Forget Us," Central Union Reaper, September 11, 1962, 2.↩

Seventh-day Adventist Encyclopedia (1996), s.v. "Alaska Conference."↩

"Beavon, Eric Armson," obituary, ARH, October 29, 1987, 21.↩

"Beavon," www.eauropeansineastafrica.co.uk, accessed June 25, 2021.↩

Ibid.↩

Godfrey K. Sang, (2019) "Whose Church? Ethnicity, Identity, and The Politics of Belonging In The Adventist Church In Kenya," Spectrum Magazine, https://spectrummagazine.org/news/2019/whose-church-ethnicity-identity-and-politics-belonging-adventist-church-kenya-part-1-6 (accessed on June 27, 2021).↩

Nyaundi, 43.↩

Ibid.↩

"Bwana Beavon . . .," These Times, December 1956, 3.↩