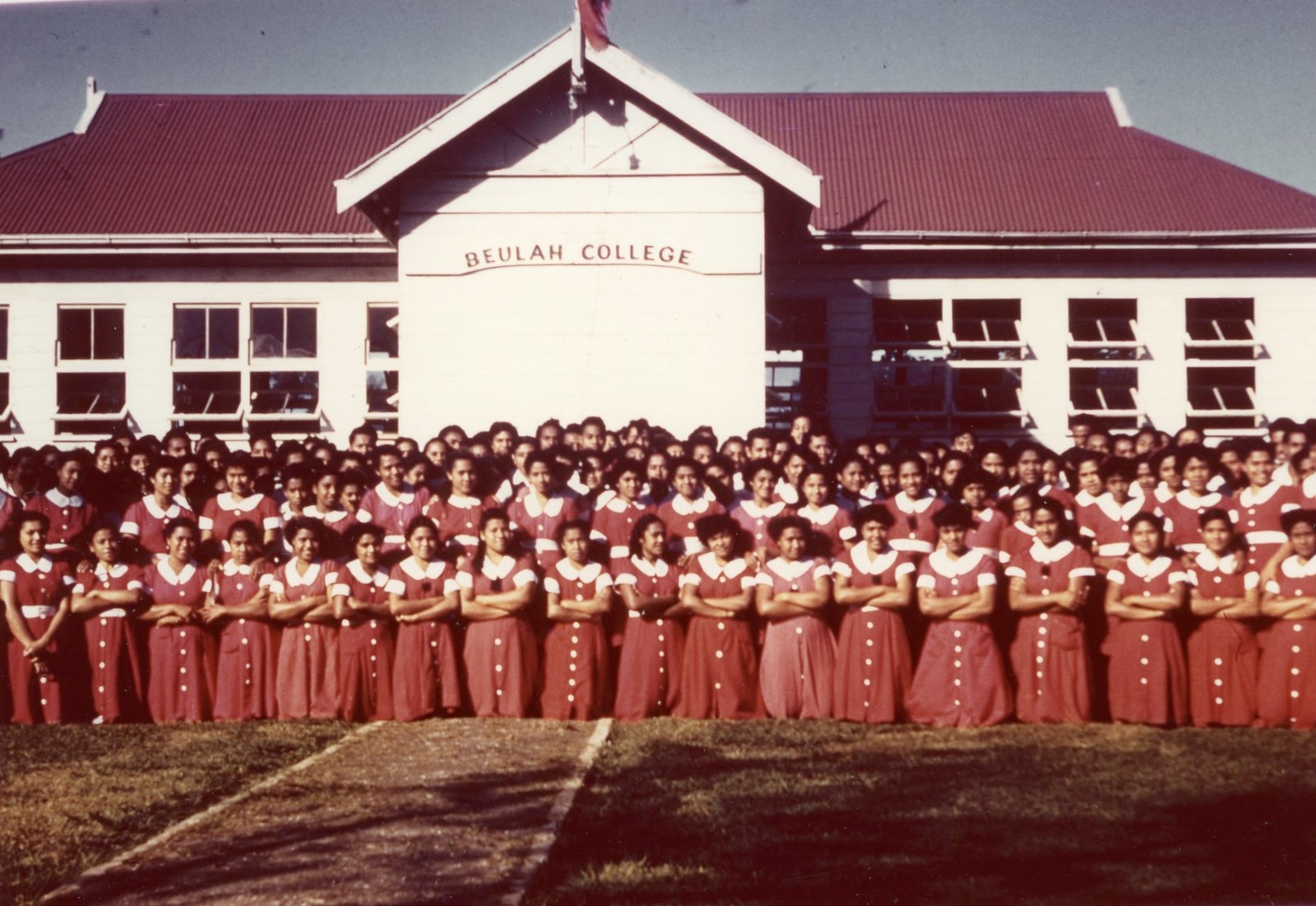 Beulah College, Tonga
×
Mere Latu Vaihola, MED (Avondale College, Australia) currently the associate education director for Trans Pacific Union Mission, Fiji. Born of missionary parents Naimila and Tesimale Latu, she has served as a teacher and administrator for Beulah College and Mizpah Adventist High School and looked after education, women and children ministries in Tonga. She is married to Siosaia Vaihola who is also a teacher. Mere has special interests in writing about the history and developments of education in Tonga, specifically Beulah College.
Beulah College is the senior Seventh-day Adventist Secondary School in Tonga, located at Vaini, nine miles from the capital Nuku'Alofa on the island of Tongatapu in the Kingdom of Tonga.1
The first official visit by Seventh-day Adventists to the Kingdom of Tonga occurred July 1891. After visiting islands and villages in the Vavau Group and the Haapai Group, the Adventist missionary ship Pitcairn arrived in the port of the Tongan capital Nuku'Alofa carrying Edward H. Gates and A. J. Read. They remained for a little more than two weeks, visiting among the inhabitants and distributing Adventist literature everywhere they could. Then they sailed for Fiji on July 30.2
It was the fourth voyage of the Pitcairn that brought the first resident Seventh-day Adventist missionaries to Tonga. The vessel arrived at Nuku'alofa on August 30, 1895, carrying Edward Hilliard, his wife Ida, and their 2-year-old daughter, Alta.3 By the end of that year Ida Butz, a schoolteacher, had established a small school "with one scholar." The first Seventh-day Adventist school in the country, it had by July 1897 22 students.4 Edwin and Florence Butz, as well as Sarah and Maria Young from Pitcairn Island, joined the missionaries during August 1896 when the Pitcairn called during its fifth voyage.5 However, even though at times the school had up to 28 students, interested flagged until it closed.
In 1904, Ella Sisley Boyd arrived from Australia to start classes at Mangaia, Nuku'Alofa, on November 28 of that year. She began with 12 pupils.6 In 1908 Boyd pioneered a school at Faleloa village on Foa Island in the Ha'apai Group.7 In October 1908, Harold and Lily Piper left Sydney to travel to Tonga and replaced Ella Boyd at Faleloa.8 The following year saw the school enrolment increase to 40 students, and July 2 of that same year witnessed the completion of a Faleloa school building.9 But by 1912 the Faleloa School was almost deserted.
Meanwhile, Ethelbert and Lily Thorpe pioneered the northerly Vava'u group in 1912.10 After locating a leasehold property a short distance from the main town, Neiafu, Thorpe established a mission center he named "Mizpeh." Alongside their home the couple erected another building to serve as a church and a school for 50 pupils. It officially opened at a public ceremony on March 28, 1917.11 Thorpe's niece, Deva Thorpe, taught 51 students in its first year.12
The arrival of Hubert and Pearl Tolhurst in early 1915 led to a revival of the school at Faleloa with 42 in attendance by early 1917 and 60 by the middle of 1918.13 Pearl Tolhurst died on March 14, 1918, and Bernard and Violet Hadfield replaced Hubert at Faleloa School at the end of 1919.14 However, the school did not reopen in January, 1921.15
In 1922 Ethelbert Thorpe relocated the institution to Houma on the south coast of the main island of Tongatapu.16 It received the name Alimoni ("hidden") School, because of the dense surrounding bushland.17 In early 1925, C. S Palmer arrived from Fiji to replace Thorpe as principal but he remained for just one year.18
Within a very short time the missionaries realized that the Houma property was too small and that during the rainy season it was almost impossible to get out or in. Andrew Stewart and Edmund Rudge visited Tonga late in 1924 and inspected a number of alternative sites.19 In August 1925 they obtained a property from Edmund Mitchell who had been living with his family in Tonga as a self-supporting missionary for 10 years.20 The property was located near Vaini on the main island of Tongatapu. It was eight miles from the capital and therefore removed from unwelcome influences. Classes in the new premises opened in January 1926 with Bessie Smith, the wife of the mission superintendent in charge and Sione Latu assisting.21 At the beginning of 1928, Hubert Tolhurst became superintendent of the mission and Bernard Hadfield returned to Tonga22 to become principal of the school. At that time the school had 34 pupils: 21 boys and 13 girls.23 School standards and pupil numbers steadily improved until 1933, when three students passed the Government Teachers' Examination: Lopeti Tinitolo, Ika Takau, and Peni Finau.24 Although the students did very well, the school was not yet recognised as a college.
In ensuing years administration applied for government recognition of the school.25 Then in 1937 it became officially known as Beulah College.26 In its first year, 1938, 100 students attended, 22 of them young women.27 That year, Albert E. Watts became principal.28 Administration constructed more buildings, and on February 21, 1939, Her Royal Highness Queen Salote Tubou officially opened the schoolhouse.29 It was at this time that Mrs. Watts designed and introduced the girls' uniform still worn in 2020.30
Because of World War II, Europeans had to leave Tonga and return to their home countries. When A. W. Martin departed in 1942, Paula Halatoa Fua became the acting principal and remained in that position until the war ended. Paula reflected that
Perhaps our enrolment for the following year 1943 would be somewhere between thirty and forty for two reasons. The people knew there would be no European teacher in the school, and the fees were higher than in previous year. So I waited anxiously for the outcome. The bell rang at 8 o'clock calling the students into school. To my surprise the teacher who listed the names of the students handed me more than 100, and I collected in the office some £120. This is the Lord's doing, and it is marvellous in our eyes.31
Between 1943 and 1950 John Cernik served as principal.32 During his tenure exam results improved dramatically. During Allen Sonter's term as principal between 1964 and 1969,33 the school endeavoured to raise the scholastic standard to the level of Form 5, New Zealand School Certificate. Unfortunately, it was not accomplished. Sonter transferred to Fulton College in Fiji, and Peter Truscott became principal. Despite determined effort, Beulah still did not achieve the desired standard during those years. After Truscott, principals followed each other in rapid succession: Don Edgeworth, Graeme Hawke, Lionel Hughes, David Sutcliffe, and Nemani Tausere from Fiji (the first Pacific Islander to become principal).
Between 1979 and 1981, David Caldwell served as principal longer than any previous individual in the past nine years. Tesimale Latu, the first Tongan principal, from the island of Tungua in the Ha'apai group, then replaced him. In that same year, 1982, the results of the New Zealand School Certificate exam were most rewarding, and successive years saw higher academic results, both for the Tonga Higher Leaving Certificate and the New Zealand School Certificate.
In 1986, for the first time, students sat for the New Zealand University Entrance (Form 6), and the results were positive. They continued to improve until 1989, when students took the South Pacific School Certificate for the first time. Tesimale was principal for six years. He then travelled to Australia for further studies, and Edgar Butler from Australia became acting principal for one year.
In 1989, following Butler's return to Australia, Apisai Mahe became the second Tongan principal of the college. Mark Hansen from Australia replaced Apisai Mahe as principal 1992-1993. Tesimale Latu, having completed his graduate studies, took over from Mark Hansen, leading the school from 1994 to 1997. In 1994, former students organized to build a hall to mark the centenary of the establishment of Seventh-day Adventist education in Tonga, a project completed in 1995 at a cost of TOP$500,000. Prince Fatafehi Tu'i Pelehake (Queen Salote Tupou III's son) dedicated the structure as Vaka Ua Hall. Iosua Malanga from Samoa replaced Tesimale Latu as the principal during 1998-1999, and Apisai Mahe assumed the post 2000-2002. Fonua 'Ofa, having transferred back from the Trans Pacific Union located in Fiji, replaced Iosua Malanga as principal 2003-2005. From 2006 the first female principal, Mele Latu, daughter of Tesimale Latu, held the office until 2010. In 2011 the mission education director, Siosaia Vaihola, became the principal for one year, and Mele Latu moved to the mission office as education director. In 2012 Mele Latu resumed the position of principal again, and in 2013 Siaosi Masila filled it. Again in 2014-2015 Mele Latu took over, and in 2016 Lolinita Manuofetoa became the second female principal.
The twenty-first century opened with new goals and prospects for the school. First, it desired to secure a source of reliable income aside from tuition. Second, it wanted to offer technical courses for academically weak students. Third, it began planning to upgrade the highest level of the school to seventh form, accomplished in 2015. In 2016 Beulah began offering the TVET (Technical Vocational Education and Training) program.
Beulah Adventist College is testament to those who have set clear goals and with vision have strived to achieve them. In 2018 Beulah College had an enrolment of 279 in grades seven to thirteen. It had 20 teaching staff and 5 non-teaching staff.34
Sources
"A Letter received . . ." Bible Echo and Signs of the Times, August 2, 1897.
"Address by Her Majesty Queen Salote Tubou." Australasian Record, May 15, 1939.
Boyd, Ella S. "Our Tonga Church School." Union Conference Record, September 15, 1905.
Boyd, Ella S. "The Work in the South Seas." Australasian Record, February 1, 1909.
"Brother Harold Piper . . ." Australasian Record, February 8, 1909.
"Distribution of Labour." Australasian Record, October 27, 1919.
"Distribution of Labour." Australasian Record, September 5, 1927.
Ford, Myra. "Tonga." Union Conference Record, June 22, 1908.
Fua, B. H. "Beulah College, Tonga." Australasian Record, July 19, 1943.
Gates, E. H. "From the "Pitcairn." ARH, October 20, 1891.
Graham, John E. "From the "Pitcairn." ARH, November 17, 1896.
John Cernik Service Records. South Pacific Division of the General Conference Archives. Folder: "Cernik, John." Document: "Personal Service Record."
Olsen, O. A. "Movements of the "Pitcairn." ARH, October 22, 1895.
Palmer, C. S. "Edmund Mitchell obituary." Australasian Record, September 27, 1965.
Palmer, C. S. "Good News from Tonga." Australasian Record, June 20, 1938.
Palmer, C. S. "Our Tongan School." Australasian Record, May 25, 1925.
Parker, C. H. "Central Polynesian Conference." Australasian Record, October 21, 1918.
Parker, C. H. "Haapi, Tonga." Union Conference Record, December 14, 1908.
"Pastor G. C. [sic] Stewart of Tonga . . ." Australasian Record, June 3, 1912.
"Pastor H. Tolhurst . . ." Australasian Record, January 14, 1935.
Piper, H. E. "Sydney to Haapi, Friendly Isles." Union Conference Record, December 27, 1908.
Smith, R. W. "Tonga." Australasian Record, September 27, 1926.
Smith, R. W. "Tongan Mission Report." Australasian Record, October 16, 1922.
"South Pacific Division General Information on Schools for the Annual Statistical Report to the General Conference." Held in the office of the Education Director, South Pacific Division of the General Conference, Wahroonga, NSW. Australia.
Thorpe, Deva. "Vava'u Mission School, Tonga." Australasian Record, October 22, 1917.
Thorpe, Elva E. "The Adventist Training School of Tonga." Australasian Record, October 21, 1918.
Thorpe, Lily M. "Vava'u, Friendly Islands." Australasian Record, June 11, 1917.
Tolhurst, H. L. "One of the Tragedies of Mission Field Experience." A letter published in ARH, December 29, 1927.
Tolhurst, H. L. "Progress in Tonga." Australasian Record, March 14, 1938.
Tolhurst, H. L. "Tidings from Tonga." Australasian Record, January 24, 1938.
Tolhurst, H. L. and P. Tolhurst. "To the Tonga Field." Australasian Record, April 19, 1915.
Tolhurst, Pearl. "Advance in Tonga." Australasian Record, May 31, 1915.
Tolhurst, Pearl. "Experiences in Haapai, Tonga." Australasian Record, June 18, 1917.
"Tonga's need is being met . . ." Australasian Record, January 10, 1938.
Watts, A. E. "The Ahofitus' Red Letter Day." Australasian Record, May 15, 1939.
"We are glad to report that . . ." Australasian Record, December 8, 1919.
"Writing from Nukualofa . . ." Australasian Record, April 16, 1928.
Notes