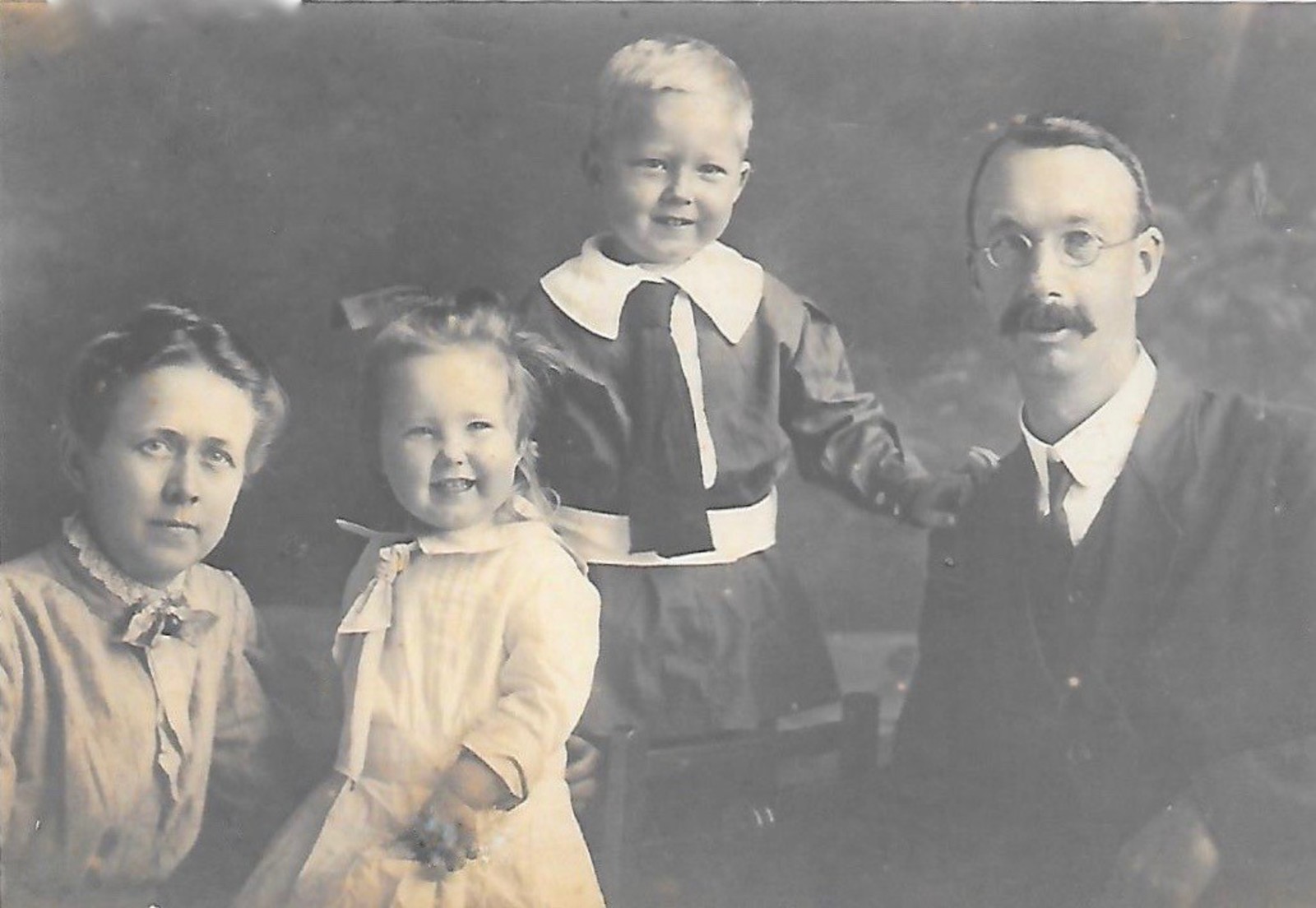 Howse, Henry Thomas (1876–1951) and Edith Boucher (Hill) (1877–1957)
×
Shirley Tarburton, M.Litt. (Distinction) (University of New England, Armidale, New South Wales, Australia) retired in 2008 after 40 years teaching church-school (mainly high school but including eight years at university). An Australian, she has taught in four mission fields, Australia, and New Zealand. She has authored five books and co-authored one on church history, biography and family history, as well as several magazine articles. She is married to Dr. Michael Tarburton with two adult children and four grandchildren.
First Published: January 29, 2020
Thomas and Edith Howse spent almost fifty years working for the Seventh-day Adventist Church. They were pioneer missionaries in Samoa and served in other islands as well as in Australia and New Zealand.
Early Years
Henry Thomas Howse was the second son of Thomas and Louisa (Hunt) Howse (1844-1894; 1850-1929).1 Thomas, as he was known, was born on August 28, 1876,2 in Brixton, Surrey, England, where his father was a warehouseman in the woollen industry.3 His five brothers and sisters were: Edmund George (1875-March 3, 1943), Horace Dyke (1878-August 19, 1959), Fanny Elizabeth (1880-December 23, 1898), William Ralph (1883-February 20, 1957) and Marie Louise (Wegener) (July 14, 1888-January 9, 1969).4
In 1889, the Howse family emigrated to Australia from London, arriving in Sydney on the Cuzco on December 7.5 They settled in Hobart, Tasmania, where the senior Thomas died, just under five years later, of cancer.6
Conversion
About this time, Louisa Howse obtained copies of The Great Controversy and Bible Readings, and was very impressed by what she read. She prayed earnestly that the Lord would guide her to know what she should do, and when a Seventh-day Adventist lady Bible Worker called on her, she took that as an answer to her prayer.7 She shared what she learned with her children, now ranging in age from 6 to 19, and the whole family attended the SDA camp meeting in May, 1895.8
Here, they had the opportunity to hear Ellen G. White, who had come to Hobart to speak at the camp meeting,9 and also to attend the wedding of her son, Willie, to a Hobart girl, Ethel May Lacey, on May 9, 1895.10
Bible studies followed and they all agreed with what they learned.11 Thomas followed his mother in baptism in December 189512 and all joined the Hobart Seventh-day Adventist church over the next few years. Each of the boys spent his life working for the denomination. Fanny died of tuberculosis three years later13 but Marie married Ted Wegener and had a large family that contributed to the church in Tasmania, South Australia. and Victoria.14
Early Experience in Tasmania and Education
Prior to his baptism, Thomas Howse had been working as a manufacturing jeweller and clock repairman.15 It is not known how long he continued in this trade, but when the Tasmanian Conference was instituted in February 1900, he was appointed the honorary conference secretary16 and later became the Sabbath School Secretary for Tasmania.17
In 1903, he went to Avondale to attend the Australasian Missionary College where he completed the preparatory course in 1904.18 Many students sold books during college vacation to help finance their studies, and at the end of 1903, Howse is recorded as selling "Our Coming King" in Burnie, Tasmania.19 He returned to Avondale in 1906 to take the missionary course. During this time, he worked at the Avondale Press, gaining valuable experience in aspects of printing,20 which would be put to use in years to come.21 He graduated at the end of 1909.22 Before the close of the school year, at the Australasian Union Conference council held in September, Howse was selected to go to Fiji the following year to prepare for ministry in Melanesia.23
Marriage
The year before Howse left Hobart to attend college at Avondale, a young woman from New Zealand, who had trained at Avondale, came to Hobart to teach the church school.24 Edith Boucher Hill was born October 5, 1877, in Auckland, North New Zealand,25 the youngest of six children of Thomas and Mary Hill. She was nine years old when pioneer Adventist preacher Arthur G. Daniells and his wife arrived in Auckland to hold evangelistic meetings. Daniells's mission opened on December 29, 1886, and resulted in the organization of the Ponsonby church (Auckland) on October 15, 1887.26 Edith attended these meetings with her mother and sisters, and as a result they all joined the church.27
In 1900, along with her older sister, Emma,28 Edith Hill went to Avondale and studied there for two years.29 In May of 1902, she was asked to forego completing her studies to become the teacher at the Hobart church school.30 Presumably, this is where she met Thomas Howse.
While Thomas Howse studied at Avondale, Edith Hill continued teaching church school in Tasmania. In 1903, while still teaching, she became Sabbath School secretary and treasurer for the conference.31 From 1904 to 1909, she taught the Launceston Church-School.32
At the end of the 1909 school year, Edith Hill sailed to Auckland for only the second visit home in nine years.33 There she was joined by Thomas Howse who sailed from Sydney on December 22.34 A week later, on December 30, in the Hills' home in Raglan, they were married by Pastor Pallant. The next day the newlyweds left for the mission field.35
Mission Service
In the interval between the Australasian Union meetings in September and their marriage in December, the Howes' assigned mission field changed. Mr. and Mrs. Joseph E. Steed, who had been working in Samoa for almost two years,36 had to return to Australia late in 1909 because of ill-health. The Howses were asked to take their place.37  As an encouragement, the youth of the Seventh-day Adventist Church in New Zealand undertook to financially support them, instead of the Union Conference, releasing funds for other uses.38
The Howses first lived in Apia on the island of Upolu, a part of German Samoa. Their residence was the sanitarium building built in 1897.39 While learning the Samoan language, they immediately commenced personal evangelism, making friends with those they met, offering simple medical treatments, and Bible studies.40 Edith Howse started a popular school which enrolled thirty-five students ages six to sixteen years old, but the German government would not permit her to teach in English. The school was forced to close until she was fluent in Samoan.41
Further responsibilities were given to Thomas Howse in October 1910 when he became interim superintendent of the Central Polynesian Mission, which had previously been administered from Suva, Fiji.42 Obtaining translation assistance from a Samoan-speaking student at Avondale, Vailoa Kerisome, a monthly missionary paper, the O le Tala Moni in the Samoan language began to be printed by Avondale Press in November 1911.43 This became a valuable missionary tool.
In October 1911, Lydia Parker, a nurse trained at the Sydney Sanitarium, arrived to provide a medical outreach program. She arrived just in time to deliver the Howses' son,44 John Thomas Melei Howse, who was born on October 26, 1911.45 He was joined by a little sister, Lois Fanny Ovii, on December 10, 1913.46
Thomas and Edith Howses' mental and physical health was challenged by a variety of circumstances. They were unceasing in their endeavors to evangelize the Samoans, yet the people were slow in making a stand for Christ;47 they had to move house several times, twice in 1913,48 and again in 1914 when a new mission property was procured.49 They welcomed the return of the Steeds in November, 1914.50 The next encouragement was the construction of a church building in Apia, followed by the first baptism of Samoan believers at the end of 1915.51 On this high note, they felt able to leave for a furlough in New Zealand.52
Invigorated by their furlough, the Howse family returned to evangelistic work in Apia in March 1917 where they found that after four years of visitation and studies, Mrs. Margaretha Reye, wife of the former treasurer of the German administration, was requesting baptism.53 Over the next year, her husband and children also joined the church, thus bringing in a family that would made an extensive contribution to the Adventist Church work over three generations.54 Three other converts were also baptized in 1919, bringing great encouragement.55 During this time, a devastating influenza epidemic swept the islands, killing thousands and leaving Edith Howse very weak. Consequently, she and the children sailed to New Zealand to recuperate, later to be joined by Thomas Howse on furlough.56
At the end of a six-month furlough in 1920, which Thomas Howse spent working at the Signs Publishing Company57 at Warburton (where two of his brothers also worked58) in the Victorian Conference, the Howes family went to Buresala in Fiji.59 Here, Thomas Howse produced missionary magazines and ran the printing press which he had set up there in 1917.60
After ten months in Fiji,61the Howses were transferred back to Samoa and in January 1923 they moved to the eastern end of Upolu to open the work amongst the villages there.62 Once again, Edith Howse's health deteriorated and early in 1924 she and the children, now aged twelve and ten, left for respite in New Zealand.63 A few months later, Thomas Howse was diagnosed with filariasis and transferred to New Zealand for treatment.64
Later Ministry
The Howses spent the next nine years in evangelistic and pastoral ministry in New Zealand, working first in Blenheim,65 then in Christchurch,66 where a baptism of twenty-five people resulted from evangelistic efforts that Thomas Howse was involved in.67 He then evangelized in Nelson,68 until early in 1934 when they were called back to Samoa to carry on the mission work while Raimund Reye, the pastor in Apia (and a convert of Thomas and Edith Howse) and his family took their furlough.69 It is notable that Thomas Howse was still not ordained, whereas his convert, Raimund Reye, was.
The expected few months became four years, as Thomas and Edith Howse opened the Adventist work on the island of Savaii, raising up a church in one village70 and establishing a mission compound in another.71
Ordination
In October 1938, the Howses left Samoa for a furlough,72 but instead of returning to the mission, in January 1939 they accepted a posting to pastoral work in Murwillumbah in the North New South Wales Conference.73 Here they carried on a successful ministry for three years pastoring three churches.74 Their service there concluded with two high points. On November 15, 1941, Thomas Howse conducted a baptism of nine people with whom they had studied,75 and on December 14, 1941, he was ordained to the gospel ministry at the conference session.76 He was 64 years old and had been in ministry for thirty-two years.
During the years 1942 to 1944, Howse was the pastor of the Norfolk Island church. Edith Howse's sister, Annie, had made her home with them beginning in 1938, and she added her services as a Bible Worker to their ministry on Norfolk Island. They rejoiced to see a revival amongst the people there.77
In January 1945, the Howses were welcomed to the Victorian Conference, where Thomas Howse was appointed pastor of the Warnambool and Hamilton churches.78 They lived in Warnambool for four years, but found it very cold after so many years in the tropics. They were happy to move to Echuca in the north of the state early in 1949.79
Final Years and Death
Towards the end of 1950, Thomas Howse, now 74, and Edith moved further north, back to the warm climate of Murwillumbah. There was no mention of retirement, and they expected to continue pastoral and church work.80 However, just a few weeks later, Thomas Howse was admitted to the Sydney Sanitarium and Hospital from where he sent a message of gratitude through the church paper.81 Before the message appeared in print, he died on January 18, 1951.82 He was buried in the Avondale Cemetery on January 20.83 Edith Howse died six years later, on September 21, 1957, in Nelson, New Zealand, where her son and family were living.84
Sources
"A recent mail..." Australasian Record, December 17, 1917.
"Brevities." Australasian Record, September 14, 1942.
"Brevities." Australasian Record, February 5, 1951.
Aitken, J. D. K. "Avondale School Press." Union Conference Record, October 24, 1910.
"Brother and Sister H. T. Howse..." Australasian Record, January 10, 1921.
Butler, S. C. "Marie Louisa Wegener obituary." Australasian Record, February 10, 1969.
Cady, B. J. "Words of Courage from Central Polynesia." Australasian Record, September 4, 1911.
"Deaths in the District of Hobart 1898." National Archives of Tasmania.
"Distribution of Labour." Australasian Record, October 4, 1909.
"During the much..." Australasian Record, April 2, 1934.
England. Lambeth, London, Surrey. 1881 England, Scotland and Wales census. FamilySearch. Accessed August 18, 2016. https://familysearch.org.
Farnsworth, E. W. "Organisation of the Tasmanian Conference." Union Conference Record, April 1, 1900.
Goldstone, Ross. "New Zealand." In Seventh-day Adventists in the South Pacific 1885-1985, ed. Noel Clapham, 16-33. Warburton, Victoria: Signs Publishing Company, 1985.
Hay, David E. Samoa 100 + Years. Newcastle, New South Wales: WHO Presentation Services, 2005.
Henry Thomas Howse Worker's Biographical Record. South Pacific Division of the General Conference Archives.
Hill, Edith. "The Hobart Church-School." Australasian Record, September 22, 1903.
Hindson, Anna L. "The Camp-Meeting." Australasian Record, February 8, 1926.
Howse, E. B. and H. T. "The Ever-widening Circle." Australasian Record, December 1, 1941.
Howse, E. B. and T. "Samoa." Union Conference Record, October 24, 1910.
Howse, Edith B. "Notes from Samoa." Australasian Record, October 9, 1911.
Howse, Edith B. "Samoa." Australasian Record, July 28, 1913.
Howse, Edith B. "Apia, Samoa." Australasian Record, February 25, 1918.
Howse, Edith B. "Apia, Samoa." Australasian Record, November 14, 1923.
Howse, Edith B. "New Mission Station in Samoa." Australasian Record, September 19, 1938.
Howse, H. T. "A Memorable Sabbath." Australasian Record, January 5, 1942.
Howse, H. T. "I desire..." Australasian Record, January 29, 1951.
Howse, T. "Samoa." Australasian Record, December 20, 1915.
Howse, T. "Itinerating in Samoa." Australasian Record, July 10, 1922.
Howse, T. "First Baptism in Savaii, Samoa." Australasian Record. March 7, 1938.
Howse, T. and E. "This Same Shall Comfort Us." Australasian Record, October 11, 1915.
"Immigration & Shipping." New South Wales State Archives & Records. 2016. Accessed February 17, 2020, www.records.nsw.gov.au/archives/collections-and-research/guides-and-indexes/immigration-shipping.
Litster, W. R. "Victorian Conference Session." Australasian Record, February 12, 1945.
Litster, W. R. "Victorian Conference and Camp-Meeting." Australasian Record, March 28, 1949.
"Membership and Donations of Sabbath Schools." Union Conference Record. July 1, 1900.
Meyers, H. J. "Louisa Howse Large obituary," Australasian Record. September 23, 1929.
"Monthly Summary of Australasian Canvassing Work." Union Conference Record, November 1, 1903.
"News from Fiji." Australasian Record, March 24, 1924.
"News Notes." Australasian Record, October 31, 1938.
"News Notes." Australasian Record, January 16, 1939.
"Notes." Union Conference Record, January 31, 1910.
"Notes and Personals," Union Conference Record, January 1, 1905.
"Notes and Personals." Union Conference Record, October 21, 1907.
"Notice." Union Conference Record, January 3, 1910.
"Ordination at Avondale." Australasian Record, January 19, 1942.
Parker, C. H. "Notes from Central Polynesia." Australasian Record, June 23, 1919.
Piper, H. E. "Thomas Henry Howse obituary." Australasian Record, February 12, 1951.
Powrie, R. H. "Baptism in Christchurch." Australasian Record, January 16, 1928.
"Recent Actions of the Union Executive Committee." Australasian Record, August 18, 1924.
"Returning from New Zealand..." Australasian Record, February 14, 1927.
Self, Donald J. "Edith Boucher Howse obituary." Australasian Record, October 21, 1957.
"Seventh Day Adventists." Launceston Examiner. May 3, 1895.
"Since our return..." Australasian Record, November 24, 1919.
"Southern News–Hobart." The Tasmanian, May 4, 1895.
Steed, Joseph E. "Samoa." Australasian Record, November 8, 1915.
"Brevities." Australasian Record, September 18, 1950.
"Warburton Medical Aid Society." Australasian Record, October 28, 1935.
"When writing..." Australasian Record, July 17, 1933.
"White-Lacey." The Mercury, May 18, 1896.
Notes
English Marriages 2Q 1874 St. Saviour 1d 62; "T. Howse death notice," The Mercury, September 5, 1874, 1; H. J. Meyers, "Louisa Howse Large obituary," Australasian Record. September 23, 1929, 7.↩

English Births, 3Q 1876 Lambeth 1d 495.↩

1881 England, Scotland and Wales census, Lambeth, London, Surrey, England, piece/folio 623/76, page 38, digital image, "Howse, Thomas," FamilySearch, accessed August 18, 2016, https://familysearch.org.↩

English Births, individual obituaries, cemetery records.↩

"Immigration & Shipping," New South Wales State Archives & Records, 2016, accessed February 17, 2020, www.records.nsw.gov.au/archives/collections-and-research/guides-and-indexes/immigration-shipping.↩

"Deaths in the District of Hobart 1894," Death Registration, RGD35/1/14 no. 1314, NAME_INDEXES: 1140281, Thomas Howse, National Archives of Tasmania.↩

H. E. Piper, "Howse, Thomas Henry obituary," Australasian Record. February 12, 1951, 6.↩

"Southern News–Hobart," The Tasmanian. May 4, 1895, 38.↩

"Seventh Day Adventists," Launceston Examiner. May 3, 1895, 5.↩

"White-Lacey." The Mercury. May 18, 1895, 2↩

H. E. Piper, "Thomas Henry Howse obituary."↩

Ibid.↩

"Deaths in the District of Hobart 1898," Death Registration, RGD35/1/68 no 718, NAME_INDEXES:1142916, Fanny Elizabeth Howse, National Archives of Tasmania.↩

S. C. Butler, "Marie Louise Wegener obituary," Australasian Record, February 10, 1969, 15.↩

Henry Thomas Howse Worker's Biographical Record, South Pacific Division of the General Conference Archives, folder: "Howse, Henry Thomas," document: "Worker's Biographical Record."↩

E. W. Farnsworth, "Organisation of the Tasmanian Conference," Union Conference Record. April 1, 1900, 13-14.↩

"Membership and Donations of Sabbath Schools," Union Conference Record. July 1, 1900, 11; see also Henry Thomas Howse Worker's Biographical Record.↩

Ibid.↩

"Monthly Summary of Australasian Canvassing Work," Union Conference Record. November 1, 1903, 6.↩

J. D. K. Aitken, "Avondale School Press," Union Conference Record. October 24, 1910, 33-34.↩

"Notes," Union Conference Record, January 3, 1910, 8.↩

"Avondale School Graduates of 1909," Union Conference Record, October 25, 1909, 7.↩

"Distribution of Labour." Australasian Record, October 4, 1909, 4.↩

Edith Hill. "The Hobart Church-School," Australasian Record, September 22, 1903, 12.↩

Donald J. Self, "Edith Boucher Howse obituary," Australasian Record. October 21, 1957, 7; see also Henry Thomas Howse Worker's Biographical Record.↩

Ross Goldstone, "New Zealand," in Seventh-day Adventists in the South Pacific 1885-1985, ed. Noel Clapham, (Warburton, Victoria: Signs Publishing Company, 1985), 20-21.↩

Henry Thomas Howse Worker's Biographical Record.↩

"Monthly Summary of Australasian Canvassing Work, New South Wales, November, 1900." Union Conference Record, January 1, 1901, 11.↩

"Notes and Personals," Union Conference Record, January 1, 1905, 7.↩

Henry Thomas Howse Worker's Biographical Record.↩

T. Howse, "Tasmanian Conference." Union Conference Record. January 15, 7.↩

Edith B. Hill, "The Launceston School." Union Conference Record. December 6, 1909, 5-6.↩

"Notes and Personals," Union Conference Record, January 1, 1905, 7.↩

"Notice," Union Conference Record. January 3, 1910, 8.↩

"Notes." Union Conference Record, January 31, 1910, 8.↩

"Notes and Personals." Union Conference Record, October 21, 1907, 7.↩

"Notice," Union Conference Record. January 3, 1910, 8.↩

E. B. and T. Howse, "Samoa," Union Conference Record, October 24, 1910, 23-24.↩

David E. Hay, Samoa 100 + Years (Newcastle, New South Wales: WHO Presentation Services, 2005), 39.↩

B. J. Cady, "Words of Courage from Central Polynesia," Australasian Record, September 4, 1911, 2-3.↩

Edith B. Howse, "Notes from Samoa," Australasian Record, October 9, 1911, 3-4.↩

Hay, Samoa 100 + Years, 107.↩

Ibid↩

Ibid, 110.↩

Henry Thomas Howse Worker's Biographical Record.↩

Ibid↩

T. and E. Howse, "This Same Shall Comfort Us," Australasian Record, October 11, 1915, 4-5.↩

Edith B. Howse, "Samoa," Australasian Record, July 28, 1913, 4.↩

Hay, Samoa 100 + Years, 117.↩

Ibid, 123.↩

Joseph E. Steed, "Samoa," Australasian Record. November 8, 1915, 3.↩

T. Howse, "Samoa," Australasian Record, December 20, 1915, 4.↩

Edith B. Howse, "Apia, Samoa," Australasian Record. February 25, 1918, 3-4; Hay, Samoa 100 + Years, 135.↩

Ibid., also personal knowledge of the author as a work colleague of descendants of the Reye family.↩

"Since our return...," Australasian Record, November 24, 1919, 8.↩

C. H. Parker, "Notes from Central Polynesia," Australasian Record, June 23, 1919, 2.↩

Hay, Samoa 100 + Years, 138.↩

"Warburton Medical Aid Society," Australasian Record, October 28, 1935, 6-7.↩

"Brother and Sister H. T. Howse...," Australasian Record, January 10, 1921, 8.↩

"A recent mail...," Australasian Record, December 17, 1917, 8.↩

T. Howse, "Itinerating in Samoa," Australasian Record, July 10, 1922, 3.↩

Edith B. Howse, "Apia, Samoa." 3.↩

"News from Fiji," Australasian Record, March 24, 1924, 2.↩

"Recent Actions of the Union Executive Committee," Australasian Record, August 18, 1924, 8.↩

Anna L. Hindson, "The Camp-Meeting," Australasian Record, February 8, 1926, 6.↩

"Returning from New Zealand...," Australasian Record, February 14, 1927, 8.↩

R. H. Powrie, "Baptism in Christchurch," Australasian Record, January 16, 1927, 7.↩

"When writing...," Australasian Record, July 17, 1933, 8.↩

"During the much...," Australasian Record, April 2, 1934, 8.↩

T. Howse, "First Baptism in Savaii, Samoa," Australasian Record, March 7, 1938, 3.↩

Edith B. Howse, "New Mission Station in Samoa," Australasian Record, September 19, 1938, 2-3.↩

"News Notes," Australasian Record, October 31, 1938, 8.↩

"News Notes," Australasian Record, January 16, 1939, 8.↩

E. B. and H. T. Howse, "The Ever-widening Circle," Australasian Record, December 1, 1941, 3.↩

H. T. Howse, "A Memorable Sabbath," Australasian Record, January 5, 1942, 8.↩

"Ordination at Avondale," Australasian Record, January 19, 1942, 8.↩

"Brevities," Australasian Record, September 14, 1942, 8.↩

W. R. Litster, "Victorian Conference Session," Australasian Record, February 12, 1945, 8↩

W. R. Litster, "Victorian Conference and Camp-Meeting," Australasian Record, March 28, 1949, 6.↩

"Brevities," Australasian Record, September 18, 1950, 8.↩

H. T. Howse, "I desire..." Australasian Record, January 29, 1951, 7.↩

"Brevities," Australasian Record, February 5, 1951, 8.↩

Avondale Cemetery Records, Avondale Cemetery, Cooranbong, New South Wales, Australia.↩

Donald J. Self, "Howse, Edith, Boucher obituary," Australasian Record, October 21, 1957, 7.↩