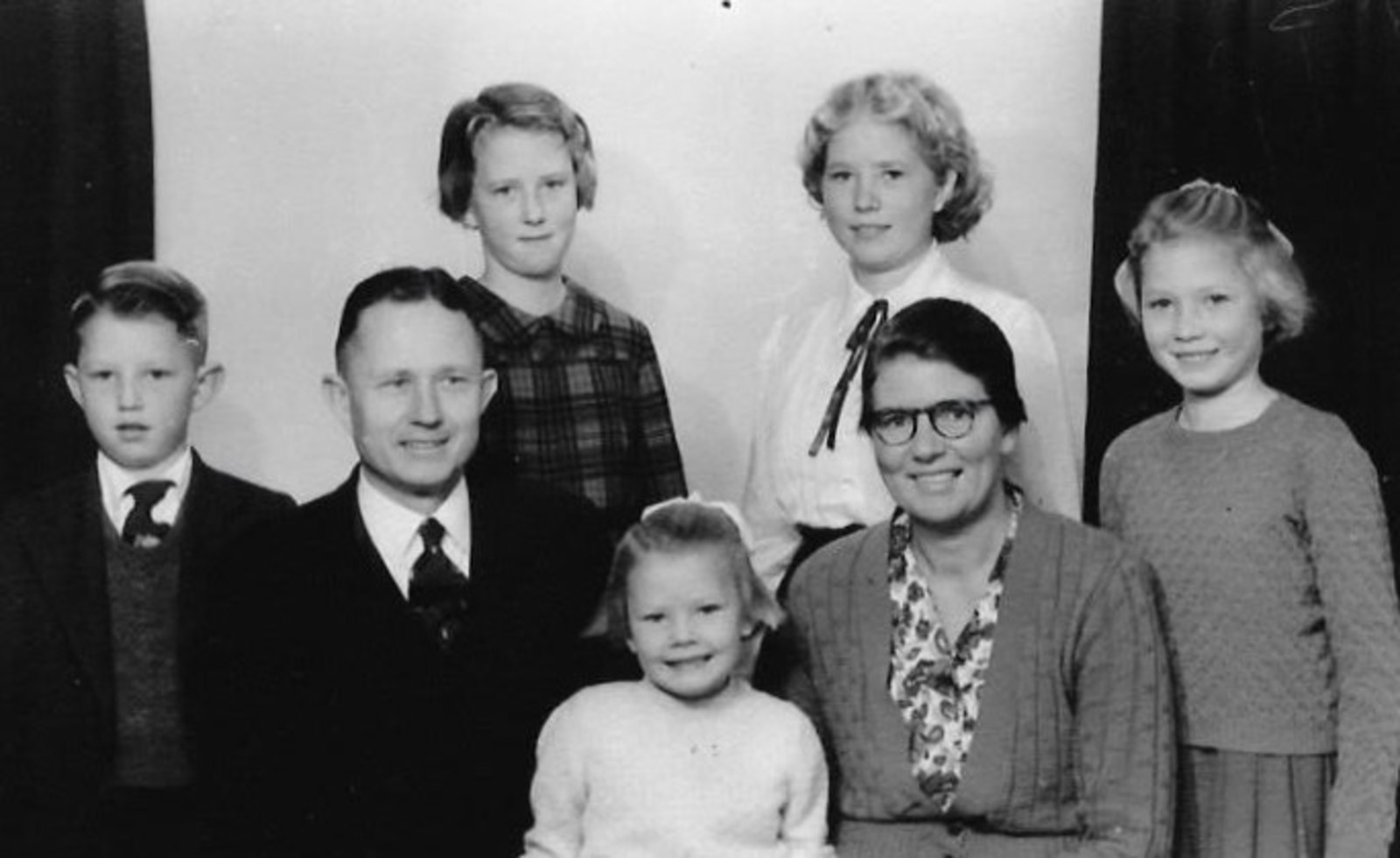 Howse, John Thomas Melei (1911–2000) and Lilian Merle (Shearer) (1912–1989)
×
Shirley Tarburton, M.Litt. (Distinction) (University of New England, Armidale, New South Wales, Australia) retired in 2008 after 40 years teaching church-school (mainly high school but including eight years at university). An Australian, she has taught in four mission fields, Australia, and New Zealand. She has authored five books and co-authored one on church history, biography and family history, as well as several magazine articles. She is married to Dr. Michael Tarburton with two adult children and four grandchildren.
First Published: January 29, 2020
John Howse was a Seventh-day Adventist (SDA) minister and pioneer Pacific Islands' missionary who together with Merle spent about 40 years of their lives in four different island groups - Samoa, Solomon Islands, Kiribati and Tuvalu - as well as some years in New Zealand ministering to congregations largely consisting of members of island origin.1
Early Years and Education
John Thomas Melei Howse was born to missionary parents, Henry Thomas Howse (1876-1951) and Edith Boucher Howse (nee Hill, 1877-1957) in Apia, Samoa, on October 26, 1911, and lived there until he was thirteen. He had a younger sister, Lois Fanny Ovii Howse (1913-2001). Both children were given a Samoan name following their English names in recognition of the country of their birth.2
As a child, John learned to speak both the common and formal dialects of Samoa, which in later life enabled him to translate The Great Controversy into Samoan.3 He commenced his schooling in the school run by his mother, an experienced school-teacher, in Apia.4 Most of his schooling was under her tutelage until the family moved to New Zealand in 1924.5 Here he was able to complete his secondary schooling at state schools in Raglan and Blenheim and at church school in Papanui, Christchurch.6 While his family were in Blenheim, he and his father assisted John Shearer and others to build the church, and when it opened in 1926 John was its first organist.7 On January 17, 1926, at fourteen years of age, John was baptised at the Richmond, Christchurch, (NZ) camp-meeting.8
Tertiary Training and Marriage
From 1927 to 1931, he studied at the New Zealand Missionary College (NZMC); he then undertook the Ministerial Course at the Australasian Missionary College (AMC) at Avondale, graduating in 1933.9 His first job after graduation was as a literature evangelist, selling spiritual books door-to-door in the North New South Wales Conference.10 He was stationed in Taree, and near the end of the year was assigned to assist Pastor C. J. Reynolds with an evangelistic series to be run in that town the following year.11 This was very successful. and both men became very busy studying the Bible with those interested.12
In September of 1935, John was asked to enter mission service in the Solomon Islands with the responsibility of running the SDA mission on the island of Choiseul.13 Before taking up the appointment, he sailed to Christchurch, New Zealand, where, on October 29, 1935, he married Lillian Merle Shearer in the Papanui SDA Church.14
Merle was the eldest child and only daughter of John Shearer (1886-1977) and Lily Edgworth (nee Stoddart) Shearer (1889-1985), and had been born on April 13, 1912 in Ashburton, New Zealand. She had three younger brothers, Ray, Reginald and Kenneth. She and John met in Blenheim then at Papanui church school and she was also a student at NZMC when he was there in 1927.15 She had spent the seven years prior to their marriage working in the office of the Sanitarium Health Food Company (SHF) in Christchurch.16
Mission Service
After their marriage John and Merle spent December at the Sydney Sanitarium gaining rudimentary medical training to enable them to recognise various tropical ailments and know how to treat them.17 In the second week of January, 1936, they boarded the Malaita at Brisbane18 and arrived in the Solomon Islands on January 19, reaching their mission station, Ruruvae at the south eastern end of Choiseul Island, shortly afterwards.19 Scattered around the 128 kilometres by 32 kilometres island were twelve outstations which, together with a new school located on the mission headquarters compound where they lived, comprised John's responsibility.20
Both John and Merle were kept busy, with John frequently being away visiting his outstations, either walking or by canoe. Sometimes they were able to travel some of the longer distances on the mission ship, Melanesia. While travelling on this ship to the government hospital at Gizo, their first daughter, Joan Merle, was born on board.21 (She married Arthur Nelson Patrick in 1959.) Early in 1939, the Dadavata was completed at the Batuna slipway across the channel and provided a more convenient means of transport.22
After enjoying a few months' furlough visiting their parents, the Howse family returned to Choiseul for a second term of service in April, 1939.23 With the growing interest in the church, John's territory was enlarged in January, 1940, to include the large island of Ysabel.24 To help him cover the extended territory, John trained promising Solomon Island men, such as Viva and Koloburu, who became pioneers themselves.25 As a musical person, he obtained band instruments and taught Ruruvae people how to play them.26 They, in turn, enabled him to become fluent in Marovo, and as well as preaching and communicating in that language he was able to assist in the translation of the New Testament into Marovo.27
In this time of mission expansion, John was part of a pioneer team permitted to spend a week evangelising the restricted islands of Rennell and Bellona in May, 1941.28 During his furlough he had undertaken courses in deep sea navigation and engine maintenance offered by the International Chamber of Shipping and this proved very useful on this trip.29 Here, also, his trumpet-playing aroused a lot of interest.30 The trip was deemed very successful, culminating with the baptism of 46 converts.31
At the Union Conference Session held at The Entrance, N.S.W. in September, 1941, John Howse was recommended for ordination.32 Before there was an opportunity to carry this out, World War 2 entered the Pacific causing severe limitations on travel. Immediately, arrangements were made for the families of SDA missionaries to leave their stations and return home. John's wife, Merle and their two daughters were evacuated and made their way to New Zealand.33 (Their second daughter, Lilian Elaine had been born in Gizo.34 She married Donald Jones in 1963.)
John carried on making arrangements for the continued operation of the mission throughout his district during his anticipated absence and making sure everything was in order. The fall of Kieta on Bougainville, less than 100 kilometres away, on January 27 was the signal for the remaining missionaries to leave.35 By February 10, John joined the six other Australian missionaries in the Solomons on the Melanesia and they set out for Australia, reaching Bundaberg, Queensland just over a week later.36
As all were unsure how long the war would last, John was seconded to the South New Zealand Conference until it was safe to return.37 On March 28, 1942, in Christchurch, John Howse was ordained to the gospel ministry.38 The family moved to Nelson, where John commenced evangelistic outreach.39 In the meantime, another daughter, Lois Fay, had been born in Christchurch. (She married Leon Olsen in 1963.)
They had barely settled in when an emergency arose in Samoa. That mission's superintendent, Pastor Raimund Reye, "although greatly respected by both officials and people in Samoa," had, "because of government regulations affecting persons of German birth, been recently interned in New Zealand."40 John was the ideal choice to take his place, having knowledge of the people and the language, and his appointment was welcomed.41
John arrived in Apia, Samoa, in August, 194242 to be followed by Merle in about six months, when baby Fay was a little older.43 Although he had been away from Samoa for 18 years, his familiarity with the mission gave him insight into its needs.44 In mid-1943 he saw that provision was made for young women to study at Vailoa SDA School.45 Early in 1944, building on work done by Pastors Afaese and Neru, he was able to expand the SDA mission into Tutuila, American Samoa, placing Tini Inu there to pioneer.46
A son joined their family. Eric John was born in Apia, his father's birthplace.47 Unfortunately, Merle began having health problems and early in 1945 was diagnosed with filaria, which was very prevalent in Samoa.48
With the surrender of Germany in May, 1945, Pastor Reye was permitted to return to Samoa with his family, so John and Merle prepared to return to New Zealand where they hoped for the restoration of their health.49 On the way, they visited Sydney in time to attend the Union Conference Session in August. At these meetings, John was asked to pioneer the work of the Church in the Gilbert and Ellice (Kiribati and Tuvalu) Islands.50 John and Merle cheerfully accepted the appointment but as it was many months before they were permitted to enter or a boat could be supplied to take them, they were able to take a furlough and regain a measure of health.51 While Merle and the children stayed with her parents in Christchurch, John commenced collecting provisions they would need at their isolated station where they would also have to prepare a house for themselves.52 Later he travelled around New Zealand with Pastor Kata Ragoso from the Solomon Islands, translating for him as he took a series of mission promotion meetings.53
John was assigned the Fetu Ao (Day Dawn) to enable him to traverse the huge distances between the islands of his new territory. While waiting for its completion and commissioning, the family sailed, on March 18, 1947, on a commercial vessel for Fiji where Merle and the children would await John's return with his ship.54 They would then travel the last leg to the Gilbert and Ellice Islands together on the Fetu Ao. First, John had to secure some land for the mission, so on May 23, with a Fijian crew, skippered by George Whippy, an experienced sailor, the Fetu Ao sailed from Suva, and reached the islands eight days later. After much searching a lease was applied for, and they returned, arriving in Suva at the beginning of July.55 Just three weeks later, Merle gave birth to their fifth child, Valerie May (later, Mrs. Charles Stuart).
After having been in Fiji six months, they finally settled in the northern tip of Abemama in the Gilberts where fourteen hectares had been made available for the mission by an influential man who had befriended John.56 They moved into a house constructed from material left behind by the U.S. Army occupation.57 One of John's first initiatives was to start a school. This was taught by Merle, assisted by their ten-year-old daughter, Joan, and local helpers.58
During the next three years he was kept busy going from island to island but was unable to supply the teachers and Bible-workers that were requested, so great was the demand.59 By the end of 1950 when his term of service was ended, the school, Kauma, (which by 1989 offered five years of secondary education60) had been firmly established, and there were a number of converts who were working in various islands of the Gilbert and Ellice groups, but there were many invitations to establish SDA schools that had not been able to be accepted because of lack of resources.61
Due to Merle's poor health,62 and the educational needs of their children,63 in January, 1950, John was appointed to ministerial work in Christchurch,64 however, he was unable to take up the appointment until he had given his successor adequate orientation.65 He finally left at the end of the year and, in December, was able to visit his father in the Sydney Sanitarium a few weeks before he died.66
In Christchurch, Pastor Howse was given the responsibilities of directing the Youth departments of the church (Missionary Volunteer and Junior Missionary Volunteer work) for the South New Zealand Conference until December 1954.67 From 1955 until 1960 he engaged in evangelistic outreach in the same conference.68 In 1959 he was once again asked to take on mission service, this time in the New Hebrides.69 However, health problems prevented him from taking up this appointment.70
In September, 1960, John and Merle were transferred to the North New Zealand Conference where he worked as a pastor-evangelist until his retirement. During this time he was effective in ministering to Pacific Islanders, (particularly at the Ponsonby S.D.A. Church) who had immigrated to New Zealand.71
Retirement and Death.
On January 1, 1972, John Thomas Howse retired.72 However, he didn't stop working. He and Merle engaged in number of volunteer tasks for the church, including service in Tonga and in Rarotonga, Cook Islands.73
In 1982 John and Merle moved to Australia, and set up home in Balcolyn, not far from Avondale College at Cooranbong.74 Here, Merle died on February 23, 1989 and was buried at the Avondale Cemetery.75 John moved into the Avondale Retirement Village and on August 30 of the same year, married a neighbouring widow, Cora Manino Uttley76 (nee Lyndon, 1910 -1998) who predeceased him on January 31, 1998.77
On May 2, 1996, John suffered a severe stroke, necessitating a move into residential care.78 There, on November 23, 2000, he died and was buried in the Avondale Cemetery,79 leaving a legacy of pioneering mission service and a life of love for Pacific Island people.
Sources
"A letter just received . . ." Australasian Record, November 29, 1937.
Afaese, S. "Fourteenth Year of Vailoa School, Samoa." Australasian Record, July 31, 1944.
"After about three years . . ." Australasian Record, November 6, 1950.
Arnold, B. "Blenheim Church Dedication." Australasian Record, November 19, 1979.
"At the recent Session. . ." Australasian Record, October 13, 1941.
Barrett, A. R. "The Secretary Treasurer's Version of the Trip." Australasian Record, September 29, 1941.
Beamish, J., H. Hammond, "Howse (formerly Uttley)." Australasian Record, March 21, 1998.
"Because health reasons prevent . . ." Australasian Record, May 4, 1959.
Branster, G. "Central Pacific Union," Australasian Record, April 11, 1949.
"Brother and Sister John Howse. . ." Australasian Record, December 16, 1935.
"Brother John T. Howse. . ." Australasian Record, October 4, 1937.
Campbell, A. J. "Choiseul, Solomon Islands." Australasian Record, February 10, 1936.
Cormack, Grace E. "Providential Deliverances." Australasian Record, March 30, 1942.
Cormack, James E. "Choiseul, Solomon Islands." Australasian Record, January 23, 1939.
"Distribution of Labour." Australasian Record, September 18, 1933.
Ferris, N. A. "Our Visit to Rennell and Bellona." Australasian Record, August 4, 1941.
Goldstone, S. R. "Howse – Uttley." Australasian Record, October 14, 1989.
Hindson, Anna L. "The Camp-Meeting." February 8, 1926.
Hook, Milton. "Lotu Aso Fitu, Early Adventism in Samoa." Seventh-day Adventist Heritage Series, No. 22. South Pacific Division Department of Education.
Howse, Eric John. "John Thomas Howse : A Life in Retrospect." Unpublished manuscript, November, 2000. Held in the personal collection of the author.
Howse, J. T. "Advance in Tutuila, American Samoa." Australasian Record, June 4, 1945.
Howse, J. T. "Eighteen Years of Advancement." Australasian Record, February 22, 1943.
Howse, J. T. "Onward into New Fields." Australasian Record, August 18, 1947.
Howse, J. T. "Retrospect." Australasian Record, May 29, 1944.
Howse, J. T. "Waiting Only to be Gathered In." Australasian Record, October 11, 1948.
Howse, John. "Abemama, Gilbert Group." Australasian Record, June 26, 1950.
Howse, John. "Dovele and Buri District Meetings." Australasian Record, August 21, 1939.
Howse, John. "Few More Details About the Visit to Rennell." Australasian Record, August 11, 1941.
"In announcing last week. . ." Australasian Record, August 24, 1942.
"In order to visit his father . . ." Australasian Record, January 1, 1951.
John Thomas Howse, Worker's Biographical Record. South Pacific Division of the General Conference Archives. Folder: "Howse, John Thomas." Document: "Worker's Biographical Record."
John Thomas Howse, Sustentation Application. South Pacific Division of the General Conference Archives. Folder: "Howse, John Thomas." Document: "Sustentation Application."
Litster, W. R. "Victorian Conference." Australasian Record. May 13, 1946.
Martin, W. "The Solomon Islands." Australasian Record, January 15, 1940.
"Missionary appointments of interest . . ." Australasian Record, February 9, 1959.
"Mr. and Mrs. John Howse. . ." Australasian Record, March 27, 1939.
"Native Leaders Report from Samoa." Australasian Record, October 12, 1942.
"News from Fiji." Australasian Record. March 24, 1924.
"Notes From the North." Australasian Record, July 15, 1935.
"On the 28th March. . ." Australasian Record, May 11, 1942.
Pascoe, A. L. "The Solomons and the Rennell Group." Australasian Record, August 26, 1940.
"Pastor J. T. Howse wrote . . ." Australasian Record, May 1, 1944.
"Pastor John Howse . . ." Australasian Record, March 8, 1997.
Patrick, Arthur. "Howse, Lilian Merle." Australasian Record, April 8, 1989.
Perry, J. C. H. "Solomon Islands to Australia on the Melanesia." Australasian Record, March 30, 1942.
Piper, H. E. "Our Missionaries." Australasian Record, March 30, 1942.
Ragoso, Kata. "From the Solomon Islands to New Zealand." Australasian Record, January 27, 1947.
Rampton, F. G. "Howse-Shearer." Australasian Record, December 9, 1935.
"Reinforcements to the Island Mission Field." Australasian Record, September 16, 1935.
"Returning to . . ." Australasian Record, January 20, 1936.
Rogers, Viola M. "Further Jottings from the Session." Australasian Record, October 15, 1945.
"Selected as pioneer . . ." Australasian Record, August 5, 1946.
Shaw, J. and M. Donald. "Graduation Exercises." Australasian Record, November 27, 1933.
Steed, Joseph E. "A Song of Jubilee." Australasian Record, September 1, 1919.
Stewart, A. G. "Solomon Islands." Australasian Record, August 28, 1939.
"The Matua, sailing from Auckland. . ." Australasian Record, April 7, 1947.
"The week-end February 13-15. . ." Australasian Record, March 9, 1942.
"Two more young men . . ." Australasian Record, March 4, 1935.
"We are pleased to announce. . ." Australasian Record, February 9, 1942.
Windeyer, H. J. "South New Zealand Camp-Meeting." Australasian Record, March 13, 1950.
Windeyer, H. J. "South New Zealand Session and Camp-Meeting." Australasian Record, March 12, 1951.
Notes
"Pastor John Howse . . ." Australasian Record, March 8, 1997, 1.↩

Eric John Howse, "John Thomas Howse: A Life in Retrospect," unpublished manuscript, November, 2000, held in the personal collection of the author.↩

Ibid.↩

"Joseph E. Steed, "A Song of Jubilee." Australasian Record, September 1, 1919, 2.↩

"News from Fiji." Australasian Record. March 24, 1924, 2.↩

Eric John Howse, "John Thomas Howse."↩

B. Arnold, "Blenheim Church Dedication." Australasian Record, November 19, 1979, 13.↩

Anna L. Hindson, "The Camp-Meeting." February 8, 1926, 6; and John Thomas Howse Worker's Biographical Record. South Pacific Division of the General Conference Archives. Folder: "Howse, John Thomas." Document: "Worker's Biographical Record."↩

J. Shaw, M. Donald, "Graduation Exercises." Australasian Record, November 27, 1933, 5.↩

"Distribution of Labour." Australasian Record, September 18, 1933, 5.↩

"Two more young men . . ." Australasian Record, March 4, 1935, 8.↩

"Notes From the North." Australasian Record, July 15, 1935, 4.↩

"Reinforcements to the Island Mission Field." Australasian Record, September 16, 1935, 8.↩

F. G. Rampton, "Howse-Shearer." Australasian Record, December 9, 1935, 7.↩

Arthur Patrick, "Howse, Lilian Merle," Australasian Record, April 8, 1989, 14.↩

Ibid.; Rampton, 7.↩

"Brother and Sister John Howse. . ." Australasian Record, December 16, 1935, 8.↩

"Returning to . . ." Australasian Record, January 20, 1936, 8.↩

A. J. Campbell, "Choiseul, Solomon Islands." Australasian Record, February 10, 1936, 3.↩

"Brother John T. Howse. . ." Australasian Record, October 4, 1937, 8.↩

"A letter just received . . ." Australasian Record, November 29, 1937, 8.↩

John Howse, "Dovele and Buri District Meetings." Australasian Record, August 21, 1939, 3.↩

"Mr. and Mrs. John Howse. . ." Australasian Record, March 27, 1939, 8.↩

W. Martin, "The Solomon Islands." Australasian Record, January 15, 1940, 3.↩

James E. Cormack, "Choiseul, Solomon Islands." Australasian Record, January 23, 1939, 3.↩

A. G. Stewart, "Solomon Islands." Australasian Record, August 28, 1939, 3.↩

A. L. Pascoe, "The Solomons and the Rennell Group." Australasian Record, August 26, 1940, 4.↩

N. A. Ferris, "Our Visit to Rennell and Bellona." Australasian Record, August 4, 1941, 3.↩

John Thomas Howse, Worker's Biographical Record; and A. R. Barrett, "The Secretary Treasurer's Version of the Trip." Australasian Record, September 29, 1941, 4-5.↩

John Howse, "Few More Details About the Visit to Rennell." Australasian Record, August 11, 1941, 4.↩

Barrett, 4-5.↩

"At the recent Session. . ." Australasian Record, October 13, 1941, 8.↩

"We are pleased to announce. . ." Australasian Record, February 9, 1942, 8.↩

John Thomas Howse, Worker's Biographical Record.↩

J. C. H. Perry, "Solomon Islands to Australia on the Melanesia." Australasian Record, March 30, 1942, 3-4.↩

"The week-end February 13-15. . ." Australasian Record, March 9, 1942, 8; Grace E. Cormack, "Providential Deliverances." Australasian Record, March 30, 1942, 6, and J. C. H. Perry, 3-4.↩

H. E. Piper, "Our Missionaries." Australasian Record, March 30, 1942, 8.↩

"On the 28th March. . ." Australasian Record, May 11, 1942, 8.↩

E. J. Johanson, "Evangelism in South New Zealand." Australasian Record, October 2, 1942, 3.↩

"In announcing last week. . ." Australasian Record, August 24, 1942, 8.↩

"Native Leaders Report from Samoa." Australasian Record, October 12, 1942, 5.↩

"Brother Sauni Kuresa wrote. . ." Australasian Record, February 1, 1943, 8, and John Thomas Howse, Worker's Biographical Record.↩

Milton Hook, "Lotu Aso Fitu, Early Adventism in Samoa." 25, Seventh-day Adventist Heritage Series, No. 22. South Pacific Division Department of Education.↩

J. T. Howse, "Eighteen Years of Advancement." Australasian Record, February 22, 1943, 5.↩

J. T. Howse, "Retrospect." Australasian Record, May 29, 1944, 4; S. Afaese, "Fourteenth Year of Vailoa School, Samoa." Australasian Record, July 31, 1944, 4-5.↩

"Pastor J. T. Howse wrote . . ." Australasian Record, May 1, 1944, 8.↩

Doreen Howse, email to author, February 26, 2017.↩

J. T. Howse, "Advance in Tutuila, American Samoa." Australasian Record, June 4, 1945, 4.↩

Ibid.↩

Viola M. Rogers, "Further Jottings from the Session." Australasian Record, October 15, 1945, 10.↩

W. R. Litster, "Victorian Conference." Australasian Record. May 13, 1946, 19.↩

"Selected as pioneer . . ." Australasian Record, August 5, 1946, 8; and Eric John Howse, "John Thomas Howse."↩

Kata Ragoso, "From the Solomon Islands to New Zealand." Australasian Record, January 27, 1947, 5.↩

"The Matua, sailing from Auckland. . ." Australasian Record, April 7, 1947, 8.↩

J. T. Howse, "Onward into New Fields." Australasian Record, August 18, 1947, 3-4.↩

"Kiribati Faces an Uncertain Future." Australasian Record, April 22, 1989, 12.↩

Howse, "John Thomas Howse."↩

"Kiribati Faces an Uncertain Future." Ibid.↩

J. T. Howse, "Waiting Only to be Gathered In." Australasian Record, October 11, 1948, 3, and G. Branster, "Central Pacific Union," Australasian Record, April 11, 1949, 3.↩

"Kiribati Faces an Uncertain Future," 12.↩

"After about three years . . ." Australasian Record, November 6, 1950, 8.↩

Branster, 3.↩

John Howse, "Abemama, Gilbert Group." Australasian Record, June 26, 1950, 8.↩

H. J. Windeyer, "South New Zealand Camp-Meeting." Australasian Record, March 13, 1950, 3.↩

"After about three years. . ." 8.↩

"In order to visit his father . . ." Australasian Record, January 1, 1951, 8.↩

H. J. Windeyer, "South New Zealand Session and Camp-Meeting." Australasian Record, March 12, 1951, 4-5 and John Thomas Howse, Workers' Biographical Record.↩

Ibid.↩

"Missionary appointments of interest . . ." Australasian Record, February 9, 1959, 8.↩

"Because health reasons prevent . . ." Australasian Record, May 4, 1959, 8.↩

Howse, "John Thomas Howse."↩

John Thomas Howse, Sustentation Application. South Pacific Division of the General Conference Archives. Folder: "Howse, John Thomas." Document: "Sustentation Application."↩

Howse, "John Thomas Howse."↩

Ibid.↩

Arthur Patrick, "Howse, Lilian Merle." Australasian Record, April 8, 1989, 15.↩

S. R. Goldstone, "Howse – Uttley." Australasian Record, October 14, 1989, 15.↩

J. Beamish, H. Hammond, "Howse (formerly Uttley)." Australasian Record, March 21, 1998, 16.↩

Howse, "John Thomas Howse."↩

Ibid.↩