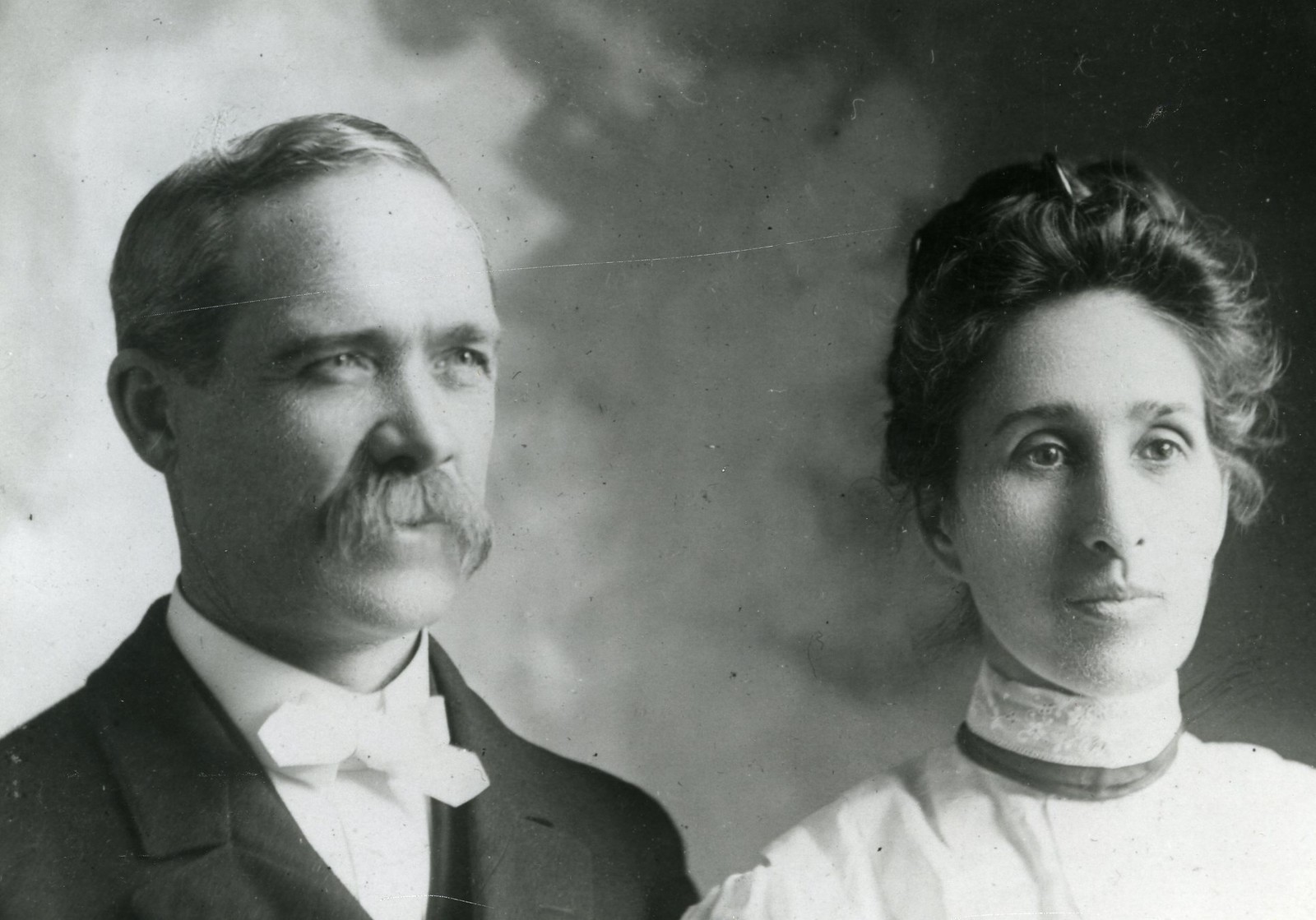 Caldwell, Joseph Edmond (1855–1923) and Julia Valone (Ford) (1853–1902)
×
Milton Hook, Ed.D. (Andrews University, Berrien Springs, Michigan, the United States). Hook retired in 1997 as a minister in the Greater Sydney Conference, Australia. An Australian by birth Hook has served the Church as a teacher at the elementary, academy and college levels, a missionary in Papua New Guinea, and as a local church pastor. In retirement he is a conjoint senior lecturer at Avondale College of Higher Education. He has authored Flames Over Battle Creek, Avondale: Experiment on the Dora, Desmond Ford: Reformist Theologian, Gospel Revivalist, the Seventh-day Adventist Heritage Series, and many magazine articles. He is married to Noeleen and has two sons and three grandchildren.
First Published: August 26, 2020
Joseph E. Caldwell, a physician, and his wife, Julia (Ford) Caldwell, an educator, were pioneer missionaries to Rarotonga in the Cook Islands.
Early Life
Joseph Edmond Caldwell was born to John and Sarah (McConnell) Caldwell at Iowa Falls, Iowa, February 10, 1855, as the youngest in a family of eight children. His mother died when he was 12 years old.1 Joseph received his basic education in Iowa Falls and then studied at the University of Iowa, earning a Ph.D. in 1880 and an M.D. in 1881.
On April 24, 1881, Joseph married school teacher Julia Valone Ford in Charles City, Iowa.2 Julia was born in New Brenton, New York, October 11, 1853. Their first son, Joseph Arthur, was born February 7, 1882, in Nebraska City, Nebraska, as was their second son, Charles Burnell, on July 2, 1884.3
From the American South to the Cook Islands
Charles Boyd baptized Julia early in 1887 at the Seattle, Washington, camp meeting.4 It is possible that Joseph was baptized at the same time. He began denominational employment in 1888 by teaching Greek and the natural sciences at Healdsburg College, California.5
In 1894, Dr. Caldwell published an appeal in the Home Missionary for Adventists to undertake a long-neglected mission on behalf of African Americans living under systemic oppression in the South.6 After leaving Healdsburg in 1891, he and Julia had initiated such work in Knoxville, Tennessee.7 The article gave evidence that Caldwell possessed the heart of an activist and a missionary. Soon thereafter, the church chose the Caldwells to serve as missionaries for French Polynesia.8
The Caldwell family joined a team who departed from San Francisco aboard the Pitcairn on June 17, 1894. They sailed via Pitcairn Island, going ashore for a stopover. The long boat that took Dr. Caldwell ashore wrecked on the rocky coast, but he was fortunate to "float," as he put it, to the landing. The crew ferried the other passengers without incident. Joseph held revival meetings for the islanders, and Julia conducted several talks exclusively for the mothers.9
In August the Pitcairn took them to French Polynesia, only to find that the political situation was not conducive for incoming missionaries. So, the Caldwell family stayed with the ship until it reached Rarotonga in the Cook Islands. There they discovered a desperate need for a physician. When the Europeans on the island learned that Julia was a teacher, they pleaded for her to open a school for their children. It was an easy decision to settle at Rarotonga.10
For the first nine months of their time there the Caldwell family lived in a rented thatch hut while Joseph built a European-style home. He hired local workers to manufacture lime by burning coral. The doctor did all the stone masonry, carpentry, and plumbing. When he completed the house, he gave his full time to medical cases. Although his work dispelled prejudice, only a few stepped forward to accept his faith. The Caldwells adopted four young girls into their crowded home in order to provide a Christian influence for them.11 Julia Caldwell conducted her school of 20 pupils on the front porch of their home, nine of them indigenous children whom Joseph called Rarotongan Maoris because of their common heritage with the New Zealand Maoris. Each student paid two shillings per month in fees in an effort to advance the mission toward a self-supporting basis.12
In 1899 the Caldwell family sailed to Australia to attend the union conference session at Cooranbong. At the gathering Dr. Caldwell presented a report of their mission work. Although he explained the political and cultural conditions in the Cook Islands that hampered mission work, he was optimistic, outlining future needs that included an industrial school and an extension of medical work to Aitutaki Island.13
Returning to Rarotonga, Caldwell began to nurture a group at Titikaveka village on the south coast. His teenage son, Arthur, assisted him in a Sabbath School and an elementary school on Sundays.14 Edward Gates visited in 1900 and, with Joseph acting as interpreter, instructed them in the rite of baptism by immersion. Gates baptized 18 at Titikaveka in two separate ceremonies and organized them as a church company.15
A short time after the visit of Gates, it became clear that Julia Caldwell's health required special attention. Early in 1901 the Caldwell family therefore transferred to New Zealand for better medical facilities. Dr. Caldwell received an appointment to work with the Maoris, capitalizing on his familiarity with the similar language of the Cook Islanders.16 He attended the union conference session at Cooranbong, New South Wales, in mid-1901, reporting that he and Gates had toured among groups of Maoris in the north island and concluded the most favourable place to begin their mission was in the Kawhia area on the west coast. A leaflet about the Second Coming was being translated.17
However, he soon had to shelve his plans, because Julia's health was deteriorating. In Joseph's words, she had been "exposed to fever aboard the steamer" when leaving Rarotonga and had suffered several relapses in her weakened condition. Dr. Caldwell had barely begun his mission to the Maoris when, in January 1902, his wife had to enter the Christchurch Sanitarium. Julia Caldwell passed away on March 1 and was laid to rest in the Linwood Cemetery.18 What had begun as a remarkable breakthrough in Rarotonga was now blemished by personal tragedy.
Return to America
Joseph Caldwell and his sons returned to their homeland. The first reference to his whereabouts appears in the 1904 SDA Yearbook which most likely reflects his 1903 situation. It listed him as a church school teacher in rural Ogden, Tennessee, in addition to a mention in the Directory of Physicians. The yearbook also cited him as a minister in the Cumberland Conference, though the fact of his ordination had never before been highlighted, because he always used his medical title.19 His obituary was equally vague, saying he had been ordained "early in his connection with the work" but that detail might be questioned in view of the fact Gates did the baptism of converts in Rarotonga.20
On March 17, 1903, Dr. Caldwell married Adelfa Howard, a widow with two children.21 He continued briefly with school teaching before serving as a minister in Tennessee at places such as Knoxville, Vonore, and Dayton.22 One year he appeared in a list of members of the medical advisory committee in the Southern Union Conference.23 In 1910 he was appointed to the Florida Conference where he served for three years as a minister and medical missionary department secretary.24
Joseph and Adelfa moved to Southern California about 1920. After serious surgery in 1922, his health remained tenuous, and he quietly passed away October 7, 1923. His two sons, Arthur and Charles, had remained in Tennessee while serving the church. It was said of Joseph "he was a kind, sympathetic worker, one who made his medical profession only a means to an end,--the spiritual as well as the physical salvation of his patients, never allowing it to become a commercial asset."25
Sources
Caldwell, J[oseph] E. "A Letter from Raratonga (sic)." Bible Echo, November 18, 1895.
Caldwell, J[oseph] E. "Another Worker Fallen." ARH, April 15, 1902.
Caldwell, J[oseph] E. "Cook Islands Medical Mission." Union Conference Record, July 19, 1899.
Caldwell, J[oseph] E. "From Our Missionary Ship." Home Missionary, October 1894.
Caldwell, J[oseph] E. "Notes From Raratonga (sic)." Bible Echo, January 8, 1900.
Caldwell, J[oseph] E. "Our Duty to Our Colored Neighbors." Home Missionary, March 1894.
Caldwell, J[oseph] E. "Rarotonga, Cook Islands." Home Missionary, June 1901.
Caldwell, J[oseph] E. "The Maoris." Union Conference Record, July 24, 1901.
Gates, E[dward] H. "My Visit to Rarotonga." Union Conference Record, November 1, 1900.
"John Edmond Caldwell." FamilySearch, Intellectual Reserve, 2020. Retrieved from https://www.familysearch.org/tree/find/name?search=1&gender=male&birth=Iowa%2CUnitedStates%7C1854-1856%7C0&self=josephedmond%7Ccaldwell%7C0%70.
McCoy, J[ames] R. "A Letter from California." Bible Echo, June 11, 1894.
Parmele, R[ufus] W. "Joseph Edmond Caldwell." Pacific Union Recorder, October 25, 1923.
"Pastor E. H. Gates has gone to New Zealand…" Union Conference Record, April 1, 1901.
Seventh-day Adventist Yearbook. Battle Creek, Michigan: Review and Herald Publishing Company, 1889.
Seventh-day Adventist Yearbooks. Washington, D.C.: Review and Herald Publishing Association, 1904-1913.
White, W[illiam] C. "Movements of the 'Pitcairn.'" Bible Echo, December 3, 1894.
Notes