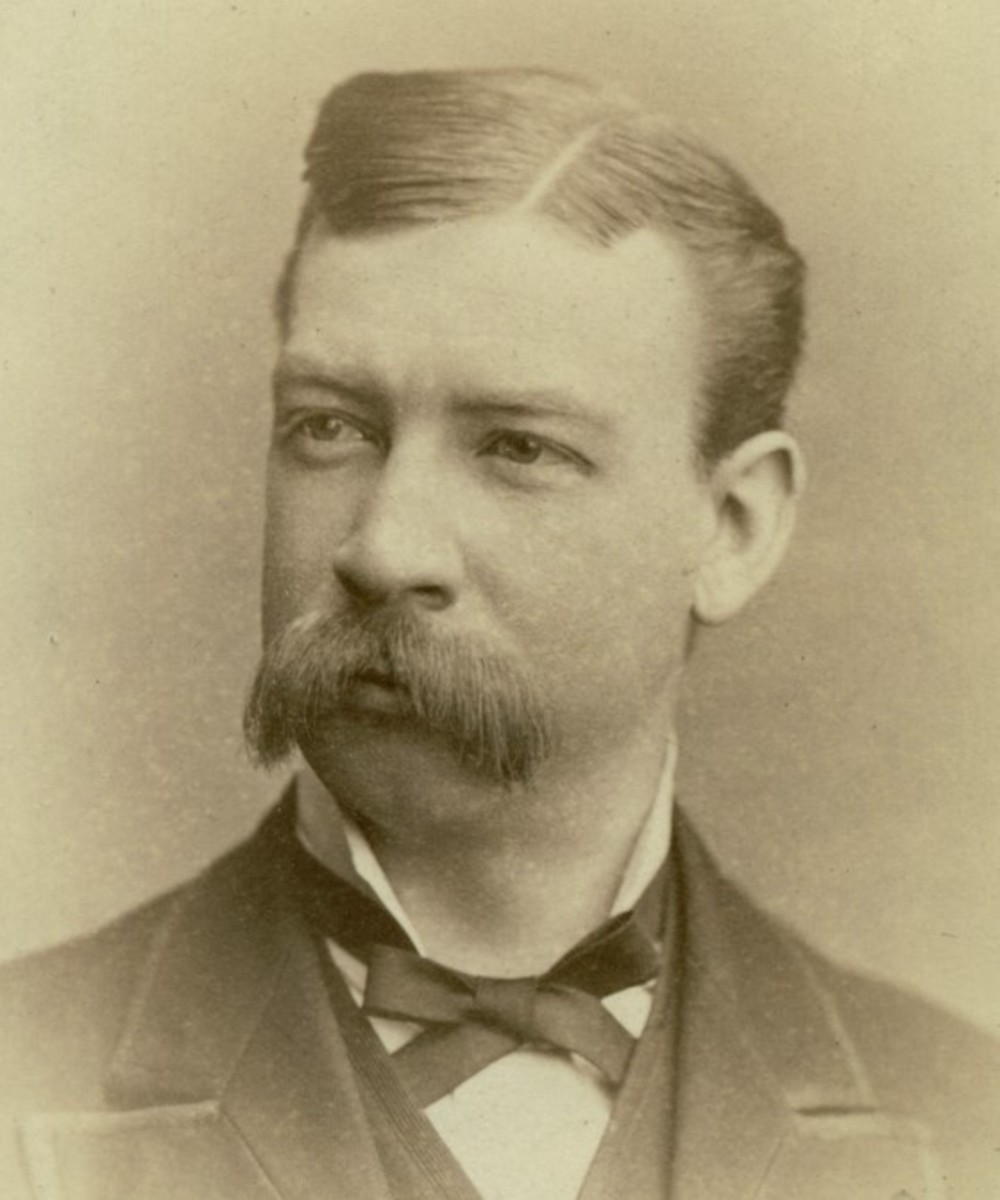 Edwards, William Herbert (1854-1938)
×
DeWitt S. Williams, Ed.D. (Indiana University) lives in Maryland after 46 years of denominational service. He pastored in Oklahoma, served as a missionary in the Congo (Departmental and Field President), and Burundi/Rwanda (President, Central African Union). He served 12 years in the General Conference as Associate Director in both the Communications and Health and Temperance Departments. His last service was Director of NAD Health Ministries (1990-2010). He authored nine books and numerous articles.
First Published: July 13, 2022
W. H. Edwards was the 14th treasurer of the General Conference of Seventh-day Adventists and held several other positions of high responsibility in financial and business administration during his 52 years of denominational service.
William Herbert Edwards, Jr. was born April 6, 1854, in Danvers, Massachusetts, to William Herbert Edwards (1821-1900) and Dorcas Pray Edwards (1821-1906). He had an older brother, Andrew (1848-1920).1 Young Willie went to high school in Danvers and after graduating attended a business college in Boston. It was after he completed his business course and was employed in Boston that William became a Seventh-day Adventist. He and his parents were baptized in 1877 after attending a series of meetings conducted in Danvers by D. M. Canright, D. A. Robinson and C. W. Stone. In 1878 William moved to Battle Creek, Michigan, having been appointed manager of the wholesale and retail book department of the Review and Herald Publishing Company.2
Mary Augusta Bierce, an industrious young student, had been invited to work as subscription list clerk in the Review and Herald office about that same time. Mary was born at Sandy Lake, Pennsylvania, February 1, 1856, but grew up in Iowa. At the age of 13 she attended tent meetings held by G. I. Butler, M. E. Cornell, and R. M. Kilgore, leading to her baptism along with that of her mother and sister. On December 17, 1878, Mary was married to William. On February 2, 1880, they had their only child, a daughter, Ethelena "Ethel" Bee.3
W. H. Edwards continued as the manager of the book department until 1888 when he was appointed secretary and treasurer of the Review and Herald. From 1891 to 1901, Edwards served in a variety of leadership capacities in the business management of the denomination, including four years (February 17, 1893, to February 19, 1897) as treasurer of the General Conference. At various times during this decade he also held the positions of secretary and treasurer of the General Conference Association, treasurer of the Foreign Mission Board, and treasurer of the Michigan Conference.4 In 1893, the year that Edwards was elected treasurer of the General Conference, the tithes received in the denomination totaled $350,690.56, with a per capita tithe return of $9.37. Thirty years before, the denomination's first treasurer, Eli Walker, reported a total of $8,000 in tithes, $2.29 per capita.5
Edwards served as secretary-treasurer of the Lake Union Conference based in Berrien Springs, Michigan, from 1901 to 1912. In 1912 he accepted a call to the Northern Union Conference, headquartered in Minneapolis, Minnesota, where he was secretary-treasurer, auditor, and editor of the Northern Union Reaper until 1918. After 1918 he ran the print shop at the General Conference office in Takoma Park, Maryland, until 1930 when failing health compelled him to step down, having rendered 52 years of continuous service to the Adventist cause.6
William and Mary Edwards had been married for more than 57 years when Mary died on March 6, 1936. Two and a half years later William H. Edwards died on September 23, 1938, in Takoma Park.7
The Edwards' daughter, Ethel, served as an assistant bookkeeper and stenographer with the Foreign Mission Board during the years her father was treasurer (1897-1901). She married John Peter Anderson, long-serving missionary to China, in 1922 and subsequently served as secretary-treasurer of the Hakka Mission while her husband was mission director.8 She died in Shanghai in 1948.9
Sources
Annual Statistical Reports. General Conference of Seventh-day Adventists Online Archives (GCA), http://documents.adventistarchives.org/.
Spicer, W. A. "Mary A. Edwards obituary." ARH, April 16, 1936.
Spicer, W. A. "William Herbert Edwards obituary." Columbia Union Visitor, October 6, 1938.
"William Herbert Edwards Jr." FamilySearch. Accessed July 12, 2022, https://www.familysearch.org/tree/pedigree/landscape/93DC-6XG.
Williams, DeWitt S. Spirit-Filled Leadership: Portraits of the Presidents, Secretaries and Treasurers of the General Conference of Seventh-day Adventists. Xulon Press: 2016.
Notes