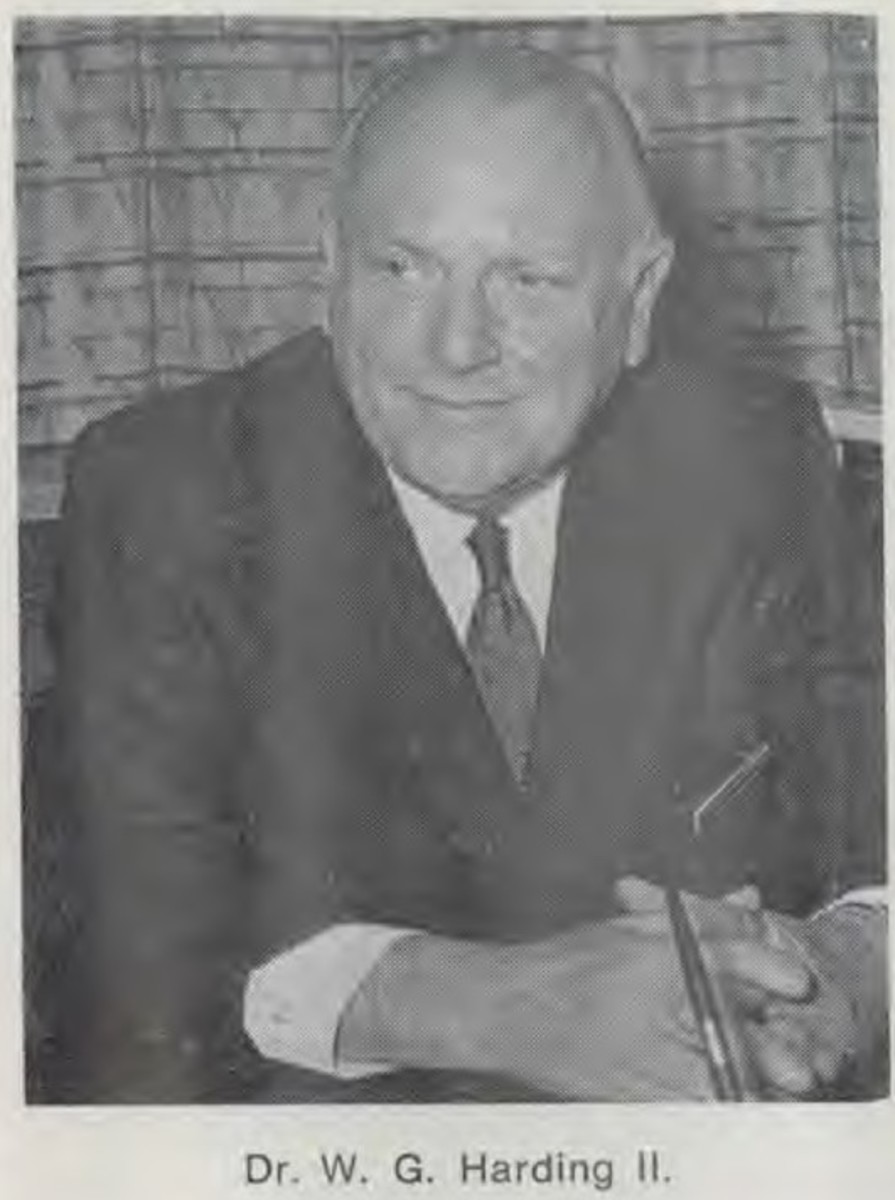 Harding, Warren Gamaliel, II (1905–1975)
×
Milton Hook, Ed.D. (Andrews University, Berrien Springs, Michigan, the United States). Hook retired in 1997 as a minister in the Greater Sydney Conference, Australia. An Australian by birth Hook has served the Church as a teacher at the elementary, academy and college levels, a missionary in Papua New Guinea, and as a local church pastor. In retirement he is a conjoint senior lecturer at Avondale College of Higher Education. He has authored Flames Over Battle Creek, Avondale: Experiment on the Dora, Desmond Ford: Reformist Theologian, Gospel Revivalist, the Seventh-day Adventist Heritage Series, and many magazine articles. He is married to Noeleen and has two sons and three grandchildren.
First Published: September 10, 2020
Warren Gamaliel Harding II, M.D., connected with Sydney Sanitarium and Hospital in Australia for several years prior to World War II, then returned to his hometown, Columbus, Ohio, where he practiced surgery for the remainder of his career.
Early Life
Born on November 2, 1905, in Columbus, Ohio,1 to Dr. George Tryon Harding and his wife Elsie (Weaver), Warren Gamaliel was the second of five Harding children. His four siblings were George Tryon (b. 1904), Ruth Virginia (b. 1910), Charles Weaving (b. 1915) and Mary Elizabeth (b. 1919). Warren was named after his uncle, Warren Gamaliel Harding (1865-1923), lieutenant governor of Ohio when Warren II was born, later to become 29th president of the United States.2 Young Warren's father was a Seventh-day Adventist physician who in 1916 established the Worthington Rest Home, later Harding Hospital, for the treatment of psychiatric problems.3
As a young man Warren went west for his graduate studies. He simultaneously earned a medical degree at the College of Medical Evangelists (now Loma Linda University School of Medicine) and a master of arts from the University of Southern California.4 While in medical school he met Frances June Keller, fellow medical student and daughter of Drs. Peter and Florence Keller. Warren and Frances married in Los Angeles on December 23, 1926. An uncle of the bride, William Martin, performed the ceremony. Three children graced their family: Florence Elsie (b. 1928), Carolyn (b. 1932) and Peter (b. 1942).5
In the Southern Hemisphere
Warren graduated from medical school with the highest aggregate among his peers and achieved first place in the 1930 National Board Examination.6 In 1933, after he and Frances completed their residencies, they went abroad – first to Scotland, where Warren had received a Fellowship in the Royal College of Surgeons in the University of Edinburgh.7
The Drs. Harding then accepted appointments to the Sydney Sanitarium and Hospital in Australia. They arrived in Sydney on October 9, 1933, by the "Mariposa." For Frances it meant a return to a part of the world where she had spent a happy childhood when her parents served as medical missionary doctors in New Zealand and Australia.8 Warren and Frances practiced at the Sydney Sanitarium until early 1938.
They then sailed to England for Warren to do six months of post-graduate studies. Warren arrived back in Sydney on November 28, 1938. Frances and the children visited for a short time with her mother in America and followed to Australia soon after. They took up a private practice, living and worshipping in the Seventh-day Adventist community of Wahroonga, suburban Sydney, until mid-1941 when they returned to the United States.9 During the course of their practice they had attended to some dignitaries including a Chinese ambassador. Through him they arranged for hundreds of thousands of dollars in medical supplies to be donated by American companies to the Chinese people.10
A Surgeon and Lecturer in Ohio
During World War II Warren served as a doctor with the United States Navy. He remained in the Naval Reserves, retiring in 1965 with the rank of captain.11 After the war the Hardings settled in familiar Ohio where Warren had been raised. He worked as a surgeon in Columbus and at the same time taught surgery at Ohio State University. In 1965 he retired from active surgery, earned a Ph.D. from Ohio State University in medical education, and became director of education at Grant Hospital, Columbus. He eventually became the administrator of the hospital until 1972.12
Having presidential connections in his family tree it was natural for Warren to take an interest in history. During his stay in Australia he had joined the Royal Australian Historical Society and became absorbed in the local history, becoming a life-member.13 History was his hobby. He turned to it in his retirement and began to write a book on the medical history of the American presidents. This enterprise was cut short when Warren was diagnosed with an inoperable brain tumor.14 He passed away in Columbus on June 28, 1975, and was laid to rest in the Marion Cemetery north of Columbus, the same place where his uncle and namesake, President Warren Gamaliel Harding, and many other family members are interred.15
Sources
"Dr. Warren G. Harding and his wife . . . ." Australasian Record, October 23, 1933.
"Dr. Warren G. Harding 2nd, returned . . . ." Australasian Record, December 12, 1938.
Harding, George T, IV. "A Remarkable Life." Record, August 8, 1992.
"Harding Funeral is Set." Columbus Dispatch, June 30, 1975.
"The Harding Hospital." Worthington Memory. Accessed May 20, 2021, http://www.worthingtonmemory.org/exhibits/2016-8-1/harding-hospital.
Knight, [Myrtle]. "Farewell to Dr. Frances Harding." Australasian Record, June 30, 1941.
"Milestones." Alumni Journal (Loma Linda University School of Medicine), November-December 1975.
"Prominent Adventist Physician Dies." Australasian Record and Advent World Survey, August 18, 1975.
Shaw, J. L. "Dr. G.T. Harding." ARH, May 3, 1934.
"Warren Gamaliel Harding II." FamilySearch. Accessed February 5, 2021, https://www.familysearch.org/tree/person/timeline/LHB1-HCY.
"Warren Gamaliel Harding II." Find A Grave. Memorial ID no. 40733152. Accessed December 28, 2020, https://www.findagrave.com/memorial/40733152/warren-gamaliel-harding.
Notes