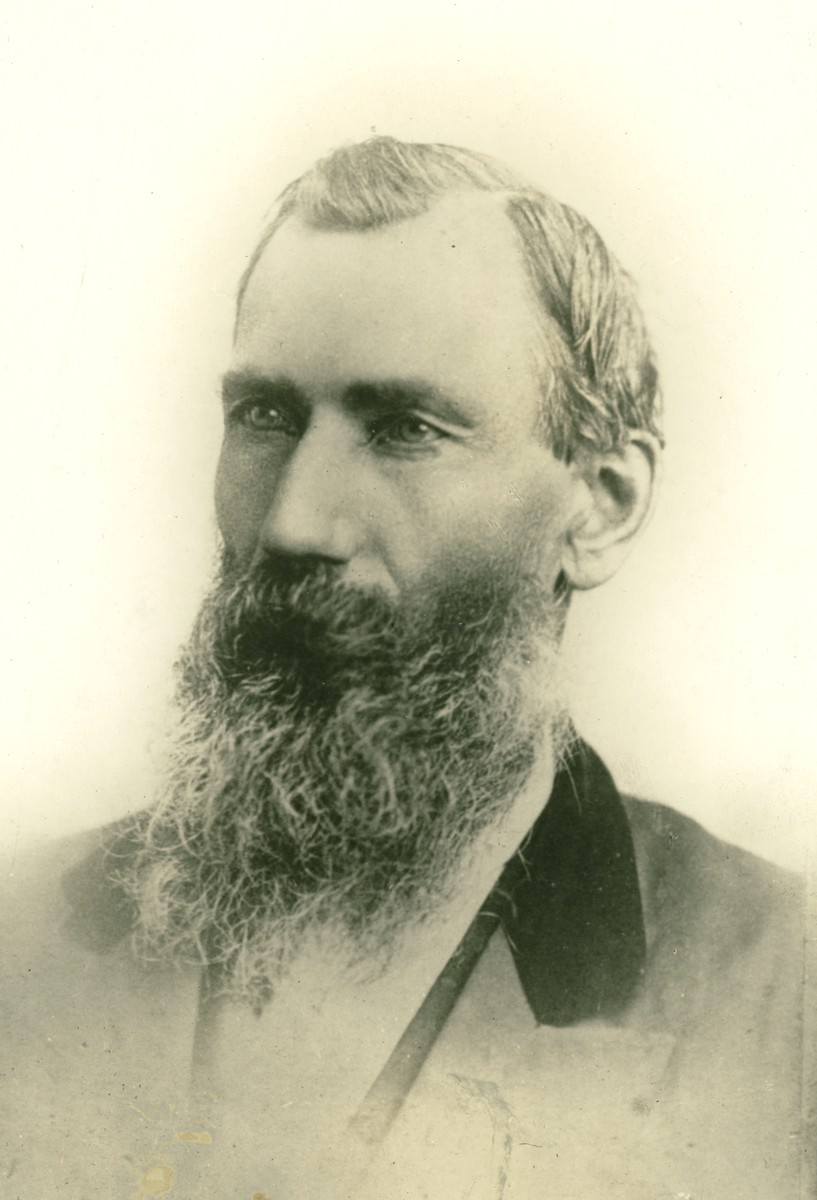 Belden, Stephen Treat (1829–1906)
×
Milton Hook, Ed.D. (Andrews University, Berrien Springs, Michigan, the United States). Hook retired in 1997 as a minister in the Greater Sydney Conference, Australia. An Australian by birth Hook has served the Church as a teacher at the elementary, academy and college levels, a missionary in Papua New Guinea, and as a local church pastor. In retirement he is a conjoint senior lecturer at Avondale College of Higher Education. He has authored Flames Over Battle Creek, Avondale: Experiment on the Dora, Desmond Ford: Reformist Theologian, Gospel Revivalist, the Seventh-day Adventist Heritage Series, and many magazine articles. He is married to Noeleen and has two sons and three grandchildren.
First Published: December 22, 2020
Stephen T. Belden, a brother-in-law of Adventist co-founder Ellen G. White, was a skilled tradesman who gave needed support to her ministry, particularly during its earliest years and during her sojourn in Australia in the 1890s.
Marriage and Association with the Whites
Stephen Treat Belden was born in 1829 in Rocky Hill, Connecticut, to Albert and Hannah Treat Belden. He had an older brother, John (b. 1824).1 He and his family were among the Millerites who were disappointed when Jesus did not appear in 1844 according to their interpretations of biblical prophecy. They did not abandon their hope in the imminence of the Second Coming and joined with others to promote the faith of the early Seventh-day Adventists.2 Among those who were closely aligned with their efforts were James and Ellen Harmon White. The Whites were living in the upper rooms of the Belden family home when James published the first issues of the Advent Review and Sabbath Herald in 1850.3
The close association of the White and Belden families brought Stephen in contact with Ellen White's older sister, Sarah B. Harmon, and they married on August 5, 1851 in Saratoga Springs, New York.4 A son was born into their home in December 1854 but tragically he died of tuberculosis ten months later on September 11, 1855.5 Stephen was employed as a printer at the Review and Herald Publishing Company in Battle Creek.6 He was also an accomplished musician and gave private lessons to music students.7 Stephen and Sarah had six more children in quick succession: Frances Ellen (b. 1856), Franklin Edson (b. 1858), Byron Stephen (b. 1859), Charles Harmon (b. 1859), Stephen (b. 1860) and Lillian A. (b. 1862).8
Domestic Transitions
In 1862 Stephen removed his family from Battle Creek and settled back into farming in familiar Connecticut. Unfortunately, Sarah contracted tuberculosis and passed away in Berlin, Connecticut, on November 25, 1868, at the age of 45.9 The Beldens had employed a housekeeper, Charlotte Alley, while they were in Battle Creek and she had accompanied them to Connecticut.10 After Sarah died Stephen married Charlotte. They returned to Battle Creek in the early 1870s. Tragedy struck the family a second time with the sickness (dropsy, or edema) and ultimate death of Stephen's eldest daughter, Frances Ellen, on April 18, 1873.11 A little later the family moved from Battle Creek again, Stephen taking up farming and blacksmithing at Murray County in Minnesota.
W. C. White, Ellen White's son, writing in 1927, summed up Stephen's circumstances during the ensuing years:
After her [Sarah's] death Stephen Belden in pity for his children married a woman [Charlotte] who had been many years a faithful servant in his household. Shortly after this the measles visited the vicinity, and she with others had the measles in a severe form. The measles went to her brain and she became crazy and had to be taken to the asylum. Belden struggled along for some time, trying to care for his five children, then for their sake married a very good, efficient woman by the name of Vina Williams [alias Devereaux].12
White did not document his account but other records support its approximate accuracy while adding significant information. The facts are that when the census official visited Stephen's household in Cameron, Minnesota, on June 9, 1880, it was recorded that he was living there with his wife, Charlotte, and three sons and he was self-employed as a farmer and blacksmith.13 Two weeks later another census official in Mapleton, Minnesota, recorded Stephen, again as a blacksmith, but this time as an unrelated resident in the household of Nels and Ingeberg Docan, the same home where Melvina (otherwise Vina) Devereaux was employed as a servant.14
Thus, the 1880 United States Census counts Stephen T. Belden twice: once as the head of a household, with his wife Charlotte, in Cameron; and again in Mapleton, some 120 miles (193 kilometres) away, in the Docan household where the woman he married four years later also resided. Further details about the circumstances remain unknown, but it is plausible that by 1880 Charlotte's mental condition had so deteriorated that Stephen was actively searching for another housekeeper. It is clear that Stephen and Charlotte were separated before he remarried in 1884. Sometime after 1880 Charlotte was committed to the Connecticut State Hospital, Middletown, an institution for the insane, and passed away on September 6, 1897. Like all deceased patients she was laid to rest in the hospital cemetery, only a number (243), inscribed on her headstone.15
Stephen and Vina married On March 6, 1884, in Mankato, Minnesota. The municipal judge of Blue Earth County performed the civil ceremony. Vina's history was an unsettled one. She was the eldest of six children, born in Canada in 1831 to Florentine and Sophronia Mighells. Her father was a merchant. As a young woman she trained as a dressmaker and was married to a Mr. Devereaux. They had two daughters, Lizzie (b. 1852) and Effa (b. 1858). However, the 1860 census lists her as Melvina Williams with husband Darwin Williams, her two children still with her but retaining the surname Devereaux. By 1880 she was on her own working as a servant and had reverted to the surname Devereaux.16
Stephen's marriage to Vina aroused criticism in some quarters of the church because Charlotte, even though she was in an asylum, was still very much alive at the time. When attempts were made to remove his church membership Ellen White's response, according to her son, was, "Let them alone."17
The Australian Connection
In early 1887 Stephen's son, Byron, sailed to Australia to assist with the establishment of the Echo Publishing Company.18 By 1890 he was one of the directors of the enterprise.19 It was only one reason why Stephen Belden decided to sail to Australia. In December 1891 Ellen White and her associates had also made the move to Australia. As a long-time associate and relative of Ellen White it was an attractive option for Belden to make the same move. Furthermore, it placed him where he was less likely to suffer criticism about his marriage. It was an opportunity to make a fresh start. Stephen and Vina therefore arrived in Australia soon after Ellen White.20 They kept a low profile, moving about with Ellen White and assisting her whenever needed. For example, Ellen White wrote in 1892 that Stephen and another man carried her in a makeshift litter during an outing through Fern Tree Gully, Melbourne, so that she could appreciate the beauty of the tall timbers and giant ferns.21
Late in 1894 Stephen and Vina were chosen by Australasian church leaders to settle on Norfolk Island, off the eastern coast of Australia, in order to nurture and expand the island's small Seventh-day Adventist community.22 They served as self-supporting missionaries, living from their dairy, vegetable gardens and poultry but never having large cash funds. On one occasion Ellen White gave them several hundred dollars for food and clothing and paid for their tickets to sail to and from the island for a brief respite in Australia.23 In their mission endeavors they had success selling subscriptions for the Australasian Good Health periodical and church officials were pleased with the good influence they exerted among the islanders.24 When Ellen White returned to America she continued to write letters to them, knowing the isolation and loneliness of their mission field.25
In 1906 Stephen developed a skin cancer on his face. The condition worsened and caused him great suffering, finally taking his life on November 4. He was laid to rest in the historic Norfolk Island cemetery, its use extending back to the colorful convict days and British army rule.26
Vina chose to remain on the island and continue her mission work. Using the needlework skills she had learned in her youth, she became well-known for the patchwork bed quilts she manufactured and sold to raise funds for mission work throughout the Pacific Islands. Some of her handiwork was despatched to Australia and displayed in the foyer of the Sydney Adventist Hospital where visitors placed auction bids to secure them.27 At the age of ninety-seven Vina passed away peacefully on September 3, 1928, on Norfolk Island. Her funeral service was marked by tributes from Seventh-day Adventist and Methodist clergy.28 She rests with Stephen in the same cemetery.29
Sources
"A very handsome bed quilt . . . ." Union Conference Record, January 24, 1910.
"At the last annual meeting . . . ." Bible Echo and Signs of the Times, October 15, 1890.
Belden, S. T. "Norfolk Island." Union Conference Record, November 1, 1904.
Belden, S. T. "Sarah B. Belden obituary." ARH, December 22, 1868.
Belden, S. T. and S. B. Belden. "Obituary." ARH, October 30, 1855.
"Charlotte A. Alley." FamilySearch.org. Accessed January 6, 2021, https://www.familysearch.org/tree/pedigree/landscape/MCZB-XZS.
"Charlotte Belden." Find A Grave. Memorial ID no. 9559651. Accessed January 25, 2021, https://www.findagrave.com/memorial/95596651/charlotte-belden.
Chase, Jerry. "Belden, Stephen D. and Melvina Mighells (Devereaux)." In The Ellen G. White Encyclopedia, edited by Denis Fortin and Jerry Moon, 311-312. Hagerstown, MD: Review and Herald, 2013
Collins, Norma. "Belden, Sarah B (Harmon)." In The Ellen G. White Encyclopedia, edited by Denis Fortin and Jerry Moon, 311. Hagerstown, MD: Review and Herald, 2013.
Connecticut. Hartford County. 1870 United States Census. Digital images. Ancestry.com 2021, April 20, 2021, https://www.ancestry.com.
Hare, R. "Mrs. S.T. Belden." Australasian Record, October 22, 1928.
"Melvina Belden." Find A Grave. Memorial ID no. 190979785. Accessed January 6, 2021, https://www.findagrave.com/memorial/190979785/melvina-belden.
"Melvina (Vina) E. Mighells Devereaux." FamilySearch.org. Accessed January 6, 2021, https://www.familysearch.org/tree/person/details/9Z89-2Y3. 
"Mrs. S.T. Belden." ARH, December 13, 1928.
Starr, G. B. "Death of Stephen T. Belden." Union Conference Record, December 3, 1906.
Starr, G. B. "Norfolk Island." Union Conference Record, March 5, 1906.
"S.T. Belden and C.J. Anderson . . . ." Bible Echo, December 3, 1894.
"Stephen Treat Belden." FamilySearch.org. Accessed January 6, 2021, https://www.familysearch.org/tree/pedigree/landscape/9Q3P-6TV.
"The last boat from America . . . ." Bible Echo and Signs of the Times, April 1887.
White, Ellen G. Ellen G. White to Stephen and Vina Belden. October 17, 1904. Letter 293, 1904. Ellen G. White Writings, egwwritings.org.
White, Ellen G. Ellen G. White to George I. Butler. October 30, 1906. Letter 348, 1906. Ellen G. White Writings, egwwritings.org.
White, Ellen G. Ellen G. White to Lucinda Hall. November 23, 1903. Letter 258, 1903. Ellen G. White Writings, egwwritings.org.
White, Ellen G. Diary, December 1892. Manuscript 39, 1892. Ellen G. White Writings, egwwritings.org.
White, W. C. to W. D. Frazee. February 21, 1927. Ellen G. White Estate Incoming Correspondence, ellenwhite.org.
Notes