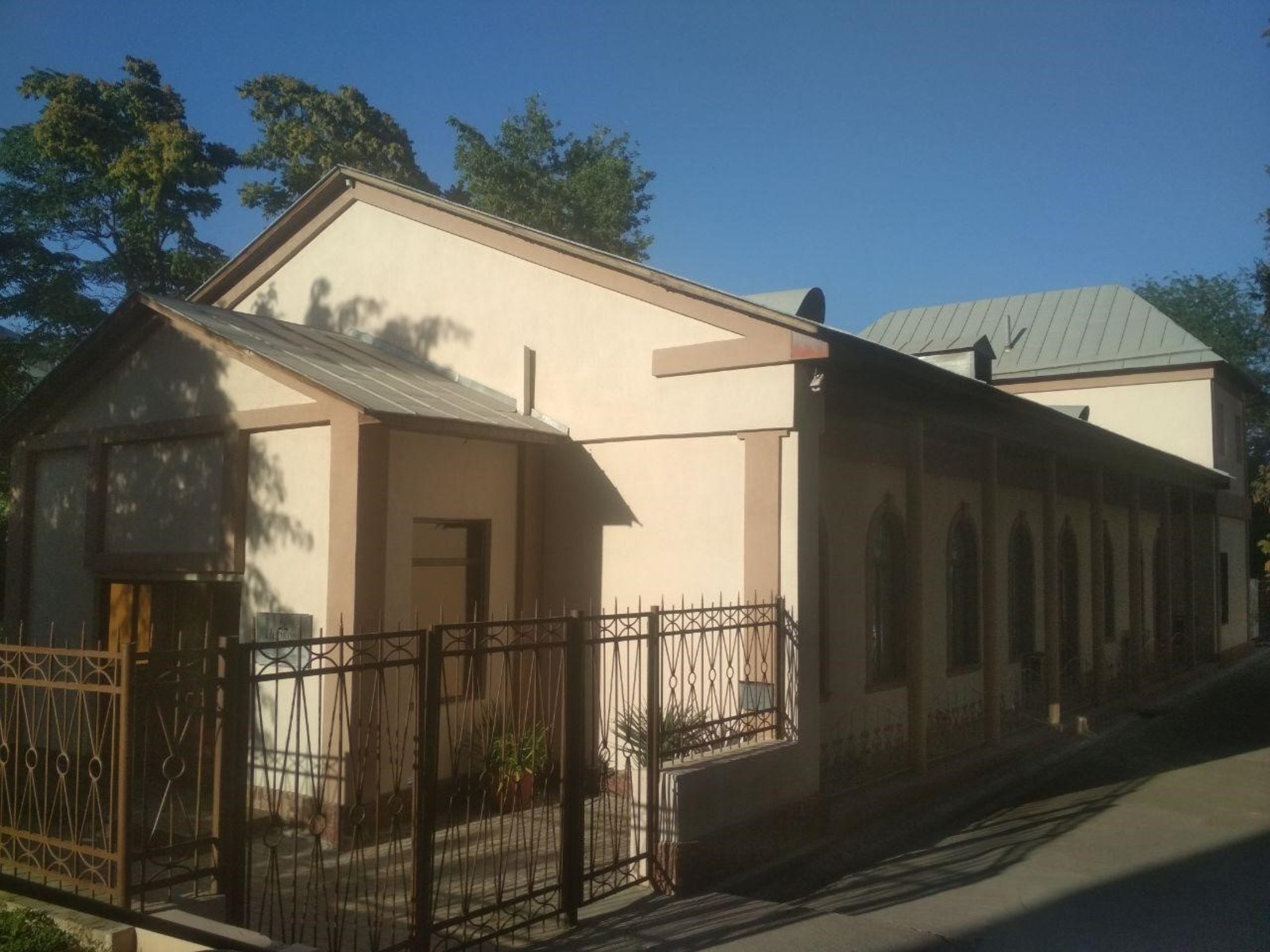 Uzbekistan Field
×
Dmitry O. Yunak graduated in Finance and Economics from a Soviet secular educational institution and completed a six-year course of Theology at an underground SDA Theological Institute (Moldova, USSR). In the Soviet times, he served as a pastor, administrator, and bible/history professor in the underground Theological Institute. In 1990, he was appointed as Treasurer and Publishing Ministries Director for the USSR Division. After the Euro-Asia Division was organized in 1991, Dmitry O. Yunak served as ESD auditor and under treasurer. He was the author of a dozen of SDA history books and scores of other publications. He owns a major SDA history archive.
Jón Hjörleifur Stefánsson, M.A., is a Ph.D. candidate, Vrije Universiteit, Amsterdam
First Published: February 18, 2021
The Uzbekistan Mission was organized in 2002 and changed to a field in 2010.
Territory and Statistics1
Period: 2002–2010 (Mission); 2010–
Territory: Uzbekistan
Population: 32,397,000
Membership: 679
Churches: 10
Address: Mumtoz Street 76, 100147 Tashkent, Uzbekistan
Origin of Seventh-day Adventist Work in the Territory
Adventists arrived in Uzbekistan in the late nineteenth or early twentieth century. The first Adventists appeared in Uzbekistan in 1906, in villages of the Khodjent District in the Samarkand Region. In 1909, after organizing the Central Asia Missionary Field, the head of the Seventh-day Adventist Church in Russia, J. T. Böttcher, took a trip from Orenburg to Tashkent. There J. G. Ebel worked and lived with his family, and there was a small company of fifteen Adventists. An Adventist congregation in Tashkent appeared a year after, and in 1911 it consisted of some 150 members.
Organizational History
After being part of the early Russian church units, the territory was part of the Central Asia Mission (1908–1910), the Turkestan Mission (1911–1925), the Central Asian Conference (1926–c. 1930), and—after not being listed for most of the Communist era—the Uzbek-Tadzhik District (1979–1989), the Asian-Caucasian Conference (1989–1994), and the Central Asia Conference (1994–2002).
As a result of reorganization of the East-Russian Missionary Field, the Central Asia Missionary Field, later renamed the Turkestan Missionary Field, was organized in January 1909. Pastor G. I. Zierath was sent to Central Asia in spring 1912. By the beginning of the First World War the Turkestan Missionary Field was attached to the European Division.
As of the end of 1917, there were over 450 church members in Uzbekistan. In 1920, the Eastern Union committee decided to organize the Caspian Union, which included the Turkestan Missionary Field. Heinrich J. Löbsack was elected chair of the Caspian Union.
On September 29-30, 1920, the Fourth All-Russian Congress of the Seventh-day Adventist Church was held. The delegates decided to send G. A. Ostwald from Orenburg to Tashkent to take over leadership of the Turkestan Missionary Field. A while later he was succeeded by I. T. Klimenko.
In 1925 the Central Asia Conference, which was a part of the South-Eastern Union, was organized, with its headquarters located in Tashkent. At that time, the Central Asia Conference united seven churches and three companies with 330 members. In 1925 Pastor G. A. Arnhold was transferred to serve in Tashkent, and in early 1926 he temporarily headed the Central Asia Conference. In July 1926 he was succeeded by K. F. Remfert. In October 1927, the Second constituency meeting of the Central Asia Conference, chaired by G. I. Zierath and K. F. Remfert, was held in Tashkent.
Seventh-day Adventists in Uzbekistan were not immune to the repressions of the 1930s. In 1936, during an anti-religious campaign, the leaders of the Tashkent church, including K. F. Remfert, were arrested and convicted. The repressions almost completely destroyed the organizational structure of the Church in this region. The congregations held worship services in secret, believers gathered in small groups, the number of ministers was insufficient, and new baptisms were sporadic.
In 1954 Pastor Kazimir Korolenko, who had been serving in Dushanbe, Tajikistan, was transferred to Tashkent and appointed responsible for the work in Central Asia at large. However, in 1958 he was arrested and sentenced to eight years of imprisonment. Denominational work in Tashkent was thereafter headed by Vasiliy Khrapov, and then, in the 1960s, by Andrey Fris.
In the mid-1960s the Uzbekistan authorities started to take inventory and register the religious communities, including Seventh-day Adventist churches. In the 1970s the churches in Fergana, Termez, Angren, Samarkand, and other populated areas were registered.
In 1978 the Adventist Church decided to organize the Asia-Transcaucasia Conference, which united local congregations in Uzbekistan, Tajikistan, Turkmenistan, Azerbaijan, Armenia, and Georgia. In 1983 the Asia-Transcaucasia Conference was reorganized, with the congregations in Uzbekistan transferred to the Central Asia Conference.
In 1994 the Central Asia Conference was also reorganized. It united local churches in Uzbekistan, Tajikistan, and Turkmenistan. Four years later, the churches in Tajikistan were organized into a separate mission. From 2000 to 2002, the headquarters of the Central Asia Conference, headed by Rubin R. Ott, was located in Bishkek, Kyrgyzstan.
In 2002 the Central Asia Conference was divided into the Kyrgyzstan Conference, the Tajikistan and Uzbekistan Missions, and the Turkmenistan Field.2 The church units all remained part of the Southern Union Conference. The territory of the Uzbekistan Mission was Uzbekistan. The first Seventh-day Adventist Yearbook report is from 2004. The headquarters was at Botkina Street 7A, Tashkent. Membership stood at 1,503. Officers were President Vladimir I. Yaorsky, Secretary Yulian A. Ivaschenko, Treasurer Sergey P. Iovu, and executive committee members Ruslan R. Karimov, Andrew T. Ten, Michael V. Ukhanov, and Roziya Yusupova.3
In 2010 the mission was scaled back to a field.4 In 2012 the headquarters was listed at Mumtoz Street 76.5
List of Presidents
Uzbekistan Mission: Vladimir I. Yaorsky, 2002–2007; Andrey T. Ten, 2008–2010.
Uzbekistan Field: Andrey T. Ten, 2011; Yury I. Rybalkin, 2012–2015; Andrey T. Ten, 2016–.
Sources
Böttcher, J. T. "Iz Evropy v Aziyu." Maslina Magazine, no. 2, 1910.
Kauffeldt, A.A. "Godovoy otchet Vsesoyuznogo Soveta ASD za 1925 god." Golos Istiny, no. 6, 1926.
Löbsack, H. J. "Vtoroy s''ezd v Sredney Azii." Golos Istiny, no. 12, 1927.
Ozol, A. J. "Moya pervaya poezdka v Persiyu." Vestnik Khristianina, no. 10, 1914.
Seventh-day Adventist Yearbook. Various years. https://www.adventistyearbook.org/.
Yunak, D. O. Podvig stradaniy. Istoriya Tserkvi ASD v Sredney Azii. Tula, 2007. Personal archives.
Yunak, D. O. Oblako svidetelei. Rukovoditeli Tserkvi ASD v Rossii ot organizatsii ejo pervoi obshchiny do zakrytiya Vsesoyuznogo Soyuza ASD. Personal archives, 2013.
Zhukova, L. I. K istorii khristianstva v Sredney Azii v XIX-XX veke. Tashkent: Uzbekistan, 1998.
Zierath, G. I. "S Kavkaza v Srednyuyu Aziyu." Maslina Magazine Supplement, no. 2, 1913.
Notes