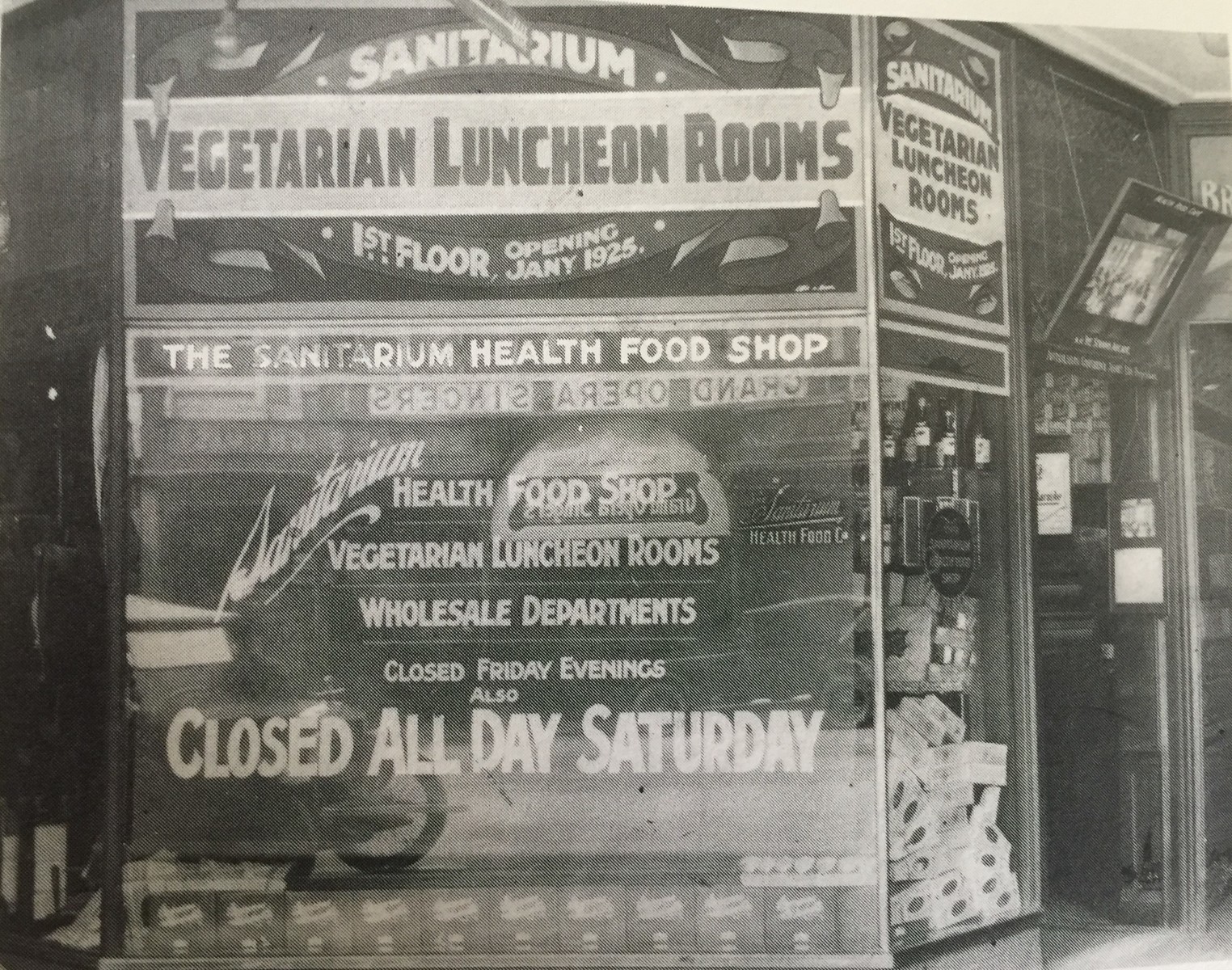 Sanitarium Health Food Cafés, New Zealand
×
Milton Hook, Ed.D. (Andrews University, Berrien Springs, Michigan, the United States). Hook retired in 1997 as a minister in the Greater Sydney Conference, Australia. An Australian by birth Hook has served the Church as a teacher at the elementary, academy and college levels, a missionary in Papua New Guinea, and as a local church pastor. In retirement he is a conjoint senior lecturer at Avondale College of Higher Education. He has authored Flames Over Battle Creek, Avondale: Experiment on the Dora, Desmond Ford: Reformist Theologian, Gospel Revivalist, the Seventh-day Adventist Heritage Series, and many magazine articles. He is married to Noeleen and has two sons and three grandchildren.
First Published: January 29, 2020
Having made a start with cafés in Sydney and Melbourne, George Fisher, the Sanitarium Health Food Company (SHF) general manager, was keen to expand into the major cities of New Zealand. A depot was first established in the capital city, Wellington,1 followed by the opening of retail outlets and cafés.
Wellington Café
In November 1906, the SHF opened a café at 37 Taranaki Street, Wellington. Patronage was excellent and it soon became evident that a more central position was desirable.2 Therefore, in March 19073 the business was moved to 16a Willis Street. Both locations were under the management of George Hansford.4 In 1908, the New Zealand conference president reported the business was "doing very well,"5 but after a few months conference officials suddenly had a change of heart and wanted to close the café when patronage declined and the rent was deemed too high.6 However, instead of closure, a third attempt was made at a different site in Manners Street.7 The Manners Street premises were retained until 1914, the enterprise managed first by Walter Ward,8 then by an American, Thyra Sandberg,9 followed by Leslie Jones.10 Fisher noted in 1913 that the balance sheet was "about even."11
During the First World War, a new site was found upstairs at 83 Willis Street.12 In 1921, the premises at street level were secured for a retail shop.13 This two-story site proved to be ideal for both café and retail business, and was retained long term until it was reported, in 1962, that it was to be closed in favor of two new sites, one in Cuba Street and another at Lambton Quay These, however, were listed as retail shops without cafés as an integral part of the business.14
Managers between 1915 and 1964 were Hugh Moseley (1915),15 Frederick Grubb (1916-1917),16 Arthur Cambie (1918),17 George Adair (1919-1923),18 Len Cresswell (about 1924-1927),19 Harold Baron (1928-1931),20 Sydney Greive (1932-1937),21 Hector Franks (1938),22 Clarence Lane (1939-about 1944),23 Austin Townend (about 1945-1946),24 Wilfred Edwards (1946-1948),25 Ronald Gray (1949-1954),26 Carl Eiszele (1955-1956),27 Andrew Dawson (1957-1958),28 and Frederick Pinfold (1959-1964).29
Auckland Café
New Zealand conference president, Stephen Cobb, reported in 1908 that a second vegetarian café was opened in his territory in November 1907.30 It was probably located in the Strand Arcade, downtown Auckland, this being the first site published in the Seventh-day Adventist Yearbook.31 In the first six years of operation, it was managed successively by Albert Wilkinson,32 Thyra Sandberg,33 and Nellie Cooper.34 Annual patronage increased to 27,560 by 1912.35
Benjamin Cormack took over from Cooper in late 1913,36 followed by William Wilton (1916-1918),37 Arthur Cambie (1919-1920),38 Lewis Butler (1921-1923),39 and Reginald Wright (1924-1941).40 Harry Camp, in his 1922 SHF business report, was pleased that patronage had further increased to 35,000 for the previous fiscal year, despite the fact the café was located on the third floor above street level and accessed by an unreliable lift service.41 Wright eventually found a more suitable site at 174 Queen Street. Others who managed the café at this new site were Clarence Lane (1942-1948),42 Wilfred Edwards (1949-1956),43 and Ivan Whittaker (1957-1958).44 The café ceased to be listed the Seventh-day Adventist Yearbook in 1958 and, instead, two separate retail shops were opened.
Christchurch Café
The Christchurch café was opened in March 1908.45 Its address at 86 Cashel Street West was not listed in the yearbook until 1915.46 Nine months after its opening, the New Zealand conference administration became nervous about its precarious financial situation and issued an ultimatum that expenses had to be reduced.47 Apparently, matters improved enough to avoid closure. The initial manager was Alfreda Carrick,48 followed by Minnie Hawkins (1910),49 Cavil Driscoll (1911),50 Colin Forsyth (1912-1915),51 Thomas Brown (1916-1918),52 and Frederick Grubb (1919).53 Fisher reported in 1913 that the balance sheet showed a profit,54 but apparently this could not be maintained and the last time the enterprise was listed was 1919.55
Dunedin Café
Despite the failure of the Christchurch café, another was opened in the South Island at Dunedin in 1923 and early reports were that it was "a profitable department." Located at 93 Princes Street,56 it proved to be short lived, 1923-1932. Its managers were Wilfred Smith (1923-1929)57 and Howard Jacobsen (1930-1932).58 Its last listing was in the 1932 Seventh-day Adventist Yearbook.59
Assessment
The café enterprises were more than the sum of balance sheets, profits, and personalities. The cafés, usually on the same site as the retail shops, served to advertise healthful cooking and eating in harmony with Adventist Church ideals. Often a trained physical therapist or hydrotherapist was associated with the business to provide drug-free treatments.60 The general public learned not just about the manufactured products but also about Adventist health principles. Gradually, healthful habits became well known in the community and healthy eating options became widespread. Vegetarian cafés had been something of a rarity prior to World War II, but after the war quick healthy snacks became the norm. The SHF cafés were phased out in preference for increased space for the sale of manufactured lines.61
Sources
Camp, J. H[arry]. "Health Food Department." Australasian Record, October 30, 1922.
Cobb, S[tephen] M. "The Report of the New Zealand Conference." Union Conference Record, September 7, 1908.
Fisher, G[eorge] S. "The Medical Work." Australasian Record, October 13, 1913.
Hansford, G[eorge] F. "Health Food and Cafe Work in New Zealand." Union Conference Record, May 6, 1907.
"In December, Brother B.O. Johanson…" Australasian Record and Advent World Survey, January 29, 1962.
Johanson, W[alter] O. "Health Food Department Notes." Australasian Record, May 28, 1923.
Pallant, J[esse]. "The New Zealand Conference." Union Conference Record, February 15, 1909.
Parr, Robert and Glyn Litster. "What Hath God Wrought." Warburton, Victoria: Signs Publishing Company, [1995].
"Sabbath-Keepers Won Through Our Dunedin Cafe," Australasian Record September 24, 1928.
Seventh-day Adventist Yearbooks. Washington, D.C.: Review and Herald Publishing Association, 1909-1960.
Smith, W[illiam] J. "Medical Work in New Zealand." Union Conference Record, March 1, 1901.
Notes
W[illiam] J. Smith, "Medical Work in New Zealand," Union Conference Record, March 1, 1901, 14.↩

G[eorge] F. Hansford, "Health Food and Cafe Work in New Zealand," Union Conference Record, May 6, 1907, 7.↩

S[tephen] M. Cobb, "The Report of the New Zealand Conference," Union Conference Record, September 7, 1908, 8-9.↩

E.g., "Sanitariums," Seventh-day Adventist Yearbook (Washington, D.C.: Review and Herald Publishing Association, 1909), 183.↩

S[tephen] M. Cobb, "The Report of the New Zealand Conference," Union Conference Record, September 7, 1908, 8-9.↩

J[esse] Pallant, "The New Zealand Conference," Union Conference Record, February 15, 1909, 5-6.↩

"Sanitariums," Seventh-day Adventist Yearbook (Washington, D.C.: Review and Herald Publishing Association, 1910), 186.↩

E.g., "Cafes," Seventh-day Adventists Yearbook (Washington, D.C.: Review and Herald Publishing Association, 1911), 188.↩

E.g., "Cafes," Seventh-day Adventist Yearbook (Washington, D.C.: Review and Herald Publishing Association, 1912), 202.↩

"Cafes," Seventh-day Adventist Yearbook (Washington, D.C.: Review and Herald Publishing Association, 1914), 205-206.↩

G[eorge] S, Fisher, "The Medical Work," Australasian Record, October 13, 1913, 1-3.↩

"Cafes," Seventh-day Adventist Yearbook (Washington, D.C.: Review and Herald Publishing Association, 1915), 210-211.↩

J. H[arry] Camp, "Health Food Department," Australasian Record, October 30, 1922, 71-72.↩

"In December, Brother B.O. Johanson…" Australasian Record and Advent World Survey, January 29, 1962, 8.↩

"Cafes," Seventh-day Adventist Yearbook (Washington, D.C.: Review and Herald Publishing Association, 1915), 210-211.↩

E.g., "Cafes," Seventh-day Adventist Yearbook (Washington, D.C.: Review and Herald Publishing Association, 1916), 215.↩

"Cafes," Seventh-day Adventist Yearbook (Washington, D.C.: Review and Herald Publishing Association, 1918), 234.↩

E.g., "Cafes," Seventh-day Adventist Yearbook (Washington, D.C.: Review and Herald Publishing Association, 1919), 242.↩

E.g., "Cafes," Seventh-day Adventist Yearbook (Washington, D.C.: Review and Herald Publishing Association, 1925), 270.↩

E.g., "Cafes," Seventh-day Adventist Yearbook (Washington, D.C.: Review and Herald Publishing Association, 1928), 330.↩

E.g., "Cafes," Seventh-day Adventist Yearbook (Washington, D.C.: Review and Herald Publishing Association, 1932), 368.↩

"Cafes and Retail Stores," Seventh-day Adventist Yearbook (Washington, D.C.: Review and Herald Publishing Association, 1938), 327.↩

E.g., "Cafes and Retail Stores," Seventh-day Adventist Yearbook (Washington, D.C.: Review and Herald Publishing Association, 1939), 341.↩

E.g., "Cafes and Retail Stores," Seventh-day Adventist Yearbook (Washington, D.C.: Review and Herald Publishing Association, 1945), 302.↩

E.g., "Cafes and Retail Stores," Seventh-day Adventist Yearbook (Washington, D.C.: Review and Herald Publishing Association, 1946), 271.↩

E.g., "Cafes and Retail Stores," Seventh-day Adventist Yearbook (Washington, D.C.: Review and Herald Publishing Association, 1949), 295.↩

E.g., "Cafes and Retail Stores," Seventh-day Adventist Yearbook (Washington, D.C.: Review and Herald Publishing Association, 1955), 245.↩

E.g., "Cafes and Retail Stores," Seventh-day Adventist Yearbook (Washington, D.C.: Review and Herald Publishing Association, 1957), 256.↩

"Cafes and Retail Stores," Seventh-day Adventist Yearbook (Washington, D.C.: Review and Herald Publishing Association, 1960), 279.↩

S[tephen] M. Cobb, "The Report of the New Zealand Conference," Union Conference Record, September 7, 1908, 8-9.↩

"Cafes," Seventh-day Adventist Yearbook (Washington, D.C.: Review and Herald Publishing Association, 1914), 205-206.↩

"Sanitariums," Seventh-day Adventist Yearbook (Washington, D.C.: Review and Herald Publishing Association, 1909), 183.↩

E.g., "Sanitariums," Seventh-day Adventist Yearbook (Washington, D.C.: Review and Herald Publishing Association, 1910), 185.↩

E.g., "Cafes," Seventh-day Adventist Yearbook (Washington, D.C.: Review and Herald Publishing Association, 1912), 202.↩

G[eorge] S. Fisher, "The Medical Work," Australasian Record," October 13, 1913, 1-3.↩

E.g., "Cafes," Seventh-day Adventist Yearbook (Washington, D.C.: Review and Herald Publishing Association, 1914), 205-206.↩

E.g., "Cafés," Seventh-day Adventist Yearbook (Washington, D.C.: Review and Herald Publishing Association, 1916), 215.↩

E.g., "Cafes," Seventh-day Adventist Yearbook (Washington, D.C.: Review and Herald Publishing Association, 1919), 242.↩

E,g., "Cafes," Seventh-day Adventist Yearbook (Washington, D.C.: Review and Herald Publishing Association, 1921), 204.↩

E.g., "Cafes," Seventh-day Adventist Yearbook (Washington, D.C.: Review and Herald Publishing Association, 1924), 254.↩

J. H[arry] Camp, "Health Food Department," Australasian Record, October 30, 1922, 71-72.↩

E.g., "Cafes and Retail Stores," Seventh-day Adventist Yearbook (Washington, D.C.: Review and Herald Publishing Association, 1942), 281.↩

E.g., "Cafés and Retail Stores," Seventh-day Adventist Yearbook (Washington, D.C.: Review and Herald Publishing Association, 1949), 295.↩

E.g., "Cafes and Retail Stores," Seventh-day Adventist Yearbook (Washington, D.C.: Review and Herald Publishing Association, 1957), 256.↩

S[tephen] M. Cobb, "The Report of the New Zealand Conference," Union Conference Record, September 7, 1908, 8-9.↩

"Cafes," Seventh-day Adventist Yearbook (Washington, D.C.: Review and Herald Publishing Association, 1915), 210.↩

J[esse] Pallant, "The New Zealand Conference," Union Conference Record, February 15, 1909, 5-6.↩

"Sanitariums," Seventh-day Adventist Yearbook (Washington, D.C.: Review and Herald Publishing Association, 1909), 183.↩

"Sanitariums," Seventh-day Adventist Yearbook (Washington, D.C.: Review and Herald Publishing Association, 1910), 186.↩

"Sanitarums," Seventh-day Adventist Yearbook (Washington, D.C.: Review and Herald Publishing Association, 1911), 188.↩

G[eorge] S. Fisher, "The Medical Work," Australasian Record, October 13, 1913, 1-3.↩

E.g., "Cafes," Seventh-day Adventist Yearbook (Washington, D.C.: Review and Herald Publishing Association, 1916), 215.↩

"Cafes," Seventh-day Adventist Yearbook (Washington, D.C.: Review and Herald Publishing Association, 1919), 242.↩

G[eorge] S. Fisher, "The Medical Work," Australasian Record, October 13, 1913, 1-3.↩

"Cafes," Seventh-day Adventist Yearbook (Washington, D.C.: Review and Herald Publishing Association, 1919), 242.↩

W[alter] O. Johanson, "Health Food Department Notes," Australasian Record, May 28 1923, 8.↩

E.g., "Cafes," Seventh-day Adventist Yearbook (Washington, D.C.: Review and Herald Publishing Association, 1925), 270.↩

E.g., "Cafes," Seventh-day Adventist Yearbook (Washington, D.C.: Review and Herald Publishing Association, 1930), 358.↩

"Cafes," Seventh-day Adventist Yearbook (Washington, D.C.: Review and Herald Publishing Association, 1932), 368.↩

E.g., W[alter] O. Johanson, "Health Food Department Notes," Australasian Record, May 28, 1923, 8.↩

Robert Parr and Glyn Litster, "What Hath God Wrought," (Warburton, Victoria: Signs Publishing Company, [1995], 107.↩