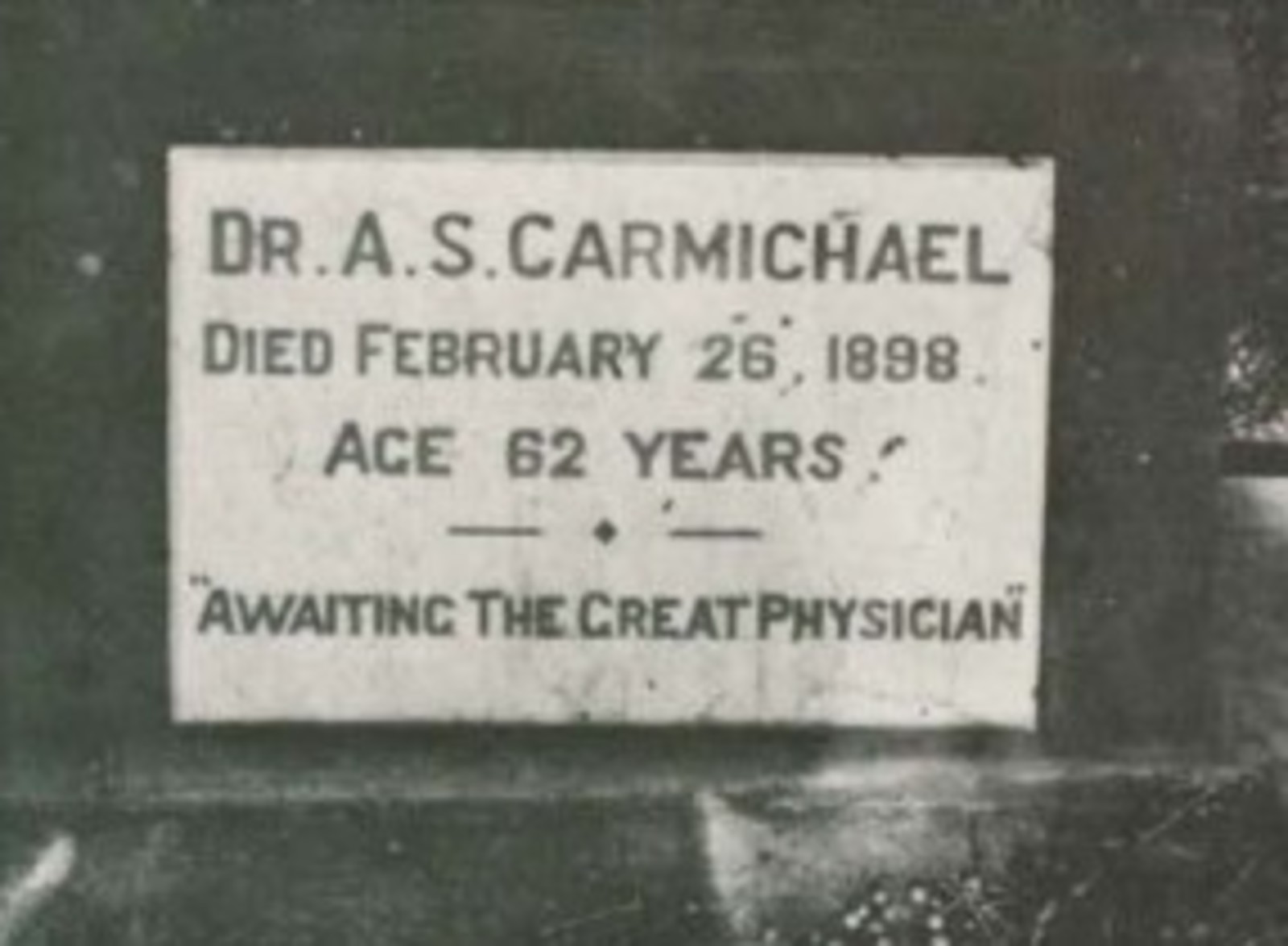 Carmichael, Addison Silas (1838–1898)
×
Michael W. Campbell, Ph.D., is professor of church history and systematic theology at Southwestern Adventist University. An ordained minister, he pastored in Colorado and Kansas. He is assistant editor of The Ellen G. White Encyclopedia (Review and Herald, 2013) and currently is co-editor of the forthcoming Oxford Handbook of Seventh-day Adventism. He also taught at the Adventist International institute for Advanced Studies (2013-18) and recently wrote the Pocket Dictionary for Understanding Adventism (Pacific Press, 2020).
Addison S. Carmichael was a pioneer Adventist medical missionary to Africa.
Addison was born in Pennsylvania in 1838 to Daniel (1817-1878) and Eunice (1818-1902) Carmichael. Sometime between 1844 and 1849 the family moved to Linn, Iowa.1 Addison went into farming and on September 30, 1860, married Phebe (Phoebe) Ann Beam (b. 1842).2 They had two sons, Edwin (1861-1927) and Charles (1863-1889), born before Addison joined the 15th Iowa Infantry during the American Civil War, serving from 1863 to 1865.3
After the war, Addison attended the University of Michigan and then was appointed as a postmaster in Greenfield, Iowa.4 While there, the Carmichaels became founding members of the local Presbyterian church.5 They had three more children after the war: Harry (1866-1891), Mary Frances (1868-1953), and Frank Edgar (1873-1938).6
His parents converted to Adventism in the 1860s,7 but the first extant sign of Addison Carmichael's own involvement with Adventism comes in the year 1889 when he sent a generous $20 donation for the California state camp meeting.8 He had moved to California in the early 1880s, apparently following the death of his wife Phebe. He subsequently married Jennie V. Carmichael (1854-1938) and secured a medical degree.
At the 1895 General Conference session, Dr. Carmichael was part of a group of pioneering workers appointed to establish Solusi Mission (early on called Matabele Mission) in what is today Zimbabwe. Because he needed to complete the sale of his medical practice, he delayed his departure until two weeks after that of the main group, and set out from Battle Creek on April 15, 1895.9 Upon his arrival at Cape Town, Dr. Carmichael joined the group comprised of W. H. and Nora Haysmer Anderson along with George and Mary Tripp and their young son, George, Jr.
Fred Sparrow, who, with his wife, had remained on the mission site after the land was acquired in 1894, met the group at Mafeking, South Africa. From there, they began, on June 2, a 600-mile journey by ox cart to the site of the new mission. Anderson later described their traveling arrangements:
One wagon was loaded with about seven thousand pounds of goods, with a cover over the back part of it. On top of the boxes, and directly beneath this cover, was the bed of Mr. and Mrs. Sparrow. The other wagon, which was loaded with about six thousand pounds of goods, had a cover extending over its whole length, like an old-time "prairie schooner." In the front part of this wagon, on top of the boxes, Dr. A. S. Carmichael . . . and Master George Trip, placed their springs and made their bed. With our "telescope" hand bags for a partition between the two beds, Mrs. Anderson and I placed our springs on top of the boxes, in the back part of the wagon, and there made up our bed. . . .

Elder and Mrs. Tripp occupied the cart, which had no springs, and was loaded with about one thousand two hundred pounds of flour. They used the sacks of flour for their mattress.10
The group arrived at the mission site on Friday, July 25, 1895.11 On Sunday morning, after the missionaries had rested on Sabbath, Dr. Carmichael found "that as soon as he opened the door and went out, he saw a number of the native people lying upon the ground waiting for his appearance. It was not necessary for him to hunt them up . . . but as soon as it was known [t]hat he was there, they gathered about him, of their own accord."12 During their first two years they survived a political uprising in which foreigners were targeted and killed followed by a catastrophic famine. When things stabilized, they were able to continue their missionary work.
In February 1898 Addison contracted malaria and died two weeks later on February 26, 1898. Both George B. Tripp and his son died within five weeks, and later others at the mission would succumb to disease. There was an impression among some of these early missionaries "that quinine was a dangerous drug." Not using it contributed to the death of Dr. Carmichael along with other missionaries after him.13 When Ellen White was pressed about whether it was wrong to use quinine, especially by missionaries in areas prone to malaria, she replied: "If quinine will save a life, use quinine."14 W. A. Spicer later reflected that the string of deaths at Solusi due to disease during this formative time period was the single greatest sacrifice of missionaries in Adventist history.15
Dr. Addison S. Carmichael was the first Adventist physician to travel overseas as a medical missionary to Africa. His tombstone at Solusi states that he is "Awaiting the Great Physician." Ellen White wrote that her "heart" was "made sad" when she heard the news that Dr. Carmichael and George Tripp had both tragically died, commenting that the African people "have lost their best friends."16
Sources
"Addison Silas Carmichael." FamilySearch. Accessed May 17, 2021, https://www.familysearch.org/tree/person/details/LRJ6-KBT.
"From Matabeleland, Africa." Workers' Bulletin, June 29, 1897.
"Our Missionaries in Peril." Home Missionary, May 1896.
"From Matabeleland." ARH, January 21, 1896.
Anderson, W. H. "A Brief Sketch of a Matabele Mission." Present Truth, December 28, 1899.
Anderson, W. H. On the Trail of Livingstone. Mountain View, CA: Pacific Press, 1919.
Carmichael, A. S. "Letter from Dr. Carmichael." ARH, June 2, 1896.
O[lsen], O. A. "The Medical Missionary College." ARH, October 29, 1895.
Robinson, Virgil. The Solusi Story: Times of Peace, Times of Peril. Washington, DC: Review and Herald, 1979.
Spicer, William A. Our Story of Missions for Colleges and Academies. Mountain View, CA: Pacific Press, 1921.
Trim, D. J. B. A Living Sacrifice: Unsung Heroes of Adventist Missions. Nampa, ID: Pacific Press, 2019.
Wilcox, F. M. "Our Missionaries in Peril." ARH, April 28, 1896.
Notes