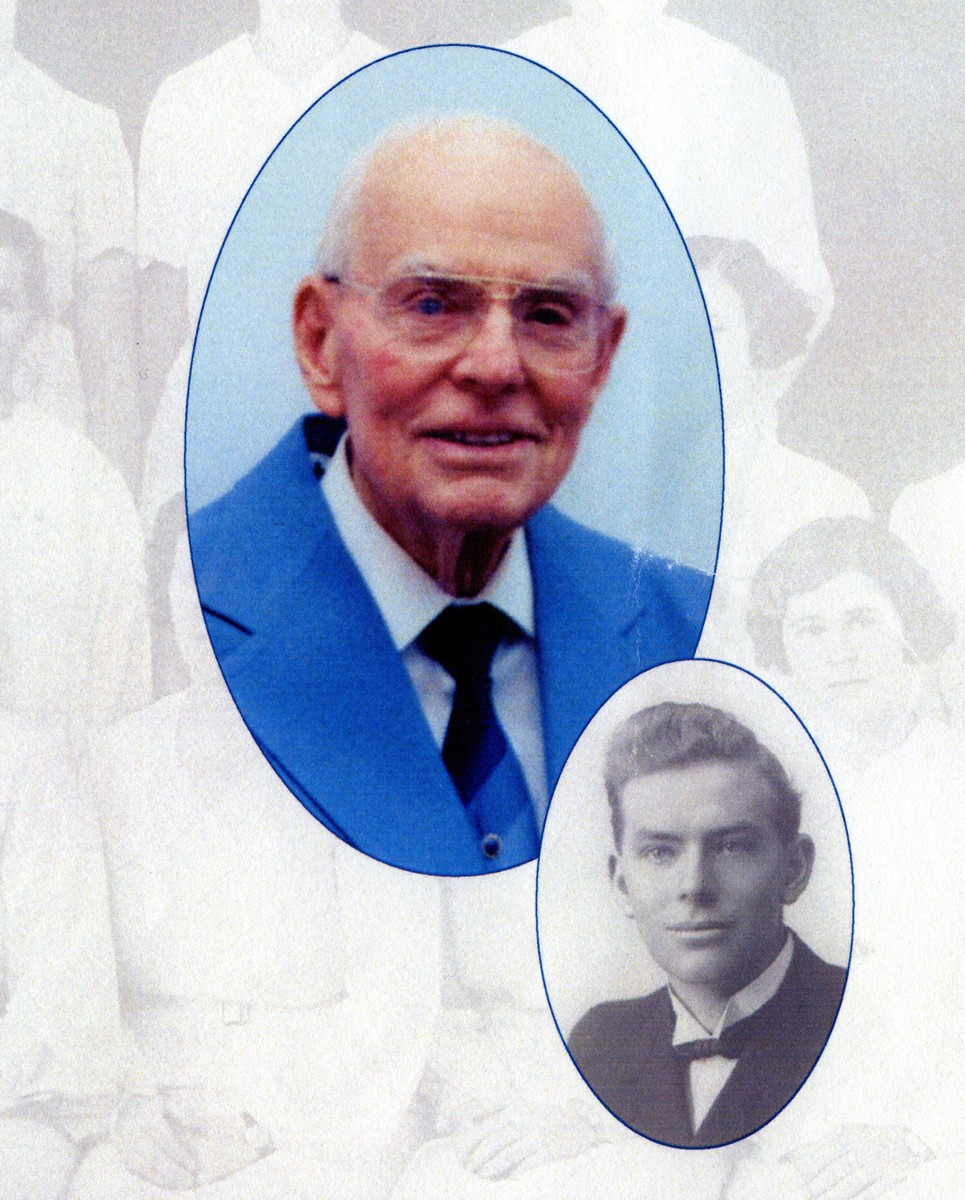 Bradley, Thomas James (1905–2003)
×
Originally trained as a secondary history teacher, a career long Adventist educator, Lester Devine, Ed.D., has taught at elementary, secondary and higher education levels and spent more than three decades in elected educational leadership positions in two divisions of the world Church, NAD (1969-1982) and SPD (1982-2005). He completed his forty years of denominational service with a term as director of the Ellen G. White/Adventist Research Centre at Avondale University College in Australia where his life-long hobby of learning and presenting on Adventist heritage issues became his vocation. 
Tom Bradley served in the South Pacific Division and the Northern Europe Division as an evangelist and in health ministries in the North American Division.
Early Life
Thomas James Bradley was born in Freemantle, Western Australia, on October 22, 1905, the fourth-born son of Benjamin and Alice Mary Bradley.1 Working as a housekeeper for the Johanson family, Alice Bradley was among the first to be baptized as a Seventh-day Adventist (SDA) in Western Australia because of the influence of the Johansons.2 Tom Bradley would later say that his mother took him to Sabbath School when he was two weeks old and that he had been attending ever since!
In 1914 Bradley's father encouraged his two older sons to enlist in the army and thus join the war effort. Accordingly, Alice Bradley told her husband that while he had influenced the two older boys to go to war, she wanted to be the influence in Tom's life. By the age of 15, he had shown that he "had a sensitive and profound personality and these were characteristics which would uniquely mark his ministry for the rest of his life."3
Years of Service
While a student at Carmel College in Western Australia, Bradley became a friend of Len Minchin, who later became Youth director at the General Conference. They canvassed together in Western Australia4 and studied for the ministry together at Avondale College, with Tom entering the organized work of the Church in December 1923.5 During his time at Avondale, Bradley's mother worked as a colporteur to financially assist him through his study program.
As a ministerial intern under the supervision of Roy Allan Anderson in New Zealand, Bradley was advised to find a wife, so he and Olive Petersen, his girlfriend, then studying at Avondale, decided to marry. Doris Olive Petersen had been born in Mackay, Queensland on September 14, 1904.6 In August 1926 Tom Bradley and Olive Petersen7 were married in the mission tent in Napier, New Zealand, during one of the meetings.8 To this union one son, Leon Campbell Bradley, was born in Auckland, New Zealand, on September 23, 1928.9
After nearly a decade of ministerial service, Bradley was ordained in Sydney, Australia, in 1932 as a Seventh-day Adventist pastor.10
In 1946 Bradley completed a bachelor of arts from the University of Western Australia.11 He did these studies while he continued in full-time evangelism. In that same year, Bradley was invited to be an evangelist in the Northern European Division.12 There he surprised people who thought public evangelism would not be successful. In Birmingham, United Kingdom, for example, he conducted an evangelistic campaign that resulted in 400 baptisms.13 He went on to conduct campaigns across Europe and in Africa before relocating to the North American Division under somewhat difficult circumstances, where he entered what was for him a complete change of role—promoting and building up the health ministry of the Church.14
Later Life
Upon retirement, Tom joined the staff of the School of Public Health at Loma Linda University in Southern California, United States of America.15 While he lived for a time in Cooranbong, New South Wales, Australia, he also returned to Southern California for a few years before finally settling in Cooranbong, where he died in 2003 at the age of 97 years. Doris Olive Bradley died April 4, 2004.16
Legacy
Tom enjoyed people and was very good with them. People he had never met before quickly warmed to him, found themselves opening up to him, and were very comfortable in his presence. He easily made enduring friendships wherever he went all over the world. He lived out his calling to ministry effortlessly, and his lifelong commitment to mission underlay every conversation.
An evangelist at heart, Bradley served in North and South New Zealand and New South Wales, as well as South Australia and Western Australia. During one campaign in New Zealand, he baptized the parents of Geoff Ratcliffe, who later became a well-known Adventist evangelist. In an evangelistic campaign in Parkes, New South Wales, he led David and Dora Oliver into the Church, and succeeding generations of that family have served the Church well, both as volunteers and as employees, with the best known being Dr. Barry Oliver, who taught at Avondale College and was president of the South Pacific Division when he retired in 2015.17 Another outcome of Tom's work in Parkes was the baptism of Frank Breaden, who became a successful pastor and evangelist and produced the Pictorial Aid for Bible Studies.
Sources
Anderson, R. Allan. "Bradley-Petersen." Australasian Record, October 25, 1926.
"Bradley, Tom." South Pacific Division Heritage Centre, Avondale College of Higher Education, Cooranbong, New South Wales, Australia. Box 845 Biographical folder.
Kent, Ray, James Grieve, and Ray Stanley. "Olive Bradley obituary." Record, June 12, 2004.
"Letter from Pastor W. G. Turner." Australasian Record, July 22, 1946.
Manners, Bruce. "Evangelism and Health Pioneer Dies." Record, August 16, 2003.
"News comes that . . ." Australasian Record, April 22, 1946.
Oliver, Edward D. "A Tribute to a Pastor on His 90th Birthday." Unpublished document. South Pacific Division Heritage Centre, Avondale College of Higher Education, Cooranbong, New South Wales, Australia. Box 845 Biographical folder.
Secretariat General Correspondence. RG 21, Box 3490. 1955 ASI to 1955 F. Folder: T. J. Bradley.
Stanley, Ray, Ray Kent, and Les Coombe. "Thomas James Bradley obituary." Record, August 16, 2003.
Thomas James Bradley Biographical Information. South Pacific Division of the General Conference Archives. Folder: "Bradley, Thomas James." Document: "Biographical Information Blank."
"West Australia." Australasian Record, May 7, 1923.
Notes