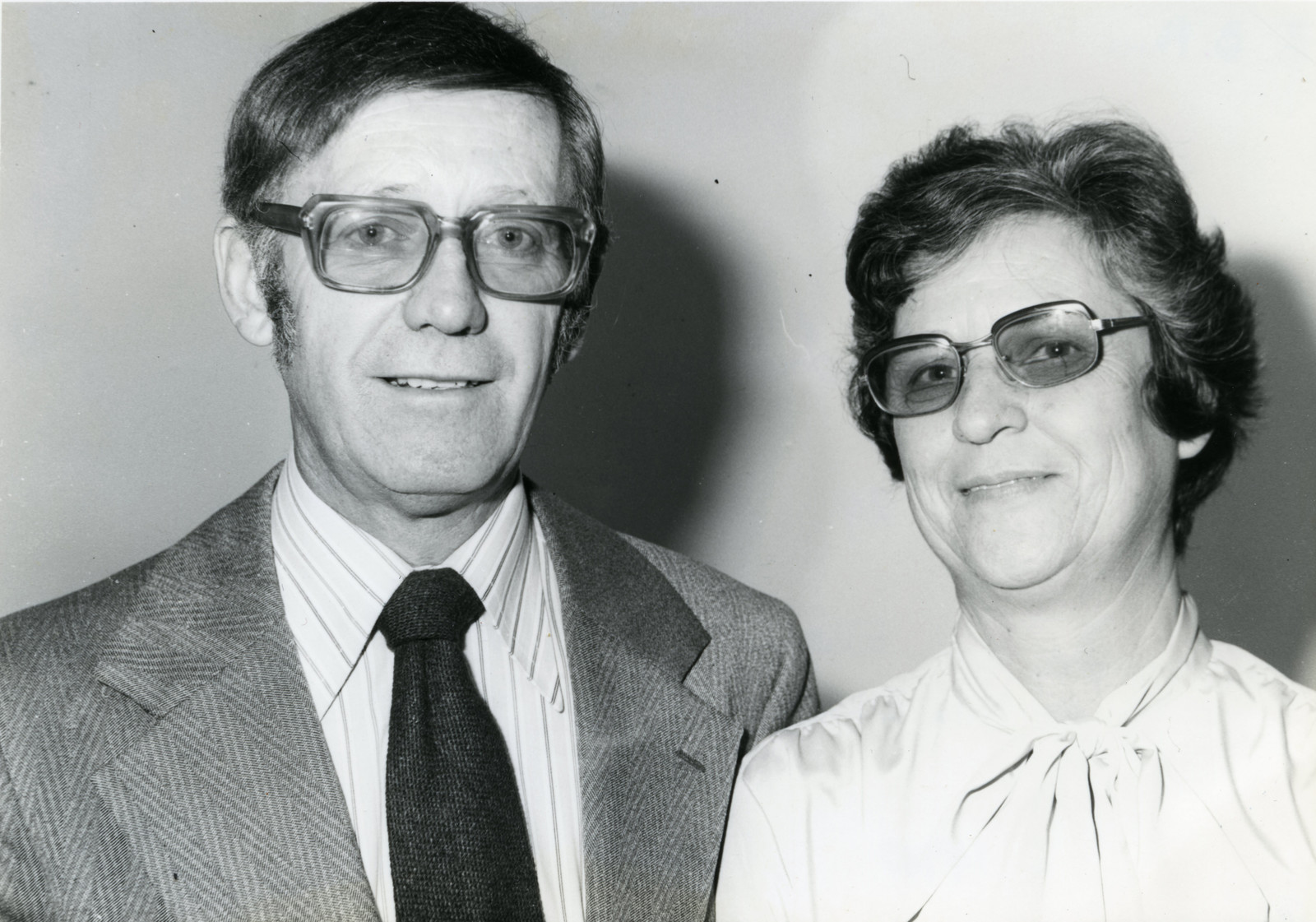 Ellison, Roderick Marcus (1922–2008) and Unita Madeline (Edmunds) (1923–2017)
×
Originally trained as a secondary history teacher, a career long Adventist educator, Lester Devine, Ed.D., has taught at elementary, secondary and higher education levels and spent more than three decades in elected educational leadership positions in two divisions of the world Church, NAD (1969-1982) and SPD (1982-2005). He completed his forty years of denominational service with a term as director of the Ellen G. White/Adventist Research Centre at Avondale University College in Australia where his life-long hobby of learning and presenting on Adventist heritage issues became his vocation. 
First Published: January 29, 2020
Roderick Marcus Ellison, a teacher, and his wife, Unita Madeline (Edmunds) Ellison, are best known for their contribution to the needs of families in crisis and single parents.
Roderick (Rod) Marcus Ellison was born in Sydney, Australia, on December 27, 1922. He accepted the Seventh-day Adventist message in 1936 and was baptized in 1939 as the consequence of attending Sabbath School at the invitation of some church members. He attended Sydney Teachers College during 1939 and 1940, and became a government school teacher in New South Wales prior to attending Avondale College in 1946 where he studied for the ministry. He entered the organized work of the Church at the end of that year.1 On January 9, 1947, Ellison married Unita (Nita) Madeline Edmunds.2 She was born in Bundarrra, New South Wales, Australia ,on August 8, 1923.3 A trained remedial teacher, Nita Edmunds graduated from the Royal Hospital for Women as a midwife in 1946 and was also a family life counsellor.4
Rod Ellison was headmaster of the Auburn Seventh-day Adventist School in Sydney during 1947. In 1948, he accepted a position in Papua where he was a school principal. After two years he was appointed educational supervisor in 1950 before becoming the education secretary and youth director for the Coral Sea Union Mission, based in Lae, New Guinea. He remained in that position between 1951 and 1955.5 Ellison was ordained to the gospel ministry in Lae on December 27, 1953.6 During these years, Nita Ellison cared for her family. Their son, Taylor Lee, was born in Port Moresby; and their daughter, Sharon Denise, was born in Lae.7
In 1955, the family returned to Australia where Rod taught at the Adventist high school in Sydney and then at Avondale Central School from 1957 until the end of 1962. After two years as the principal of the Prospect School in South Australia, the family moved to Western Australia where Rod Ellison taught at Carmel College from 1965 until 1971, and then at the Victoria Park School in Perth for the one year, 1972. While in Western Australia, both Rod and Nita Ellison were involved in Family Life Education and by 1980 he was, supported by Nita, Director of Safecare continuing in that role until the end of 1982. During these years Rod Ellison completed a Ph.D. at the University of Western Australia.8 In May of 1980 the family returned to the east coast of Australia where the Ellison ran the Safecare counselling program in the Greater Sydney Conference until Rod Ellison retired in 1984.9 The Ellisons worked together, often fulltime, but Nita Ellison was not on the payroll as it was considered that the role of the wife of the pastor was to support her husband without remuneration. Nita felt the injustice of that situation.
While living in West Australia, Rod and Nita Ellison became friends with Dr. Margherita Freeman, the first Seventh-day Adventist to study medicine in Australia. With the help of Rose-Lee Power and the Adventist Heritage Centre at Avondale College, they wrote Dr. Freeman's story in the book Born to Serve published in 2012.10
The Ellisons' retirement was busy. They continued sharing the skills they had developed over a lifetime of service together, providing training courses for the North New South Wales Conference for around 10 months each year until 1994. The Ellisons provided vegetarian cooking series in the Toronto Church Hall on Lake Macquarie, New South Wales. On one such occasion in 1987, with 48 attendees, Rod Ellison and his daughter, Dr. Denise Kent, made the presentations together. From time to time, the Ellisons opened their home to families in crisis, which led them to begin to explore the possibility of setting up a women and children's refuge. When the opportunity came to set up such a facility, named Sanctuary 7, in Murwillumbah, New South Wales, the Ellisons conducted two weeks of training for the staff. A second facility, Southlakes Refuge for Women and Children, was established not far from Avondale College when a widow offered her home for such a purpose. The building was named Ronita Cottage in the Ellisons' honor and before long, with the assistance of a grant from the Adventist Development and Relief Agency (ADRA), the Ellisons also set up a support group for single parents in the Gosford-Newcastle region and where the human and emotional needs of twenty single-parent families, with 37 children, were addressed. Because of their contributions, Rod and Nita Ellision were presented with Centenary Medals, which they accepted on the behalf of all the volunteers they had trained, believing their unselfish labor deserved recognition.11
The Ellisons' son, Lee, died in February 200812 and just two weeks later, after years of fragile health, Roderick Ellison died at his home in Cooranbong, New South Wales, on March 6, 2008.13 Unita Ellison lived on alone until she died on September 17, 2017.14
Sources
Brown, Mavis R. F. "Retired and Serving." Record, March 27, 2004.
Ellison, Roderick Marcus. "The Norm of Achievement in Primary School Children: The Relationship Between Aspects of the Social Structure of Primary Schools and Children's Development of the Norm of Achievement." Ph.D. diss., University of Western Australia, 1978.
Funeral Program for Roderick Ellison. South Pacific Division Heritage Centre. Avondale College of Higher Education, Cooranbong, New South Wales, Australia.
Funeral Program for Unita Ellison. South Pacific Division Heritage Centre. Avondale College of Higher Education, Cooranbong, New South Wales, Australia.
Galindo, Jemma. "New Book Honours First Adventist Physician." Record, December 1, 2012.
Piper, Ross C. "Ellison–Edmunds wedding." Australasian Record, February 24, 1947.
Potter, David and Rein Muhlberg, "Lee Taylor Ellison obituary." Record, March 22, 2008.
Roderick Marcus Ellison Biographical Records. South Pacific Division of the General Conference Archives.
Roderick Marcus Ellison Service Records. South Pacific Division of the General Conference Archives.
Unita Madeline Ellison Biographical Records. South Pacific Division of the General Conference Archives.
Notes