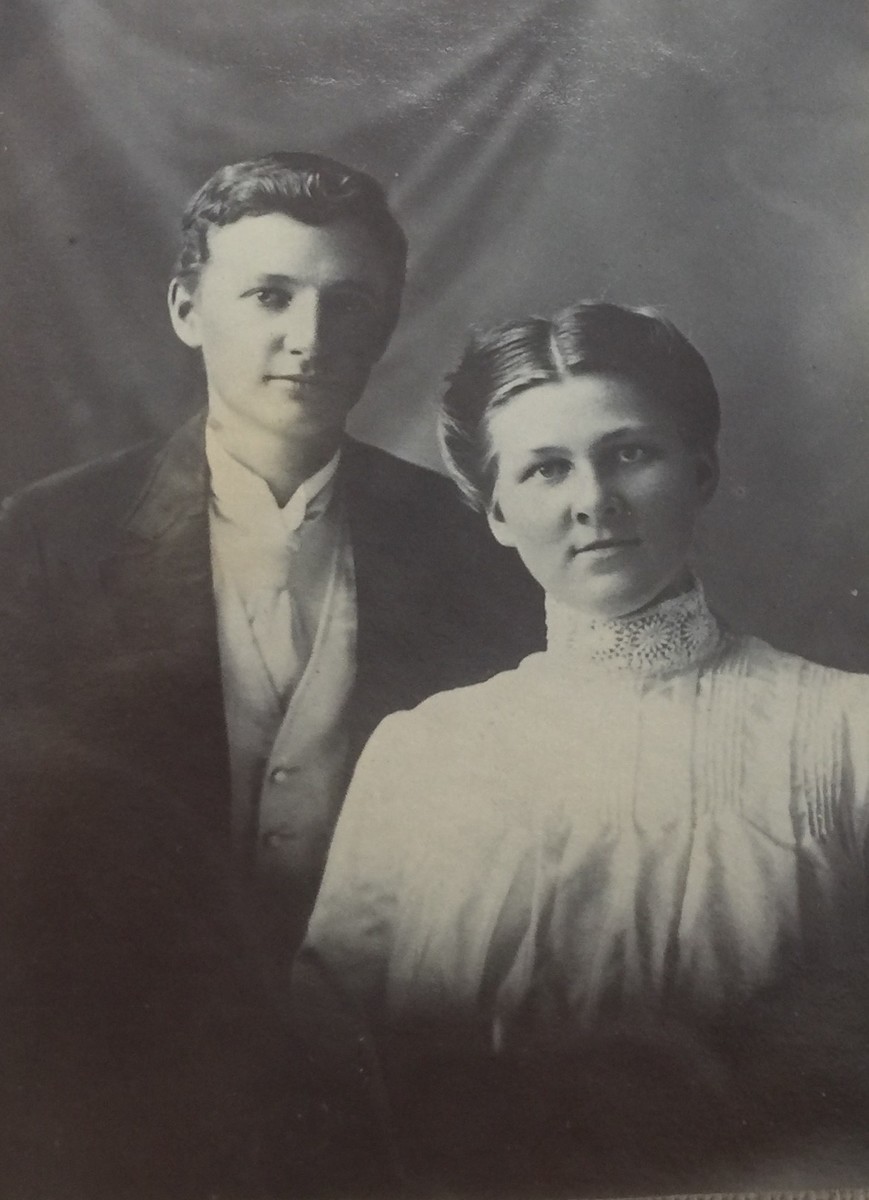 Wiles, Norman Bruce Julius (1892–1920) and Alma Bernice (Butz) (1894–1980)
×
Milton Hook, Ed.D. (Andrews University, Berrien Springs, Michigan, the United States). Hook retired in 1997 as a minister in the Greater Sydney Conference, Australia. An Australian by birth Hook has served the Church as a teacher at the elementary, academy and college levels, a missionary in Papua New Guinea, and as a local church pastor. In retirement he is a conjoint senior lecturer at Avondale College of Higher Education. He has authored Flames Over Battle Creek, Avondale: Experiment on the Dora, Desmond Ford: Reformist Theologian, Gospel Revivalist, the Seventh-day Adventist Heritage Series, and many magazine articles. He is married to Noeleen and has two sons and three grandchildren.
First Published: January 29, 2020
Norman and Alma Wiles were among the first missionaries to Malekula Island, New Hebrides. After just a few years on Malekula, Norman Wiles died of blackwater fever. After her husband's death Alma Wiles served in New Guinea, Australia, Nigeria, and the United States as a nurse specializing in tropical diseases and midwifery.
Early Life
Norman Wiles was born in Adelaide, South Australia, on August 25, 1892.1 His parents were Harold Albert Wiles and Maria Emma (Daehse) Wiles.2 Wiles's only sibling was a sister. His mother became a Seventh-day Adventist in 1907 under the ministry of Elder Joseph Steed. Wiles and his sister also joined the church.3 When Wiles announced that he planned to study at the Australasian Missionary College his father made every effort to dissuade him, but Wiles was resolute and his father ostracized him.4
During Wiles's studies, he met Alma Bernice Butz. Alma Butz was born in Bernicia, California, on September 23, 1894, and as an infant sailed on the Pitcairn with her missionary parents to Pitcairn Island.5 Later the Butzes made their way to Australia. As a teenager, Alma Butz excelled in music and, in 1912, passed the advanced senior grade in American organ-playing, a subject offered by the London College of Music and examined in Australia.6 She continued studies at Australasian Missionary College, graduating in 1914 from the normal (teacher's) course. In the same year Norman Wiles graduated from the academic course.7
Mission Service
Following graduation, Norman Wiles and Alma Butz journeyed north to Queensland, where Elder Butz was the conference president and where the couple was married on December 24, 1914. They were appointed to the fledgling New Hebrides Mission (now Vanuatu).8 Prior to embarkation they took some elementary training at the Sydney Sanitarium in tropical medicine.9 They also visited Adelaide to say their farewells to the Wiles family. Norman Wiles made a determined effort to reconcile with his father by calling at his city office to talk, but was cast out again.10
On April 1, 1915, Norman and Alma Wiles sailed on the Makambo bound for their mission field.11 They eventually arrived at headquarters on Atchin Island to assist Calvin and Myrtle Parker.12 Towards the end of the year, the two men sailed the short distance to the northwest corner of Malakula Island, looking for entry points where they could expand their work. At a little coastal village called Matanavat they were met by friendly people and arranged to take their chief back to Atchin in order to showcase their station. The chief was impressed and offered land on which to establish a similar station for the Wileses.13 Building materials were scarce so Norman Wiles dismantled an old dispensary at Atchin and ferried it to Matanavat for their home.14 By the end of 1916, the station was habitable.15
Matanavat was intended to be a launching pad to reach the populous Big Nambus villagers in the mountainous interior. The Malakula people wisely tried to avoid the coast where mosquitoes were more prevalent. Wiles explored further inland and found a Big Nambus chief, Nikambat, willing to have another station built near his village.16 Nikambat proved to be an enthusiastic and loyal advocate for the mission among his fellow chiefs who were spread among the mountains. At the same time Wiles freely treated their skin diseases with vaseline and chrysophanic acid, and had a little school built for Nikambat's people with plans to locate a national missionary among them.17
Towards the end of 1917, both Norman and Alma Wiles were suffering with malarial fever. Norman Wiles, especially, was weak and emaciated.18 Some aspects of expatriate habits were detrimental to their health, especially their poor choice of clothing for the tropics. Most expatriate women wore long hot dresses and the men wore long trousers, long-sleeved shirts with collar and tie.19 The Wileses took a well-earned furlough back in Australia during the southern summer of 1917-1918 to recuperate from the debilitating climate.20
Norman Wiles studied the Big Nambus language, a difficult task because it required a new alphabet to accommodate the unusual sounds. Nevertheless, his rudimentary grasp of it enabled him to translate a number of hymns.21 Despite their primitive state, the local people seemed to have an innate love of music. Wiles's advance beyond Tenmaru, his half-way station to the Big Nambus, was inhibited by the murder of a white trader in another part of the island. The government sent a police posse to avenge the death, shooting a number of people, and exacerbating the volatile situation. One clan of the Big Nambus vowed they would kill and eat a white man as pay-back. Wiles was advised to be extremely cautious. Nikambat came with others to guard the mission station and ordered Wiles to keep his front door closed at night. However, the prevalence of mosquitoes drove the sentries back into the mountains after three days. In the meantime, Wiles had amputated a man's hand blasted by dynamite when fishing. Without doctor or launch available at their vulnerable station, he was forced to attempt the surgery. The patient and his relatives lingered at the station during recovery.22
On Sabbath morning, May 1, 1920, Wiles walked further inland to a hut closer to the Big Nambus in order to conduct his usual service for them. Soon after his return he began to suffer severe bouts of fever that grew worse despite his wife's treatments. She dispatched a runner to headquarters on Atchin Island with a message to send the mission boat. Blackwater fever rapidly took hold, claiming Norman Wiles's life on Wednesday, May 5.23 A French recruiter's ship lay offshore and the captain was told of Alma Wiles's predicament. He and three of his crew assisted her in the burial the following day, the captain reciting a committal in French that she did not understand. Nikambat arrived after the burial, quite distressed, and lingered sensing that Wiles needed company and protection. The captain agreed to take her to Santo but she would only go as far as Matanavat by row boat, believing that help would come in response to her message to Atchin. At Matanavat she discovered her written note had not been taken further, so she decided to walk with some guides to the opposite side of the island where the Atchinese people cultivated some gardens. She was then taken by canoe to Atchin.24
After Tragedy
Alma Wiles returned to Sydney where she was met by her mother and together they travelled by train to Western Australia, where Elder Butz was now president of the conference.25 In September 1921, they made the trip to the Australasian Missionary College at Cooranbong, where her farther became preceptor and assistant Bible teacher.26 Wiles wanted to return to mission life and decided to train as a nurse. Rather than enter a class at the Sydney Sanitarium, she chose to go to White Memorial Hospital in Los Angeles, California.27 After graduation she was invited, in 1926, to be a medical missionary and teacher in the Fiji-Indian Mission.28 She served in this capacity for a little over two years29 and then sailed to England for advanced studies in tropical diseases before returning to Australia.30
At the Fifth Quadrennial Session of the Australasian Union Conference, September 1930, Wiles was appointed to join the Papua Mission for medical work.31 It was the beginning of two decades of productive service, once again on a tropical coast in humid conditions. She sailed on February 24, 1931,32 and quickly settled into her clinic at Aroma mission station.33 At times she treated five hundred patients a day. Complaints included eye infections, ulcers, malaria, skin diseases, broken arms, and maternity cases.34 During 1936, Wiles was in sole charge of the station, waiting for the arrival of an expatriate missionary.35 There was a period during the Second World War when she was forced back to Australia for safety reasons, but in 1944 she was the first female Adventist missionary to resume her post at Aroma, Papua.36
Alma Wiles returned to Victoria, Australia, in 1951 to care for her aging parents. After they died, she volunteered to resume her mission service despite being sixty-six years of age. For two years, 1961 and 1962, she carried the roles of charge sister in obstetrical nursing and instructor in midwifery at the Ile-Ife Mission Hospital, Nigeria,37 and established an orphanage nearby.38 She then returned to Los Angeles to be head nurse in the Glendale Memorial Hospital until her retirement. She passed away on March 31, 1980, in Loma Linda, California.39
Sources
"Alma B. Wiles." ARH, July 3, 1980.
Annual Prospectus: Australasian Missionary College. Cooranbong, New South Wales: Avondale Press, 1915.
"At last the eventful day has arrived..." Australasian Record, September 4, 1933.
Boehm, Eric and Dorothy Boehm. "Papua–First Impressions." Australasian Record, March 29, 1937.
Brandstater, R[oy]. "Alma Bernice Wiles." ARH, September 1, 1980.
"Brother and Sister Ross James..." Australasian Record, December 17, 1917.
"Brother Norman Wiles and Sister Alma Butz..." Australasian Record, January 11, 1915.
Campbell, A[lexander] J. "From Aroma to Vailala." Australasian Record, August 21, 1944.
"Distribution of Labour." Australasian Record, October 12, 1914.
"Distribution of Labour." Australasian Record, October 4, 1926.
"Distribution of Labour." Australasian Record, September 29, 1930.
"Four missionaries left our shores..." Australasian Record, April 12, 1915.
"From correspondence received from..." Australasian Record, July 1, 1929.
"In connection with the college..." Australasian Record, December 9, 1912.
Jones, G[riffiths] F. "In the New Hebrides." Australasian Record, December 31, 1917.
Lock, W[illiam] N. "Marie (sic) Emma Wiles." Australasian Record and Advent World Survey, February 4, 1957.
"Norman Wiles." The Missionary Leader, July 1922.
"On February 19 Sister Wiles wrote..." Australasian Record, April 9, 1917.
"Online Database Search: Genealogy SA." Genealogy SA, 2019. Accessed March 1, 2019. https://www.genealogysa.org.au/index.php?option=com_search&itemid=32.
"Our First Out Station in the New Hebrides." The Missionary Leader, June 1916.
"Pastor Butz and wife and daughter..." Australasian Record, October 3, 1921.
Seventh-day Adventist Yearbook. Washington, D.C.: Review and Herald Publishing Association. Years 1927-1962.
"Sister Alma Wiles and..." Australasian Record, March 9, 1931.
"Sister Butz and Sister Alma Wiles..." Australasian Record, September 6, 1920.
Stewart, A[ndrew] G. "A Night among the Big Nambus People." Australasian Record, July 15, 1918.
Stewart, A[ndrew] G. "Norman Wiles." Australasian Record, August 9, 1920.
[Wiles, Alma B.] "Alma Wiles Poignant Suffering: Extracts from her Diary." Journal of Pacific Adventist History 4, no. 2 (December 2004).
Wiles, Alma B. "Letter from Sister Wiles." Australasian Record, May 30, 1932.
Wiles, [Alma B.] "Sabbath on Atchin, New Hebrides." Australasian Record, August 30, 1915.
Wiles, N[orman B. J.] "Among the Big Nambus People, New Hebrides." Australasian Record, October 22, 1917.
Wiles, N[orman B. J.] "Atchin, New Hebrides." Australasian Record, November 22, 1915.
Wiles, N[orman B. J.] "Matanavat, New Hebrides." Australasian Record, November 6, 1916.
Wiles, Norman [B. J.] "News from the Big Nambus." Australasian Record, May 3, 1920.
Notes