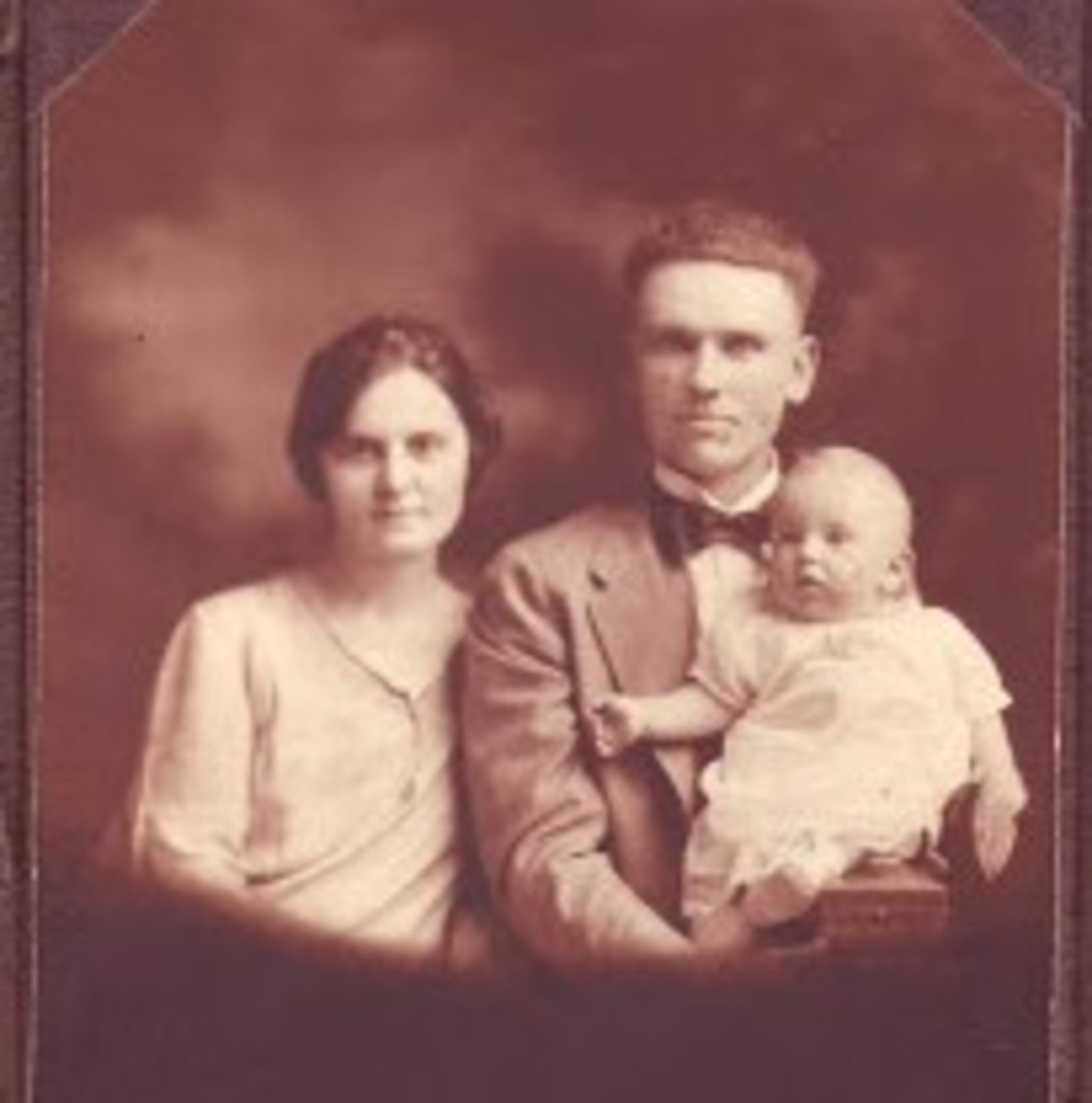 Hughes, Alton Eugene (1898–1991) and Emma Neale Ortner (1899–1966)
×
Barry M. Mahorney graduated from Southern Missionary College (now Southern Adventist University) (B.A. Music Education), and then from LaSierra University (M.A. Administration and Leadership). Mahorney served the Seventh-day Adventist Church in education and pastoral ministry for forty-five years. He is married to Sharryn Hughes Mahorney, granddaughter of China missionaries Alton and Emma Hughes. They have two adult children.
First Published: January 29, 2020
Alton and Emma Hughes were pioneering missionaries to China where they pastored and taught. Upon their return to the United States, they worked for Christian Record Services.
Early Life, Education, and Marriage
Alton Eugene Hughes was born on January 17, 1898, in Altus, Greer County, Oklahoma Territory.1 The eldest of William David and Lena Belle Campbell Hughes's five children, he was baptized in August 1917 and shortly after enrolled at Southwestern Junior College (now Southwestern Adventist University) which he attended for the next three years.
Having finished at Southwestern Junior College, Hughes joined Elder Warren E. Barr for an evangelistic meeting in Sapulpa, Oklahoma. Around the same time Hughes married Emma Neale Ortner on May 24, 1921. Emma Ortner was born the twelfth of fourteen children March 22, 1899, to George C. and Maria Samuels Ortner of Hitchcock, Blaine County, Oklahoma Territory. She graduated from Clinton Theological Seminary (formerly Clinton German Seminary) and then taught school in Clovis, New Mexico, until her marriage to Alton Hughes.2
When the meetings in Sapulpa were completed, Alton Hughes was asked to stay and pastor the new Sapulpa church. For the next three years, the Hughes oversaw the construction of the Sapulpa church and continued working in the surrounding area, until he and his wife received a call from the General Conference to work in China.3
Missionaries to China
Prior to leaving for mission work in China, Hughes was ordained at the Hitchcock Seventh-day Adventist Church, Hitchcock, Oklahoma, on August 2, 1924.4 Then on the 28th of August, Alton and Emma Hughes, along with their firstborn son, Ross Eugene, left Vancouver, Canada, onboard the Empress of Russia bound for their mission appointment to West China. During their early years in China, the Hughes had two more children, both born in Chengtu (pinyin: Chengdu). Elwyn Arlene was born on October 23, 1924, at Ladies Hospital. The second child was an infant who did not survive.
By October 24, 1924, the Hugheses were in route to Szechwan (pinyin: Sichuan), West China, and after language school, Alton Hughes was made director of the East Szechwan Mission in Chungking (pinyin: Chongqing). In February 1926, it was reported that an anti-Christian group had destroyed the mission chapel in Chungking.5 This was only the beginning of many trials the Hugheses would face over the next fifteen years.
A few months later, the Hughes family was transferred to West Szechwan where Alton Hughes served as director of a mission headquartered in Chengtu and Emma Hughes was assigned the positions of secretary and treasurer of the mission.
In 1927, trouble from anti-Christian forces broke out in many parts of China, including Szechwan province, forcing the missionaries to evacuate for a time to Shanghai. It was late that year when the Hughes and Merritt Connick Warren families made their way back to West China and to their mission posts where things had settled down, at least for a time.6 It was reported two years later that Hughes had followed up with a group of thirty who had shown an interest in "present truth" and were now keeping the Sabbath. Also, at the biennial session of the West China Union, held from September 26 to October 5, 1929 in Chungking, Hughes reported, along with other items, that fourteen had been baptized so far that year and that nine others were preparing for baptism.7
After seven years in China, the Hughes family took their first furlough. For twelve months they rested and visited relatives. During this furlough, Alton Hughes also attended Union College in Lincoln, Nebraska, completing a Bachelor of Arts in religion and history.
When Furlough ended, the Hugheses sailed back to China to take up new responsibilities. Alton Hughes became principal of the West China Union Bible Institute, temporarily located at Paoning, Szechwan8. This temporary location was to be used until the new school could be finished at Da Bao near Chungking. However, shortly after the school year began, anti-Christian groups forced another evacuation and the school was removed to Chungking.
Finally, in September 1933, the West China Union Bible Institute opened its doors on a hillside location in Da Boa with thirty-two students. Alton Hughes was the principal and Emma Hughes the preceptress. By the second semester, there were forty-three students enrolled. Six students were baptized that year. It was also during this time that Emma Hughes was selected to serve as a board member of the China Division Home Commission.
Two years later, Alton Hughes became the director of the Sikang (pinyin: Xinjiang) Mission near the border with Tibet, only to have plans change. After a short stay in Chengtu as interim director, he was sent to Sianfu (pinyin: Xi'an), Shensi.9 At this mission, Emma Hughes became very involved in conducting a variety of classes for women.
Later, Alton Hughes was asked to be the director of the Shensi (pinyin: Shaanxi) Mission until another evacuation resulted in an assignment with Dr. Harry Miller at the Wuhan Sanitarium and Clinic in Hankow, where he served as chaplain and Emma Hughes, matron.10
When the Hughes family left for America for their second furlough in 1940, they planned to return to China for a third term of mission service. However, because of health concerns for Emma Hughes, the doctors discouraged this plan. The Hugheses instead accepted work in the United States.
Later Years
Two years after the General Conference authorized a permanent return for the Hughes family,11 it was voted, by the General Conference, to open a dental home for Seventh-day Adventist students attending the Atlanta Dental College in Atlanta, Georgia, with Alton and Emma Hughes in charge.12 This they did for one year.
Following this assignment, Alton and Emma Hughes worked for Christian Record Service from 1944 to 1949. Thereafter, Alton Hughes worked as a colporteur for Home, Health and Education Services. From 1958 until retirement in 1964, Alton Hughes served as colporteur/pastor and, later, full-time as a pastor. It was during this time that he helped to raise up a church in Kingsport, Sullivan County, Tennessee, while Emma Hughes taught in the church schools.
Emma Hughes died on January 25, 1966, in Elijay, Georgia, and was buried in Greenlawn Cemetery in Waycross, Georgia.13 On June 11, 1969, Hughes married Dorothy Elaine Bailey. After nearly twenty-two years of marriage, Alton Hughes passed to his rest on April 18, 1991, in Asheville, North Carolina, and was buried beside Emma Hughes in Waycross, Georgia.14
In China and at home, Alton and Emma Hughes were truly "forever missionaries."
Sources
Asheville, Buncombe County, North Carolina, Death Certificates, North Carolina Department of Environment, Health and Natural Resources.
Ellijay, Gilmer County, Georgia, Death Certificates, Georgia Department of Public Health.
Evans, I. H. "Conditions in China." ARH. February 23, 1928.
General Conference Committee Minutes, General Conference Archives. Accessed July 30, 2019. http://documents.adventistarchives.org/Minutes/Forms/AllItems.aspx?RootFolder=%2fMinutes%2fGCC&FolderCTID=0x012000F14CCE0E47CC244BB8EA93FE785ED8BE00941CF68C17217C4CA49DE1E876677255
Hughes, Alton E. "West Szechwan Mission." Far Eastern Division Outlook, November 1929.
Meyers, C. K. "Our Chapel at Chungking Destroyed." ARH, March 11, 1926.
Miller, W. H. "Wuhan Sanitarium." China Division Reporter, April 1938.
News Notes, General Conference Archives. May 31, 1921. Accessed July 30, 2019. http://documents.adventistarchives.org/Periodicals/SUR/SUR19210531-V20-21.pdf.
North American Division Gleanings, "Southern Union." ARH, July 30, 1940.
Oklahoma, Greer County. 1910 United States Census. Digital Images. Ancestry.com. July 30, 2019, https://www.ancestry.com.
Rebok, D. E. "The West China Union Meeting." China Division Reporter, July 1935.
Seventh-day Adventist Yearbook. Washington, D.C.: Review and Herald Publishing Association, 1933.
Notes