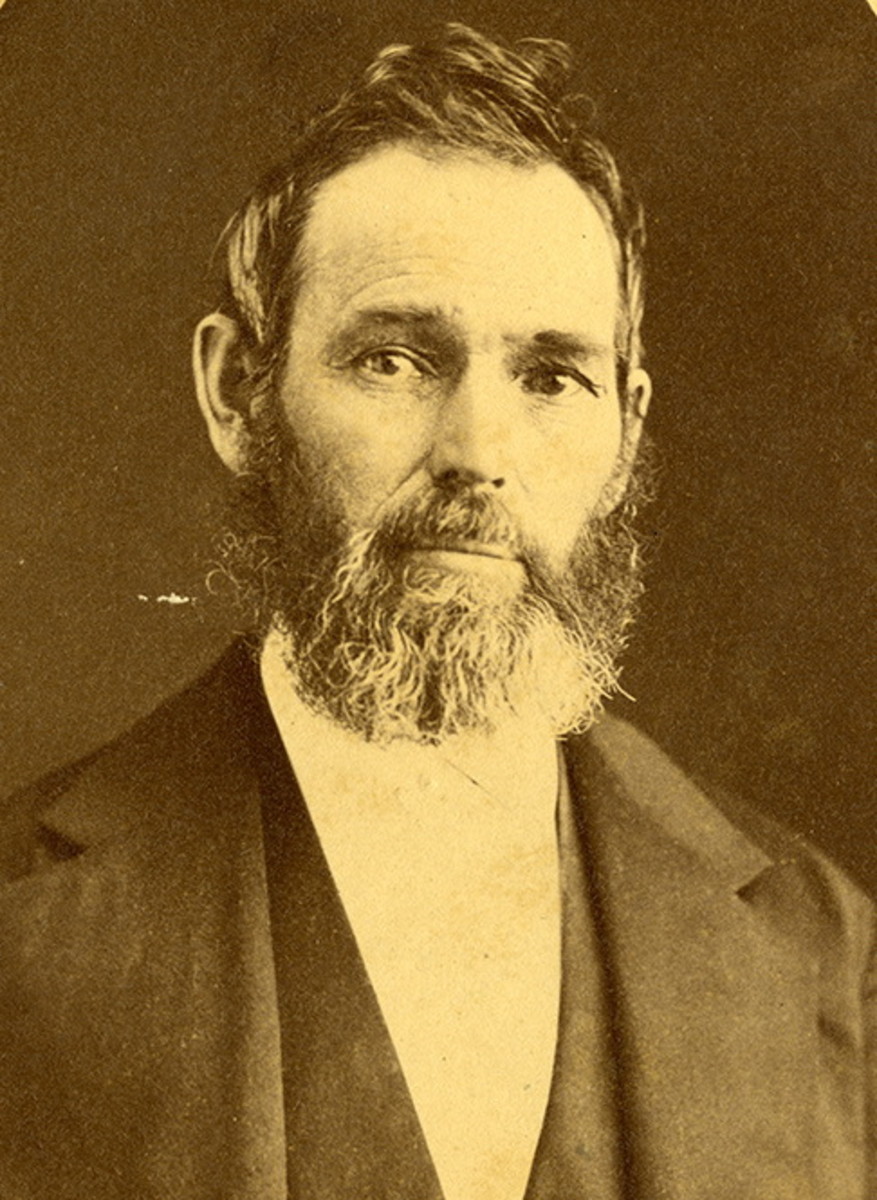 Frisbie, Joseph Birchard (1816–1882)
×
Theodore N. Levterov, Ph.D., is director of the Ellen G. White Estate branch office on the Loma Linda University campus, as well as a faculty member of the Loma Linda University School of Religion. Levterov served as a pastor both in his native land of Bulgaria and the United States before coming to Loma Linda in 2011. His Ph.D. dissertation at the Seventh-day Adventist Theological Seminary dealt with early Adventist understandings of Ellen White's prophetic gift.
Joseph Birchard Frisbie, one of the earliest Seventh-day Adventist ministers, served the church for twenty-nine years. He was born in Schoharie County, New York, on October 15, 1816. At the age of fourteen he joined the Methodist denomination. In 1843 he received his license to preach and was ordained three years later in 1846. In 1847, he married Delphia Jane Glover, and they had seven children.1
Known for his independent thinking, Frisbie was initially a bitter opponent of the early Sabbath-keeping Adventists and their peculiar teachings. Thus, in 1853 he was assigned to debate the Sabbath question with Joseph Bates, one of the founders of the Sabbatarians. As a result of the debate, Frisbie not only reversed his views but began to observe the Sabbath. Eventually, he joined the Sabbath-keeping Adventists and began preaching the doctrines he had previously opposed. On June 28, 1853, Frisbie wrote a letter to the Advent Review and Sabbath Herald describing his recent experience:
I cannot withhold my feelings any longer, but must let it be known that I have embraced the so much despised message of the third angel of Rev. xiv. . . . I saw there was but one way to get into the light and liberty, and that was, keep the Sabbath, that I had so much despised. Thought I, is this the only way? Yes, the only way! About it I went, and such a trial of my faith, for weeks, none can know but him who has fought the truth, and then turned and embraced it. . . . I am a happy man. Glory be to the Lord, Most High.2
In 1855 when the Whites moved to Battle Creek, Frisbie was closely involved with the establishment of the Review and Herald publishing office.3 He also gave a part of his own property for the first Sabbath-keeping Adventist church building in Battle Creek. The church was located at the corner of Cass and Van Buren streets, and Frisbie served as its first pastor for several years.4
Frisbie wrote several articles for the Review contributing to the development of the Seventh-day Adventist philosophy of church organization, systematic benevolence (helping the financing of early ministers) and the doctrine of the millennium. He also wrote a book on church order, published in 1859.5 However, Ellen White advised him to be more dedicated to his pastoral work instead of using his time to write books. "The Lord has not called you to write, neither has He been pleased with the steps you have taken in preparing books," she wrote to him in 1860. "You are not qualified or competent for the work [of writing books] and it has injured you."6
Frisbie's gift, apparently, was to evangelize and plant new congregations. James White once told John Byington that he knew of no other man "equal to Eld. Frisbie to go into a new field, and awaken an interest in the word of God." In Michigan he established churches in Wright, Caledonia, Orleans, Orange, Convis, Windsor, and Delhi among others.7 Ellen White also urged him to spend more time and look after the newly established companies rather than to travel around and preach at the large Adventist congregations.8
Frisbie was also a great student of the Bible, and his autonomous thinking sometimes brought him to disagreements with the generally held views of his fellow ministers. Nevertheless, he was known as a minister of excellent reputation and valuable qualities.9 When Ellen White spoke against the tendency of Adventists to gather together in large numbers at Battle Creek, for example, Frisbie became one of the first to leave the town, moving his family to their old home in Chelsea, Michigan.10
His career also included a brief period of time, during the 1860s, when he became discouraged by poor health and financial struggles that let him to leave the ministry for a while (like some other ministers at that time). According to his son's recollection, Frisbie was encouraged by Ellen White not to give up his ministerial calling, and he seemed to have paid attention to her advice.11
Sometime before his death, Frisbie ceased preaching and concentrated on his trade and business endeavors. He died suddenly from heart disease on November 8, 1882, at his house in Chelsea, Michigan. His remains were brought back to Battle Creek, and a funeral service was conducted at the Battle Creek Tabernacle on Sabbath, November 11, 1882. Joseph Frisbie was buried at the Oak Hill Cemetery in Battle Creek, Michigan.12
Sources
Byington, John. "Death of J. B. Frisbie," Advent Review and Sabbath Herald, November 21, 1882, 735.
Fortin, Denis, and Jerry Moon, eds., The Ellen G. White Encyclopedia. Hagerstown, MD: Review and Herald, 2013.
Frisbie, J. B. "Church Order," Advent Review and Sabbath Herald, January 9, 1855.
———. "Letter from J. B. Frisbie," Advent Review and Sabbath Herald, July 7, 1853, 29.
———. Order of the Church of God. Battle Creek, MI: Steam Press, 1859.
Frisbie, W. E. "Regarding the Experience of Elder J. B. Frisbie." Unpublished paper, Center for Adventist Research, Andrews University, n.d.
"Meeting at Battle Creek," Advent Review and Sabbath Herald, October 2, 1855, 56.
Neufeld, Don. F. et al, eds., Seventh-day Adventist Encyclopedia, 2nd ed. Hagerstown, MD: Review and Herald, 1996, 574.
Van Dolson, Leo R. "Elder J. B. Frisbie: S. D. A. Pioneer in Michigan." Unpublished paper, Andrews University, 1965.
White, Ellen G. "Appearance of Divine Healing," Manuscript 147, 1907, Loma Linda University.
———. Ellen G. White to Bro. and Sister Howland, Letter 1, July 15, 1856, Loma Linda University.
———. Ellen G. White to Brother Frisbie, Letter 9, 1860, Loma Linda University.
———. Ellen G. White to Brother Frisbie, Letter 33, 1861, Loma Linda University.
———. Ellen G. White to Brother Frisbie, Letter 10, 1864, Loma Linda University.
Notes