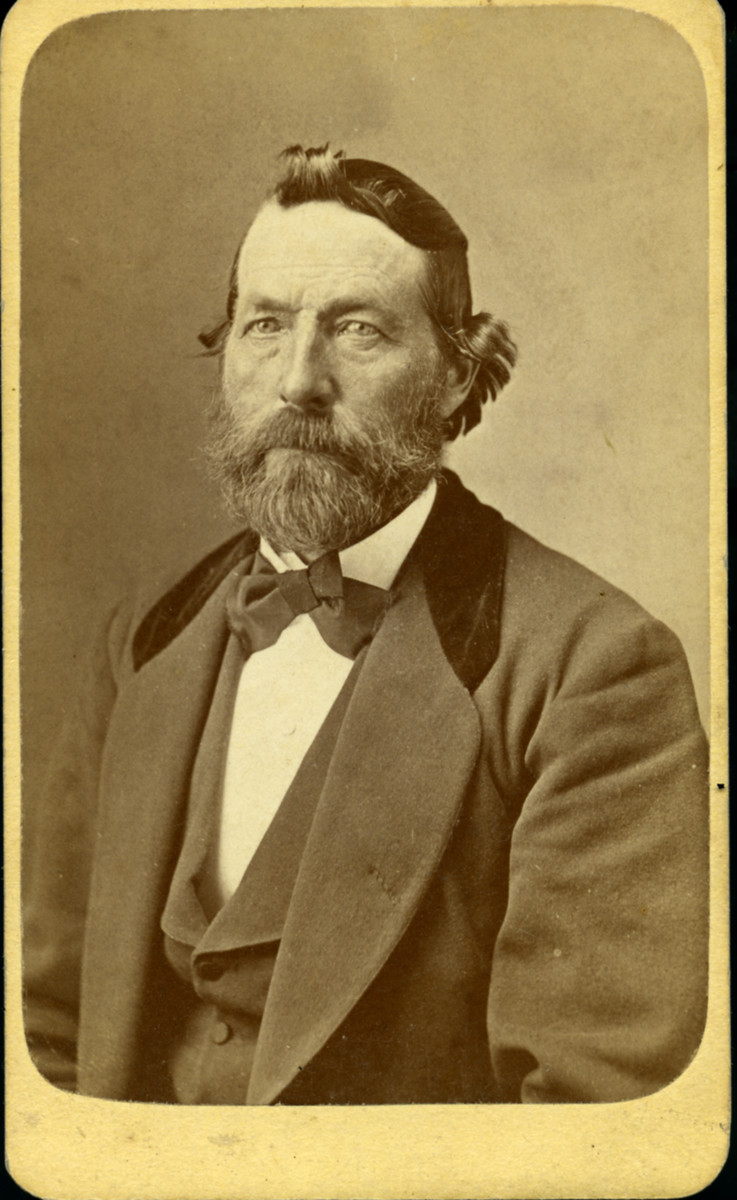 Morse, Washington (1816–1909)
×
Jonathan Gomide is a theology student at the Adventist Seminary in Northern Brazil (SALT Faama).
Washington Morse was a pioneering Adventist evangelist, colporteur, minister, author, and conference president.
Early Life (1816-1836)
Washington Morse was born on June 24, 1816, in Brookfield, Vermont. He was the sixth of nine children born to Elihu Morse (1786-1840) and Betsey Houghton Morse (1787-1881), who married on November 10, 1805, in Boston, Massachusetts.1 In 1808, after the young couple moved to Brookfield, Vermont, Elihu Morse built a house for his family where Washington was born eight years later.2 Washington Morse's early life was spent in Orange County, Vermont, where he became one of the first individuals to manufacture lime locally.3
As a boy, Morse was antagonistic to the popular religious revivals spreading across New England. In one incident, he shot a bullet at a group of Methodists gathered in a schoolhouse close to his home.4 Fortunately, he did not hit anyone but the dramatic incident served to impress upon him a sense of his need of God. In 1831, at the age of 15, he was converted to Methodism and became a class leader. Five years later, on October 15, 1836, Washington Morse married Olive Buzzell (1818-1901), who was also earnest in religious matters. Together they had twelve children, born during the years 1839-1862.5
Expectation and Disappointment (1837-1845)
In the spring of 1837, Morse acquired William Miller's Sixteen Lectures. As he and his wife read the book, carefully referring to the texts mentioned, "a powerful and lasting impression was made upon [their] minds." The following year they attended lecture series presented by Miller in their hometown of Brookfield and later in Braintree, Vermont. In early 1843, Morse, together with many others in Vermont, publicly acknowledged his belief in the "time message" of Christ's soon return. 6
Morse put all of his financial resources into supporting the proclamation of the advent message.7 In the summer of 1844, he left employment entirely, devoting his full time to giving the "midnight cry" that pointed to October 22 of that year as the date of Christ's second coming and the "cleansing of the sanctuary" (Dan. 8:14). Traveling from town to town, the message he presented was well accepted. Even the tollgates "were all opened for those preaching the Judgment Hour Message, as far as my memory serves," recounted Morse. In the course of his reflections on these powerful experiences more than half a century later, he declared to Review and Herald readers that "the sanctuary is the keynote of our message."8
After the loss of his son, Henry Washington, on September 23, 1844,9 Morse looked forward to the resurrection of deceased loved ones to take place just a month later on October 22, 1844. The failure of this expectation made the Great Disappointment all the more devastating to him. In the summer of 1845, Ellen Harmon (later White) said that Morse "had been so earnest in declaring that the coming of the Lord was near, that when the time passed, he was despondent, and did nothing to encourage the disappointed people..."10 Despite this "cloud of deepest gloom" that seemed to enshroud his comprehension of the prophecies, Morse did not renounce his faith.11 In time, he came to the understanding that the Great Disappointment was in accordance with God's will and itself a fulfillment of prophecy (Revelation 10:9-10).12
Early Ministry (1845-1856)
Through the efforts of friends from Corinth, Vermont, Morse was convinced to keep the seventh day as the Sabbath in the fall of 1849.13 He continued running a successful lime-making company in Corinth until 1850 when a larger competitor forced him to go out of business.14 Moving from Corinth to Royalton, Vermont, he began working as a stone mason to support his family. He also took an active role in spreading the Sabbath-keeping Adventist message.15
In the first ordination on record among Sabbatarian Adventists, Morse "was set apart by the laying on of hands to the administration of the ordinances of God's house" at East Bethel, Vermont, on July 30, 1851.16 Early in 1852, James White sent Morse a "prophetic chart" and encouraged him "to engage in public labors in spreading the message."17 He thus labored in Vermont until 1856. In March of that year, the Randolph, Vermont, church, in a public expression of "their disapprobation of the course of Bro. Washington Morse in regard to his deal, and the manner in which he left Vt," disfellowshipped him.18 No further details are extant, but for more than two years Morse remained convinced the charges against him were not true. In January 1859, though, he sent a letter of contrition published in the Review, pledging to "make amends" when "the Lord's blessing" made it possible for him to do so and asking his brethren to "extend the hand of fellowship" to him once again.19
The Minnesotan Field (1856-1874)
Having left Vermont in 1856, the Morses moved to Illinois for a brief period of six months before relocating to Minnesota.20 Washington and Olive Morse - together with their eight children - were one of the first three Adventist families to enter the vast field of work in Minnesota in 1857.21 Making the 400-mile trip from south of Chicago to Minnesota in pioneer wagons, they settled in Steele County.22 Not long after arriving, Morse began distributing Sabbatarian Adventist tracts and pamphlets to those who were interested in the message.23 He traveled extensively on foot, sometimes as much as thirty to forty miles a day with his prophetic chart and Bible in hand.24 He conducted the first religious service held in the town of Deerfield, Steele County - a funeral at which he took the opportunity to present distinctive facets of the Adventist message.25 Since Adventist ministers did not receive regular salaries at this time, Morse also worked as a farmer, postmaster, and justice of the peace.26
At a meeting held in Deerfield on October 4-5, 1862, the churches by then organized in the state joined to form the Minnesota Conference, with a membership of "something less than one hundred." 27 When the General Conference of Seventh-day Adventists organized in Battle Creek, Michigan, in May 1863, Minnesota, represented by Washington Morse, was one of six participating state conferences.28 Morse was elected as the first president of the Minnesota Conference when its organization was finalized at Deerfield on July 18 and 19, 1863.29
When his tenure as conference president concluded in 1865 Morse also stepped back from public "ministerial labors." However, he "never ceased his activity nor slackened his zeal in behalf of the cause that he loved dearer than his life," according to his son, George Warren Morse.30 Washington Morse, for example, "bore heavy burdens" in the construction of the first Seventh-day Adventist house of worship in Minnesota, completed in Mankato in 1874.31
Later Life (1875-1909)
After the construction of this church, Morse's diligent labors took him beyond the limits of his health, and in the spring of 1875 he suffered from "hip rheumatism." Nine years later he underwent three surgeries performed by Dr. John Harvey Kellogg, who, according to Morse, removed 87 tumors, mostly from his back. After these operations his health began improving, and in 1889 he bought an 80-acre farm in Henderson, Minnesota. When the farm began yielding returns on the initial $600 investment, his children persuaded him to rent it out, which was done at a great loss.32
In the winter of 1896, Washington and Olive Morse moved to Canada, intending to be closer to their children. However, not long after the move, George Warren Morse sailed to Australia as a missionary. Then, Olive Morse died on February 12, 1901, at the age of 82. Washington lamented that her death, after 65 years together, "seemed more than I could bear."33 But he stayed active, engaging in the canvassing work, distributing thousands of Adventist publications in Peterborough, Ontario and vicinity.34
In September 1901, Morse returned to his native state of Vermont. The Vermont Watchman & State Journal reported that Morse, "a minister of the Seventh-day Adventist denomination" is "eighty-five years of age, and well preserved in body."35
In July 1908, Morse moved to DeLand Springs, Florida, to live with George Warren Morse and his wife Lizzie. Here, Washington Morse died on November 9, 1909. The funeral was held in George and Lizzie's home, followed by interment in Oakdale Cemetery.36
Contribution
Washington Morse was prominent among those who pioneered the westward spread of Seventh-day Adventism in the United States. More than a quarter century after his death, W.A. Spicer recalled that Morse "liked nothing better than to talk of the blessed hope and the progress of the movement."37 Considering his lifelong devotion to "the movement," he had reason to do so.
Sources
Boston, Massachusetts, "Marriages, 1800-1849; Vol. 2," Massachusetts, Town and Vital Records, 1620-1988, Ancestry.com. Accessed June 2019, https://ancestry.com.
Curtiss-Wedge, Franklyn, compiler. History of Rice and Steele Counties Minnesota, Vol. 1. Chicago, IL: H. C. Cooper Jr., & Co., 1910.
Damsteegt, Gerard P., Foundations of the Seventh-day Adventist Message and Mission. Grand Rapids, MI: William B. Eerdmans Publishing Company, 1977.
Dana, F. M. "A Letter from an Old Pioneer." Atlantic Union Gleaner, June 28, 1905.
General Laws of the State of Minnesota. Saint Paul, MN: Earle S. Goodrich, State Printer, Pioneer and Democrat Office, 1868.
Hanson, Ina M. "Only Thirty Dollars." The Youth's Instructor, April 4, 1961.
Knight, George R. Organizing to Beat the Devil: The Development of Adventist Church Structure. Hagerstown, MD: Review and Herald, 2001.
Maxwell, C. Mervyn, Tell it to the World: The Story of Seventh-day Adventists. Mountain View, CA: Pacific Press Publishing Association, 1976.
Mitchell, W. H. Geographical and Statistical History of Steele County from its Earliest Settlements to the Present Time. Minneapolis, MN: Tribune Printing Company, 1868.
Moon, Jerry. "Morse, Washington." In The Ellen G. White Encyclopedia, edited by Denis Fortin and Jerry Moon, 473. Hagerstown, MD: Review and Herald Publishing Association, 2013.
Morse, George Warren. "What Hath God Wrought!" ARH, April 28, 1927.
Morse, George Warren and Lizzie J. Morse. "A Pioneer Gone to Rest." ARH, December 23, 1909.
Morse, Washington. "From Bro. Morse," Letter to the editor. ARH, January 27, 1859.
Morse, Washington. "From Bro. Morse," Letter to the editor. ARH, December 11, 1860.
Morse, Washington. "Interesting Reminiscences." ARH, November 26, 1901.
Morse, Washington. "Items of Advent Experience During the Past Fifty Years. No. 1." ARH, September 11, 1888.
Morse, Washington. "Items of Advent Experience During the Past Fifty Years. No. 2." ARH, September 18, 1888.
Morse, Washington. "Items of Advent Experience During the Past Fifty Years. No. 3." ARH, September 25, 1888.
Morse, Washington. "Items of Advent Experience During the Past Fifty Years. No. 4." ARH, October 16, 1888.
Morse, Washington. "Items of Advent Experience During the Past Fifty Years. No. 5." ARH, October 23, 1888.
Morse, Washington. "Items of Advent Experience During the Past Fifty Years. No. 6." ARH, November 6, 1888.
Morse, Washington. Memoir by Washington Morse. E. K. Vande Vere Collection, Box 17, Center for Adventist Research, Andrews University, 1893.
Morse, Washington. "The Former Days." ARH, March 10, 1903.
"Olive Morse obituary," The Canadian Union Messenger, December 8, 1904.
Pierce, Stephen, "To Whom it may Concern," ARH, July 24, 1856.
Seventh-day Adventist Yearbook. Battle Creek, MI: Review and Herald Publishing Co., 1889.
Shimper, F.M. "From Sister Shimper," Letter to the editor. ARH, August 19, 1851.
Spalding, Arthur W. Captains of the Host. Washington, D.C.: Review and Herald Publishing Association, 1949.
Spicer, William A., "George Washington Morse." In "Pioneer Days of the Advent Movement: Meeting a Scoffing World," Australasian Record, September 11, 1944.
Spicer, William A. Pioneer Days of the Advent Movement with notes on pioneer workers and early experiences. Washington, D.C.: Review and Herald Publishing Association, 1941.
Spicer, William A., "When Conferences Were Themselves Mission Fields." ARH, December 19, 1935.
"The Passing of an Aged Pilgrim." The DeLand News, November 12, 1909.
Thurston, W. H. "From Elder Thurston." Canadian Union Messenger, June 21, 1906.
Vermont. Orange County. 1850 United States Federal Census. Digital Images. Roll: M432_926; Page: 155A; Image: 309, Ancestry.com, June 2019, https://ancestry.com.
"Williamstown." Vermont Watchman & State Journal, September 11, 1901.
White, Arthur L., Ellen G. White: The Early Years. Hagerstown, MD: Review and Herald Publishing Association, 1985.
White, Ellen G., Life Sketches of Ellen G. White. Mountain View, CA: Pacific Press Publishing Association, 1915.
White, James, "Our Tour East." ARH, August 1850.
Notes