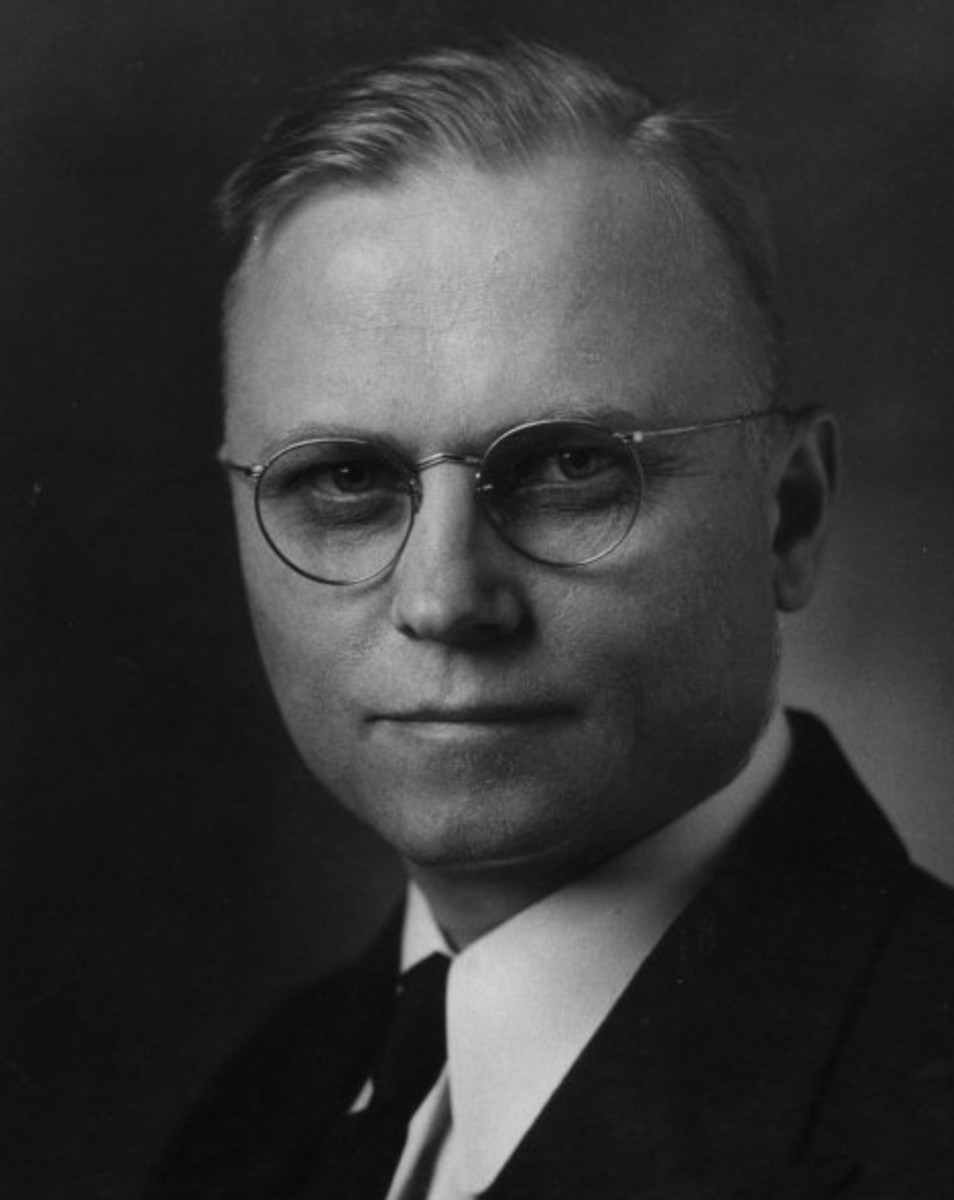 Peterson, Alfred William (1887–1971)
×
Milton Hook, Ed.D. (Andrews University, Berrien Springs, Michigan, the United States). Hook retired in 1997 as a minister in the Greater Sydney Conference, Australia. An Australian by birth Hook has served the Church as a teacher at the elementary, academy and college levels, a missionary in Papua New Guinea, and as a local church pastor. In retirement he is a conjoint senior lecturer at Avondale College of Higher Education. He has authored Flames Over Battle Creek, Avondale: Experiment on the Dora, Desmond Ford: Reformist Theologian, Gospel Revivalist, the Seventh-day Adventist Heritage Series, and many magazine articles. He is married to Noeleen and has two sons and three grandchildren.
First Published: October 2, 2020
From the 1920s to the 1950s, Alfred W. Peterson gave leadership to youth ministries in the Seventh-day Adventist church at the General Conference, Australasian Division, and three union conferences in the United States.
Early Life
Alfred William Peterson was born of Swedish heritage on October 1, 1887, in Brooklyn Center, Hennepin County, Minnesota.1 His parents were Erick and Johna "Hannah" Petterson. They had five children: Etta (b.1879), Edward (b.1881), Alfred (b.1887), Rose (b.1889) and George (b.1893).2 When they were young their father spent considerable time away from home as a traveling sales agent for clothing.3 Later, the family moved to Jefferson County, Colorado, where Erick took up farming.4 Alfred attended Union College in Lincoln, Nebraska, 1905 through 1910. During that time, he was baptized by the youth work pioneer, Luther Warren.5
Soon after college days Alfred entered the colporteur ministry for a few months6 until he was assigned to be principal of the two-teacher Ketchum Intermediate School in northeastern Oklahoma.7 He then was transferred to Southwestern Junior College, Keene, Texas, where he served as preceptor and teacher of mathematics and English, 1916 through 1920.8 During that period, in 1918, he married Stella Parker.9 Their only child, born in 1920, was named Keene, a lifetime reminder of his birthplace.10
Education and MV Secretary
In 1920 Peterson moved from the classroom into the administrative office. He was appointed as the educational secretary of the Southwestern Union Conference with headquarters in Oklahoma City and later received the additional portfolio of Missionary Volunteer (MV) director.11 He remained in this capacity until 1924. During this period, in 1923, Peterson was first listed as an ordained minister.12 From 1925 through 1929 he was engaged in the same work in the North Pacific Union Conference, headquartered at Walla Walla, Washington.13
Peterson's first overseas appointment occurred in 1929 when he was called to the South American Division as secretary of the Education and Missionary Volunteer Department. He, Stella and son Keene arrived in Buenos Aires, Argentina, in March 1930. Their time there lasted less than eighteen months due to Stella falling ill and needing treatment from medical specialists.14
Back in America, the Petersons moved to Chattanooga, Tennessee, where Alfred served in the Southern Union Conference during 1932 and 1933, once again in the dual responsibilities of directing the educational and MV work.15
General Conference YPMV Secretary
In 1934 Peterson began a twelve-year tenure at the General Conference as secretary of the Young People's Missionary Volunteer Department.16 Much of his work at this level involved the training of youth leaders who would, in turn, engage the church youth in honorable social and practical activities that moved through degrees leading to graduation as a Master Comrade (later, Master Guide), similar to the Boy Scouts and Girl Guides. Peterson also led in the recommendation of spiritually elevating reading material for the youth, a program titled Missionary Volunteer Reading Courses.17 An annual Week of Prayer for Youth was organized from his department.18
For twelve months in 1946-1947, he took study leave to earn a M.A. degree from the State College of Education in Greely, Colorado.
Service in the Australasian Division
In 1947 Peterson accepted a second appointment overseas, this time to take the helm of the Education and Young People's Missionary Volunteer Departments of the Australasian Division.19 His six years of service there during the post-war period was marked by two major events for the youth.
The first was a Youth Congress that Peterson organized, held at the Australasian Missionary College over the turn of the New Year from 1949 to 1950. He arranged for Francis D. Nichol, editor of the Review and Herald, to be a featured speaker together with Dr. William Murdoch, Frederick Mote and Andrew Stewart. It was an extravaganza of Christian film and music, exhibitions of hobbies and Pacific Island artifacts, discussion groups and a grand investiture of Master Guides.20
The second event was the memorable 1951 World Youth Congress in Paris. The extreme distance and costs involved prevented a large contingent attending from Australasia. However, a small representation went, comprised of one individual from New Zealand, twenty-four from Australia, and an Australian working at Granose Foods in England. The disappointing aspect was the fact that less than half of them were youth, the remainder being adult tourists and church administrators.21
While in office Peterson wrote a series titled "Query Column" in the Australasian Record. He posed many questions about ethical standards and followed up with his answers. He wrote that the church was against the reading of novels, buying lottery tickets, folk-dancing, cartoons and comics or "funnies," wearing gold for ornamental reasons and marrying unbelievers or individuals of other faiths.22 His style was conservative, strictly in keeping with an emphasis on behavior that was thought proper in his own culture.
Final Work and Retirement
Alfred and Stella Peterson returned to America in 1953. They initially settled in Glendale, California, where Alfred did research for the Voice of Prophecy radio network until he retired in 1956.23
From Glendale Alfred and Stella moved to Santa Rosa24 and finally to Loma Linda, California.25 Alfred passed away on April 19, 1971, and was laid to rest in the Montecito Memorial Park, Colton, just north of Loma Linda.26 Stella moved to Florida to be in closer proximity to her son, Keene. She passed away on April 30, 1981, at Forest City, Florida, and was taken back to California to be laid to rest alongside Alfred.27 Keene was a colonel in the United States army during World War II and was buried in Arlington National Cemetery in 2004.28
Sources
"Alfred W. Peterson obituary." ARH, June 3, 1971.
"Alfred W. Peterson." FamilySearch.org, Intellectual Reserve, 2020. Retrieved from https://www.familysearch.org/tree/pedigree/landscape/L1VY-DPF.
"Alfred W. Peterson." FamilySearch.org, Intellectual Reserve, 2020. Retrieved from https://www.familysearch.org/ark:/61903/1:1:MK44-VHD.
"Alfred W. Peterson." FamilySearch.org, Intellectual Reserve, 2020. Retrieved from https://familysearch.org/ark:/61903/1:1:X2YS-3YL.
"Alfred W. Peterson." Find A Grave Index, 2014. Retrieved from https://familysearch.org/ark:/61903/1:1:QK1K-QRC1.
"Alfred William Peterson." Minnesota Birth Records-Help/About/Minnesota Historical Society. Retrieved from http://www.mnhs.org/people/birthrecords.
"Educational and Young People's Department." South American Bulletin, January 1932.
Minnesota. Hennepin County. 1900 United States Census. Digital images. FamilySearch.org, 2020, https://www.familysearch.org/ark:/61903/1:1:M9SJ-DL5.
Peterson, Alfred W. "Query Column." Australasian Record, April-June, 1952.
Peterson, A[lfred] W. "The Paris Youth Congress." Australasian Record, November 19, 1951.
Peterson, Alfred W. "The Story of the Missionary Volunteer Department." ARH, December 29, 1938.
Peterson, Alfred W. "Week of Prayer for Youth." ARH, May 30, 1946.
Peterson, A[lfred] W. "Youth Congress Attractions." Australasian Record, December 5, 1949.
Seventh-day Adventist Yearbooks. Washington, D.C.: Review and Herald Publishing Association, 1913-1971.
"Stella (Parker) Peterson obituary." Southern Tidings, July 1981.
Notes