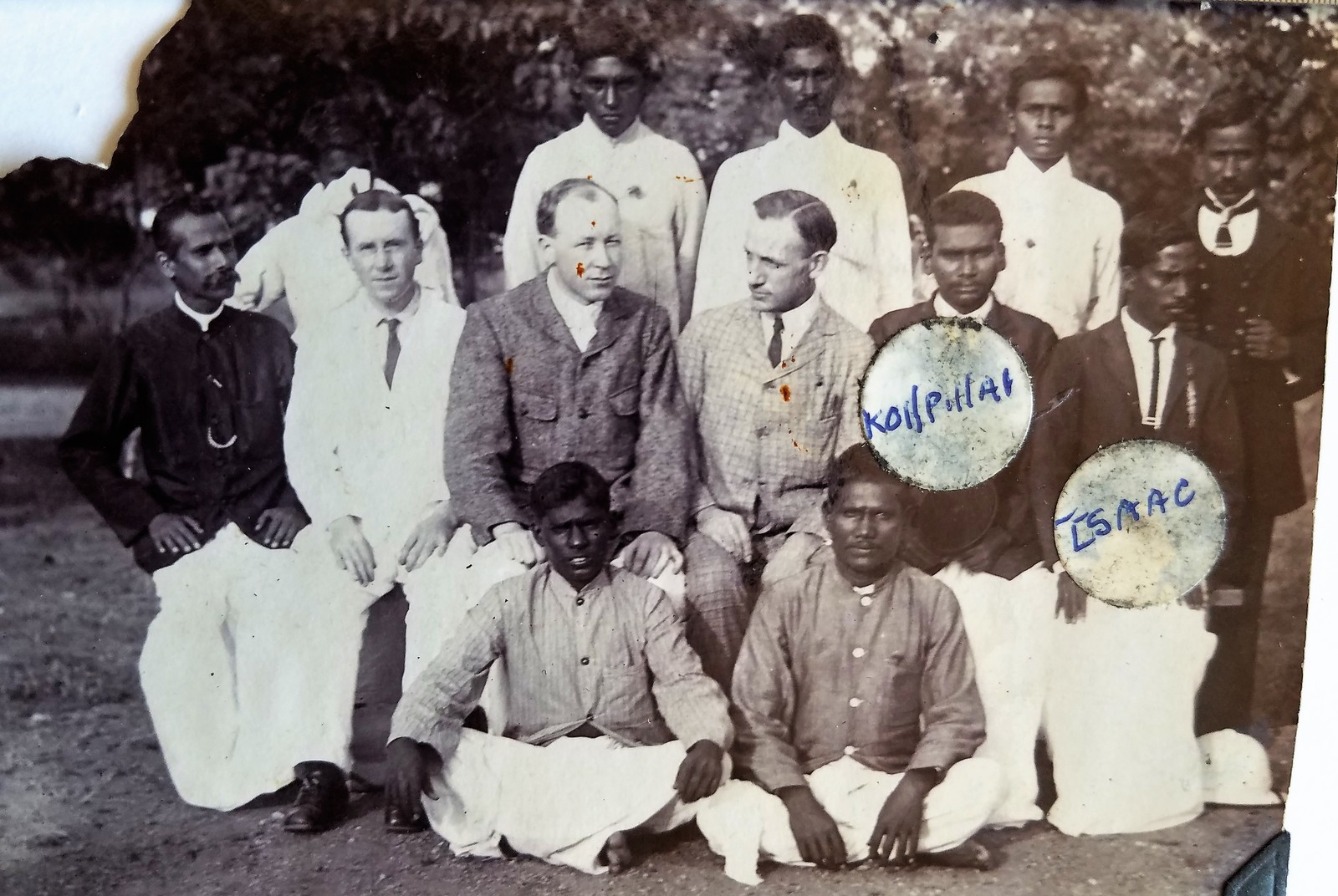 Koilpillai, Vethanayagam Duraisamy (1899–1957)
As a pioneer of Adventist work in Tamilnad, India, V. D. Koilpillai worked as a school teacher-administrator, pastor-evangelist, and administrator of church units.
Early Life
Vethanayagam Duraisamy Koilpillai was born February 1, 1899, into a family that belonged to a church of Hindu Christians (Nattu Sabai) that kept the Seventh-day Sabbath in Prakasapuram, Nazareth, Thirunelvelli District of South India. His father was one of the prominent leaders of that church, and managed the interests of the Nattu Sabai in India and Ceylon (present-day Sri Lanka). He was instrumental in inviting Adventists in Ceylon to start a school in Prakasapuram.1
Koilpillai's father welcomed missionary J. S. James to India. The Koilpillai family members formed the first Sabbath School in 1908.2 Mr. Vethnayagam helped James to obtain land, and assisted him in constructing the bungalow of 1909. When the parents died of cholera James assumed responsibility for the six Vethanayagam children, but relatives took back several of them. Three boys, V. Isaac, V. D. Koilpillai, and V. Paul stayed with James in the school. They followed him to Coimbatore and eventually became leaders in the Adventist church.3 Koilpillai was baptized December 2, 1912.4
Education and Marriage
V. Isaac and V. D. Koilpillai received their education in the school that Hindu Christians from Ceylon had been invited to establish in Prakasapuram in 1907. Since the Hindu Christian Church did not offer schooling in the English language, Koilpillai's father arranged private tuition for a group of children in the community. But when the accommodation was not adequate, the Adventist missionaries took charge of the school and moved it to a larger building. Boarding facilities were added, and in this school V. Isaac and V. D. Koilpillai received their education. They were among the first students to enroll in the South India Training School when G.G. Lowry opened it in 1915 in Coimbatore, and both graduated in 1917.5
In 1921 Koilpillai married Rajammal Samuel, who had studied with him in the schools at Praksapuram and Coimbatore. They had seven children: Ellen Deborah, born July 3, 1922; Robinson Vedanayam, born August 30, 1923; Samuel Zachariah, born November 14, 1928; Gentry Johnson, born October 8, 1930; Joshua Sathiyaraj, born December 12, 1932; Arthur Aruldass, born July 20, 1935; and Hepsiba Navamoney, born August 24, 1938.6
Ministry
In 1917 Koilpillai began work as a teacher in the Prakasapuram School.7 By 1923 he was promoted to headmaster.8 In 1926 he was the circle leader at Neyyoor, busy organizing evangelistic meetings.9
Koilpillai was ordained to the gospel ministry at the Division Council on January 3, 1931. He served for a while as Education Secretary for the Tamil Mission,10 before returning to Prakasapuram as principal of the school, pastor of the church, and its satellite churches.11 He served as superintendent (president) of the North Tamil Mission,12 and then of the South Tamil Mission.13 He established the first church in Madurai,14 and in the Malayalam Mission.15 The last part of his service was at the South India Union as Sabbath School and Home Missionary Secretary, and finally as Union Field Secretary.16
Throughout his service Pastor V. D. Koilpillai's main interest was city evangelism. He organized and conducted evangelistic meetings every year. During his leadership years he trained most of the pastors in Tamil Nadu in effective methods of presenting the gospel through public evangelistic meetings. Towards this end he prepared a sermon outline book titled Sermon Outlines Based on Prophetic Messages. This book was distributed to all pastors and interested lay persons free of cost.17
Further, he was assigned several administrative positions such as school principal, president of the Tamil and Malayalam Missions, and head of the union Sabbath School and Home Missionary Departments. Further, he was invited to be the member of the division committee. With all his administrative work he did not fail to conduct evangelistic meetings at least once a year.
In 1957 he conducted his last major evangelistic meeting, in the city of Tanjore. Two weeks after he began these meetings he fell seriously ill. He was taken to Christian Medical College, where he died at just 58 years old, on June 14, 1957. He had served the church 40 years.18
Legacy
Pastor V. D. Koilpillai is remembered for his pioneering work in Tamilnad and Kerala, and for the passion with which he engaged in numerous evangelistic campaigns.
Sources
"North Tamil Mission." Eastern Tidings, October 15, 1940.
"North Telugu Mission Constituency Meetings." Eastern Tidings, Jun 1, 1950.
"South India Biennial Meeting." Eastern Tidings, April 1, 1939.
"Special Effort at Neyyoor." Eastern Tidings, July 1, 1923, 37.
"V.D. Koilpillai." Southern Asia Tidings, June 1965.
Moses, I. K. "At Rest" (Obituary). Southern Asia Tidings, July 1, 1957.
Koilpillai, V. D. "Our Work at Neyyoor Circle." Eastern Tidings, May 1, 1926.
Koilpillai, V. D. Letter to his son Johnson Koiplillai, February 20, 1957. In the author's private collection.
Steeves, J. M. "With our Educational Work in South India." Eastern Tidings, Jan 15, 1940.
Notes