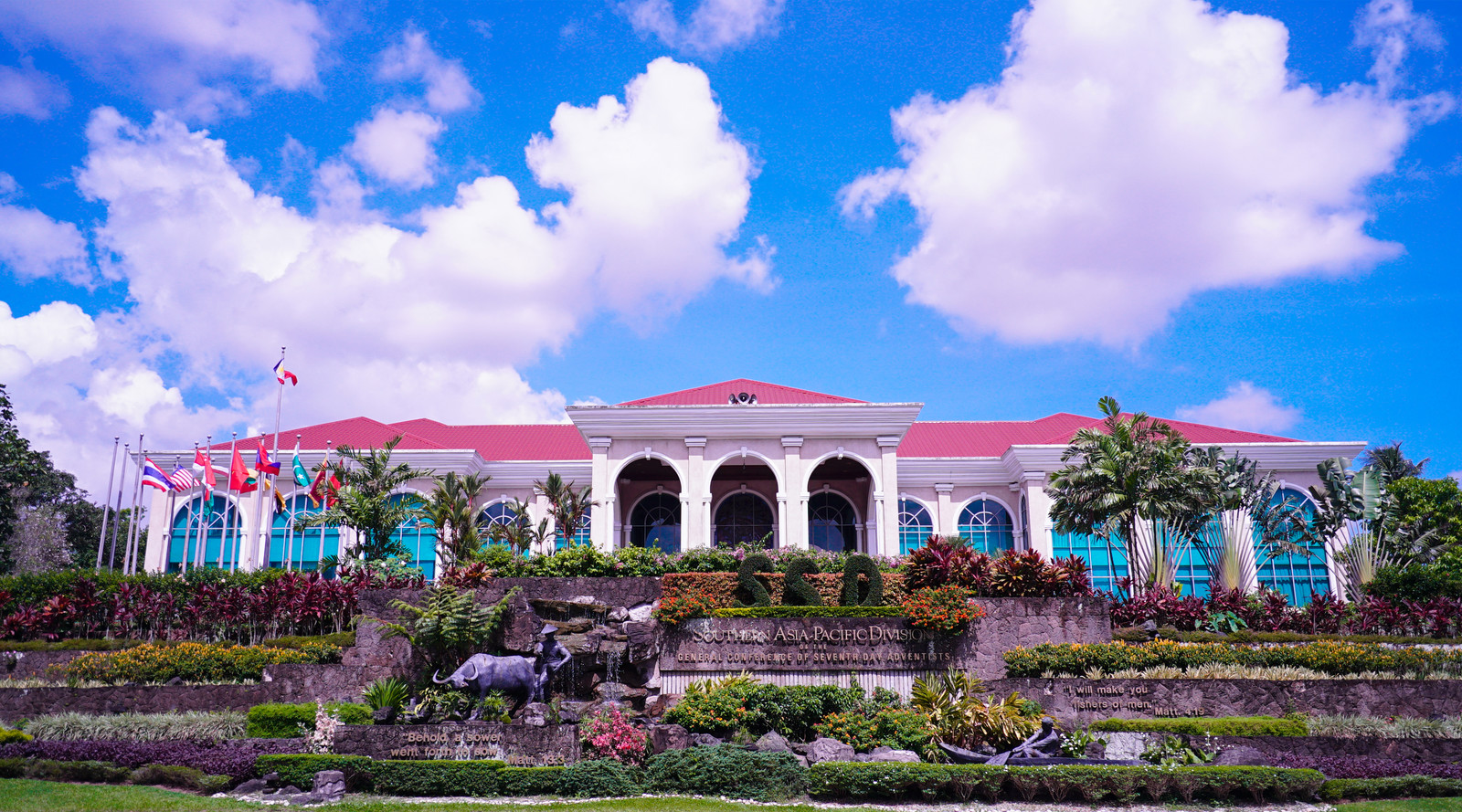 Southern Asia-Pacific Division
×
Teresa Costello, born in the southwest United States, has served as a missionary in the Pacific under the Far Eastern Division and southeast Asia under the Southern Asia-Pacific Division (SSD) for more than 15 years. With bachelor of arts degrees in English and religion and a master's degree in curriculum and instruction, she served in the SSD Communication department from 2012-2017 and is currently (2020) the Encyclopedia of Seventh-day Adventists editorial assistant for SSD. With a background in education, journalism, communication, and public speaking, she is a storyteller who enjoys gathering life experiences from those she meets during her travels with her family.
First Published: January 29, 2020
With a territory that ranges from the 10/40 Window to "one of the world's fastest growing economies,"1 the Southern-Asia Pacific Division (SSD) is one of the 13 global divisions of the General Conference of Seventh-day Adventists (GC).2 Home to 14 countries and five of the major non-Christian world religions,3 it has a combined population of more than one billion.4
Current Territory and Statistics
SSD includes the southeast and southern Asian countries of Bangladesh, Brunei Darussalam, Cambodia, Indonesia, Laos, Malaysia, Myanmar, Pakistan, the Philippines, Singapore, Sri Lanka, Thailand, Timor-Leste, and Vietnam.5
The Philippines and Timor-Leste, both predominantly Catholic, are the only two Christian nations in SSD. Buddhism, Islam, and Hinduism are the dominant religions in the territory, with Taoism or Chinese religions, animism, and localized folk religions represented as well.6 In contrast to the majority of SSD countries with one or two dominant religions, Singapore has the highest level of religious diversity out of 233 countries worldwide, according to a 2014 Pew Research study.7
Twelve of SSD's 14 countries lie within the 10/40 Window.8 Four of the 12 are among the 15 poorest countries in the world.9 According to the World Bank, Bangladesh is one of the five countries that collectively contain one-half of the 736 million people who globally live in extreme poverty.10
The more than 1.5 million members within SSD's borders make it the sixth largest Seventh-day Adventist world church division.11 It has 7,482 churches with a membership of 1,523,695 as of June 30, 2018.12 The largest percentage of its members live in Indonesia and the Philippines.13 In a region of 1,038,560,000 people, one in 695 are Seventh-day Adventists, ranging from the almost 1.2 million members in the Philippines to a not-yet-established presence in Brunei.14
SSD operates 11 regional administrative offices comprised of "the Central Philippine, East Indonesia, North Philippine, South Philippine Union Conferences; the Pakistan Union Section; the Bangladesh, Myanmar, Southeast Asia, and West Indonesia Union Missions; the Sri Lanka Mission of Seventh-day Adventists; and the Timor-Leste Mission."15
The North Philippine Union Conference, headquartered in Pasay City, Philippines, was organized in 1917 and reorganized in 1951, 2009, 2017, and 2018,16 consists of 378,630 members in 1,492 churches amid a population of 59,427,346 as of June 30, 2018.17 The conference territory includes: "Abra, Albay, Apayao, Aurora, Bataan, Batanes, Batangas, Benguet, Bulacan, Burias, Cagayan, Camarines Norte, Camarines Sur, Catanduanes, Cavite, Ifugao, Ilocos Norte, Ilocos Sur, Isabela, Kalinga, La Union, Laguna, Marinduque, Mountain Province, Nueva Ecija, Nueva Vizcaya, Occidental Mindoro, Oriental Mindoro, Palawan, Pampanga, Pangasinan, Quezon, Quirino, Rizal, Sorsogon, Tarlac, and Zambales Provinces, and the National Capital Region; comprising the Central Luzon, and South-Central Luzon Conferences; and the Cavite, Mountain Provinces, Northeast Luzon, Northern Luzon, Palawan Adventist, and Southern Luzon Missions."18
The Southeast Asia Union Mission (SAUM), headquartered in Singapore, was organized in 1917 and reorganized in 1929.19 With 92,890 members in 359 churches amid a population of 222,583,000 as of June 30, 2018,20 it includes "Brunei Darussalam, Cambodia, Lao People's Democratic Republic, Malaysia, Singapore, Thailand, and Vietnam; comprising Singapore Conference; the Cambodia Adventist, Peninsular Malaysia, Sabah, Sarawak, Thailand, and Vietnam Missions; and Laos Region."21 On November 5, 2019, it transitioned into two new unions and an attached field.22
The Bangladesh Union Mission, headquartered in Dhaka, Bangladesh, was organized in 1919 and later reorganized in 1938 and again in 1979.23 It has 31,411 members in 123 churches amid a population of 166,368,000 as of June 30, 2018.24 The union includes "the East Bangladesh, North Bangladesh, South Bangladesh, and West Bangladesh Missions."25
The Myanmar Union Mission, headquartered in Yangon, Myanmar, formed in 1919 and reorganized in 1938. It consists of 32,323 members in 235 churches amid a population of 53,856,000 as of June 30, 2018. The mission includes "the Ayeyarwady, Central Myanmar, South East, Upper Myanmar, and Yangon Adventist Missions."26
The West Indonesia Union Mission, headquartered in South Jakarta, Indonesia, came into being in 1929 and reorganized in 1964.27 It consists of 106,963 members in 855 churches amid a population of 237,876,715.28 The mission includes "Java, Kalimantan (Indonesian Borneo), Lesser Sunda Islands, Madura, Sumatra, and Timor; comprising the East Java, Jakarta, and West Java Conferences; the Central Java, Central Sumatra, East Kalimantan, North Sumatra, Nusa Tenggara, and South Sumatra Missions; and the West Kalimantan Region."29
The Sri Lanka Mission, headquartered in Colombo, Sri Lanka, was organized in 1950.30 It has 3,148 members in 37 churches amid a population of 21,688,000,31 and is the sole administrative unit in the country for the Adventist church.32
The South Philippine Union Conference, headquartered in Cagayan de Oro City, Philippines, had its origin in 1951 and reorganized in 1964.33 It consists of 551,941 members in 2,069 churches amid a population of 26,024,764 as of June 30, 2018.34 The union contains the "Mindanao and Sulu Archipelago; comprising the North Central Mindanao, and Western Mindanao Conferences; and the Central Mindanao Adventist, Davao, Northeastern Mindanao, Southern Mindanao, and Zamboanga Peninsula Missions."35
The Central Philippine Union Conference, headquartered in Cebu City, Philippines, was organized in 1964 and reorganized in 1996.36 It consists of 190,868 members in 1,280 churches amid a population of 21,551,890 as of June 30, 2018.37 The union incorporates the "Visayan Islands; comprising the Central Visayan, East Visayan, Negros Occidental, and West Visayan Conferences; and the Negros Oriental-Siquijor, Romblon Adventist, and Samar Adventist Missions."38
The East Indonesia Union Conference, headquartered in Manado, North Sulawesi, Indonesia, was organized in 1964 and reorganized in 1998.39 Comprising 122,029 members, it has 913 churches amid a population of 27,344,285.40 It includes "Irian Jaya, Maluku, Sangihe, Talaud, and Sulawesi; comprising the Manado and North Maluku, Minahasa, and South Sulawesi Conferences; the Bolaang Mongondow and Gorontalo, Central Sulawesi, Luwu Tana Toraja, Maluku, North Minahasa Bitung, Northern Island, Papua, and West Papua Missions."41
The Timor-Leste Mission, headquartered in Dili, Timor-Leste, began as a field in 2009, was renamed and reorganized as a mission in 2011, and renamed again in 2012. Consisting of 581 members with one church amid a population of 1,236,000,42 it represents the sole administrative unit in the country for the Adventist church.43
The Pakistan Union Section, headquartered in Lahore, Pakistan, was organized in 1949 and reorganized in 2012.44 A vote by the Annual Council at the General Conference headquarters on October 9, 2011, transferred the field from the Trans-European Division to the Southern Asia-Pacific Division.45 The Pakistan Union Section consists of 12,911 members in 118 churches amid a population of 200,604,000 as of June 30, 2018.46 It includes the Northern and Southern areas, or Sections as they are designated by the Adventist church there, of Pakistan.47
As an overall administrative body, SSD is located at Aguinaldo Highway, San Miguel II, Bypass, Silang, Cavite in the Philippines.48
The SSD's history involves four name changes, numerous reorganizations, the direct impact of several significant historical events and/or eras, and the inclusion of most Southeast Asian countries (accompanied by the removal of some other countries) as part of its territory.
Early Beginnings (1888-1900)
From its 1863 organization in North America, the Seventh-day Adventist church officially spread beyond those borders to Europe in 1874 and later to Asia in 1902. In Asia, the church owes much to those early missionaries who willingly faced the challenges of not only an unfamiliar region but one to which Christianity was largely unknown. Equally notable are the local individuals whose courage in being the first believers and desiring to share the gospel they received provided credibility to Adventism and opened the way for foreign missionaries.
Abram La Rue, an Adventist layman from California considered Asia's first Adventist missionary49, established a seaman's mission in Hong Kong and a literature distribution ministry after his May 3, 1888, arrival. 50 However, the first official General Conference (GC) missionary to China, Jacob Nelson Anderson, and his family did not arrive until February 2, 1902.51
During the 14-year span between La Rue and Anderson, other individuals shared the gospel as best they could. William Grainger, the first official Adventist missionary to east Asia in 1896, 52 served a short three years in Japan until his death there.53 The lengthy delay indicates the challenges that Adventist missionary work faced at the time, particularly in Asia, where it had yet to take hold.54
In his book SDA Organizational Structure, Barry Oliver notes that "in the last five years of the nineteenth century there was the slackening of missionary activity by the denomination."55 Allen Moon, Foreign Mission Board president, lamented at the 1899 GC Session that, "…There have been demands for opening the work in China… We have men who understand the language, and are ready to go to China: but we have not had the funds to begin the work."56
The declining overseas mission activity did not result from a lessening of the church's missionary zeal, but rather because of organizational crises in the intimately connected areas of structure and finances.57 The work had expanded beyond the available number of missionaries and resources while inadequate funding limited the number of deployed missionaries and the establishment of Adventist institutions.
New Mission Emphasis and Resulting Growth (1901-1908)
The church reorganization at the 1901 GC Session had an immediate effect upon overseas missions. After the April 2-23 GC Session, the Foreign Mission Board met 11 times in slightly more than a month's time58 with the first four meetings taking place between April 24-28.59 The minutes record an intense period of decision-making as the church sent missionaries to both established and new fields such as China.60
The mission program in Asia began to flourish. A month after the Anderson family's arrival, the first baptisms--the fruit of La Rue's labors--occurred in Hong Kong. Ida Thompson, Mrs. Anderson's sister, established the first Adventist mission school there.61 By 1903, the first missionaries to China were opening additional mission schools and the first Adventist church in the region as well as medical62 and publishing programs.63
By 1907, the Adventist church's presence had expanded enough to divide the China Mission, established in 1901 in Canton with Anderson as director,64 into three missions with the headquarters in Shanghai, China.65
The Adventist church advanced beyond the China Mission through its education, medical, and publishing efforts.66 In Japan, Adventist churches, the training school, and medical work grew past its borders. By 1904, its evangelists had organized four churches in Korea and were training the first of the future Korean Adventist workers by the next year.67 As a result, the Korean Mission launched in 1908.68
Such progress brought a challenge that Adventists would soon need to address: an increasing church presence in a region without a larger regional administrative network to guide that growth.69
Asiatic Division (1909-1918)
By the 1909 GC Session, leaders heeded the missionaries' continued calls for additional help and resources.70 Thus, the church established the Asiatic Division in 1909 as the third division of the world church after the General Conference in the United States and the European Division (originally named the European General Conference but currently known as the Inter-European Division71).72 Since the church first used the term "Division" in connection with the Asiatic Division at its birth, some consider it to be the first division in Adventist history.73
At its establishment, the Asiatic Division comprised China, India, Japan, Korea, the Malay Peninsula, the Philippine Islands, and the Straits Settlements.74 The Straits Settlements incorporated today's Singapore and parts of Malaysia75 as well as the territory of Cocos (Keeling) Islands76 and Christmas Island77 near Australia. Overall, the new division had 21 churches and 601 members.78
Previously, the Philippines Island Mission and the Singapore Mission had been part of the Australasian Union Conference.79
The GC named I. H. Evans, then its treasurer,80 as "General Superintendent," a title now equivalent to president. The 1910 Seventh-day Adventist Yearbook lists him as the vice-president for the Asiatic Division and the only officer at the time. However, it did have an advisory committee.81 Shanghai, China, was the designated headquarters.82
Adventism also spread into areas not previously considered when the Asiatic Division began. The 1909 organization also added India, Burma (today's Myanmar), and Ceylon (present-day Sri Lanka) as the India Union Mission.83 But the inclusion was brief and concluded when the India Union Mission's growth prompted its separation as an individual entity during its October 21-November 2, 1910, biennial session in Lucknow, India.84
The Java Mission (part of today's Indonesia), Sumatra Mission (also part of today's Indonesia) and Singapore Mission were categorized as the "East Indies and Federated Malay States" under the supervision of the Asiatic Division as of January 1, 1912.85
On April 1, 1912, the division produced its first official publication, the Newsletter for the Asiatic Division, to share news and encourage current missionaries in the field and others interested in Adventist activity there. 86 From its first issue, it chronicled missionary challenges through reports of births, illnesses, accidents, persecution, and deaths interspersed among the increasing accounts of new believers and advances made into formerly unentered territory.
At the May 5-June 8, 1913, GC Session, China missionary F. A. Allum, also referenced the region's daunting work faced on his 1906 arrival: "In all this distance of over twelve hundred miles, we had not met a single native Adventist believer … In all that field we did not have fifty baptized Sabbath-keepers. I remember in Hunan we had but two. Shortly after, Dr. Selmon baptized his first convert, making three."87 Seven years later, though, the same province held "19 companies with a membership of 183."88
In 1913 the church reorganized the Asiatic Division to comprise China, Manchuria, Thibet (modern-day Tibet), Mongolia, Chinese Turkestan, Japan, Korea, Malay Peninsula, East Indies and Straits Settlements, and the Philippine Islands.89
I. H. Evans continued as president with C. N. Woodward added as secretary-treasurer.90 The administrative team expanded with the inclusion of F. H. Devinney as vice president and one whose focus was the work in Japan.91
By 1914 the Java Mission had grown and split into the East Java Mission and West Java Mission. The British North Borneo Mission (present-day Sabah, Malaysia) joined the division. Singapore and the Malay Peninsula had become the Straits Settlement. Other territories included the Celebes (today's Sulawesi, Indonesia), New Guinea (present-day Papua, Indonesia), and outlying Indonesian islands.92
Within a year, the division included the Manchurian Mission and West China Mission. Meanwhile, Singapore and the Malay Peninsula, Sumatra, Java, Borneo, Celebes, and the lesser islands of the East Indies (Indonesia) were now known as the Federated Malay States Mission with the Straits Settlement Mission as a separate unit.93
Interestingly, the Australasian Union Conference (AUC), self-sustaining by 1913,94 became part of the Far Eastern Division in 1915. The India Union Mission, added in the same year for its second time, once again included its sub-fields of Burma and Ceylon (present-day Sri Lanka). 95 The primary reasons, according to leaders at the time, were that the Australasian Union's workers and sustainability would be helpful to the Asiatic Division while the India Union's challenges were similar to the Asiatic Division's, and they could mutually benefit by working together.96
In 1916, Eric B. Hare arrived in Burma from the AUC to serve as the Karen Mission director97 and would later share his adventures through his popular mission stories.
Also arriving in 1916 was C.C. Crisler, who had previously worked as Ellen White's personal secretary for 14 years from 1901 until her death.98 Originally tasked to help with literature production,99 he stayed on to record the division's growth, train literature evangelists, and expand Adventism into new fields.100
In 1917, the Japan Mission officially organized.101
Eastern Asia Division (1918)
As the unions and missions within the territory grew, the work had once again outgrown its administrative structure. GC leaders recognized the problem, and the 1918 GC Session, separated the India Union Mission and the Australasian Union Conference from the Asiatic Division.102 Reorganized for a third time as the Eastern Asia Division,103 its territory consisted of "the Japan-Chosen-Manchuria, the Malaysian, the North China, the Philippine, and the South China Union Conferences, and the Peking Mission; also Mongolia, Tibet, Chinese Turkestan, Siam, Annam with J. E. Fulton as president, C. C. Crisler as secretary, and H.W. Barrows as treasurer."104
It had six schools in China, one in Korea, Japan, the Philippine Islands, and Singapore.105 Additionally, it had the Chosen Mission Press in Seoul, Korea, the Japanese Publishing House in Tokyo, Malaysian Publishing House in Singapore, Philippine Publishing House in Pasay, and the Signs of the Times Publishing House in Shanghai, China, as well as one hospital, the Shanghai Sanitarium in China.106
Far Eastern Division (1919-1994)
Less than a year after what later division leaders would term "sweeping general changes,"107 delegates at the March 1919 division meeting responded with a change of their own. They adopted the name "Far Eastern Division" to better represent its diverse territory.108
FED now had 161 churches with 6,699 members, 76 ordained ministers, 172 licensed ministers, 258 licensed missionaries, 164 literature evangelists, and 964 workers.109 It comprised the "Central China Union Mission, Chosen (Korea) Union Mission, East China Union Mission, Japan Union Mission, Malaysian Union Mission [British Malaysia, Dutch East Indies, Siam], Manchurian Union Mission, North China Union Mission, Philippine Union Mission, South China Union Mission, and West China Union Mission."110 Also it now had two additional schools in China for a division total of 12 schools, five publishing houses, and one hospital.111 I. H. Evans became the new president, with Crisler and Barrows continuing as secretary and treasurer.112
As the world church continued to focus on mission expansion, China's political unrest increased during the next decade. Anti-imperialist groups who resented Western influences such as Western education and religion increasingly targeted foreign missionaries and missions in China. They damaged or destroyed mission schools and churches, while others had to temporarily close but later reopened.113 Adventist missionaries and church members were among those killed.114
Despite the challenges, FED had a membership of 24,641, almost quadrupling in 10 years time, with China having the most established structure and membership. Progress in China had outgrown the division.
China's Growth (1930)
The GC Committee on plans thus noted on June 6 that "the Far Eastern Division of the General Conference, composed of all the nations of Eastern Asia, speaking more than 325 dialects and languages; with a population of 607,000,000, increasing from six to ten million annually, and having a church membership of 24,651 in fifty-two missions and ten union missions, with a working force of 1,969, can henceforth be better served by dividing the Far Eastern Division into two divisions."115 Leadership approved the recommendation to split the Far Eastern Division and create a China Division. It would take effect January 1, 1931.116
With 156 churches, 9,451 members, seven educational institutions, three publishing houses, and 11 medical institutions,117 the newly formed China Division was indeed ready to proceed as a separate entity.118 Dr. Harry W. Miller, one of FED's two field secretaries, became president; FED secretary C.C. Crisler would now serve as secretary of the new division; and C. C. Morris assumed the treasurer's position.119
FED would continue on with Frederick Griggs, FED's other field secretary, as president and FED auditor Eugene Woesner as secretary-treasurer. They would oversee the work in Japan, Chosen (Korea), Siam, Philippines, British Malaya, and French Indo-China contained in the Japan, Chosen, Philippine, and Malayan Union Missions.120
As for institutions, FED had three schools in the Philippine Islands and one each in Korea, Japan, and Singapore; four publishing houses: the Japanese Publishing House in Tokyo, Malayan Signs Press in Singapore, Philippine Publishing House in Pasay, and Signs of the Times Publishing House in Seoul, Korea; and four medical institutions comprising the Manila Sanitarium and Hospital in the Philippines, Penang Sanitarium in Penang, Straits Settlements, Soonan Hospital-Dispensary in Soonan, Korea, and Tokyo Sanitarium-Hospital in Japan.121
A new era began, and the Far Eastern Division looked to develop further areas of its territory. None, however, could know at the time just how much the church would find itself tested by the rigors of political upheaval and the horrors of war with effects that still affect the Adventist Church in the region.
World War II (the 1930s-1940s)
With the China Division now operating out of FED's former headquarters at 25 Ningkuo Road, Shanghai, FED temporarily relocated to Manila, Philippines, while it sought a permanent location.122
On April 24, 1931, the FED Executive Committee chose Hong Kong123 for its headquarters because of its centrality, economy, and accessibility.124 However, the GC did not approve the recommendation.125 The Committee then voted on May 10, 1931, to request the temporary use of the Philippine Union Mission (PUM)'s five vacation cottages on Navy Road in Baguio as the location search continued.126
The economic situation of 1929-39, known as the Great Depression, had affected giving,127 and by December 31, 1931, the General Conference advised FED leaders to delay the permanent building project for a minimum of a year.128 129 The Committee then considered sites in Metro Manila,130 but decided to remain in Baguio and continue using the vacation cottages for housing and office space.131 In March 1932, FED leased a building near the cottages for official office space.132
Eventually, the economic situation changed, and FED ultimately settled on Singapore for its new home.133 After the GC Committee approved the recommendation, FED's transfer from Baguio to Singapore began on October 19, 1936.134
On November 1, 1936, FED staff moved into temporary headquarters at 106 Orchard Road, Straits Settlements (Singapore).135 In January 1937, the FED Executive Committee, along with GC representatives, approved the location of 800 Thomson Road,136 a nine-acre property "in a very desirable location, available at an attractive price and substantial savings to the mission."137 Within the year, FED began operating there.138
On January 1, 1938, the Netherlands East Indies (today's Indonesia) returned to the Far Eastern Division as a union mission with eight missions and more than 4,000 members after nine years as part of the Central European Division.139 The reorganization, facilitated at the October 1937 GC Autumn Council,140 occurred since Germany could no longer financially support missionary activity due to its political situation.141 Furthermore, many in the FED had long desired such a decision.142
The new headquarters was dedicated during the January 24-February 2, 1938, FED Year-end Council.143 The same meeting assigned the Japan Union Mission to nurture the first Adventists on the island of Guam144 while the committee recommended to the General Conference that Portuguese Timor (today's Timor-Leste) should come under the Netherlands East Indies Union.145
In the two years after Japan's 1937 invasion of China during the Second Sino-Japanese War, Adventist missionaries in China began leaving the country.146 By late 1938, several workers from the China Division and its institutions were on their way to Hong Kong either to stay there temporarily or journey on to farther destinations.147 During mid-1941, FED assisted the China Division in temporarily relocating to Manila, Philippines.148 It would eventually move to Baguio for the duration of the war where FED had previously operated for a time.149 150
In Japan, conditions likewise deteriorated, and by October 1941 Adventist missionaries had evacuated, and church leadership shifted to national workers.151 Thus, the work continued with challenges–some extreme–while still making inroads in those areas of China not occupied by Japanese troops.
Meanwhile, World War II affected other FED staff. Germany's May 10, 1940, invasion of Holland led to the Dutch government's internment of nine Adventist mission leaders, among others of German nationality152 in the Netherlands East Indies. Only four missionary families remained in that field.153
The Japanese Imperial Army simultaneously invaded FED countries on December 8 on the western side of the international dateline while attacking Pearl Harbor on the east.154
The invaders targeted foreign missionaries of Allied nationalities. Some missionaries still in the field, such as those in Burma, were able to flee.155 Others, such as the Philippine Union Mission missionaries156 157 and Netherlands East Indies mission leaders,158 became part of the more than 130,000 civilians eventually interned by the Japanese military159 in Burma, China, Hong Kong, Indochina (Cambodia, Laos and Vietnam), Japan, Malaya, Netherlands East Indies, the Philippines, Singapore, and Thailand.160 Most remained captive for the duration of the war or until their deaths.
Even Adventist missionaries not assigned to FED were interned in FED territory. Such was the case of 16-year-old Dan Mansell and his family, who were on their way to serve in Mozambique. Stranded during their Manila port of call on December 8, 1941, they later wound up in an internment camp.161 The A.G. Rogers family, en route to Palestine, met a similar fate.162
Interned Adventists witnessed and/or experienced challenges to their beliefs,163 physical and/or psychological abuse,164 165 torture from camp guards,166 and starvation 167 168 169 during the war. Some died, such as five German missionaries in the Netherlands East Indies camps.170
National church leaders were likewise killed171 or imprisoned and tortured, such as 40 Korean church leaders. One perished in prison from torture, while three others died after their release from prison-related health issues.172
A limited number of Adventist institutions did continue to operate or be used by Adventists because of governmental agreements with Japan, such as the Bangkok Mission Clinic in Thailand.173 The clinic administrators, although closely watched by the Japanese military, were able to inconspicuously support the mission, share resources for internees, and assist a local hospital serving Chinese forced to build the infamous Siam-Burma Railway, also known as the Death Railway.174
The Japanese commandeered other Adventist institutions such as Philippine Union College (now Adventist University of the Philippines), which became the Japanese military headquarters in July 1944175 and the Penang Sanitarium in Malaya (today's Malaysia), which the Japanese expanded during their occupation.176 While the invaders controlled the Sanitarium, Penang Adventists focused on operating a city clinic, set up nurses' training to staff the clinic, and later opened three other clinics, one of them in Singapore.177
Destruction was widespread and ranged from the partially destroyed Malayan Seminary and Malayan Signs Press and the bombed portion of the China Division housing in Baguio178 to damaged churches and individual homes. 179 Entities in the Philippines and Indonesia were particularly hard hit, especially several schools and missions in the Philippines and almost all Manila-based institutions such as the Philippine Union Mission headquarters, the Manila Sanitarium and Hospital, the large Pasay English church, and the Philippine Publishing House.180
Yet, despite such sorrows, countless stories emerged of God's miraculous work in FED's WWII history.181
National workers and members not only maintained the existing work amid the dangers but even expanded it.182 The kindness and courage of countless local leaders and unnamed church members183 are of particular note as they provided food to internees,184 watched over church properties,185 and nurtured new converts.186
Post-War Activity
During 1943-1944, no official news came from FED fields, although the Outlook in Exile, an unofficial newsletter, circulated among former FED workers hoping to hear news about friends, colleagues, and church members.187
At the October 17-25, 1944, Autumn Council leaders discussed resuming FED's work.188 Because of wartime conditions, the FED Committee had not met since February 17, 1942.189 It resumed its meetings on November 8, 1944, in Washington, D.C.190 FED then began post-war operations based at the General Conference in early 1945191 until September 1945 when it moved to a temporary office nearby.192
The Far Eastern Division Outlook, the division's official news outlet, resumed publication with its April 1945 issue.193 Reports begin to trickle in regarding those who had remained in FED territory during the war. Some of the liberated missionaries returned to the U.S. to regain their health, while others agreed to aid in the local recovery.194 That would involve rebuilding structures, re-staffing institutions, replenishing church membership in some areas, and nurturing those affected by the war.195 196
During the November 13-20, 1945, Autumn Council, a proposal by the Australia Union Conference (AUC), organized as a division in 1922,197 to reorganize and rename its division received approval for voting at the June 5-16, 1946 General Conference Session to be held in Washington, D.C.198 The potential was high for some of FED's territory (Netherlands East Indies, the Malay States, British North Borneo, Sarawak, and the former Japanese Mandated Territories)199 to be transferred.200 Singapore would thus no longer be a central location for FED's work, so some suggested Hong Kong.201
On December 26, 1945, the first group of missionaries arrived in Manila to assist the workers there.202 Originally, it was to be only a temporary stop before sailing to Singapore to resume FED's in-country operations and rebuilding.203 Due to the Autumn Council vote, though, FED staff remained in a Manila rental home that served as a temporary office and housing.204
The 1946 GC Session approved the AUC proposal, but its potential territory was to be determined after an assessment by its leaders and GC representatives and then voted at the following Autumn Council.205 The Committee on Territorial Reorganization recommended that FED's headquarters remain in Singapore.206 Ultimately, no territorial changes came to FED.207 208
By December 1946 the first worker family had returned to Singapore after a more than four-and-a-half-year closure of FED's headquarters.209 It had substantial damage, two homes needing repairs and one completely rebuilt.210
Meanwhile, the Far Eastern Island Mission (formerly the Japanese Mandated Islands211) began on Guam in 1948 and included the U.S. Trust Territory of Guam and the islands of the then-designated Trust Territory of the Pacific (All of Micronesia except Guam: the Caroline Islands, northern Marianas Islands such as Saipan, the Marshall Islands, and the Palau Islands).212
Wars in Korea and Vietnam (the 1950s-1970s)
Although the rest of the world began to recover in those post-war years, it would be decades before conflicts ceased in FED.
North Korean Communist forces invaded the Republic of Korea (South Korea) on June 25, 1950. The seemingly minor border skirmish turned into a full-scale, three-year war that would lead to the persecution of Adventist servicemen for non-combatancy with almost 100 receiving prison sentences.213 After the evacuation of missionaries to Japan, the remaining workers, local leaders, and church members organized relief work, set up orphanages, and continued to provide medical care through the Seoul Sanitarium and Hospital for the duration of the war.214
Due to the political situation in China, the China Division ceased in 1949; As a result, the church administration transferred its South China Island Union Mission containing Taiwan, Hong Kong, and Macau to FED in 1951.215
Two years after the Korean War ended, the Vietnam War, a civil war between the Communist Viet Nimh of the north and the national forces of the south, ignited and would last 20 years. During that time, Adventists in Vietnam steadfastly shared the gospel in practical ways. They opened Saigon Adventist Hospital, the church's first large-scale medical project in the country; From the start, it functioned at or beyond capacity.216 Prison ministries flourished in the south and Adventist radio broadcasts eventually played on all national stations.217 The literature evangelism program was the largest in the Indo-China Mission.218 Although by 1975 South Vietnam had 16 schools and 22 churches; all such progress halted as the war rapidly wound down in April 1975.219
FED leaders had kept a close watch on the situation. On April 18, the FED executive committee held an emergency meeting to organize the evacuation of Adventist missionaries, medical personnel, and national leaders in Saigon. On April 20, Southeast Asia Union president Ralph S. Watts flew to Saigon to oversee the evacuation. Together, Watts, other division and union leaders, local leaders, and hospital employees220 evacuated all missionaries, medical personnel, and 410 Adventist nationals deemed in danger if they remained.221
After the fall of Saigon (now Ho Chi Minh City) on April 30, 1975, the new government nationalized Adventist hospitals and schools and restricted religious practices.222 Contact with the remaining local leaders and members ceased for approximately 13 years, but in the interim, they faithfully grew the church as Watts later depicted in photographs223 taken during his 1988 visit to Ho Chi Minh City.224
Dictatorships and Civil Wars (the 1970s-1980s)
Political situations in FED countries during the 1970s and 1980s included two authoritarian regimes and two civil wars.
Ferdinand Marcos, who had become the Philippines' president in late 1965, declared martial law on September 21, 1972. Despite the political situation, new initiatives such as college student-led evangelism,225 temperance seminars,226 vacation bible schools227 and radio ministry resulted in significant membership growth during the ensuing 14 years.228 229
In April 1975, the Khmer Rouge took control of Phnom Penh, the Cambodian capital, and established a new government with military leader Pol Pot as prime minister. The next four years resulted in an estimated 1.5 million deaths and decimated the technical and professional classes within the country.230 Since the country had few local Adventist members and leaders, it halted what inroads Adventists had made. Instead, the FED focused on Cambodian and other refugees in the camps in Thailand.231 After the war, Adventist members and new converts from the camps slowly began to return and rebuild; The work officially resumed in 1992.232
Meanwhile, a civil war began in East Timor (the former Portuguese Timor, now known as Timor-Leste) on December 7, 1975. when Indonesian forces invaded after an opposition Timorese group declared its independence. Violence, property damage, famine, disease, and as many as 200,000 deaths marked the next 20-plus years.233 FED had barely begun church work in East Timor before the war.234 By the war's end, approximately six members remained in the capital of Dili, the majority having fled or perished. 235 As a result, it was not until 1992 that Adventists could establish their first church there. Even then, it did not get inaugurated until 1993.236 
On July 23, 1983, a 26-year civil war based on decades of ethnic tensions between Tamil militants and the Sinhalese or government groups began in Sri Lanka after anti-Tamil race riots.237 The 1985 GC Session added the Sri Lanka Union of Churches along with the Bangladesh Union Mission and Burma Union Mission to FED's territory from the Southern Asia Division because of political and economic reasons, effective January 1, 1986.238 During the war, FED focused on maintaining the established work in Sri Lanka. By the end of the war, an estimated 100,000 people had perished, tens of thousands of them civilians.239
When the Burma Union Mission240 (today's Myanmar Union Mission) joined the FED family, it brought with it governmental restrictions from the 1960s.241 Between 1965 and 1966, Adventist medical and educational programs ceased. The May 1966 nationalization of all schools and the forced departure of missionaries was the final blow.242 Local Adventists were among the citizens left in relative isolation for more 50 years until the political situation changed.243 Unrest has continued in the country in some form to the present-day with the Rohingya refugee situation most recently attracting global attention.
In summary, decades of political situations and conflicts created effects in FED that cannot be fully detailed due to regional sensitivities. They include but are not limited to: 1. Casualties and loss of life among members, which in turn created new needs among memberships already challenged in terms of resources and security. 2. Religious persecution of members and leaders, church closures, and in some cases destruction of churches in affected areas demanded short- and long-term options for maintaining existing congregations. 3. Restrictions on public and one-to-one evangelism as well as corporate worship initially slowed and/or halted overall growth in some affected areas.
Such challenges could have extinguished the church's presence in parts of southeast Asia. However, local members and leaders found ways to nurture churches carefully. Meanwhile, FED focused on assisting workers, administrative units, and institutions in such situations so that they could, in turn, minister more effectively.
Growth and New Directions
The church addressed the need to develop local leadership in the region when it established the Adventist Institute of Advanced Studies (AIIAS), currently located in Silang, Cavite, Philippines, on May 5, 1987, as a FED entity and the first Adventist graduate-level institution outside of North America. 244
The need for additional assistance in established areas and to develop new work resulted in the 1000 Missionary Movement (1000MM). First proposed in 1991 by AIIAS and then becoming an SSD program four years later, 1000 MM has sent more than 7,000 missionaries to 42 countries where they planted more than 8,000 churches and inspired more than 65,000 baptisms.245
FED's territory grew and encompassed a vast range of countries. Simultaneously, the work in the northern Pacific islands (Micronesia) expanded. Additionally, the term "Far East" was now antiquated and had colonialistic connotations. Thus, in 1994 the church renamed the Far Eastern Division as the Asia-Pacific Division (APD).246
Asia-Pacific Division (1995-1997)
One of APD's immediate needs was a new headquarters to replace the 60-year old FED building.247 FED sold some of its land to a developer and began negotiations with him to construct a new headquarters.248 The developer had office space available in his downtown high-rise249 so in July 1995, APD moved to #10-01 Suntec City Tower at 5 Temasek Boulevard so that building could begin.250
However, there had been a recurring suggestion since the China Division ceased in 1949 for another division within Asia to resume the world church's involvement in China.251 Now APD leaders wanted to know about the possibility of a territorial realignment before they finalized plans for a new headquarters.252
They considered the idea for two reasons: the GC's long-time interest in China and the need to plan accordingly if any territory was split off the current division. A new headquarters would have to be outside of Singapore since the southern Asia countries could not financially meet Singapore's high office and housing costs without the northern Asia countries' contributions.253
As a result of APD's inquiry to GC leaders, the GC Administrative Committee met on February 20, 1996, and created a "Survey Committee on Territorial Realignment." 254
APD halted the 800 Thomson Road project255 and eventually the building that was to have been APD headquarters instead became the SAUM headquarters.256
The GC team surveyed APD's union leaders from April 17 to May 6 and, as a result of the feedback, recommended the creation of two divisions in a May 9 report at the Asia-Pacific Division May 7-9, 1996, mid-year meeting in Manado, Indonesia.257 It was approved.258
By May 22, 1996, the GC had also approved the recommendation, set up an APD Transition Management Committee, and approved the terms of reference for the property purchases and the assets distribution. It also agreed to APD's suggestion that AIIAS and the Buddhist Study Center (today's Center of East Asian Religions and Traditions) become GC entities. The two divisions would instead together operate the 1000MM.259
The Northern Asia-Pacific Division (NSD) would administer the work in northern Asia. Mainland China and Mongolia were General Conference territories at the time but would now become part of NSD. 260
The Southern Asia-Pacific Division (SSD) would oversee the work in southeast Asia and the Pacific islands and would include the following: Bangladesh Union Mission, Central Philippine Union Conference, East Indonesia Union Mission, Guam-Micronesia Mission (attached), Myanmar Union Mission, North Philippine Union Mission, South Philippine Union Conference, Southeast Asia Union Mission, Seventh-day Adventist Church in Sri Lanka (attached), and West Indonesia Union Mission.261
One unusual aspect of the divisions' naming involved the abbreviations. For the Southern Asia-Pacific Division, an abbreviation of SAPD wouldn't meet the GC's three-letter guidelines. The South American Division in Brasilia, DF, Brazil, had already taken the SAD abbreviation and the South Pacific Division in Wahroonga, Australia, the SPD one. Thus, SSD followed the precedent set by the Euro-Asia Division, known as ESD.262
Although they would operate separately effective January 1, 1997, 263 both divisions would continue to work out of APD's temporary location until they could each move to their new headquarters.264
In June 1996, the APD Transition Management Committee team met with each division's leaders and its union presidents to find new locations for their respective headquarters. Roy Ryan, an SSD associate treasurer who had recently overseen the AIIAS building project, would do the same for SSD.265
After considering available locations with established infrastructures within SSD, the top choices were Jakarta, Indonesia; Manila, Philippines; and Bangkok, Thailand.266 The SSD finally chose the Philippines based on the following criteria, ones very similar to the AIIAS project:267
Ability to function as a Christian organization unhindered by religious bias or persecution. As a Christian nation, Philippine laws were more favorable than those in countries dominated by a different faith community.

Language. English was more widely spoken in the Philippines which was crucial as it was the designated language for SSD's operation.

Centrality. The bulk of members were in the Philippines and thus the division office would be central in that regard.

Staffing/Resource People. The Philippines had a larger pool of Adventist candidates for SSD's English-speaking support staff.

Greater travel efficiency. Travel connections out of Manila were considered better than Jakarta or Bangkok at the time.

Greater ease for movement of currencies in and out of the country.

Greater ease in obtaining visas.
By September 1996, leaders had considered more than 20 sites in the greater Manila area. The APD Transition Management Committee's search narrowed to three locations nearby AIIAS as this would help find support staff. Also, the nearby graduate students and faculty would be available as resource people for SSD.268
The final selection came down to proximity, price, and a clear, court-issued title as proof of ownership. Although administrators did look at a few other sites along the San Aguinaldo Bypass, the current location, about 30 miles south of Manila and approximately two kilometers from AIIAS,269 was the one finally chosen.270 The original purchase consisted of nine hectares271 with an adjoining 7,000 square meter section added in 1997.272
Southern Asia-Pacific Division (1997-Present)
Meanwhile, SSD would remain in Singapore until the completion of the new headquarters in mid-1999.273 However, the developer unexpectedly asked for an earlier move-out date.274 SSD negotiated with him to construct four towers for SSD employees on the AIIAS campus and give its ownership to SSD as an incentive to vacate the rental space more than a year and a half earlier than previously agreed.275
Thus, on November 17, 1997, SSD employees and their families moved even though portions of the towers were in the final construction stage.276 Three of the towers served for housing and the fourth as office space for various departments and administrative offices.277 The treasury department occupied the first floor on the west side of the AIIAS Library in what had been the AIIAS chapel.278 SSD employees constructed temporary desks and other items out of plywood.279
In early 1999, staff began moving into the SSD housing a few months before the completion of the SSD office building; A shuttle transported them from SSD to the temporary offices at AIIAS.280
Almost 18 months after SSD's relocation, the new headquarters were inaugurated on June 16, 1999.281 GC President Jan Paulsen, GC leaders, former FED and APD presidents, and NSD leaders along with Philippine government leaders, local church members, local community guests, and choirs from Indonesia, Korea, and the Philippines attended.282
To honor the cultural diversity and history of SSD countries, intentional symbolism appears throughout the headquarters' campus:
Call to actively share the gospel: Two statues flank the SSD sign at the terrace in front of the building. On the right, a fisherman, based on pioneer Filipino educator Emilio B. Manalaysay, pulls a net into a banka (Filipino homemade boat).283 To the left, a farmer, based on notable Filipino literature evangelist Leon Z. Roda, sows seeds beside a carabao (water buffalo).284 Together, they represent Jesus' parables in Matthew 4:19 and 13:1-23.

Priority of prayer: The entrance, surrounding walls, and items inside the prayer garden behind the office were carved in Indonesia and brought to SSD. A copy of The Great Controversy was given to the non-Christian stone carver who read it and used it as the basis for his Balinese artwork of Jesus's life and death as well as Ellen G. White's first vision that covers one of the entrances.

Respect for SSD's history as the Far Eastern Division: Clusters of large travelers palms stand to the left and right of the half-circle uphill drive in front of the headquarters. They are similar to the ones that stood in the same proximity to the FED headquarters for decades. Likewise, the large staircase at the back of the SSD headquarters is identical to the grand staircase that led to the FED headquarters. Finally, the building has columns and arches that echo Singaporean architecture. The architects intended such elements to give those transferring from Singapore a sense of home in their new headquarters.

Witnessing opportunities: Visitors may note eye-catching details such as the stained-glass panels depicting Jesus' life, the artwork portraying His second coming, or the marble floors. These function as witnessing opportunities during tours, artwork explanations, or when sharing the story of God's providence in providing the cost of the marble and installation at a price dramatically less than that of local tile.

With so many firsts–a new division, a new location, a new headquarters building, and a new team of employees--one very notable first was the appointment of APD's executive secretary, Violeto F. Bocala of the Philippines, as the first SSD president285 286 and the first division president of southeast Asian ethnicity.287
SSD's initial challenges were the building project and creating a strong infrastructure; locating support staff; building an effective new team from both new and returning staff and conducting day-to-day operations while in a new but temporary location.288 The reorganization with its addition of new countries added the challenge of meeting very diverse needs, especially in predominantly Buddhist or Muslim countries, with the limited financial base of SSD's mostly 10/40 Window countries.289 But SSD gained its footing as its staff implemented its new departmental programs and introduced Adventism to previously unentered areas.290
On March 17, 2003, the SSD Executive Committee elected Alberto C. Gulfan, Jr., former South Philippines Union president, as the second SSD president, effective upon Bocala's June retirement. 291
Known for his evangelism experience, Gulfan emphasized personal in addition to corporate evangelism for all--from support staff to departmental leaders. He encouraged SSD employees to get involved in a ministry outside of their work duties.292 Gulfan himself was known to conduct five or six evangelistic series each year.293
After the 2000 General Conference Session, world church leaders encouraged all divisions to evaluate the accuracy of their church membership records. As a result, SSD did extensive membership audits between 2003 and 2005. While initially lowering overall figures, it provided a more accurate representation of its total membership and inspired more intentional evangelism and retention.294 In 2009 and 2010 SSD led the world church in membership growth rates.295
On October 11, 2011, the GC executive committee voted to reorganize SSD at the GC Annual Council with the transfer of the Guam-Micronesia Mission (former Far Eastern Island Mission) to the North America Division after its addition of the Pakistan Union Section to SSD from the Trans-European Division on October 9.296
Other developments included the 2013 establishment of a Hope Channel station in the Philippines297 and one in Indonesia in 2014.298
While SSD implemented the world church's initiatives such as "Revival and Reformation," the 777 prayer program, and "Mission to the Cities," it also adapted programs to meet local cultural needs and developed its own evangelism initiatives.299 In addition to its established ministries, SSD increased its focus on the marginalized among its more than 70 ethnic groups and also began more intentional urban evangelism in its large cities.300
Two initiatives spearheaded SSD's urban evangelism: One Year in Mission (OYIM) and Mission to the Cities. OYIM, a GC initiative, empowered young adults to use the tools and skills of their generation to share the gospel. Anthony Stanyer, SSD's first OYIM coordinator, trained OYIM teams from each union, mentored OYIM participants, and developed innovative evangelism opportunities for them.301 The first SSD OYIM team assisted in the months of pre-event preparation for Hope Manila 2014, the initial event for the GC's Mission to the Cities program.302
In a region known for natural disasters such as 2013's super typhoon Haiyan,303 periodic earthquakes, and seasonal flooding, 2015-2016 brought a more personal impact with the loss of two division presidents within a span of four months. Gulfan passed away on September 26, 2015, after an almost year and a half battle with multiple myeloma.304 Prior to this, the July 2015 General Conference Session named former SSD Sabbath School and personal ministries director Leonardo Asoy as SSD president, but he inexplicably passed away from myelodysplastic syndrome (MDS), a rare bone marrow disease, on January 12, 2016.305
With a heavy emphasis on prayer and teamwork, the rest of the administrative team, departmental directors, and staff shouldered additional responsibilities in the ensuing months but maintained the forward momentum put in place by the two deceased leaders.306
On March 22, 2016, the GC Executive Committee elected Saw Samuel, SSD's executive secretary, as SSD president and the first Burmese division president.307 During his term, he focused on personal witnessing and unreached people with a special emphasis on Muslim ministry. A significant high point during his term was when he baptized his own father who had been a steadfast Muslim.308
Recent SSD challenges have included natural disasters, the Rohingya crisis, terrorist acts in SSD countries,309 310and religious liberty issues and/or increasing persecution311 in many of its regions.
Yet, growth continues as evidenced by the development of new missions and unions. Continued membership growth in the Philippines and Indonesia resulted in three new missions established in 2018. Additionally, the work in the Southeast Asia Union Mission had grown too large for one administrative unit.312 On November 11, 2019, the SSD Executive Committee approved the formation of the following unions and reassignment of a conference during the 2019 SSD Year-end meetings:313
The Southeastern Asia Union Mission with constituency from Cambodia Adventist Mission, Laos Region, Thailand Mission, and Vietnam Mission, with headquarters in Muak Lek, Thailand.

The Malaysia Union Mission with constituency from Peninsular Malaysia Mission, Sabah Mission, Sarawak Mission, and Brunei, with headquarters in Kuala Lumpur, Malaysia.

The Singapore Conference, with headquarters in Singapore, to be an attached field to the Southern Asia-Pacific Division.
Mission and Strategic Plans of the Southern Asia-Pacific Division
The mission statement of the Southern Asia-Pacific Division is an affirmation of the General Conference's mission statement. SSD regards as its purpose to "to call all people to become disciples of Jesus Christ, to proclaim the everlasting gospel embraced by the three angels' messages (Revelation 14:6-12), and to prepare the world for Christ's soon return" in the following areas and ways.
With its long history of mission, SSD continues to rely on the service of mission-minded individuals. In terms of its inter-division employees and Adventist Volunteer Service program, SSD is among the top three divisions in sending and receiving missionaries.314
Nurturing, Discipleship, and Retention (NDR)
In 2015 SSD was one of the two divisions noted for its intentionality in the nurturing, discipleship, and retention of members through its addition315 of a vice president responsible for those areas.316
Since its formation, this department has encouraged SSD employees to participate in a personal ministry and/or least one evangelistic series each year.317 The Integrative Evangelism Lifestyle program, adapted from a small group model in the Inter-America Division and expanded, is part of SSD's unique nurturing of its members.318
While mission to cities has traditionally been part of Adventist mission, SSD instead operates the outreach under the NDR department. The Mission to the Cities initiative launched in SSD during Hope Manila 2014319 resulted in more than 10,000 baptisms in a six-month period in the Manila area320 and continues in other key SSD cities.
Adventist Mission
The Adventist Mission department initiates and supports "disciple-making movements and planting churches in unreached people groups"321 through the efforts of local Adventists trained as Global Pioneers in their home areas, and through Urban Centers of Influence that meet local needs. 322
From mid-2015 to the present, SSD Adventist Mission oversees "297 Global Mission church planting projects."323 Additionally, 17 Urban Centers of Influence have started, 11 are pending or in development, and others are slated for 2020.324 Potential projects include a "Chinese children's tutoring centre, a container-based restaurant, a music school, an English language school, and a co-working space."325
Chinese Ministries
Chinese Ministries began at the division level on September 21, 2017, with the addition of Dr. Samuel Wang as SSD's first division Chinese evangelist.326
Children's And Family Ministries
Dr. Linda Meilin-Koh became SSD's first director for Family, Women's and Children's Ministries in 1996 and introduced division-wide conventions for those ministries.327 She also led the first Bi-Division Family Ministries Convention for SSD and NSD in 2000 in Beijing, China.328 Her successors developed, introduced, and/or supported new activities such as family camp meetings, family retreats, senior citizen meetings known as Freedom Years, and men's ministries.329
Between 2009 and 2015, Dr. Miriam Andres introduced a children's prayer convention, adapted the Kids in Discipleship program for SSD, collaborated with the SSD ministerial department on a relationship seminar for pastors, and developed many other programs.330 For her work, she was named SSD's first recipient of the Arthur and Maud Spalding Medallion by the world church's Family Ministries Department at the 2015 General Conference.331
Education
Education and health are two time-tested entrances into new territory within SSD countries. In those countries that may misunderstand and perceive overt evangelism as a threat to established norms, Adventist education is usually welcomed and often requested by local community leaders.
Currently, 7,460 teachers dedicatedly serve in SSD's 754 primary schools and 61 secondary schools.332 The division has 16 colleges and universities with 1,088 faculty operating in 11 SSD countries to educate a new generation of Southeast Asian Adventist leaders.333
Health
SSD's health ministries department has a rich history of employing health awareness and information as a front-line introduction to Adventism through its Medical Missionary Volunteer Services, health seminars, and community health expos.334
The SSD Healthcare department operates a total of 19 hospitals with 10 located in the Philippines, four in Indonesia, two in Thailand, and one each in Malaysia, Pakistan, and Sri Lanka.335
Literature Evangelism
SSD has a thriving literature evangelism program with almost 5,000 full-time, part-time, and student literature evangelists. In 2018 they distributed 228,467 copies of literature.336
Primarily active in the Philippines and Indonesia due to its rich Adventist history there, SSD LEs continue to make inroads in the other SSD countries. Presently, an SSD literature evangelism presence exists in all but two SSD countries.337 While law forbids it in Brunei,338 Timor-Leste has a literature evangelism program under development.
The division has five publishing houses, each located in Bangladesh, Indonesia, Myanmar, the Philippines, and Sri Lanka.339 They supply literature in approximately 15 languages.340
Religious Liberty
As can be expected in a 10/40 Window region, division-wide levels of religious liberty fluctuate.341 Indonesia, the country with the largest Muslim population worldwide and the second highest number of Adventists in SSD, is considered one of the most tolerant.342 The spectrum ranges from Brunei343 with its staunchly maintained sharia law to Singapore, an island nation with no official dominant religion344 and whose government has proclaimed it a secular country that accommodates religion.345
Overall, ongoing religious liberty challenges continue, such as religious persecution affecting Adventists and other Christian groups in the territory.346
Women's Ministries
The SSD Women's Ministries department has a strong evangelistic focus with approximately five evangelistic series led yearly by the department director and encouraged division-wide. Baptisms in the hundreds at such events are not uncommon at those staffed by women.347 Current director Helen Gulfan instituted this and encourages evangelistic training for women so they can nurture other women more effectively with the gospel.348
Youth
Pathfinders and youth programs form the bulk of the SSD Youth department. The division has 3,212 Pathfinder clubs with 83,427 members as well as 3,749 Adventurer clubs with 64,105 members as of December 31, 2018.349
The first SSD camporee took place October 18-24, 2009, on the campus of the Adventist University of the Philippines in Puting Kahoy, Silang Cavite, Philippines. A second division-wide camporee followed on July 12-16, 2016, at the Indonesia University campgrounds in Bandung, Indonesia. The department will host its third camporee in 2020.
With more than 345,000 members and 7,500 Adventist Youth Societies (AYS) throughout SSD's local churches,350 the AYS program continues to be an integral part of the division's church programming. Such youth-led groups offer peer socialization, leader discipleship, and a strong tie to local churches.
Other youth programs include One Year in Mission (OYIM), the world church's Global Youth Day, and Mission Adventures,351 a uniquely SSD mission trip and travel adventure for young professionals. OYIM offers training and teambuilding in each union in SSD.352 OYIM Vietnam, pioneered in the country by the lone female union OYIM representative, became so successful it garnered local television coverage and governmental awards.353
Today and for the Future
SSD has an overall goal to live out its mission in all 14 countries within cultural and governmental constraints. Administrators and staff at its headquarters have embraced this goal in several ways.
As a good neighbor, SSD regularly invites local government officials to its programs and collaborates with them in community health projects and other initiatives through the work of SSD's community liaison person, a position created more than 15 years ago.354
The Alberto C. Gulfan, Jr. multipurpose building was constructed with a community evangelism intent. A staff member leads a community exercise class three times a week and provides community health programs throughout the year.355
A community-focused Adventurer club and Pathfinder club meet regularly on the SSD campus. Two SSD employees organized the Feed My Lambs Pathfinder club on March 11, 2017, and it has grown to 35.356 An Adventurer club, now with 20 members and staffed by SSD employees, soon followed.357
Slated for completion in May 2020, a four-story office building adjacent to the SSD headquarters will house an SSD-staffed center of influence in addition to auxiliary departments such as the GC Auditing Service, GC SunPlus, and Adventist World Radio Center of Digital Evangelism.358 Leaders believe it will provide SSD with even greater opportunities to make community connections.359
List of Executive Officers 360
Presidents
Asiatic Division: I. H. Evans (1912-1913); R. C. Porter (1914-1917); J. E. Fulton (1918).
Far Eastern Division: I. H. Evans (1919-1930); Frederick Griggs (1931-1936); V. T. Armstrong (1937-1941/1945-1954); W. P. Bradley (1942, acting/interim); F. A Mote (1955-1958); C. P. Sorensen (1959-1966); Paul Eldridge (1967-1975); Winston T. Clark (1976-1985); Ottis C. Edwards (1986-1992); P. D. Chun (1993-1994).
Asia-Pacific Division: P. D. Chun (1995-1996).
Southern Asia-Pacific Division: Violeto F. Bocala (1997-2003); Alberto C. Gulfan, Jr. (2003-2015); Leonardo R. Asoy (2015-2016); Samuel Saw (2016-).
Secretaries:
Asiatic Division: C. N. Woodward (1913-1915); J. E. Fulton (1916-1917); C. C. Crisler (1918).
Far Eastern Division: C. C. Crisler (1919-1930); Eugene Woesner (1931-1936); C. L. Torrey (1937-1938); W. P. Bradley (1939-1942*/1945-1946), C. P. Sorensen (1947-1958); A. E. Gibb (1959-1966); H. W. Bedwell (1967-1970); Winston T. Clark (1971-1975); B. E. Jacobs (1976-1980); A. C. Segovia (1981); Ottis Edwards (1982-1985); Tong C. Kim (1986-1991); P. D. Chun (1992); Violeto F. Bocala (1993-1994).
Asia-Pacific Division: Violeto F. Bocala (1995-1996).
Southern Asia-Pacific Division: Alex Rantung (1997-2000); G. T. Ng (2001-2006); Hendrick Sumendap (2007-2008); Joshua W. Mok (2009-2010); Samuel Saw (2011-2016); Rudy Baloyo (2016-).
Treasurers:
Asiatic Division: C. N. Woodward (1913-1915); H.W. Barrows (1916-1918).
Far Eastern Division:
H. W. Barrows (1919-1930); Eugene Woesner (1931-1936); C. L. Torrey (1937-1941); P. L. Williams (1942*/1946-1954); W. L. Pascoe (1955- 1962); H. D. Johnson (1963-1970); G. O. Bruce (1971-1977); D. F. Gilbert (1978-1981); Romulus I. Gainer (1982-1985); Ian E. Grice (1986-1994)
Asia-Pacific Division: Ian E. Grice (1995); Steven G. Rose (1996).
Southern Asia-Pacific Division: Steven G. Rose (1997-1998); Duane C. Rollins (1999-2002); George O. Egwakhe (2003-2005); Keith Heinrich (2006-2011); Sergie B. Ferrer (2011-2015); Max W. Langi (2015-).
SSD Address: 85 Emilio Aguinaldo Hwy, Silang, 4118 Cavite, Phillippines
Notes
Ping Zhou, "The History of Singapore's Economic Development," ThoughtCo, July 10, 2019, accessed August 30, 2019, https://www.thoughtco.com/singapores-economic-development-1434565.↩

"About," Southern Asia-Pacific Division, accessed August 29, 2019, http://adventist.asia/information/about/.↩

Amber Pariona, "Religious Demographics of Southeast Asia," WorldAtlas, August 15, 2018, accessed August 30, 2019, https://www.worldatlas.com/articles/religious-demographics-of-southeast-asian-nations-dependent-territories.html.↩

"About," Southern Asia-Pacific Division, accessed August 29, 2019, http://adventist.asia/information/about/.↩

Paola Mora, "Seventh Day Adventist presence in the 10/40 window," Map Hub, 2018, accessed September 11, 2019, https://maphub.net/Paolamora/SDA-10-40-Window.↩

"Table: Religious Diversity Index Scores by Country," Pew Research Center, April 4, 2014, accessed September 3, 2019, https://www.pewforum.org/2014/04/04/religious-diversity-index-scores-by-country/,↩

"What is the 10/40 Window?" Joshua Project, accessed September 3, 2019, https://joshuaproject.net/resources/articles/10_40_window.↩

"The poorest countries in the world," FocusEconomics, November 19, 2018, accessed September 9, 2019, https://www.focus-economics.com/blog/the-poorest-countries-in-the-world↩

"5 countries," The World Bank, October 2, 2019, accessed October 8, 2019, https://www.worldbank.org/en/topic/poverty/overview.↩

"Church Membership by World Divisions, Table 4," 2019 Annual Statistical Report, General Conference Office of Archives, Statistics, and Research, 2019, 4, accessed September 16, 2019, http://documents.adventistarchives.org/Statistics/ASR/ASR2019.pdf.↩

Seventh-day Adventist Online Yearbook, "Southern Asia-Pacific Division," accessed September 24, 2019, https://www.adventistyearbook.org/entity?EntityID=13370.↩

"Southern Asia-Pacific Division," Seventh-day Adventist World Church, accessed September 17, 2019, https://www.adventist.org/en/world-church/southern-asia-pacific/↩

Necy Tablisma, "Secretary's Statistical Report – Second Quarter 2019," SSD Secretariat department, September 13, 2019.↩

Seventh-day Adventist Online Yearbook, "Southern Asia-Pacific Division," accessed September 24, 2019, https://www.adventistyearbook.org/entity?EntityID=13370.↩

Seventh-day Adventist Online Yearbook, "North Philippine Union Conference," accessed September 24, 2019, https://www.adventistyearbook.org/entity?EntityID=13431.↩

Ibid.↩

Ibid.↩

Seventh-day Adventist Online Yearbook, "Southeast Asia Union Mission," accessed September 24, 2019, https://www.adventistyearbook.org/entity?EntityID=13088.↩

Ibid.↩

Ibid.↩

Necy Tablisma, email message to the author, February 6, 2020.↩

Seventh-day Adventist Online Yearbook, "Bangladesh," accessed September 24, 2019, https://www.adventistyearbook.org/entity?EntityID=13385.↩

Ibid.↩

Ibid.↩

Seventh-day Adventist Online Yearbook, "Myanmar Union Mission," accessed September 24, 2019, https://www.adventistyearbook.org/entity?EntityID=13406.↩

Seventh-day Adventist Online Yearbook, "West Indonesia Union Mission," accessed September 25, 2019, https://www.adventistyearbook.org/entity?EntityID=13131.↩

Ibid.↩

Ibid.↩

Seventh-day Adventist Online Yearbook, "Sri Lanka Mission of Seventh-day Adventists," accessed September 25, 2019, https://www.adventistyearbook.org/entity?EntityID=13152.↩

Ibid.↩

Ibid.↩

Seventh-day Adventist Online Yearbook, "South Philippine Union Conference," accessed September 25, 2019, https://www.adventistyearbook.org/entity?EntityID=13106.↩

Ibid.↩

Ibid.↩

Seventh-day Adventist Online Yearbook, "Central Philippine Union Conference," accessed September 25, 2019, https://www.adventistyearbook.org/entity?EntityID=13384.↩

Ibid.↩

Ibid.↩

Seventh-day Adventist Online Yearbook, "East Indonesia Union Conference," accessed September 25, 2019, https://www.adventistyearbook.org/entity?EntityID=13408.↩

Ibid.↩

Ibid.↩

Seventh-day Adventist Online Yearbook, "Timor-Leste Mission of Seventh-day Adventists," accessed September 25, 2019, https://www.adventistyearbook.org/entity?EntityID=32142.↩

Ibid.↩

Seventh-day Adventist Online Yearbook, "Pakistan Union Section," accessed September 24, 2019, https://www.adventistyearbook.org/entity?EntityID=12831.↩

Miroslav Pujic, "Change in Church's Operations in the Middle East," Trans-European Division News Network, October 9, 2011, accessed October 20, 2019, https://ted.adventist.org/news/306-change-in-churchs-operations-in-the-middle-east.↩

Seventh-day Adventist Online Yearbook, "Pakistan Union Section," accessed September 24, 2019, https://www.adventistyearbook.org/entity?EntityID=12831.↩

Ibid.↩

Seventh-day Adventist Online Yearbook, "Southern Asia-Pacific Division," accessed September 24, 2019, https://www.adventistyearbook.org/entity?EntityID=13370.↩

"A Tradition of Mission," Adventist Mission, accessed September 15, 2019,

Pyung Duk Chun, "Light Dawns in Eastern Asia," Adventist World, November 2013, accessed September 13, 2019, https://archives.adventistworld.org/2013/november/light-dawns-in-eastern-asia.html.↩

"A Tradition of Mission," Adventist Mission, accessed September 15, 2019,

Masao Yamagata, "Japan," in Light Dawns Over Asia: Adventism's Story in the Far Eastern Division 1888-1988, ed. G.G. Fernandez (Silang, Cavite, Republic of the Philippines: Adventist International Institute of Advanced Studies (AIIAS) Publications, 1990), 36.↩

David Trim, "Slow but Sure," Adventist World, August 31, 2018, accessed September 16, 2019, https://www.adventistworld.org/slow-but-sure/.↩

Gil G. Fernandez, editor, Light Dawns over Asia: Adventism's Story in the Far Eastern Division 1888-1988 (Silang, Cavite, Republic of the Philippines: Adventist International institute of Advanced Studies (AIIAS) Publications, 1990), 14.↩

B.D. Oliver, SDA organizational structure: Past, present and future. (Berrien Springs, MI: Andrews University Press, 1989), 155. http://documents.adventistarchives.org/Books/SDAOS1991.pdf.↩

"We have not…" General Conference Daily Bulletin, February 24, 1899, 73.17, accessed September 16, 2019, https://m.egwwritings.org/es/book/1660.2309#2343.↩

B.D. Oliver, SDA organizational structure: Past, present and future. (Berrien Springs, MI: Andrews University Press, 1989), 155. http://documents.adventistarchives.org/Books/SDAOS1991.pdf.↩

"Records of the Foreign Mission Board Vol 4," Foreign Mission Board minutes, April 24-May 27, 1901, 1-14, accessed September 23, 2019, http://documents.adventistarchives.org/Minutes/FMBM/FMBM19010424.pdf.↩

" Records of the Foreign Mission Board Vol 4," Foreign Mission Board minutes, April 24-28, 1901, 1-5, accessed September 23, 2019, http://documents.adventistarchives.org/Minutes/FMBM/FMBM19010424.pdf.↩

"Records of the Foreign Mission Board Vol 4," Foreign Mission Board minutes, April 24-May 27, 1901, 1-14, accessed September 23, 2019, http://documents.adventistarchives.org/Minutes/FMBM/FMBM19010424.pdf.↩

Handel Luke, "Hong Kong-Macao," in Light Dawns Over Asia: Adventism's Story in the Far Eastern Division 1888-1988, ed. G.G. Fernandez (Silang, Cavite, Republic of the Philippines: Adventist International institute of Advanced Studies (AIIAS) Publications, 1990), 14.↩

Samuel C. S. Young, "Adventist Hospitals in China," Chinese SDA History, accessed October 19, 2019, https://www.chinesesdahistory.org/new-page.↩

Handel Luke, "Hong Kong-Macao," in Light Dawns Over Asia: Adventism's Story in the Far Eastern Division 1888-1988, ed. G.G. Fernandez (Silang, Cavite, Republic of the Philippines: Adventist International institute of Advanced Studies (AIIAS) Publications, 1990), 15.↩

Arthur W. Spalding, Origins and History of Seventh-day Adventists (Washington, D.C.: Review and Herald Publishing, 1962), vol. 3, 101.↩

"6. China Union Mission Organized," Seventh-day Adventist Encyclopedia (Washington, D.C.: Review and Herald Publishing Association, 1976), 270.↩

Arthur W. Spalding, Origins and History of Seventh-day Adventists 4 (Washington, D.C.: Review and Herald Publishing, 1962), vol. 4, 124.↩

Man Kyu Oh, "Korea," in Light Dawns Over Asia: Adventism's Story in the Far Eastern Division 1888-1988, ed. G.G. Fernandez (Silang, Cavite, Republic of the Philippines: Adventist International institute of Advanced Studies (AIIAS) Publications, 1990), 68.↩

R.C. Porter, "President's Address," Asiatic Division Mission News, July 1, 1915, 4, accessed September 23, 2019, http://documents.adventistarchives.org/Periodicals/ADO/ADO19150701-V04-06,07.pdf.↩

Arthur W. Spalding, Origins and History of Seventh-day Adventists (Washington, D.C.: Review and Herald Publishing, 1962), vol. 4, 123-124.↩

Arthur W. Spalding, Origins and History of Seventh-day Adventists (Washington, D.C.: Review and Herald Publishing, 1962), vol. 4, 124.↩

"History," Inter-European Division, accessed September 2, 2019, https://eud.adventist.org/en/information/history/.↩

"Constitution and By-laws of the General Conference with Amendments Recommended," Article 5, Section 3, General Conference Bulletin, May 28, 1909, 190, accessed September 22, 2019, http://documents.adventistarchives.org/Periodicals/GCSessionBulletins/GCB1909-13.pdf.↩

D.J.B. Trim. "Sources on the History of the Seventh-day Adventist Church in the Far East and Southeast Asia", Association of Seventh-day Adventist Librarians, 2012, accessed September 30, 2019, https://www.asdal.org/wordpress/wp-content/uploads/presentations/2012/asdal%202012%20handout.pdf.↩

"Asiatic Division," Seventh-day Adventist Yearbook (Washington, D.C.: Review and Herald Publishing Association, 1910), 133.↩

The Editors of the Encyclopaedia Britannica, "Straits Settlement," Encyclopaedia Britannica, June 21, 2018, accessed October 20, 2019, https://www.britannica.com/place/Straits-Settlements.↩

The Editors of the Encyclopaedia Britannica, "Cocos Islands," Encyclopaedia Britannica, February 19, 2018, accessed October 20, 2019, https://www.britannica.com/place/Cocos-Islands.↩

The Editors of the Encyclopaedia Britannica, "Christmas Island," Encyclopaedia Britannica, August 16, 2018, accessed October 20, 2019, https://www.britannica.com/place/Christmas-Island.↩

"Asiatic Division," Seventh-day Adventist Yearbook (Washington, D.C.: Review and Herald Publishing Association, 1910), 10.↩

"Australasia Union Conference," Seventh-day Adventist Yearbook (Washington, D.C.: Review and Herald Publishing Association, 1908), 5, 96.↩

"General Conference Officers," General Conference Office of Archives, Statistics, and Research, accessed October 20, 2019, https://www.adventistarchives.org/gcofficers.↩

"Asiatic Division," Seventh-day Adventist Yearbook (Washington, D.C.: Review and Herald Publishing Association, 1910), 133.↩

Ibid.↩

"India Union Mission," Seventh-day Adventist Yearbook (Washington, D.C.: Review and Herald Publishing Association, 1911), 135.↩

"India Union Mission," Seventh-day Adventist Yearbook (Washington, D.C.: Review and Herald Publishing Association, 1911), 136.↩

"East Indies and Federated Malay States," Seventh-day Adventist Yearbook (Washington, D.C.: Review and Herald Publishing Association, 1912), 145.↩

"Foreword," Newsletter for the Asiatic Division, April 1, 1912, 1, accessed October 1, 2019, https://adventistdigitallibrary.org/adl-332218/asiatic-division-mission-news-april-1-1912.↩

F.A. Allum, "Bible Study Hour – Experiences of the Gospel's Power in China," General Conference Bulletin, May 22, 1913, 89.9-10, accessed September 30, 2019, http://documents.adventistarchives.org/Periodicals/GCSessionBulletins/GCB1913-06.pdf.↩

Ibid↩

"Asiatic Division," Seventh-day Adventist Yearbook (Washington, D.C.: Review and Herald Publishing Association, 1913), 141.↩

Ibid.↩

R. C. Porter, "President's Address," Asiatic Division Mission News, July 1, 1915, 2, 3, accessed September 23, 2019, http://documents.adventistarchives.org/Periodicals/ADO/ADO19150701-V04-06,07.pdf.↩

"East Indies and Federated Malay States," Seventh-day Adventist Yearbook (Washington, D.C.: Review and Herald Publishing Association, 1914), 130.↩

"Asiatic Division," Seventh-day Adventist Yearbook (Washington, D.C.: Review and Herald Publishing Association, 1915), 133.↩

Arthur W. Spalding, Origins and History of Seventh-day Adventists (Washington, D.C.: Review and Herald Publishing, 1962), vol. 3, 361.↩

"Asiatic Division," Seventh-day Adventist Yearbook (Washington, D.C.: Review and Herald Publishing Association, 1915), 132, 140.↩

R.C. Porter, "President's Address," Asiatic Division Mission News, July 1, 1915, 4, accessed September 23, 2019, http://documents.adventistarchives.org/Periodicals/ADO/ADO19150701-V04-06,07.pdf.↩

Pe Yee, "Burma," in Light Dawns Over Asia: Adventism's Story in the Far Eastern Division 1888-1988, ed. G.G. Fernandez (Silang, Cavite, Republic of the Philippines: Adventist International institute of Advanced Studies (AIIAS) Publications, 1990), 281.↩

D.J.B. Trim, "This Week in Adventist History," March 8, 2013, 00:00:30-00:00:36, accessed October 25, 2019, https://www.youtube.com/watch?v=reXzl55amQc&fbclid=IwAR1hlQONUPV8fEBHTedaEcY4_1pi-XJYX8V2ox0LrxahCY3fuTu4gJb-9gg.↩

Michael W. Campbell, "Power, Print, and Martyrdom: C. C. Crisler and the Development of Seventh-day Adventist Missions in China, 1916-1936," Adventism in China Conference, Adventist International Institute of Advanced Studies, October 31, 2014, 2, accessed September 22, 2019, http://www.adventisthistory.org/wp-content/uploads/2014/11/Campbell-Power-Print-and-Martyrdom-2014-10-31.pdf.↩

M. E. Kern, "Into the Regions Beyond," ARH, November 9, 1933, 6, accessed October 28, 2019, https://adventistdigitallibrary.org/adl-352839/advent-review-and-sabbath-herald-november-9-1933?solr_nav%5Bid%5D=77871368e429c98b3df4&solr_nav%5Bpage%5D=1&solr_nav%5Boffset%5D=12.↩

B.J. Hoffman, "Japan Conference," Seventh-day Adventist Yearbook (Washington, D.C.: Review and Herald Publishing Association, 1918), 245-246.↩

"Report of the Nominating Committee," General Conference Bulletin, April 4, 1918, 68, accessed October 23, 2019, http://documents.adventistarchives.org/Periodicals/GCSessionBulletins/GCB1918-05.pdf.↩

Ibid.↩

Ibid.↩

"Eastern Asia Division," Seventh-day Adventist Yearbook (Washington, D.C.: Review and Herald Publishing Association, 1919), 157.↩

Ibid.↩

Don A. Roth, "Far Eastern Division Celebrates 50th anniversary," Far Eastern Division Outlook, November 1969, 4.↩

C. C. Crisler, "Adoption of Name for Far Eastern Field," Supplemental News Sheet, Asiatic Division Outlook, March 1, 1919, accessed October 25, 2019, http://documents.adventistarchives.org/Periodicals/ADO/ADO19190301-V08-05.pdf.↩

"1919 Annual Statistical Report 57th Report of the General Conference of Seventh-day Adventists ending December 31, 1919," 12, accessed September 21, 2019,

http://documents.adventistarchives.org/Statistics/ASR/ASR1919.pdf.↩

"Far Eastern Division," Seventh-day Adventist Yearbook (Washington, D.C.: Review and Herald Publishing Association, 1920), 152.↩

"Far Eastern Division," Seventh-day Adventist Yearbook (Washington, D.C.: Review and Herald Publishing Association, 1920), 175.↩

"Far Eastern Division," Seventh-day Adventist Yearbook (Washington, D.C.: Review and Herald Publishing Association, 1920), 152.↩

Frederick Lee, "Good News from the Far Eastern Division," ARH, General Conference Report – No. 3, June 2, 1930, 52, accessed October 3, 2019, http://documents.adventistarchives.org/Periodicals/GCSessionBulletins/GCB1930-03.pdf.↩

Frederick Lee, "Good News from the Far Eastern Division," General Conference Report – No. 3, ARH, June 2, 1930, 60-61, accessed October 3, 2019, http://documents.adventistarchives.org/Periodicals/GCSessionBulletins/GCB1930-03.pdf.↩

"Reorganization of the Far Eastern Division," General Conference Report – No. 10, ARH, June 10, 1930, 169, accessed October 4, 2019, http://documents.adventistarchives.org/Periodicals/

GCSessionBulletins/GCB1930-10.pdf.↩

"Reorganization of the Far Eastern Division," General Conference Report – No. 10, ARH, June 10, 1930, 169-170, accessed October 4, 2019, http://documents.adventistarchives.org/

Periodicals/GCSessionBulletins/GCB1930-10.pdf.↩

"Institutions in China Division," Seventh-day Adventist Yearbook (Washington, D.C.: Review and Herald Publishing Association, 1931), 178-179.↩

Arthur W. Spalding, Origins and History of Seventh-day Adventists (Washington, D.C.: Review and Herald Publishing, 1962), vol. 4, 148-149.↩

"Far Eastern Division," Seventh-day Adventist Yearbook (Washington, D.C.: Review and Herald Publishing Association, 1930), 158.↩

Ibid↩

"Institutions in Far Eastern Division," Seventh-day Adventist Yearbook (Washington, D.C.: Review and Herald Publishing Association, 1931), 193-194.↩

"Excess Rent," Far Eastern Division Committee minutes, March 30, 1931, 66. Southern Asia-Pacific Division Archives.↩

"Division Headquarters," Far Eastern Division Committee Minutes, March 16, 1931, 23. Southern Asia-Pacific Division Archives.↩

"Memorial to the General Conference Regarding Location of Division Headquarters," Far Eastern Division Committee minutes, March 18, 1931, 46-4. Southern Asia-Pacific Division Archives.↩

"Housing of Division Personnel and Temporary Headquarters," Far Eastern Division Committee minutes, May 10, 1931, 72. Southern Asia-Pacific Division Archives.↩

Ibid.↩

Eugene Woesner, "High Points of the Winter Council," Far Eastern Division Outlook, March 1, 1932, 3, accessed October 29, 2019, https://adventistdigitallibrary.org/adl-343688/far-eastern-division-outlook-march-1-1932.↩

"The Far Eastern Division Organization, Headquarters, Etc." Far Eastern Division Committee minutes, December 31, 1931, 116. Southern Asia-Pacific Division Archives.↩

"By special action…" Far Eastern Division Outlook, March 1, 1932, 8, accessed October 17, 2019 https://adventistdigitallibrary.org/adl-343688/far-eastern-division-outlook-march-1-1932.↩

"Headquarters Problem," Far Eastern Division Committee minutes, December 9, 1932, 215. Southern Asia-Pacific Division Archives.↩

"Method of Carrying On Temporarily," Far Eastern Division Committee minutes, December 13, 1932, 230. Southern Asia-Pacific Division Archives.↩

"By special action…" Far Eastern Division Outlook, March 1, 1932, 8, accessed October 17, 2019 https://adventistdigitallibrary.org/adl-343688/far-eastern-division-outlook-march-1-1932.↩

"Request Authorization to Locate Division Headquarters at Singapore," Far Eastern Division Committee minutes, June 8, 1936, 654. Southern Asia-Pacific Division Archives.↩

"Transfer of Division Headquarters to Singapore," Far Eastern Division Committee minutes, October 19, 1936, 660. Southern Asia-Pacific Division Archives.↩

"Division Headquarters," Far Eastern Division Committee minutes, January 27-February 5, 1937, 678. Southern Asia-Pacific Division Archives.↩

V.T. Armstrong, "President's Annual Report – 1937," Far Eastern Division Council minutes, January 23, 1938, 2. Southern Asia-Pacific Division Archives.↩

C. L. Torrey, "Far Eastern Division Headquarters," The China Division Reporter, November 1937, 3, accessed October 29, 2019, https://adventistdigitallibrary.org/adl-341159/china-division-reporter-november-1-1937.↩

Pyung Duk Chun, "President's Report," 1996 Asia-Pacific Division Annual Council minutes, November 24, 1996, 2. Southern Asia-Pacific Division Archives.↩

V.T. Armstrong, "President's Annual Report–1937," Far Eastern Division Council minutes, January 23, 1938, 2. Southern Asia-Pacific Division Archives.↩

"Plan of Temporary Organization of the Central European Division," General Conference Committee, October 21, 1937, 505. General Conference Archives. Accessed February 27, 2020, http://documents.adventistarchives.org/Minutes/GCC/GCC1937-10.pdf.↩

Rajoaman Nainggolan, "Indonesia Union College: a Historical Study of a Seventh-day Adventist Institution," (Ph.D. diss., Andrews University, 1984), 67, accessed January 18, 2020, https://digitalcommons.andrews.edu/cgi/viewcontent.cgi?article=1594&context=dissertations.↩

Rajoaman Nainggolan, "Indonesia Union College: a Historical Study of a Seventh-day Adventist Institution," (Ph.D. diss., Andrews University, 1984), 62-64, accessed January 18, 2020, https://digitalcommons.andrews.edu/cgi/viewcontent.cgi?article=1594&context=dissertations.↩

V.T. Armstrong, "President's Annual Report – 1937," Far Eastern Division Council minutes, January 23, 1938, 2. Southern Asia-Pacific Division Archives.↩

"Guam, Assignment Of," Far Eastern Division Committee minutes, January 26, 1938, 781. Southern Asia-Pacific Division Archives.↩

"The Island of Timor," Far Eastern Division Committee minutes, January 26, 1938, 781. Southern Asia-Pacific Division Archives.↩

Hazel Wilcox with Ruth Wheeler, Angels over Manila, (Mountain View, California: Pacific Press Publishing Association, 1980), 5.↩

Mary Hui-Tze Wong with Maylan Schurch, Under the Shadow, (Hagerstown, MD: Review and Herald Publishing Association, 2007), 50.↩

"China Division Headquarters," Far Eastern Division Outlook, June 1941, 11.↩

Hazel Wilcox with Ruth Wheeler, Angels over Manila, (Mountain View, California: Pacific Press Publishing Association, 1980), 5-7.↩

M.M. Zamora, "War Years in Luzon," Far Eastern Division Outlook, July 1945, 2.↩

V. T. Armstrong, "President's Report," Far Eastern Division Biennial Council Committee minutes, January 3, 1941, 1113. Southern Asia-Pacific Division Archives.↩

"About the camp," East Indies Camp Archives, accessed November 11, 2019, https://www.indischekamparchieven.nl/en/general-information/about-de-camps.↩

V. T. Armstrong, "President's Report," Far Eastern Division Biennial Council Committee minutes, January 3, 1941, 1113. Southern Asia-Pacific Division Archives.↩

"Civilian Internment in China, 1941-1945," California State University Northridge Oviatt Library, 2017, Special Collections & Archives, accessed November 11, 2019, https://library.csun.edu/SCA/Peek-in-the-Stacks/civilian-internment.↩

Eric B. Hare, Fullness of Joy, (Boise, ID: Pacific Press Publishing Association, 1985), 234-251.↩

Hazel Wilcox with Ruth Wheeler, Angels over Manila, (Mountain View, California: Pacific Press Publishing Association, 1980), 53, 54.↩

"Counsel to Liberated Missionaries," Far Eastern Division Committee minutes, March 6, 1945, 1199. Southern Asia-Pacific Division Archives.↩

"Death of Workers in Netherlands East Indies," Far Eastern Division Committee minutes, November 11, 1945, 1225. Southern Asia-Pacific Division Archives.↩

Felicia Yap, "Prisoners of War and Civilian Internees of the Japanese in British Asia: The Similarities and Contrasts of Experience," Journal of Contemporary History, April 2012, 322, accessed November 11, 2019, http://www.jstor.org/stable/23249189.↩

Van Waterford, Prisoners of the Japanese in World War II, (Jefferson, N.C.: McFarland and Company, 1994), 145.↩

Donald E. Mansell, Under the Shadow of the Rising Sun, (Nampa, ID: Pacific Press Publishing Association, 2003), 11, 12.↩

W.P. Bradley, "Philippine Missionaries Safe," Far Eastern Division Outlook, April 1945, 2.↩

Donald E. Mansell, Under the Shadow of the Rising Sun, (Nampa, ID: Pacific Press Publishing Association, 2003), 67, 68.↩

Donald E. Mansell, Under the Shadow of the Rising Sun, (Nampa, ID: Pacific Press Publishing Association, 2003), 71, 72.↩

Donald E. Mansell, Under the Shadow of the Rising Sun, (Nampa, ID: Pacific Press Publishing Association, 2003), 78-79.↩

Donald E. Mansell, Under the Shadow of the Rising Sun, (Nampa, ID: Pacific Press Publishing Association, 2003), 187-197.↩

Carolyn Younger, "Two men discover a shared WWII memory," Napa Valley Register, April 14, 2011, accessed February 28, 2020, https://napavalleyregister.com/community/star/lifestyles/two-men-discover-a-shared-wwii-memory/article_c35a264c-6631-11e0-a1a0-001cc4c002e0.html.↩

Donald E. Mansell, Under the Shadow of the Rising Sun, (Nampa, ID: Pacific Press Publishing Association, 2003),67, 204, 216, 217.↩

V. T. Armstrong, "Miraculous Deliverance," Far Eastern Division Outlook, April 1945, 1.↩

"Death of Workers in Netherlands East Indies," Far Eastern Division Committee minutes, November 11, 1945, 1225. Southern Asia-Pacific Division Archives.↩

W. P. Bradley, "Philippine Missionaries Safe," Far Eastern Division Outlook, April 1945, 2.↩

"Korea," Encyclopedia of Seventh-day Adventists, (Washington, D.C.: Review and Herald Publishing Association, 1976), 749.↩

Nai Pleng, "The War Role of the Bangkok Mission Clinic," Far Eastern Division Outlook, November 1945, 3.↩

Ibid.↩

Herman L. Reyes, Dr. Man, The Man! (Philippines: Adventist University of the Philippines Printing Press), 43.↩

Esther Yang Ling, "War Years at Penang Clinic," Far Eastern Division Outlook, November 1945, 2.↩

Ibid.↩

Hazel Wilcox with Ruth Wheeler, Angels over Manila, (Mountain View, California: Pacific Press Publishing Association, 1980), 7.↩

W. P. Bradley, "Philippine Missionaries Safe," Far Eastern Division Outlook, April 1945, 2.↩

Ibid.↩

V. T. Armstrong, "Miraculous Deliverance," Far Eastern Division Outlook, April 1945, 1.↩

V. T. Armstrong, "They Also Served," Far Eastern Division Outlook, May 1947, 1.↩

V. T Armstrong, "The Call to the Church," Far Eastern Division Outlook, July 1945, 1.↩

Hazel Wilcox with Ruth Wheeler, Angels over Manila, (Mountain View, California: Pacific Press Publishing Association, 1980), 39, 40.↩

Herman L. Reyes, Dr. Man, The Man! (Philippines: Adventist University of the Philippines Printing Press), 43.↩

K. O. Tan, "Divine Providences in the Malayan Union," Far Eastern Division Outlook, November 1945, 2. Southern Asia-Pacific Division Archives.↩

"Outlook in Exile," Far Eastern Division Committee minutes, November 8, 1944, 1197. Southern Asia-Pacific Division Archives.↩

"As the Doors Open," Far Eastern Division Outlook, October 1945, 4.↩

Far Eastern Division Committee minutes, February 17, 1942, 1195. Southern Asia-Pacific Division Archives.↩

Far Eastern Division Committee minutes, November 8, 1944, 1195, 1196. Southern Asia-Pacific Division Archives.↩

"As the Doors Open," Far Eastern Division Outlook, October 1945, 4.↩

"Two rooms near…" Far Eastern Division Outlook, September 1945, 4.↩

"The OUTLOOK comes…" Far Eastern Division Outlook, April 1945, 4.↩

"Counsel to Liberated Missionaries," Far Eastern Division Committee minutes, March 6, 1945, 1199. Southern Asia-Pacific Division Archives.↩

V. T. Armstrong, "In the Midst of Ruin," Far Eastern Division Outlook, February 1946, 2.↩

V. T. Armstrong, "The Call to the Church," Far Eastern Division Outlook, July 1945, 1.↩

"Australasian Division," Seventh-day Adventist Yearbook, (Washington, D.C.: Review and Herald Publishing Association, 1949), 73.↩

"Recommendations from the General Conference Officers," General Conference Committee, November 16, 1945, 2130, General Conference Archives, accessed February 28, 2020, http://documents.adventistarchives.org/Minutes/GCC/GCC1945-11-AC.pdf.↩

"Memorial from Australasian Union Conference," General Conference Committee, November 16, 1945, 2130, General Conference Archives, accessed February 28, 2020, http://documents.adventistarchives.org/Minutes/GCC/GCC1945-11-AC.pdf.↩

"The Autumn Council…" Far Eastern Division Outlook, December 1945, 4.↩

"Recommendations from the General Conference Officers," General Conference Committee, November 16, 1945, 2130, General Conference Archives, accessed February 28, 2020, http://documents.adventistarchives.org/Minutes/GCC/GCC1945-11-AC.pdf.↩

V. T. Armstrong, "In the Midst of Ruin," Far Eastern Division Outlook, February 1946, 2.↩

"Division Officers to Philippines, "Far Eastern Division Committee minutes, October 10, 1945, 1222. Southern Asia-Pacific Division Archives.↩

"House for Division Workers and Office," Far Eastern Division Committee minutes, January 29, 1946, 1233. Southern Asia-Pacific Division Archives.↩

"Report of Committee on Territorial Reorganization," ARH, June 9, 1946, 18, accessed February 27, 2020, https://adventistdigitallibrary.org/adl-353514/advent-review-and-sabbath-herald-june-9-1946?solr_nav%5Bid%5D=0da4bb305b27fc4e500b&solr_nav%5Bpage%5D=0&solr_nav%5Boffset%5D=12.↩

Ibid.↩

"Review of 1949 – Australia," Seventh-day Adventist Yearbook, (Washington, D.C.: Review and Herald Publishing Association, 1950), 4.↩

"Australasian Division, Seventh-day Adventist Yearbook, (Washington, D.C.: Review and Herald Publishing Association, 1949), 73.↩

V.T. Armstrong, "Advances in the Far Eastern Division," Far Eastern Division Outlook, December 1946, 2..↩

Ibid.↩

W.B. Harris, "The South Sea Islands Under Japanese Mandate," Foreign Affairs, July 1932, 4, accessed October https://www.foreignaffairs.com/articles/japan/1932-07-01/south-sea-islands-under-japanese-mandate.↩

Seventh-day Adventist Online Yearbook. "Far Eastern Islands Mission," 124, accessed November 13, 2019, http://documents.adventistarchives.org/Yearbooks/YB1949.pdf.↩

Pe Yee, "Burma," in Light Dawns Over Asia: Adventism's Story in the Far Eastern Division 1888-1988, ed. G.G. Fernandez (Silang, Cavite, Republic of the Philippines: Adventist International Institute of Advanced Studies (AIIAS) Publications, 1990), 80, 81.↩

Pe Yee, "Burma," in Light Dawns Over Asia: Adventism's Story in the Far Eastern Division 1888-1988, ed. G.G. Fernandez (Silang, Cavite, Republic of the Philippines: Adventist International Institute of Advanced Studies (AIIAS) Publications, 1990), 79.↩

Pyung Duk Chun, "President's Report," 1996 Asia-Pacific Division Annual Council minutes, November 24, 1996, 2. Southern Asia-Pacific Division Archives.↩

Huu Le, "Indo-China," in Light Dawns Over Asia: Adventism's Story in the Far Eastern Division 1888-1988, ed. G.G. Fernandez (Silang, Cavite, Republic of the Philippines: Adventist International Institute of Advanced Studies (AIIAS) Publications, 1990), 265.↩

Ibid.↩

Huu Le, "Indo-China," in Light Dawns Over Asia: Adventism's Story in the Far Eastern Division 1888-1988, ed. G.G. Fernandez (Silang, Cavite, Republic of the Philippines: Adventist International Institute of Advanced Studies (AIIAS) Publications, 1990), 265.↩

Huu Le, "Indo-China," in Light Dawns Over Asia: Adventism's Story in the Far Eastern Division 1888-1988, ed. G.G. Fernandez (Silang, Cavite, Republic of the Philippines: Adventist International Institute of Advanced Studies (AIIAS) Publications, 1990), 266.↩

Ralph S. Watts, Escape from Saigon, (Nampa, ID: Pacific Press Publishing Association, 2005), 23, 53.↩

Ibid., 103, 104, 106.↩

Huu Le, "Indo-China," in Light Dawns Over Asia: Adventism's Story in the Far Eastern Division 1888-1988, ed. G.G. Fernandez (Silang, Cavite, Republic of the Philippines: Adventist International Institute of Advanced Studies (AIIAS) Publications, 1990), 267.↩

Ralph S. Watts, Escape from Saigon, (Nampa, ID: Pacific Press Publishing Association, 2005), photograph section page 10.↩

Ralph S. Watts, Escape from Saigon, (Nampa, ID: Pacific Press Publishing Association, 2005), 110.↩

M.G. Townend, "June 27 FED's Big Day: Village Chapels," Far Eastern Division Outlook, March 1981, 2. Southern Asia-Pacific Division Archives.↩

J.H. Adil, "Temperance Emphasis," Far Eastern Division Outlook, February 1981, 4.↩

Esther B. Frias, "Recognition of Merit," Far Eastern Division Outlook, April 1981, 11.↩

110th Annual Statistical Report of Seventh-day Adventists 1972, General Conference of Seventh-day Adventists, December 31, 1972, 12, accessed September 21, 2019, http://documents.adventistarchives.org/Statistics/ASR/ASR1972.pdf.↩

"124th Annual Statistical Report 1986, General Conference of Seventh-day Adventists, December 31, 1986," 10, accessed September 21, 2019, http://documents.adventistarchives.org/Statistics/ASR/ASR1986.pdf.↩

Ibid.↩

Nathan Brown, "Seventh-day Adventists in Cambodia, ARH, March 14, 2002, accessed February 27, 2020, https://www.adventistreview.org/archives/2002-1511/story2-1.html.↩

Ibid.↩

The Editors of Encyclopaedia Britannica, "East Timor," Encyclopædia Britannica, September 20, 2019, accessed November 14, 2019, https://www.britannica.com/place/East-Timor.↩

B. Malingkas, "East Timor Entered," Far Eastern Division Outlook, December 1990, 14, Southern Asia-Pacific Division Archives.↩

Inaciu da Kosta, interview by author, Dili Timor, August 7, 2019.↩

Gay Deles, "Alojado is the New Treasurer for Timor Leste Mission." Adventist News Dispatch, Southern Asia-Pacific Division, accessed November 14, 2019, http://adventist.asia/news/alojado-is-new-treasurer-for-timor-leste-mission/.↩

Saeed Ahmed, "The Tamil Tigers' Long Fight Explained," Cable News Network, May 18, 2009, accessed November 15, 2019, https://edition.cnn.com/2009/WORLD/asiapcf/05/18/sri.lanka.conflict.explainer/index.html↩

"190-85 Gc Southern Asia Division/Far Eastern Division—Reorganization," General Conference Committee, June 27, 1985, 1008. Accessed February 13, 2020, http://documents.adventistarchives.org/Minutes/GCC/GCC1985-13.pdf.↩

Kallie Szczepanski, "The Sri Lankan Civil War," ThoughtCo, August 22, 2019, accessed November 15, 2019, https://www.thoughtco.com/the-sri-lankan-civil-war-195086.↩

"Burma Union Mission," Seventh-day Adventist Yearbook (Hagerstown, MD: Review and Herald Publishing, 1987), 109.↩

D.I. Steingberg, M.H. Aung, and M.A. Aung-Thwin, "Myanmar," Encyclopædia Britannica, November 1, 2019, accessed January 8, 2020, https://www.britannica.com/place/Myanmar.↩

Pe Yee, "Burma," in Light Dawns Over Asia: Adventism's Story in the Far Eastern Division 1888-1988, ed. G.G. Fernandez (Silang, Cavite, Republic of the Philippines: Adventist International Institute of Advanced Studies (AIIAS) Publications, 1990), 294.↩

"Inside Myanmar's Transition from Isolation to Openness," PBS Newshour, April 14, 2014, accessed February 28, 2020, https://www.pbs.org/newshour/show/inside-myanmars-transition-isolation-openness.↩

"About AIIAS," Adventist International Institute of Advanced Studies, accessed October 15, 2019, https://www.aiias.edu/en/about-aiias.↩

Southern Asia-Pacific Division News & Adventist Review, "Youth Mission Initiative in Asia Celebrates 25 Years," Adventist Review, September 18, 2017, accessed January 10, 2020, https://www.adventistreview.org/church-news/story5461-youth-mission-initiative-in-asia-celebrates-twenty-five-years-01.↩

Stephen and Peggy Guptill, interview by author, Silang, Philippines, October 7, 2019.↩

Ibid.↩

Ibid.↩

Ibid.↩

Pyung Duk Chun, "President's Report," 1996 Asia-Pacific Division Annual Council minutes, November 24, 1996, 2. Southern Asia-Pacific Division Archives.↩

"Background of Transition from Asia-Pacific Division to Northern Asia-Pacific Division and Southern Asia-Pacific Division," Asia-Pacific Division Mid-Year Meeting Committee Minutes, May 7-9, 1996 1. Southern Asia-Pacific Division Archives.↩

Stephen and Peggy Guptill, interview by author, Silang, Philippines, October 7, 2019.↩

Roy Ryan, phone interview by author, October 28, 2019.↩

"Background of Transition from Asia-Pacific Division to Northern Asia-Pacific Division and Southern Asia-Pacific Division," Asia-Pacific Division Mid-Year Meeting Committee Minutes, May 7-9, 1996, 1. Southern Asia-Pacific Division Archives.↩

"96-019-800Thomson Road Property Development–Asia-Pacific Division" APD Committee minutes, February 28, 1996, 29. Southern Asia-Pacific Division Archives.↩

Stephen and Peggy Guptill, interview by author, Silang, Philippines, October 7, 2019.↩

"Background of Transition from Asia-Pacific Division to Northern Asia-Pacific Division and Southern Asia-Pacific Division," Asia-Pacific Division Mid-Year Meeting Committee Minutes, May 7-9, 1996, 1, 2. Southern Asia-Pacific Division Archives.↩

"96-070-Territorial Realignment Commission Report," Asia-Pacific Division Midyear Committee minutes, May 9, 1996, 46. Southern Asia-Pacific Division Archives.↩

"Background of Transition from Asia-Pacific Division to Northern Asia-Pacific Division and Southern Asia-Pacific Division," Asia-Pacific Division Mid-Year Meeting Committee Minutes, May 7-9, 1996, 4. Southern Asia-Pacific Division Archives.↩

Pyung Duk Chun, "Challenges and Opportunities," NSD Report, GC Bulletin 3, July 2, 2000, accessed September 3, 2019, https://www.adventistreview.org/archives/2000-bulletin3/8-report-nsd.html.↩

"96-136-Asia-Pacific Division Territory Names of Two New Divisions," Asia-Pacific Division Annual Council minutes, November 26, 1996, 86. Southern Asia-Pacific Division Archives.↩

"Background of Transition from Asia-Pacific Division to Northern Asia-Pacific Division and Southern Asia-Pacific Division," Asia-Pacific Division Mid-Year Meeting Committee minutes, May 7-9, 1996, 4. Southern Asia-Pacific Division Archives.↩

Ibid.↩

"Background of Transition from Asia-Pacific Division to Northern Asia-Pacific Division and Southern Asia-Pacific Division," Asia-Pacific Division Mid-Year Meeting Committee minutes, May 7-9, 1996, 4. Southern Asia-Pacific Division Archives.↩

Ibid.↩

Ibid.↩

Ibid.↩

Ibid.↩

"Background of Transition from Asia-Pacific Division to Northern Asia-Pacific Division and Southern Asia-Pacific Division," Asia-Pacific Division Mid-Year Meeting Committee minutes, May 7-9, 1996, 3. Southern Asia-Pacific Division Archives.↩

Roy Ryan, phone interview by author, October 28, 2019.↩

Violeto F. Bocala, "I Remember," Southern Asia-Pacific Division Outlook, Special Edition 1999, 3.↩

"97-013-Land Purchase," SSD Executive Committee minutes, January 10, 1997, 19. Southern Asia-Pacific Division Archives.↩

Roy Ryan, phone interview by author, October 28, 2019.↩

Ibid.↩

Ibid.↩

Stephen and Peggy Guptill, interview by author, Silang, Philippines, October 7, 2019.↩

Roy Ryan, phone interview by author, October 28, 2019.↩

Stephen and Peggy Guptill, interview by author, Silang, Philippines, October 7, 2019.↩

Roy Ryan, phone interview by author, October 28, 2019↩

Stephen and Peggy Guptill, interview by author, Silang, Philippines, October 7, 2019.↩

Anne Bissell, "Opening of the New SSD Headquarters," Southern Asia-Pacific Division Outlook, Special Edition 1999, 5.↩

Ibid.↩

Ibid.↩

Ibid↩

"96-044-Nominating Committee Report – Recommendation to GC," 1996 SSD Annual Council, November 24, 1996, 52. Southern-Asia-Pacific Division Archives.↩

"Nominating Committee Report #3," General Conference Bulletin, ARH, July 3, 2000, accessed January 16, 2020, https://www.adventistreview.org/archives/2000-bulletin7/actions-proceedings.html.↩

Violeto F. Bocala, interview by author, Silang, Cavite, Philippines, November 12, 2019.↩

Ibid.↩

Ibid↩

Violeto F. Bocala, "Southern Asia-Pacific Division Report: United in Proclamation," General Conference Bulletin, ARH, July 4, 2000, accessed November 18, 2019, https://www.adventistreview.org/archives/2000-bulletin5/5-report-ssd.html.↩

"Action 2003-017-Alberto C. Gulfan, Jr.-SSD President," SSD Executive Committee minutes, March 17, 2003, 33. Southern-Asia Pacific Division Archives.↩

Elizabeth Lechleitner, "32CN: Focus on Revival-driven Outreach Opens Business of Annual Council," Adventist Review, October 11, 2010, accessed November 17, 2019, https://www.adventistreview.org/archive-3818.↩

Andrew McChesney, "Alberto C. Gulfan, Jr., Former Division President, Remembered as a Passionate Evangelist," Adventist Review Online, September 27, 2015, accessed September 12, 2017, www.adventistreview.org/church-news/story3278-alberto-c.-gulfan-jr.,-passionate-evangelist-and-former-division-president,-dead-at-64.↩

 Bert Haloviak, "The Adventist Mission: A 50-year Perspective," ARH, June 27, 2010, accessed January 15, 2020, https://www.adventistreview.org/2010-1521-22↩

Ibid.↩

Ansel Oliver, "Guam-Micronesia Mission now part of North American Division," ARH, October 11, 2011, accessed January 21, 2020 from https://news.adventist.org/en/all-news/news/go/2011-10-11/guam-micronesia-mission-now-part-of-north-american-division/↩

"Ten years on, Adventist Church's Hope Channel claims global victories," ARH, October 14, 2013, accessed January 21, 2020, https://www.adventistreview.org/annual-council-2013/2013-10-14-ten-years-on,-adventist-church%E2%80%99s-hope-channel-claims-global-victories.↩

Alberto C. Gulfan, Jr., "Shine on till Jesus Comes!" 2015 General Conference Bulletin 6, ARH, accessed January 17, 2019, https://www.adventistreview.org/1519-32.↩

Southern Asia-Pacific Division, "Alberto C. Gulfan Jr., long-time Adventist leader in Southeast Asia passes away," Adventist News Network. September 28, 2015, accessed January 17, 2020. https://news.adventist.org/en/all-news/news/go/2015-09-28/alberto-c-gulfan-jr-long-time-adventist-leader-in-southeast-asia-passes-away/↩

Alberto C. Gulfan, Jr., "Shine on till Jesus Comes!" 2015 General Conference Bulletin 6, ARH, accessed January 17, 2019, https://www.adventistreview.org/1519-32.↩

Gay Deles, "Youth in the Southern Asia-Pacific region dedicate One Year in Mission and compassion ministry," Adventist News Dispatch, September 15, 2014, accessed January 20, 2020, http://adventist.asia/news/youth-in-the-southern-asia-pacific-region-dedicate-one-year-in-mission-and-compassion-ministry/.↩

Andrew McChesney, "After Manila, Wilson reflects on sharing Jesus in cities," ARH, June 4, 2014, accessed October 15, 2019, https://www.adventistreview.org/church-news/after-manila,-wilson-reflects-on-effort-to-share-jesus-in-cities.↩

"In Philippines, Outpouring of Prayer and Support in Wake of Devastating Typhoon," ARH, November 11, 2013, accessed December 6, 2019, https://www.adventistreview.org/church-news/2013-11-11-in-philippines,-outpouring-of-prayer-and-support-in-wake-of-devastating-typhoon.↩

Andrew McChesney, "Alberto C. Gulfan Jr., Former Division President, Remembered as a Passionate Evangelist," ARH, September 27, 2015, accessed January 17, 2020, https://www.adventistreview.org/church-news/story3278-alberto-c.-gulfan-jr.,-passionate-evangelist-and-former-division-president,-dead-at-64.↩

Andrew McChesney, "Southern Asia-Pacific Division president succumbs to rare disease," ARH, January 12, 2016, accessed January 17, 2020, https://www.adventistreview.org/church-news/story3606-southern-asia-pacific-division-president-succumbs-to-rare-disease.↩

"Message from the Southern Asia-Pacific Division family," Adventist News Dispatch, n.d., accessed January 21, 2020, http://adventist.asia/news/message-from-the-southern-asia-pacific-division-family/.↩

Andrew McChesney, "Saw Samuel elected president of Southern Asia-Pacific Division," ARH, March 22, 2016, accessed January 22, 2020, https://www.adventistreview.org/church-news/story3810-samuel-saw-elected-president-of-southern-asia-pacific-division.↩

Andrew McChesney, "Division president baptizes own father," Adventist Mission, accessed December 10, 2019, https://www.adventistmission.org/division-president-baptizes-own-father.↩

"Statement Regarding Suspected Terrorist Attack on Adventist Church in Pakistan," ARH, April 17, 2018, accessed January 15, 2020, https://www.adventistreview.org/church-news/story6039-statement-regarding-suspected-terrorist-attack-on-adventist-church-in-pakistan↩

Teresa Costello, "Adventist Leader Misses Bomb Blast by Minutes," ARH, accessed January 15, 2020, https://www.adventistreview.org/church-news/story13603-adventist-leader-in-sri-lanka-misses-bomb-blast-by-minutes.↩

Bettina Krause, "Gunmen Threaten Lawyers of Jailed Adventist in Pakistan," ARH, February 5, 2016, accessed January 15, 2020, https://www.adventistreview.org/church-news/story3678-gunmen-threaten-lawyers-of-jailed-adventist-in-pakistan.↩

"Southeast Asia Union Mission," Seventh-day Adventist Yearbook Online, accessed January 29, 2020, https://www.adventistyearbook.org/entity?EntityID=13088.↩

Necy Tablisma, email message to the author, February 6, 2020.↩

G.T. Ng, "2018 Secretary's Report," October 14, 2018, slide 45-46, accessed January 15, 2020, https://executivecommittee.adventist.org/wp-content/uploads/2018/10/2018-Secretarys-Report.pdf.↩

"Action 2016-062 – Nominating Committee Report – SSD Vice-President," SSD Executive Committee minutes, May 4, 2016, 50. Southern Asia-Pacific Division Archives.↩

Andrew McChesney, "Every Adventist urged to help stem membership losses," ARH, October 10, 2016, accessed February 6, 2020, https://news.adventist.org/en/all-news/news/go/2016-10-10/every-adventist-urged-to-help-stem-membership-losses/.↩

Teresa Costello, personal knowledge from working in the Southern Asia-Pacific Division from 2008-present.↩

Alberto C. Gulfan, Jr., "Shine on till Jesus Comes!" 2015 General Conference Bulletin 6, ARH, accessed January 17, 2019, https://www.adventistreview.org/1519-32.↩

Adventist News Network staff, "Mission to urban areas continues with major outreach in Manila," ARH, May 22, 2014, accessed October 15, 2019, https://news.adventist.org/en/all-news/news/go/2014-05-22/mission-to-urban-areas-continues-with-major-outreach-in-manila/.↩

Andrew McChesney, "After Manila, Wilson reflects on sharing Jesus in cities," ARH, June 4, 2014, accessed October 15, 2019, https://www.adventistreview.org/church-news/after-manila,-wilson-reflects-on-effort-to-share-jesus-in-cities.↩

Wesley Szamko, email message to author, October 15, 2019.↩

"About," Global Mission Urban Centers of Influence, accessed February 25, 2020, https://urbancenters.org/about.↩

Wesley Szamko, email message to author, October 15, 2019.↩

Ibid.↩

Ibid.↩

"ADCOM#2017-560 – ISE Transfer Within the Division – Samuel Wang," Southern Asia-Pacific Division Administrative Committee minutes, September 21, 2017, 174. Southern Asia-Pacific Division Archives.↩

Miriam Andres, email message to the author, January 31, 2020.↩

Ibid.↩

Ibid.↩

Ibid.↩

"Andres receives prestigious Family Ministries award," Southern Asia-Pacific Division Outlook, 2015 Special Issue no. 2, 8.↩

Jessica Vicente, "Education Statistical Report by Structure Unit for the Year 2018," SSD Education Department, October 18, 2019.↩

Ibid.↩

"Total Membership Involvement through Comprehensive Health Ministries," SSD Health Department, accessed September 13, 2019, http://adventist.asia/information/departments/ministries/health/.↩

Ruby Rodriguez, SSD Hospital Directory, SSD Healthcare Department, September 13, 2019.↩

Carmen Sarmiento, "Publishing Houses in SSD Territory," SSD Publishing Department, October 7, 2019.↩

Ibid.↩

"Brunei," 2010 Country Report, Freedom House, accessed December 5, 2019, https://freedomhouse.org/report/freedom-world/2010/brunei.↩

Carmen Sarmiento, "Publishing Houses in SSD Territory," SSD Publishing Department, October 7, 2019.↩

Ibid.↩

Ruby Rodriguez, "Status of Religious Liberty in SSD Countries as of July 2019 (report by country)," SSD Public Affairs and Religious Liberty department, September 27, 2019.↩

Paul Smith, "Lessons from the World's Largest Muslim Nation," British Council, February 2018, accessed December 6, 2019, https://www.britishcouncil.org/research-policy-insight/insight-articles/lessons-from-the-world.↩

"Brunei," 2010 Country Report, Freedom House, accessed December 5, 2019, https://freedomhouse.org/report/freedom-world/2010/brunei.↩

Oishimaya Sen Nag, "Religious Beliefs In Singapore," WorldAtlas, Apr. 23, 2018, accessed worldatlas.com/articles/religious-beliefs-in-singapore.html.↩

Li-ann Thio, "The Secular Trumps the Sacred: Constitutional Issues Arising from Colin Chan v Public Prosecutor," Singapore Law Review, 1995, 36-37, accessed January 16, 2020, https://www.academia.edu/601519/The_Secular_Trumps_the_Sacred_Constitutional_Issues_arising_from_Colin_Chan_v_PP.↩

Hannah Beech, Dharisha Bastians and Kai Schultz, "Religious Minorities Across Asia Suffer Amid Surge in Sectarian Politics," New York Times, April 21, 2019, accessed January 30, 2020, https://www.nytimes.com/2019/04/21/world/asia/sri-lanka-religion-christians.html.↩

Helen Gulfan, interview by author Silang, Cavite, Philippines, September 16, 2019↩

Ibid.↩

Ben Lobitaña, "Youth Statistical Report 2018," SSD Youth Department, 2018.↩

Ibid.↩

"SSD Mission Adventures 2 happens in Indonesia," Adventist News Dispatch, December 6, 2018, accessed January 15, 2019, http://adventist.asia/news/ssds-mission-adventures-2-happens-in-indonesia/.↩

Anthony Stanyer, interview by author, November 12, 2019, Silang, Cavite, Philippines.↩

Teresa Costello, Adventist Young People Receive Government Praise in Vietnam, ARH, September 7, 2015, accessed January 16, 2020, https://www.adventistreview.org/church-news/story3228-adventist-young-people-receive-government-praise-in-vietnam.↩

Teresa Costello, personal knowledge from working in the Southern Asia-Pacific Division from 2008-present.↩

Ibid.↩

Ben Lobitaña, email interview by author, October 8, 2019.↩

Ibid.↩

"SSD breaks ground on Center of Influence building," Adventist News Dispatch, November 7, 2018, accessed February 28, 2020, http://adventist.asia/news/ssd-breaks-ground-for-center-of-influence-building/.↩

Ibid.↩

Connie Culpain, "The Officers of Asiatic Division/FED/APD/ SSD," October 8, 2019, Southern Asia-Pacific Division Archives. Note: Due to World War II and ensuing restrictions in the then-occupied region, the General Conference suspended official operations of the Far Eastern Division and supervised operations from the General Conference headquarters during 1943-1944; thus, there is no listing for FED executive officers for that period. In some countries, local workers oversaw the day-to-day operations as they were permitted by the occupying military powers.↩