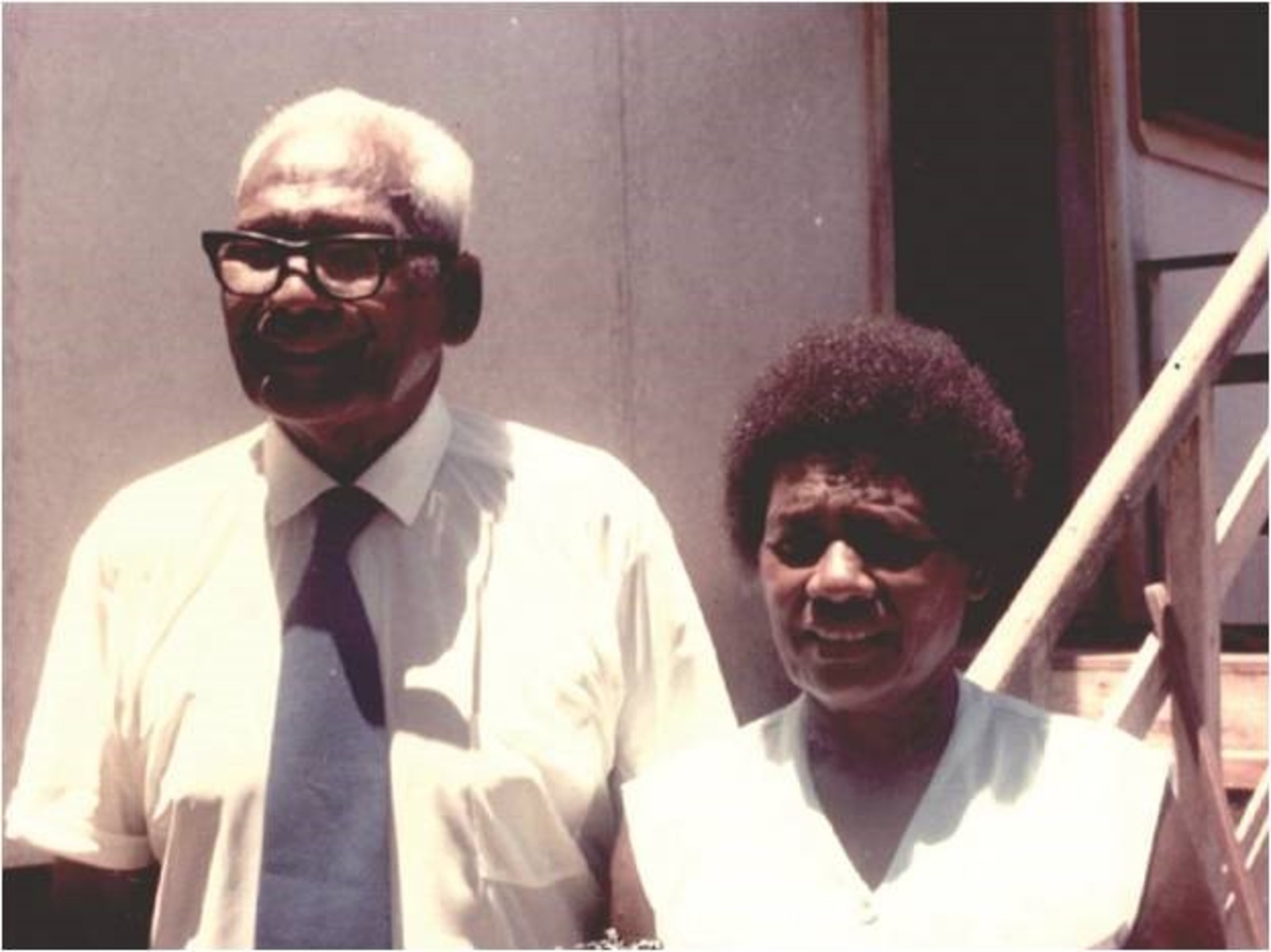 Liligeto, Kuloburu (1908–1991) and Damarasi Rubilini (Tigulu; 1920–2016)
×
Wilson Gia Liligeto was born in Papua New Guinea. He is the son of Kuloburu Liligeto, a retired pastor and teacher. Wilson Liligeto attended James Cook University in Townsville, Queensland, Australia, the International Training Institute in Mosman, Sydney, Australia, and the Mindanao Peacebuilding Institute, Davao City, Philippines. He is currently the regional youth coordinator for the SDA Church in the Western Sub Office of the Solomon Islands Mission and the deputy director in the Ministry of Traditional Governance, Peace and Ecclesiastical Affairs with the Solomon Islands Government. Liligeto has authored Babata, My Tribe, My Land, My People, and delivered several presentations on local church history and local community/church leadership. He is married to Beverly with five children and seven grandchildren.
First Published: January 29, 2020
Pastor and Mrs. Liligeto of the Solomon Islands served the Seventh-day Adventist Church in the Solomon Islands and Papua New Guinea as a pioneer missionary couple for more than 40 years.
Early Life and Education
Kuloburu Liligeto was born in 1908 on the island of Tobulu (an island between Ketoketo and Tatabiri), about half a mile from where the Batuna mission station was later set up in the Marovo Lagoon of the Western Solomon Islands.1 His father, Chief Tatagu, was the sixth chief of the Babata tribe on Marovo Island and was a leading warrior in many tribal headhunting raids to Guadalcanal, Isabel, and Russell Islands and other parts of the Solomon Islands. His mother, Sabenaru Seke, was from a neighboring tribe in the Marovo Lagoon. Kuloburu means round and smooth. This was the traditional name given to the young boy to describe his features when he was born.
Liligeto was the fifth son of Chief Tatagu and Sabenaru, and a younger brother of Kata Ragoso and Ghusa Peo. He was about six years old when Captain G. F. Jones came to Babata beach on Marovo Island on the Advent Herald in 1914 looking for Chief Tatagu. The chief was not there because he was at Malavari, about three miles down the coast tending to his garden with his son Kuloburu Liligeto. So his cousin (Barnabas) Pana Heoko offered to take Captain Jones to Malavari on the boat Advent Herald to see Chief Tatagu.
Unlike his older brothers and cousins, Liligeto stayed most of the time with his adoptive mother, Tina, a relative of the Tatagu family. This impacted his schooling. He would often accompany Tina visiting with her people for long periods of time before returning to Babata village. Kuloburu Liligeto eventually attended the Batuna Intermediary School. While there, he worked in the printing press and taught a class of students for about a year before being asked to serve as a teacher in Dovele on Vella Lavella Island, Western Solomon Islands, in 1930.
Challenges as a Young Minister
Before leaving Batuna, Liligeto married Kedao, one of the first female students to attend Batuna School. She was from Ranongga Island in the Western Solomon Islands. However, Kedao died while giving birth to a baby daughter.
Liligeto returned to Batuna, and then in 1932, he was asked to work with Riringi on Simbo Island to establish a church there. When the two men were taken to the island on the Mizpah, the people of the island did not welcome them and forced them to return to the boat. They threw the missionaries' belongings back onto the boat, but the crew put the luggage back on the wharf. A tug of war ensued until the Mizpah left under full throttle, leaving the luggage and the two young men on the wharf.2
But the Simbo people would not accept them. They did not want other churches to establish on Simbo Island, and the presence of Kuloburu Liligeto and Riringi did not sit well with them. Eventually, Liligeto was hustled into a war canoe and taken to Gizo, the provincial capital, where he was taken to the district officer. However, the officer was not disposed to listen to any accusations by the people of Simbo. He dismissed the case and freed Liligeto to continue to work as a minister of the gospel on Simbo Island.
Contribution to the Church
After spending some eight years on Simbo Island, Liligeto was appointed in early 1940 to be a teacher at Ruruvai Central School, Choiseul, where he later married Damarasi Rubilini Tigulu of Ranongga Island, on October 12, 1945. The marriage was officiated by Pastors N. A. Ferris and Kata Ragoso.
In 1948 the Betikama School on Guadalcanal opened. The teachers were Lyndon Thrift from Australia and Pastor Liligeto.3 At that time, four schools were supplying students to Betikama: Ruruvai, Kwailibesi, Batuna, and Kopiu.4 Liligeto taught at Betikama until 1956. George Rusa, the author of The Floating Log, commented, "I never forgot our national workers at Betikama, such as the old men. Pr Liligeto . . . faithfully stood by Mr Thrift and Pr Lock. They were the salt between European teachers and the students."5 Liligeto was ordained as a pastor and minister of the gospel at Betikama on November 18, 1949.6
In 1957 Liligeto was appointed to serve at Jones Missionary College, Kambubu, in East New Britain, Papua New Guinea. There he worked with Pastor Lester Lock and Pastor Hugh Dickins and later with other expatriate principals and ministerial teachers. He served at Jones Missionary College, Kambubu, for 16 years as a Bible teacher, pastor, ministerial teacher, boys' preceptor, and administrator.7 While Liligeto spent long hours working for the school, his wife, Damarasi Rubilini, learned about home management from the expatriate missionaries' wives, a decision that she never regretted.
Pastor Kuloburu Liligeto and Damarasi Rubilini retired from active service at the end of 1972. They had served the church for a total of 40 years.8
Retirement Years in the Community
When Liligeto retired from active service in December 1972, he settled in Buri village on Ranongga Island, Damarasi Liligeto's home. They spent 10 years there. While in Buri village, Pastor and Mrs. Liligeto helped to strengthen the work of the Dorcas Society and the Adventist Men at Buri Seventh-day Adventist Church.
In 1982 they moved to Chea village in Marovo Lagoon, where they spent the remaining years of their retirement. In Chea, Liligeto continued to support the church by way of spiritual guidance. Damarasi Rubilini continued to work with and support the Chea Seventh-day Adventist Church Dorcas Society.
In March 1983, Pastor Kuloburu Liligeto, Dyson Kiko Jimuru, Barnabas Pana, and Pastor Kata Richards Ragoso Jr. decided to establish a church-community partnership and organize the Chea Village Community. It was registered under the Charitable Trust Act in 2007. Chea Village Community became one of the model registered communities in the Solomon Islands.9
Death and Legacy
Pastor Kuloburu Liligeto died on Friday, November 1, 1991, at his home in Chea village, Marovo Island, at the age of 82. He was buried at Chea village cemetery on Sunday, November 3, and the funeral service was conducted by his nephew, Kata Richards Ragoso Jr. Pastor Kuloburu Liligeto was one of the last pioneer missionaries of Marovo to have survived.
Damarasi Rubilini Liligeto died in August 2016 in Honiara at the age of 96 and was buried at Betikama cemetery beside her daughter Cyndarlene "Darlene" Gomese. Her funeral service was conducted by Pastor Titus Rore.
All of the children of Pastor Kuloburu Liligeto and Damarasi Rubilini have been members of the Seventh-day Adventist Church. Juniah Tutuo, a teacher, now retired residing in Chea village, Marovo; Juniley Posala, a nurse, now retired and residing in Honiara; Dr. Alfred Ghere, a university lecturer, died in Fiji in October 2014; Delmay Joseph, a nurse, died in Australia in February 2009; Pastor Wilfred Tatagu, a pastor and church administrator, died in Gizo in March 2017; Darlene Gomese, church office worker, died in Betikama in April 2014; Wilson Gia, author, government chief executive officer, youth coordinator, and a court justice currently residing in Gizo, Western Solomon Islands; Zina Quan, a housewife now residing in Fiji; and Gilson Koniki, a senior mechanic, now retired residing in Honiara.
Sources
Liligeto, Wilson Gia. Babata: Our Land, Our Tribe, Our People. Suva, Fiji: IPS Publications, 2006.
———. "The Sons of Marovo Island." Unpublished paper presented at Waves Across the Pacific Conference. Fulton College, Fiji, September 2017. Personal collection of Wilson Gia Liligeto.
Piper, A. H. "The Fulfilment of an Early Vision." Australasian Record, April 26, 1937.
Richter, R. W. "Closing Exercises at Betikama." Australasian Record, February 27, 1950.
Rusa, George. The Floating Log. Cooranbong, NSW: Heather Dixon, 2005.
Notes