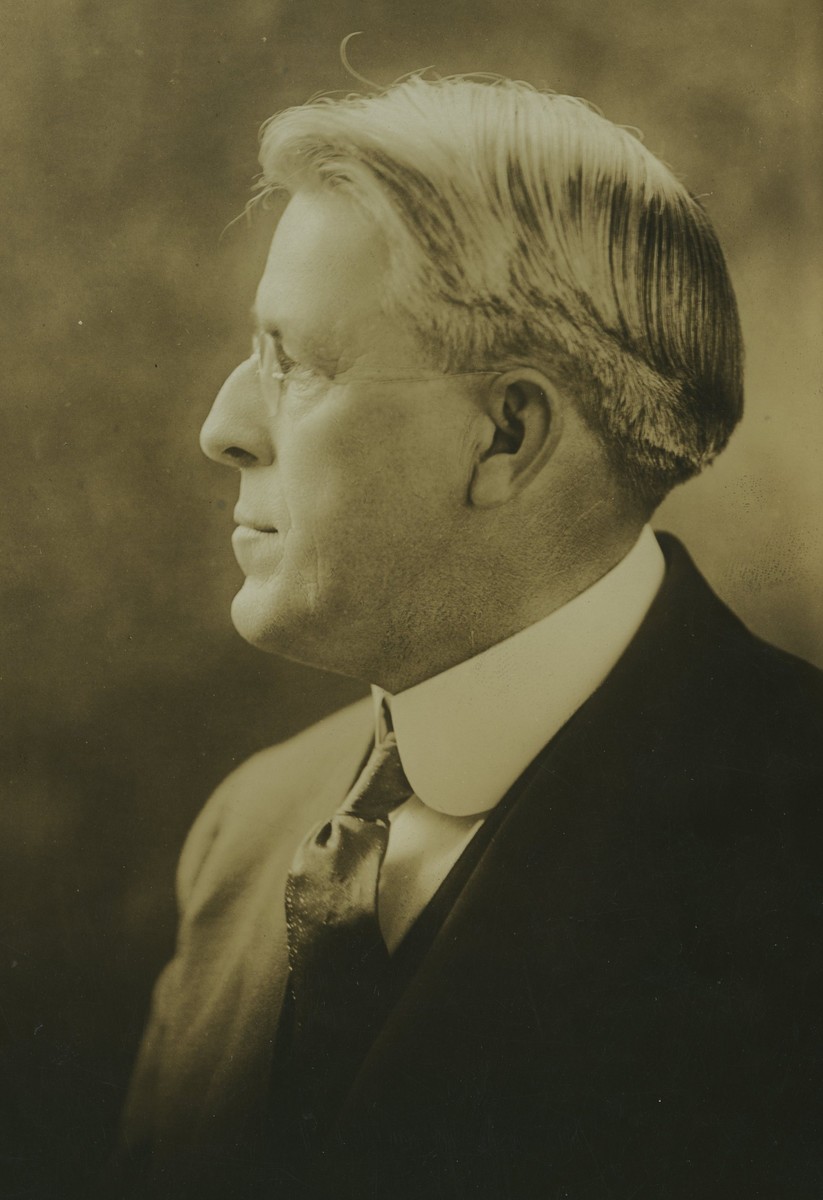 Machlan, Benjamin Franklin (1865–1928)
×
Milton Hook, Ed.D. (Andrews University, Berrien Springs, Michigan, the United States). Hook retired in 1997 as a minister in the Greater Sydney Conference, Australia. An Australian by birth Hook has served the Church as a teacher at the elementary, academy and college levels, a missionary in Papua New Guinea, and as a local church pastor. In retirement he is a conjoint senior lecturer at Avondale College of Higher Education. He has authored Flames Over Battle Creek, Avondale: Experiment on the Dora, Desmond Ford: Reformist Theologian, Gospel Revivalist, the Seventh-day Adventist Heritage Series, and many magazine articles. He is married to Noeleen and has two sons and three grandchildren.
First Published: December 26, 2020
Benjamin Franklin Machlan was a teacher, academy principal, and college president of several institutions.
Early Life
In 1870 Joseph and Amanda (Garner) Machlan lived in Walnut Township north of Rochester, Indiana. They had five children to support on their farm: Oscar D. (b.1853), Edward Ellsworth (b.1856), George Elliott (b.1860), Ella May (b.1862) and Benjamin Franklin (b.1865).1 Two, perhaps three, of their children perished as infants: William Oliver (b.1869), Annie L. (b.1871) and Emma C. (date unknown), all interred in a common grave for many infants at Argos Town Cemetery near Walnut Township.2
When Benjamin was seventeen years of age he began teaching school and four years later became principal of the Bloomington High School, Indiana. During vacation times he studied pedagogy at Valparaiso University, northern Indiana, an institution with a Lutheran heritage. He graduated in 1888. On March 2, 1889, he married Myrta Isadora Foor in Miami County, Indiana. Three children were born into their family: Gladys Gaynell (b.1891), Louis Orville (b.1892) and Harold Foor (b.1900).3 According to the 1900 Census Benjamin took a break from school teaching to farm with his brother Edward on adjoining properties at Maple Grove, Wisconsin.4 In 1902 Benjamin and Myrta Machlan joined the Seventh-day Adventist church and returned to teaching.5
Church Career
In 1903 Machlan accepted the call to serve as principal of Beechwood Academy in Indiana. He retained that role until, in 1906, he transferred to be principal of South Lancaster Academy (SLA) in Massachusetts.6 The institution at the time had more students than their dormitories could accommodate, requiring the rental of a cottage off campus.7 In mid-1909 he accepted a transfer to the Avondale School for Christian Workers in New South Wales, Australia. He and his family arrived in Sydney on September 7 aboard the "Marama,"8 in time to begin the new school year early in 1910. He served as principal, business manager and teacher of pedagogics.9 Soon after arrival he was ordained to the gospel ministry.10
During his three years as principal of the Avondale School his chief contribution was the strengthening of the teacher training program. Under his leadership the Teacher's Course was lengthened from two years to a four-year program. His training was in the liberal arts so it was natural for him to introduce additional courses from that field. One potentially controversial example at that time was his inclusion of psychology in the curriculum. The very word "psychology" was enough to alarm the traditionalist mindset, so Machlan softened the title of the course with the explanation that it was "child study."11 It was developmental psychology rather than clinical psychology. On arrival he was vexed by the fact that the elementary school rooms were in the same building as the senior classes, causing unacceptable noise levels. He worked untiringly for a separate elementary school to be erected on campus, an enterprise where trainee teachers practiced their lessons. The building was constructed in the closing months of his term of office.12 Not everything, however, went smoothly for him. He found the Australian students to be resistant to discipline, the more rules that he applied the more the students misbehaved. It was ironic that the man who understood psychology should seem like a disciplinarian. When he addressed the constituency about school discipline strategies he spoke as if he understood the theory of student control13 but he encountered difficulties at the practical level. He and the faculty found themselves increasingly reprimanding students for petty offenses such as "scuffling in the halls," "indelicate talking," "wrestling," "going to the bathroom during vespers" and "having pickles in one's [dormitory] room."14 Dealing with non-compliant Australian students was not a task that Benjamin enjoyed. As a desperate response he chaired the meeting that voted: "In the next year's calendar there should be a statement refusing entrance to giddy frivolous boys and girls on account of their waste and diversion of energies of the School from its true object."15
It was said Machlan returned to America "for health reasons."16 He resumed the principal's chair at SLA for the mid-1913 opening of the academic year. Prior to beginning his duties he attended the General Conference Session at Tacoma Park as a delegate representing the Australasian Union Conference. During the course of proceedings he was elected to the General Conference Education Department Executive Committee and placed on the Jewish Advisory Committee, roles he would perform in addition to his leadership at SLA.17 At the time it was reported that the institution was operating at full capacity.
In 1916 Machlan was selected to be president of Washington Missionary College (now Washington Adventist University). Unlike many of his peers Machlan was not a man to promote a balance between academic and manual endeavours. He made passing reference to units such as carpentry, dressmaking and cooking but his strongest promotions were for the liberal arts. The purpose of Washington Missionary College (WMC), he wrote, was training ministers and missionaries, business managers, nurses, school teachers and musicians. He noted that WMC was an ideal location for music students to hear the leading vocal and instrumental artists of the day, being so near the city of Washington, D.C. Furthermore, any student only had to pay a five-cent fare on a trolley bus, he said, to observe democracy in action at the Capitol Building or visit the vast Library of Congress to do research. He stated, "Learning how to rightly use a library of this kind is in itself a valuable part of a liberal education."18
The advantages offered at WMC attracted enrolments exceeding capacity. During the first years of Machlan's term at WMC a fund-raising campaign was mounted throughout the Columbia Union Conference to solve the dilemma by building enlarged facilities.19 Machlan called for tradesmen to begin the project in 1918.20 On February 19, 1919, a stately building that included administration offices, classrooms and a commodious chapel was dedicated as Columbia Hall.21
Later Years
Machlan transferred to South Lancaster in 1921 to provide leadership once again at what was then named Lancaster Junior College (later Atlantic Union College). It was his third appointment at the institution. He served as president and business manager22 until late in 1927 when he began to suffer with Bright's disease or acute nephritis. Eventually he was admitted to Washington Sanitarium, where he passed away on May 20, 1928.23 He lies at rest in Fort Lincoln Cemetery, Tacoma Park, Maryland.24
In 1935 Myrta Machlan married John Glendenning of Leominster, Massachusetts, and they remained residents of Leominster.25 John passed away in 1946.26 Myrta passed away in Clermont, Florida, in 1959.27
Sources
Avondale School Faculty Minutes, 1899-1913. Avondale University College Heritage Room Archives, Cooranbong, New South Wales. Box 203. Document: "Avondale School Faculty Minutes, 1910."
Avondale School for Christian Workers Annual Announcement. Cooranbong, New South Wales: Avondale School Press, 1910.
Avondale School for Christian Workers Annual Announcement. Cooranbong, New South Wales: Avondale School Press, 1911.
"Benjamin Franklin Machlan." FamilySearch.org. Intellectual Reserve, 2021. Retrieved from https://familysearch.org/tree/pedigree/landscape/KV29-9TD.
"Benjamin Franklin Machlan." Find A Grave Memorial, 2021. Retrieved from https://www.findagrave.com/memorial/188683321/benjamin-franklin-machlan.
Foote, B[ernard] P. "Dedication of Columbia Hall." ARH, March 20, 1919.
G[regory] J.P. "Closing Exercises." Australasian Record, November 4, 1912.
G[riggs], F[rederick]. "The Opening of Our Schools." ARH, October 29, 1914.
Harlin, Nervins M. "John Gardner Glendenning." Atlantic Union Gleaner, January 1, 1947.
"It is planned to begin work…" ARH, March 21, 1918.
Longacre, C[harles] S. "Prof. B.F. Machlan." ARH, June 7, 1928.
Machlan, B[enjamin] F. "South Lancaster (Mass.) Academy." ARH, October 3, 1907.
Machlan, B[enjamin] F. "The Christian Teacher and Elements of His Success." Union Conference Record, November 7, 1910.
Machlan, B[enjamin] F. "Washington Missionary College." ARH, August 31, 1916.
Seventh-day Adventist Yearbook. Washington, D.C.: Review and Herald Publishing Association, 1907-1927.
Shultz, James E. "At my residence on the evening…" Atlantic Union Gleaner, August 14, 1935.
"The "Marama" of the Vancouver line…" Union Conference Record, September 20, 1909.
Thompson, G[eorge] B. "North American Division Conference Committee Recommendations." ARH, July 3, 1913.
Wilkinson, B[enjamin] G. "A New Administration Building," ARH, August 31, 1916.
"William Oliver Machlan." Find A Grave Memorial, 2021. Retrieved from https://www.findagrave.com/memorial/75144516/william-oliver-machlan.
Notes