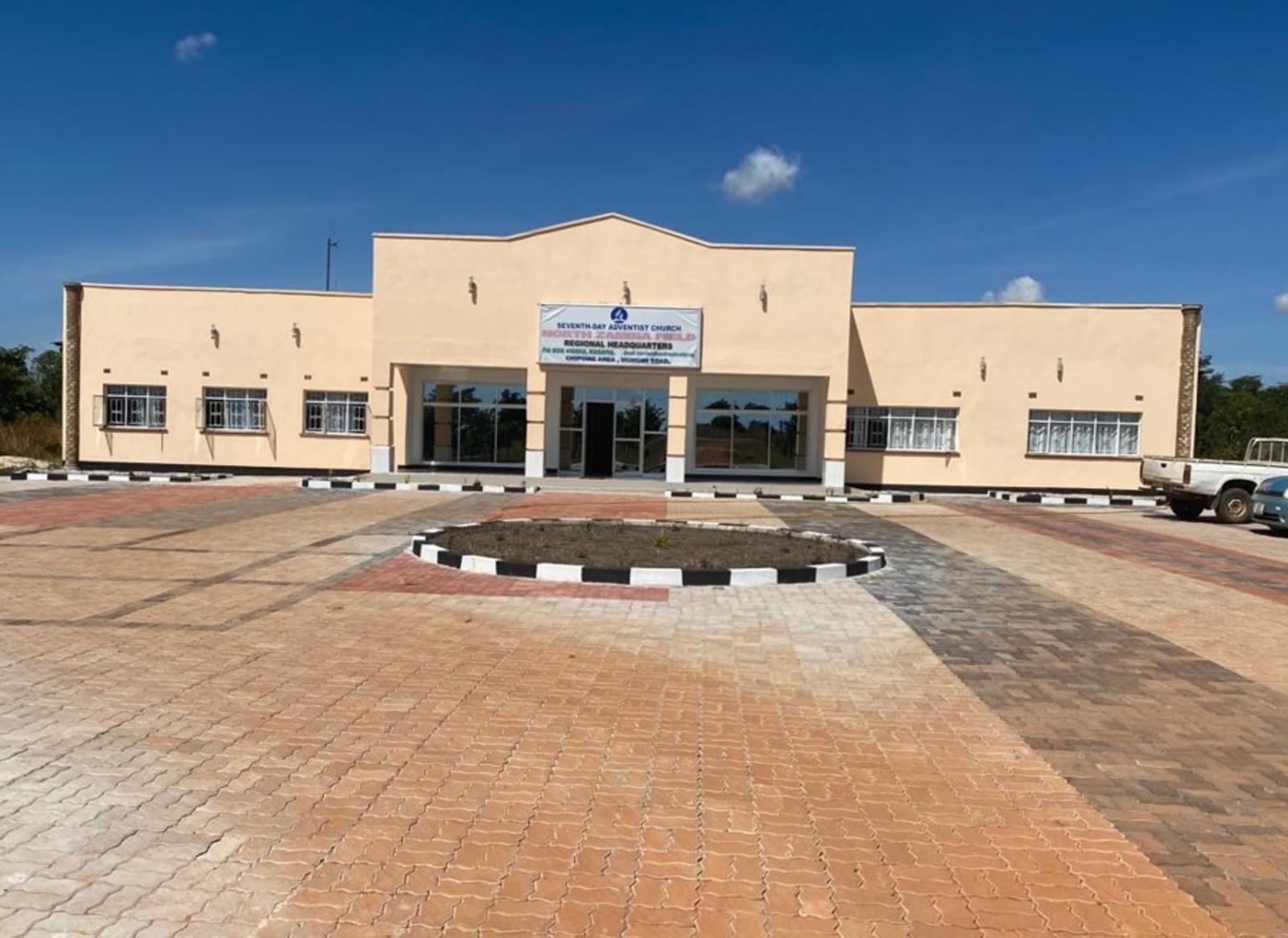 North Zambia Field
×
Peter Tembo, ACCA finalist (UK) is currently working as executive secretary and chief financial officer of the North Zambia Field in the Northern Zambia Union Conference of Seventh-day Adventists. Before he joined denominational employment in 2008, Tembo worked in the private and public sectors for seventeen years.
First Published: January 29, 2020
The North Zambia Field is one of the church administrative units of the Northern Zambia Union Conference of Seventh-day Adventists.
The North Zambia Field was organized in 1972, and is comprised of the Copperbelt, Luapula, and Northern provinces of Zambia, with the headquarters office situated in Mansa, the capital town of Luapula province. It was realigned in 1988 to separate the Copperbelt province, while maintaining the name of North Zambia Field. Further realignment was done in July 2007 to separate the Luapula province from Northern province.
The current North Zambia Field region is comprised of two provinces namely, the Northern province and the newly created Muchinga province. There are several local dialects spoken in these two provinces, such as the Bemba, Bisa, Mambwe-Lungu, Inamwanga, Iwa, Tumbuka, and Lambya languages, with Bemba being spoken most. The North Zambia Field now has 315 churches and 360 companies with a membership of 90,404 against a territorial population of 2,038,523,1 which was 4.97 percent of the population, as of December 31, 2019. The territorial region measures 165,456 square kilometers.2
Origin of SDA Work in the Territory
The earliest recorded attempt to penetrate northeast Rhodesia (now northern Zambia) was between June 8 and July 17, 1914, when J. C. Rogers from Nyasaland (Malawi) visited the region, having entered through Abercorn (Mbala) to look for a mission station site.3 He passed through Mporokoso and crossed the Kalungwishi River into the Chimpili hills. Within the vicinity of the Kalungwishi River he found a place that was free from tsetse fly, where cattle and horses were kept safely. That was the place he had in mind for a prospective mission site.
Later, in 1919, W. E. Straw, Superintendent of Zambesi Union Mission, accompanied by John N. de Beer, Superintendent of Somabula Mission, visited the region again in search of a mission station site. They located the site at Chimpempe (Longitudes 29 E and 33 E; Latitudes 9 S and 13 S)4 near the Kalungwishi River, in the modern Luapula province. They were received and assisted by Chief Kabanda of the Chishinga people and the magistrate of the area. Much of the missionary activities began later after H. J. Hurlow and his wife arrived at Chimpempe from Nyasaland (Malawi) on September 23, 1921.5
After the establishment of Chimpempe Mission School, missionary work was done in the areas that had a high concentration of fishermen, where the missionaries opened outlying schools. One such notable area is Ponde, in Chienge district, near Lake Mweru. These early missionary activities done at Chimpempe Mission played an important role in promoting the growth of the Adventist church in the Chisha Mwamba area of Mporokoso, Vyamba and Isoko of Lake Tanganyika areas. Camp meetings and Communion services were being provided at Chimpempe Mission before churches were organized in the mentioned areas.
Later in 1932, Simon Chitimbwa Sichinsambwe and Kambani arrived with the Adventist message from the Democratic Republic of Congo to Kamiyanga Village of the Vyamba area of Mpulungu district of the Northern province. In 1939, Moses Levy Kakusu and Kenani Chimfumbe also came from Congo with the Adventist message to Isoko area and Mpulungu district where they began spreading the message. Most of the pioneers who came from Congo had gone there for employment in the mines and shops, but came back with the Adventist message and especially Sabbath worship. They were later joined by Simon Chitimbwa Sichinsambwe and Kambani who had shifted from Kamiyanga village of Vyamba area. The increase in the number of preachers allowed the four families to join hands in spreading the Word, which resulted in a branch Sabbath School being formed at Isoko. They went to Mbala to obtain a permit from the district administration office (also known as the BOMA) to authorize them to meet together for worship.
In 1940 the branch Sabbath School was organized into a company of believers as the number of members grew. Levy Chikoye, who had moved from Kamiyanga to Muswilo, joined them in 1941 in the missionary work. For many years, believers traveled on foot to Chimpempe Mission for camp meetings and baptisms. Arnold Victor Kaite was one of those who traveled on foot from Isoko to Chimpempe Mission for camp meeting and was baptized there in the Kalungwishi River.6
Isoko company remained a company of Chisha Mwamba Church in Mporokoso which was organized around 1950. Mathew Chipondo, who had previously served in Katanga Mission in Congo, returned to Mporokoso to provide spiritual care and leadership. Later he was joined by Pastor Titus Kombe Kiana. The work in Mbala grew when Arnold Victor Kaite was called to pastoral ministry there.7
In the eastern region of the Northern province there was no Adventist presence for many years. In 1972, Abner Curp Musonda Mpamba, Albert Musansha Kawila, and three others conducted a campaign in Mpika and baptized one candidate, Mr. Mubanga, and left one in a baptismal class, Mr. Musonko. This was the beginning of the work in Mpika district. Then Samuel Mbanje, a mechanical engineer and an Adventist working for the United Bus Company of Zambia (UBZ) in Kitwe, was transferred to Mpika town. It seems that Mbanje and his wife had never met Mubanga and Musonko, which led them to conclude that there was no Seventh-day Adventist Church in Mpika, and hence they embarked on door-to-door evangelism. Within a few months they opened a company at Mpika town, and in Tazara township they opened Lwitikila company. This was followed by another company at Mununga Quarry, 110 kilometers southwest of Mpika.
Mbanje and his family worked tirelessly in spreading the Adventist message along the Great North Road. Mbanje was assisted by his brother-in-law Kambimbaya. They held their first camp meeting in Mpika in 1978, at which Pastor Diamond Chibwe Lufungulo was the speaker. Lwitikila Company was organized into a church on June 16, 1980, by Pastor Arnold Victor Kaite, the North Zambia Field president, assisted by the Field Church Development director, Bryson Mulenga Katele. The first church elder was Andrew Matipa Kabaso. This newly organized church, Lwitikila Church, became instrumental in spreading the Adventist message to Chinsali, Isoka, and Muyombe towns. In Isoka district there was no organized church except for a few believers who worshipped in a house. Evangelistic campaigns were being conducted by lay people while Pastor Island Sinyangwe followed behind baptizing.
Nakonde town, on the eastern border with Tanzania, however, had a different history, as the church there started in the early 1970s. Three different families played a significant role in spreading the message there. From Chitipa, Malawi, came Dina Namfukwe who was staying near the United Bus Company of Zambia offices where she witnessed to others about her Adventist faith. Another Adventist lady, by the name of Diana Mugala, came from Ndola, Copperbelt province, already a baptized member. She sold tea at the Nakonde bus station and shared the Adventist message with her customers.
Later, Winnie Kabaghe, wife of a police officer at Tanzania-Zambia Railways (TAZARA) Corporation, followed her husband who was being transferred from place to place in connection with his work. As a baptized member of the Seventh-day Adventist Church, she also took her religion everywhere. For example, when her husband was transferred to Kasama, she found that there was no organized church there. A few Adventist believers, including Gabriel Mwalimu, were worshipping at Kasenda School. Later, in Mporokoso, she worshiped at Muombo company which was under the leadership of the Chisha Mwamba Church.
The families of these three women, plus a number of literature evangelists (John Mwakabeghe, Benandicto Sisimba Wanga, and Chibona from Chipwa Church in Tanzania), witnessed vigorously to enable the church to grow in the Nakonde community. The community did not welcome them, and community members sometimes threw stones at them while they were worshipping. These challenges did not stop them from meeting and glorifying God. At Mwenzo, an area in Nakonde which is closer to the Tanzanian border, Adventist families worshipped in a house, as they were not allowed to erect a church near a mission center belonging to the United Church of Zambia (UCZ). When Geenwell Siwelwa, a customs officer from Mbala district joined them, the group worked hard to establish Adventism in Nakonde.8
Organizational History of the Present North Zambia Field
Since the establishment of Chimpempe Mission in 1921, the northeastern part of Zambia, the territory east of longitude 31°, was administered from Malamulo Mission, in Malawi. When the South-East Africa Union Mission (now Malawi Union Conference) was organized in 1925, the Northeastern Rhodesia territory, together with the Eastern province of Zambia, became part of that new union.9 In 1926 the Northeastern Rhodesia Mission Field was organized with headquarters at Chimpempe Mission, under the Zambesi Union Mission. From 1926 to 1942 this field was administered by the Zambesi Union Mission Committee in Bulawayo, Southern Rhodesia. In 1972 the Northeastern region became part of the North Zambia Field (together with the Copperbelt and Luapula provinces), when on May 23, 1972, Zambia was separated from the Zambesi Union Mission to become a separate union mission10 and became officially established under the Trans-Africa Division on June 1, 1972.11
In the mid-1980s, some church members began expressing a need to establish a separate field organization in the Northern province. They believed that if the Adventist message was to be taken to all parts of the Northern province, it was necessary to have field offices in Kasama, the administrative capital for the largest province in Zambia. It was this passionate desire for spreading the Adventist message which led the North Zambia Field Executive Committee to pass a recommendation to the Zambia Union Mission, and consequently to the Eastern Africa Division (EAD) in 1995, to consider their request. In November 1995 the Eastern Africa Division Executive Committee voted "to set up the following Sub-Committee to study the realignment proposals of the North Zambia Field of Northern Province in Zambia: (1) Associate Treasurer, (2) Education Director, (3) Malawi Union President – Chairman, (4) Zambia Union Officers, (5) Zambia Union Lay Representative."12
Upon receiving the report of the subcommittee, on May 7, 1996, the EAD Executive Committee voted the following: "To accept the request of the realignment of North Zambia Field as presented by the Survey Commission. Further to approve the recommendation of the commission that the realignment of North Zambia Field into two fields be considered after all the conditions have been fulfilled. That the said conditions be reviewed particularly by Zambia Union leadership." 13
Thereafter, the Zambia Union Executive Committee passed on the EAD recommendations to North Zambia Field for implementation and logistical preparation. North Zambia Field, under Bryson Mulenga Katele, as president, arranged to set up a Provincial Subcommittee to spearhead the needed promotion in the returning of faithful tithes and offerings, plus other needed promotions to make the people ready to meet the Zambia Union and EAD requirements. The following were members of the subcommittee:
Jimmy Mwala Sinjela (chairman)-Mbala

Synaydone Chisha Siulapwa (secretary)-Kasama

Eliab Simpungwe (member) - Kasama

Friday Nalili, member of Parliament for Mpulungu District (Member)-Mpulungu

Samuel Sikalangwe (member)-Nakonde

Lloyd Bradley Simpungwe (member)-Mbala

A member each from Mpika, Isoka, Chinsali, Luwingu, and Mporokoso.

Robert Posa Mwenya (member)-Kasama

Gershom Dozen Mwanakulya Siingwa (member)-Kasama

Manyando Mukela (member)-Mbala

Bentley Kamengwe Mumba (member)-Mbala

Lyapa Mazimba (member)-Kasama
Almost a decade later, in 2007, after the EAD and Zambia Union recommendations were met in full, the North Zambia Field territory was finally realigned by separating the Northern province from the Luapula province to create two fields, the Luapula Zambia Field and the North Zambia Field respectively. The North Zambia Field office was located on an 18-hectare plot, along Mungwi Road, about ten kilometers from the central business district of Kasama municipality. Meanwhile, the office for the new Luapula Zambia Field was located at the former North Zambia Field office in Mansa.
Institutions
At the time of writing, the North Zambia Field operated one health center, called Isofu Rural Health Centre, situated east of Mbala district; and a boarding secondary school, called Gibeon Adventist Secondary School, at Lazalo area of Nseluka, in Mungwi district. These two institutions are helping to provide Adventist health services and Adventist education in the North Zambia Field territory.
Future Outlook of North Zambia Field
The North Zambia Field is fulfilling the mission of the church in all its strategic tenets: "Reach up to God," "Reach in with God," and "Reach out with God." The influx of members from cities and other well evangelized regions is helping the field to grow faster than it did in earlier days. Emphasis has also been given to the development of infrastructure to provide pastors' houses and office workers' houses in all mission districts, and the construction of a new headquarters office which will soon be completed. The field is still working towards attaining conference status.
Field Office Address:
North Zambia Field
Plot 1386, Off Lualuo Road
P.O. Box 410862
Kasama, Zambia
List of Presidents
Abner Curp Musonda Mpamba (1972-1973); Diamond Chibwe Lufungulo (1974-1978); Arnold Victor Kaite (1979-1985); Albert Musansha Kawila (1986-1990); Dimus Chende (1991-1995); Bryson Mulenga Katele (1996-2000); Wellington Supuni Chapi (2001-2003); Bednico Ndatoya (2004-2005); Rodgers Lumbwe Chansa (2006-2009); Webster Chabe (2010-2015); James Chapi (2016-2018); Brighton Mwenya (2019-present).
Sources
Eastern Africa Division of the General Conference of Seventh-day Adventists (Harare, Zimbabwe), Minutes of the Eastern Africa Division Committee, meeting of May 7, 1996.
Editorial, "Around the Zambesi." Trans-Africa Division Outlook, July 15, 1972.
Eastern Africa Division of the General Conference of Seventh-day Adventists (Harare, Zimbabwe), Minutes of the Meetings of the Eastern Africa Division Committee, meeting of November 1995.
"Geography of Zambia, Zambia Tourism Board, Lusaka, Zambia, 2011.
Hills, Desmond B. "Division Committee Members Delayed by Hijackers." Trans-Africa Division Outlook, July 15, 1972.
Hurlow, H. J. [Published Letter], African Division Outlook, Zambesi Union Mission, July 15, 1922.
Rogers, J. C. "Six Weeks of Travel on the Tanganyika Plateau June 8 to July 17, 1914," The South African Missionary, September 21, 1914.
Seventh-day Adventist Yearbook, Nampa, ID: Pacific Press Publishing Association, 2018.
Thompson, Ronald C. L. "A History of the Growth and Development of the Seventh-day Adventist Church in Southern Africa, 1920-1960." Ph.D. Dissertation. Rhodes University, 1977.
Notes